The Persuaders: Western States Petroleum Association
Here's something you probably didn't know happened in California in the last few years, and maybe it's something you never imagined could happen: In 2011, two high-ranking state regulators were fired from their posts for pissing off the oil industry.  No one really disputes the veracity of that statement; not even Governor Jerry Brown. "They were blocking oil exploration in Kern County," the Sacramento Bee reported Brown announcing at an event six months later. "I fired them, and oil permits for drilling went up 18 percent."
Catherine Reheis-Boyd, president of the Western States Petroleum Association, also celebrated without restraint, unconcerned that the people of California might detect her hand guiding the Governor's pink-slip pen. After the firings, Reheis-Boyd boasted to the Los Angeles Times that her industry once again had a "clear pathway for people to get permits and proceed with drilling in this state. The communications lines are very open."
To be clear, Derek Chernow, then acting director of the Department of Conservation, and his deputy, Elena Miller, who headed up the Department of Oil, Gas and Geothermal Resources (DOGGR). weren't actually guilty of poor communication or holding up permits. They'd simply been insisting that the oil industry adhere to certain laws, such as the California Environmental Quality Act and the federal Safe Drinking Water Act. They were acting fast, as disaster loomed: In June of 2011, a 54-year-old Chevron employee, Robert David Taylor, had been killed when he fell into a sinkhole that opened up at a well site near the Kern County city of Taft; one month later, the U.S. Environmental Protection Agency warned state regulators that drillers weren't doing enough to protect groundwater at wells where they injected steam and chemicals into the ground to draw out stubborn crude.
Chernow and Miller banned steam injection near the troubled area where Taylor died, where wells were erupting in 100-foot geysers of steam and fluids were accumulating on the surface. The two also started demanding that companies submit documents proving the safety of underground injection wells, where drillers inject steam or various chemical-laced liquids beneath the surface, and withheld permits from those who refused to comply. That was something DOGGR, under its previous director, Jason Marshall, had not done, and the oil executives were livid.
Also read these stories in our "Persuaders" series about corporate lobbying:
Bill Raden on the California Hospital Association
Bobbi Murray on the California Restaurant Association
The oil industry, led by WSPA, organized a letter-writing campaign against the two regulators, their complaints backed up by a group of legislators that included then-State Sen. Michael Rubio, a Democrat from East Bakersfield. Brown capitulated within months. He put Marshall temporarily back in charge at the Department of Conservation, then two months later appointed Mark Nechodom, husband of then-Secretary of State Debra Bowen, as the agency's director.
This year, on June 4, Nechodom resigned amid accusations from federal authorities that his agency stood idly by as oil companies injected their wastewater into hundreds of Central Valley drinking-water wells, violating the very law Chernow and Miller lost their jobs trying to uphold. Fields and orchards in the San Joaquin Valley have also been poisoned, and DOGGR, now led by Steve Bohlen — who, with Nechodom, has dined out on the oil-lobby's dime — is now a defendant in a conspiracy lawsuit brought by the growers under U.S. racketeering law.
When asked by Capital & Main whether he thought it appropriate for a regulator to have his dinner paid for by the industry he's regulating, Bohlen replied through a spokesperson that "it was a mistake and inconsistent with his practice." He has mailed a check to WSPA to reimburse the organization for the full amount of his dinner.
As for former Sen. Rubio, in 2013 he abruptly resigned from public service and went to work for Chevron.
Oil has long been a key political player in California; the trend didn't start with Brown. But it still defies belief that in a time of record drought that is exacerbated, some say, by global warming, the petroleum lobby can capture a governor who publicly fancies himself a climate defender, get him to flaunt state and federal environmental laws, and remake a crucial regulatory agency at the industry's urging. The Western States Petroleum Association, under Reheis-Boyd's leadership, gets much of the credit: In the last three years, WSPA has outspent every other political persuader in California. Its 2014 lobbying costs came to nearly $8.9 million.
"They are a huge, huge spending force," Kathryn Phillips, the Sierra Club's legislative analyst in Sacramento told Capital & Main.  "If you have a bill that they don't like, it's really hard to get that bill out." In addition to lobbying dollars, WSPA puts even more thousands into independent expenditure committees to oust candidates that don't toe the oil industry's line. "If you do get a bill out [that] they don't like," Phillips said, "and you're a legislator and you vote for that bill, they'll come after you."
Lawmakers targeted by WSPA in last November's election include former Assemblymember Sharon Quirk-Silva, one of 38 Assembly members who didn't sign a letter asking the state air board to delay adding transportation fuels to the California's "cap-and-trade" carbon market, as required under its landmark climate law, AB 32. Lawmakers who did sign the letter enjoyed luxurious perks: On November 18, WSPA lobbyists treated a group of legislators, including Assemblymembers Henry Perea (D-Fresno) and Kristin Olsen (R-Modesto) to a $1,439 dinner at Spago in Maui.
The year before, as an injection-well disclosure law brought by AB 32's author, State Senator Fran Pavley (D-Agoura Hills), went before the legislature, WSPA joined Perea and 11 other legislators for dinner at The Kitchen, a Sacramento restaurant where the chefs talk you through the preparation of your meal. The tab topped $10,000 and WSPA picked it up. The oil lobby then managed to win last-minute amendments to the law in the Assembly, including one that allowed drillers a two-year grace period before regulations took effect.
The WSPA targets the general public, too, albeit with less success. In 2014, the group "activated," as Reheis-Boyd put it in a candid PowerPoint that got leaked to the press, a network of front groups to warn of a "hidden gas tax" that cap-and-trade would impose when gas suppliers started trading carbon credits. The public didn't fall for it: Gas prices dropped, and most of the Astroturf groups have since ceased to exist.
Nor has the group slowed AB 32's progress overall. The California Air Resources Board, despite some dining-out experiences of its own with WSPA representatives, has forged ahead with the state's carbon-trading market, deaf to cries from the oil industry that the new rules will kill jobs and hurt the economy.
"They've failed to do anything [to derail climate laws] on the regulatory, legislative and ballot levels," says Susan Frank, the director of the California Business Alliance for a Clean Economy, a network of small businesses that favor climate laws. "And that is because there's tremendous popular support for climate policy. Time and time again the voters support addressing climate and clean energy."
Especially since — contrary to the oil lobby's doomsaying — cap-and-trade, which allows polluters to buy credits to emit greenhouse gases from cleaner enterprises that sell them, has not so far hurt the state's economy. By generating nearly $1 billion in revenue last year, it may have even helped.
For the current legislative session, WSPA is lining up votes to oppose Sen. Mike McGuire's (D-Healdsburg) Senate Bill 788, which would eliminate a loophole in the state's ban on offshore drilling. Although both the state and federal governments put most of California's coastline off-limits to drillers after a rig blew up in 1969 off the coast in Santa Barbara, coating 35 miles of shoreline with raw crude, drillers can still extract oil from under state waters so long as the drilling rigs sit on federal land. (None have so far, but two have applied to drill into the sea from onshore rigs on Vandenburg Air Force Base.)
The bill passed in the state Senate in June, riding the momentum created by the May 19 oil spill that happened when a badly corroded pipeline operated by Plains All American spilled 105,000 gallons of oil onto the beach and into the ocean. SB 788 heads next to the Assembly, and then to an uncertain future on the Governor's desk.
It's possible that the conspiracy lawsuit, the U.S. EPA's stepped-up oversight and the clear threat of poisoned groundwater have moved Brown to rethink those years when he kowtowed to the industry and threw two public servants' careers into limbo. Neither oil production nor employment in the oil fields rose after the firings; Occidental still moved its headquarters out of California to Texas, and Chevron transferred away 100 jobs, despite the Governor's largesse. All Brown really got for his pains was a $500,00 donation from Occidental Petroleum, toward the 2012 campaign for Proposition 30, the Governor's tax-hike ballot initiative. That the donation was a thank-you gift escaped the notice of no one who was paying attention. Unfortunately for California's public health and safety, not that many people were.

Golden State Green Rush: A Trimmigrant's Tale
Trimmers make from $100 to $300 for a day that can run 15 hours. The bad gigs are the grows where weapons are numerous and the bosses are stressed out and high.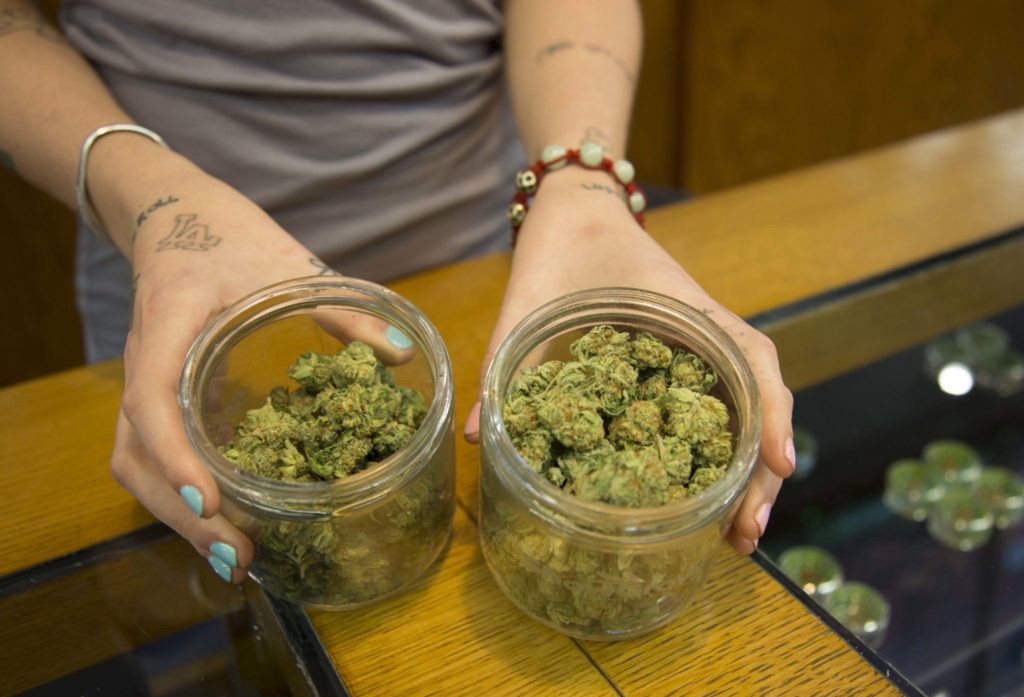 ---
What's to become of trimmers, the untold thousands of minimally skilled laborers who haunt the new cannabis horizon, is one of this industry's most compelling issues.
---
Matilda reclines on a Northeast Los Angeles couch she's paid $25 to sleep on for one night. The young woman, who earlier in the day had returned to the U.S. from Mexico, talks about her job as a cannabis trimmer. Matilda—not her real name—gives a heads-up on her epilepsy, and through the night she'll make a number of unusual, loud sounds in her sleep.
Matilda has worked most in Mendocino on trimming jobs good and bad. At most black-market marijuana grow operations, she's found there are guns. She grew used to the constant, noisy whirr of the high-powered generator that powered the lights growing the plants. The bad gigs are the grows where weapons are numerous and the bosses are stressed out and high.
She left one trimming gig where the volume of open gunplay made her uncomfortable, and moved to another one in the Emerald Triangle–– Northern California's Mendocino, Humboldt and Trinity counties –– that featured consistent pay. The farm's generator operated at lower decibels and the guns were out of sight. Sweet gig. Except for the bathroom, which sat a good 30 yards from the house. Every midnight tinkle run was an adventure.
"You shouldn't have to worry about bears on the way to the bathroom," Matilda said.
Briefly, about five years ago, I trimmed for room and board in Oakland and Marin County. My top boss was a retired Russian circus clown who tooled about the Bay Area with a briefcase full of many thousands of dollars and, of course, a heater. While riding with — let's call him Yuri — it became clear the industry could not function without trimmers, who are generally unseen and often as high as the strain they're cutting will let them get. What's to become of these untold thousands of minimally skilled laborers who haunt this new cannabis horizon is one of the industry's most compelling issues.
The adult-use and medical marijuana markets may collectively think pot magically goes from a plant in the soil to that jarred nugget in your local dispensary display case. But that eye-catching product was prepared by a worker who's been at the mercy of their employers. Unlike growers, whose value derives from the training and practice necessary to grow pot on a large scale, trimmers are often regarded as disposable. Almost any stoner—or even nonstoner—can do their job. The profile of this work will only become more visible as adult-use marijuana goes mainstream.
A sizable subset of trimmers like Matilda are called "trimmigrants" due to the nomadic nature of their seasonal outdoor labor. Word of workers like Matilda coming together to improve their working conditions has begun getting out, however uncertainly. Matilda herself was unaware of any such movement; however, trimmers are indeed getting organized in a movement that's as undeniable as it is necessary.
---
Trimmers are taken less seriously than growers and testers because their labor is viewed as an easily scalable craft that can be completed while thoroughly baked.
---
California labor law requires that any cannabis licensees with 20 or more employees be prohibited from operating in the state without a labor peace agreement between the business and a union representing cannabis workers. With the peace agreements in place, labor organizers can then recruit workers to join their union without interference from the employer. If the workers join, union negotiators will seek basic workplace protections: freedom from sexual or other harassment, regular pay schedules, incremental wages, just-cause termination and consistent, scheduled breaks.
Down the road, labor contracts hope to include health insurance and other benefits for the folks who trim California's cannabis, as has happened with the unionized licensees since 2010. Union negotiators want to make sure protections now in place become industry-wide standards, and that all jobs (including trimming) allow a living wage and mobility.
United Food and Commercial Workers (UFCW) Local 770 consultant Robert Chlala said that by organizing trimmers, "My hope —and what we are seeing in our work already—is that we can avoid trimmers being treated as contingent workers or falsely labeled as independent contractors, that they can get the same protections as other workers." (Disclosure: UFCW is a financial supporter of this website.)
Along with the Teamsters, the UFCW has greeted California's adult-use cannabis-legalization era with a spate of organizing among trimmers. "From what I have also seen, it's rarely just one-off," Chlala said. "Trimmigrants do this work, but many also work in other aspects of the industry, from cultivators to retailers."
---
Trimmers have little recourse to being asked to work topless or perform fellatio to receive earnings.
---
Trimmers are taken less seriously than growers and testers, and even bud tenders and deliverers, because their labor is viewed as an easily scalable craft that can be completed while thoroughly baked.
Before pot ends up in the hands of a distributor and, in the legal marketplace, a lab tester, it is cultivated. After cannabis "colas"–– the flowering site of a female cannabis plant––are grown, dried, and cured, it's the trimmers' responsibility to manicure the plant. Leaves, which contain less tetrahydrocannabinol or THC, are cut away, leaving only the cola's bud. Bad trimming can be aesthetically unpleasant and a waste of time and product. Great trimmers are a business asset.
Their pay can range from $100 to $300 a day. Some in the off-the-books grows, as mentioned earlier, trim as barter. Work days can run as long as 15 hours. The work is inherently repetitive and often done while high and listening to music and, increasingly, podcasts.
Work conditions can be as varied as the strains of cannabis cultivated in the state. The Center for Investigative Reporting's Reveal reported in 2016 that sexual assaults on female trimmers are frequent and woefully undercounted. Because of the vagabond nature of these workers—many are college students on break and travelers from Europe—there's little recourse to being asked to work topless or perform fellatio to receive earnings.
However, there's no single way to summarize the trimmer experience, according to Hezekiah Allen, executive director of the California Growers Association. "A licensed grow and a trespass grow on wilderness land are two different experiences, and the needs are very different," said Allen. "California's a very, very diverse marketplace, with a lot of different practices, from best to worst. And it's very important to avoid generalizations."
---
The arrival of industrial-sized pot farms raises concerns that worker treatment will more resemble that found in big agriculture than the kind seen in traditional mom-and-pop pot growing.
---
Criminal grows are most likely where openly stored guns are found, Allen told me. Small farms that employ family and friends are more the norm, and firearms are not out in the open. These farms, particularly in the Emerald Triangle, are grappling with the California industry's volatile changes—new regulations and massive companies—and the demands of finding a path to legal status. Allen compares the concerns of these workers to Detroit just before President Obama's auto company bailout. Simply maintaining jobs is the primary on-site issue.
Big marijuana businesses such as the Oakland-headquartered behemoth Harborside Farms and the average pot cultivator are incorporating these changes differently. Harborside Farms came factory style to ag iconic Salinas, bringing a 360,000-square-foot grow with it. The typical grow is smaller than 5,000 square feet. Flower greenhouses have been largely replaced by cannabis farms. Land costs have skyrocketed as other cannabis operations have streamed into Monterey County. The Harborside Farms effect has raised concerns that worker treatment will more resemble that found in big agriculture than the kind seen in the county's previous mom-and-pop pot growing.
"That workforce is a lot more interchangeable with the traditional ag workforce," Allen said, noting that he's unfamiliar with the specifics of Harborside's business practices. "You run into a lot of traditional issues. You run into the same safety and wage issues that you do with criminal grows, oddly enough.
"Big industrial ag is pretty well known for human rights abuses, the same sort of human rights abuses that cannabis workers are used to seeing on those criminal grows."
At the opposite end from the skeletally policed Emerald Triangle, in a small Los Angeles warehouse, two trimmers luxuriate in just how satisfying the craft can be. While classic rock plays from an old-school radio, Francisco, 44, lovingly prepares a nugget to go out into the world. The cola has just come from the curing room. He and his partner that day were waiting for their boss at the door, eager to work.
"Every time I trim one I'm like… ahh," he says, clipping at a bud while explaining. "You just make it look the way you like it. Trim it until the little red hairs are showing, until you can see all of the really good crystals. I really enjoy looking at it."
The two sampled the cannabis and explained to their bosses how the product was working. Two thumbs up. It's a much more satisfying job than Francisco's previous work as a landscaper. The closest thing there is to a labor of love that he would do for free.
Yet, the trimmer's work needs protection and recognition, noted Chlala, who's also President of Latinos for Cannabis. Southern California, with its vertically integrated cannabis companies—where grows are owned by the same people who sell and move green product—is likely to lead the way in trimmer organizing around the state. Santa Barbara has seen an influx of big pot businesses and is likely to be a big target for unions.
The organized shops could not come soon enough for a workforce too often on the lookout for bears and regarded as an industry stereotype.
"While trimmers are often treated like they do one discrete task," Chlala said, "their work is key to the production chain for cannabis—no different from any agricultural process like harvesting tomatoes or processing cut flowers or almonds."
---
Copyright Capital & Main