The Peculiar Controversy: Quentin Tarantino's "Django"
2013 is making it difficult to avoid one of America's greatest sins—slavery. We've just marked the 150th anniversary of the Emancipation Proclamation, and a plethora of films, documentaries and TV specials are scheduled to address slavery.
One blockbuster hit that's playing in cinemas now, and is likely to walk away with several Golden Globes and Oscars, is Quentin Tarantino's Django Unchained.
Django Unchained depicts a slave-turned-bounty hunter (Jamie Foxx) who fearlessly treks across the U.S. to find his wife (Kerry Washington) in order to rescue her from a brutal Mississippi plantation owner (Leonardo DiCaprio).
The film is classic Tarantino; this time a homage to the spaghetti western with romance and revenge narrative. Tarantino set the story in the most unlikely of places— America's Deep South before the Civil War in 1858.
Tarantino is known as the "King of Carnage," and his films' aestheticized depictions of violence (which he calls "movie violence") is both cruelly disturbing yet undeniably entertaining. In giving his view of Django Unchained, New York Times film critic A. O. Scott wrote,  "A troubling and important movie about slavery and racism…Like Inglourious Basterds, Django Unchained is crazily entertaining, brazenly irresponsible and also ethically serious in a way that is entirely consistent with its playfulness."
It is Tarantino's playfulness set in the troubling historical environment that is still unsettling many Americans. Leave it to Tarantino—he's challenged us to ask a number of difficult questions:
Is it politically incorrect to depict American slavery in a playfully entertaining way?Is there a politically correct way to depict American slavery? While some will contest that Tarantino is being well…Tarantino, and he means no disrespect, others argue that his privilege as a well-respected moneymaking white heterosexual male filmmaker gives him carte blanche to recklessly express his creative juices even if it reinscribes stereotypes that many feel Django does.But Tarantino pushes his critics back stating his objective in making Django is to stir a conversation about slavery because America won't. And he takes his making of Django to heart.
"It's one thing to write on the page, 'Cotton field in the background while two white characters are drinking lemonade, 100 slaves picking cotton in the background,'" Tarantino told Nightline. "It's another thing to plant that cotton and put 100 black folks in slave costumes broiling under the hot sun picking cotton. That can get to your soul a little bit."
In many African American communities Tarantino's films got to their souls, too, and it received mixed reviews from a tepid nod to expressions of outrage. And those outraged by the film feel Django Unchained needs to be locked up, bound, buried if not burned because the film uses the inhumanity of slavery as a backdrop and it dishonors those who have suffered under its reign.
Then there's the liberal use of the n-word in the film which many will find deplorable. When asked about it, Tarantino told Cynthia McFadden on ABC's Nightline, "I don't think anybody is actually going out there saying that we used the word more excessively than it was used in 1858 in Mississippi. And if that's not the case, then they can shut up."
But one critic in particular who won't shut up about Django is renown African American filmmaker Spike Lee, whose gripes resonate for many and were recorded in the New York Times.
I can't speak on it 'cause I'm not gonna see it," Lee said. "The only thing I can say is it's disrespectful to my ancestors, to see that film." Days later on Twitter he tweeted, "American Slavery Was Not A Sergio Leone Spaghetti Western. It Was A Holocaust. My Ancestors Are Slaves. Stolen From Africa. I Will Honor Them."
American slavery continues to be a difficult topic to talk about. And it's avoided at all cost, particularly if not spun to appeal to white audiences.
For example, the Queen of Daytime talk, Oprah Winfrey tried to tackle the topic with her production of the 1998 film Beloved, based on Toni Morrison's novel by the same name. It was a box office failure. The failure is speculated to be that the film didn't appeal to white audiences, casting them in a negative light. Some critics contest that the movie was too serious, not entertaining enough, and was mind-numbing to both black and white audiences of all ages. The weekend Beloved opened it was beat out by the horror flick Bride of Chucky. The 1977 hit television series Roots based on Alex Haley's novel by the same name was an international success, nominated for 36 Emmys and winning nine. It was intentionally written to win over white viewers.
"Familiar television actors like American [sic] actor Lorne Greene were chosen for the white, secondary roles, to reassure audiences. The white actors were featured disproportionately in network previews. For the first episode, the writers created a conscience-stricken slave captain (Edward Asner), a figure who did not appear in Haley's novel but was intended to make white audiences feel better about their historical role in the slave trade," the Museum of Broadcast Communications reported.
Tarantino's creative rendering of it, albeit understandably troublesome, sheds a disturbing light on our culture's ability to willingly sit alone in a dark theater for two-plus hours watching an entertaining film about American slavery [rather] than to voluntarily sit in a lit room face-to-face with each other and talk about it. American slavery is an American story. And we all have ownership of it.
(Rev. Irene Monroe is a Ford Fellow and doctoral candidate at Harvard Divinity School. Her post first appeared on LA Progressive and is republished with permission.)

'Skeleton Crew' Is a Play With a Moral Spine
Set in a Detroit automobile outfitting plant, Dominique Morisseau's drama grabs you from the start with its focus on blue-collar men and women, and their struggle for dignity and self-respect.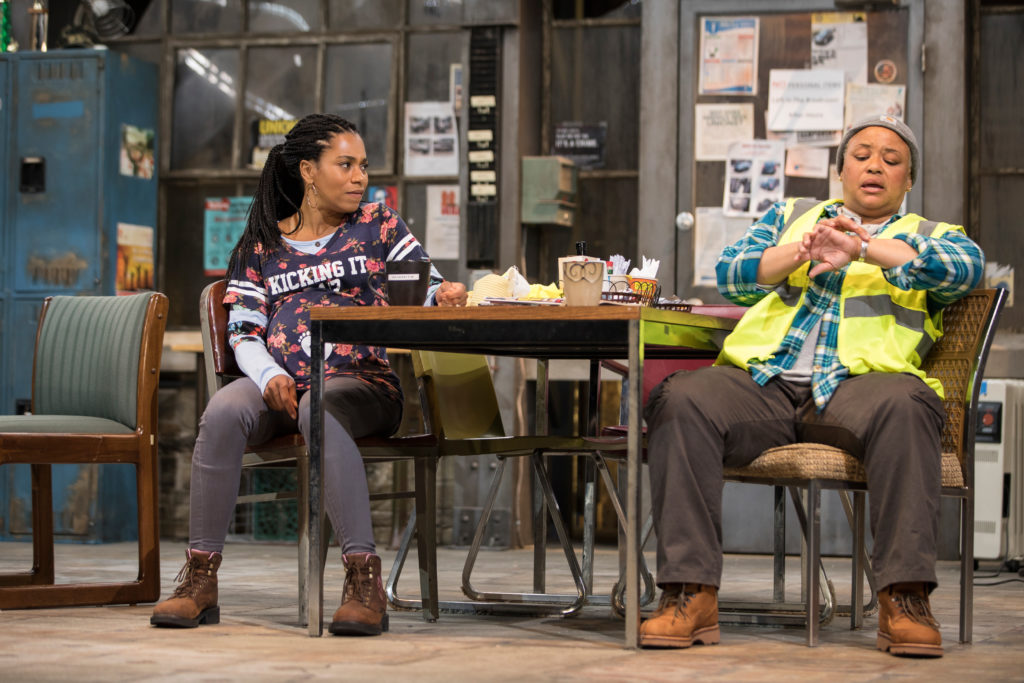 Working-class men and women of color are rarely front and center in today's media and, likewise, are presented all too occasionally on the American stage. So it's buoying to see that trend bucked in playwright Dominique Morisseau's percipient and well-crafted drama, Skeleton Crew. The play is the final installment in her Detroit  Project Trilogy; the first, Paradise Blue, is set in the 1940s amidst displacement caused by urban renewal and gentrification, while the second, Detroit '67, transpires on the eve of the 1967 Detroit riots sparked by a police action.
Directed by Patricia McGregor at Los Angeles' Geffen Playhouse, Skeleton Crew is a play with a moral spine. It takes place in 2008, when the shrinking U.S. auto industry is being further downsized. Morisseau's engaging quartet of characters — Faye (Caroline Stefanie Clay), Dez (Armari Cheatom), Shanita (Kelly McCreary) and Reggie (DB Woodside) – are employed at an automobile outfitting plant. Faye, Dez and Shanita are workers on the line while Reggie (who has a wife and kids, and has pulled himself together after a troubled youth) is their supervisor.
The first three customarily mingle in their break room (designer Rachel Myers' impressively cluttered, dingy and detailed set), trading the sort of familiar barbs and genuine concern for each other common among longtime co-workers. They also face off on philosophy: Upper-middle-aged Faye and the younger, pregnant Shanita take pride in their labor, while Dez, though a good worker, is a malcontent scornful of management and firm in the belief that everyone needs to watch out for himself. He's a thorn in Reggie's side, for while Reggie wants to be supportive of his workers, he must act at the behest of higher management. For his part, Dez resents Reggie's authority, and a palpable unease exists between them.
Besides this male matchup, we're made privy to Dez's attraction to Shanita, who mostly turns away his advances, but every now and then displays a hint of interest. Most poignant is Reggie's regard and affection for the lesbian Faye, which has roots in his boyhood when she loved, and lived, with his now-deceased mom.
These people's various predicaments intensify when rumors spread of the plant's shutdown — a disaster for all, but a particular calamity for the already near-broke Faye who, one year short of retirement, would lose her pension. The crisis forces each of these people to make a choice.
A sound piece of social realism, Skeleton Crew grabs you from the start in its focus on blue-collar men and women, and their struggle against odds for dignity and self-respect. Morisseau not only furnishes these characters a platform for their travails, she endows them with strong values, big hearts and the opportunity to choose between right and wrong.
Unfortunately, the performance I attended did not soar. Many exchanges lacked a fresh edge. The actors certainly had their characters down, but too often they appeared to be coasting on technique. (This seemed particularly true of Clay, who performed the role to great accolades in Washington, DC in 2017, also under McGregor's direction). Additionally, some of the stage movement was not entirely fluid; in confrontations, actors sometimes would just stand and face each other in an artificial way. And Cheatom's interpretation of Dez struck me as a bit overly churlish and depressive: I needed more glimpses of the intelligence and edge that would secretly attract the strong, self-directed Shanita.
The most compelling moments belong to Woodside, well-cast as a man trying his best in difficult circumstances to do the right thing.
---
Gil Cates Theater at the Geffen Playhouse, 10886 Le Conte Ave., Westwood Village; Tues.-Fri., 8 p.m.; Sat., 3 & 8 p.m. Sun., 2 & 7 p.m.; through July 8. (310) 208-5454 or www.geffenplayhouse.org