The Peculiar Controversy: Quentin Tarantino's "Django"
2013 is making it difficult to avoid one of America's greatest sins—slavery. We've just marked the 150th anniversary of the Emancipation Proclamation, and a plethora of films, documentaries and TV specials are scheduled to address slavery.
One blockbuster hit that's playing in cinemas now, and is likely to walk away with several Golden Globes and Oscars, is Quentin Tarantino's Django Unchained.
Django Unchained depicts a slave-turned-bounty hunter (Jamie Foxx) who fearlessly treks across the U.S. to find his wife (Kerry Washington) in order to rescue her from a brutal Mississippi plantation owner (Leonardo DiCaprio).
The film is classic Tarantino; this time a homage to the spaghetti western with romance and revenge narrative. Tarantino set the story in the most unlikely of places— America's Deep South before the Civil War in 1858.
Tarantino is known as the "King of Carnage," and his films' aestheticized depictions of violence (which he calls "movie violence") is both cruelly disturbing yet undeniably entertaining. In giving his view of Django Unchained, New York Times film critic A. O. Scott wrote,  "A troubling and important movie about slavery and racism…Like Inglourious Basterds, Django Unchained is crazily entertaining, brazenly irresponsible and also ethically serious in a way that is entirely consistent with its playfulness."
It is Tarantino's playfulness set in the troubling historical environment that is still unsettling many Americans. Leave it to Tarantino—he's challenged us to ask a number of difficult questions:
Is it politically incorrect to depict American slavery in a playfully entertaining way?Is there a politically correct way to depict American slavery? While some will contest that Tarantino is being well…Tarantino, and he means no disrespect, others argue that his privilege as a well-respected moneymaking white heterosexual male filmmaker gives him carte blanche to recklessly express his creative juices even if it reinscribes stereotypes that many feel Django does.But Tarantino pushes his critics back stating his objective in making Django is to stir a conversation about slavery because America won't. And he takes his making of Django to heart.
"It's one thing to write on the page, 'Cotton field in the background while two white characters are drinking lemonade, 100 slaves picking cotton in the background,'" Tarantino told Nightline. "It's another thing to plant that cotton and put 100 black folks in slave costumes broiling under the hot sun picking cotton. That can get to your soul a little bit."
In many African American communities Tarantino's films got to their souls, too, and it received mixed reviews from a tepid nod to expressions of outrage. And those outraged by the film feel Django Unchained needs to be locked up, bound, buried if not burned because the film uses the inhumanity of slavery as a backdrop and it dishonors those who have suffered under its reign.
Then there's the liberal use of the n-word in the film which many will find deplorable. When asked about it, Tarantino told Cynthia McFadden on ABC's Nightline, "I don't think anybody is actually going out there saying that we used the word more excessively than it was used in 1858 in Mississippi. And if that's not the case, then they can shut up."
But one critic in particular who won't shut up about Django is renown African American filmmaker Spike Lee, whose gripes resonate for many and were recorded in the New York Times.
I can't speak on it 'cause I'm not gonna see it," Lee said. "The only thing I can say is it's disrespectful to my ancestors, to see that film." Days later on Twitter he tweeted, "American Slavery Was Not A Sergio Leone Spaghetti Western. It Was A Holocaust. My Ancestors Are Slaves. Stolen From Africa. I Will Honor Them."
American slavery continues to be a difficult topic to talk about. And it's avoided at all cost, particularly if not spun to appeal to white audiences.
For example, the Queen of Daytime talk, Oprah Winfrey tried to tackle the topic with her production of the 1998 film Beloved, based on Toni Morrison's novel by the same name. It was a box office failure. The failure is speculated to be that the film didn't appeal to white audiences, casting them in a negative light. Some critics contest that the movie was too serious, not entertaining enough, and was mind-numbing to both black and white audiences of all ages. The weekend Beloved opened it was beat out by the horror flick Bride of Chucky. The 1977 hit television series Roots based on Alex Haley's novel by the same name was an international success, nominated for 36 Emmys and winning nine. It was intentionally written to win over white viewers.
"Familiar television actors like American [sic] actor Lorne Greene were chosen for the white, secondary roles, to reassure audiences. The white actors were featured disproportionately in network previews. For the first episode, the writers created a conscience-stricken slave captain (Edward Asner), a figure who did not appear in Haley's novel but was intended to make white audiences feel better about their historical role in the slave trade," the Museum of Broadcast Communications reported.
Tarantino's creative rendering of it, albeit understandably troublesome, sheds a disturbing light on our culture's ability to willingly sit alone in a dark theater for two-plus hours watching an entertaining film about American slavery [rather] than to voluntarily sit in a lit room face-to-face with each other and talk about it. American slavery is an American story. And we all have ownership of it.
(Rev. Irene Monroe is a Ford Fellow and doctoral candidate at Harvard Divinity School. Her post first appeared on LA Progressive and is republished with permission.)
The Power of the Poster
Carol Wells, the founder of the Center for the Study of Political Graphics in Los Angeles, talks to Capital & Main about the enduring power of political art.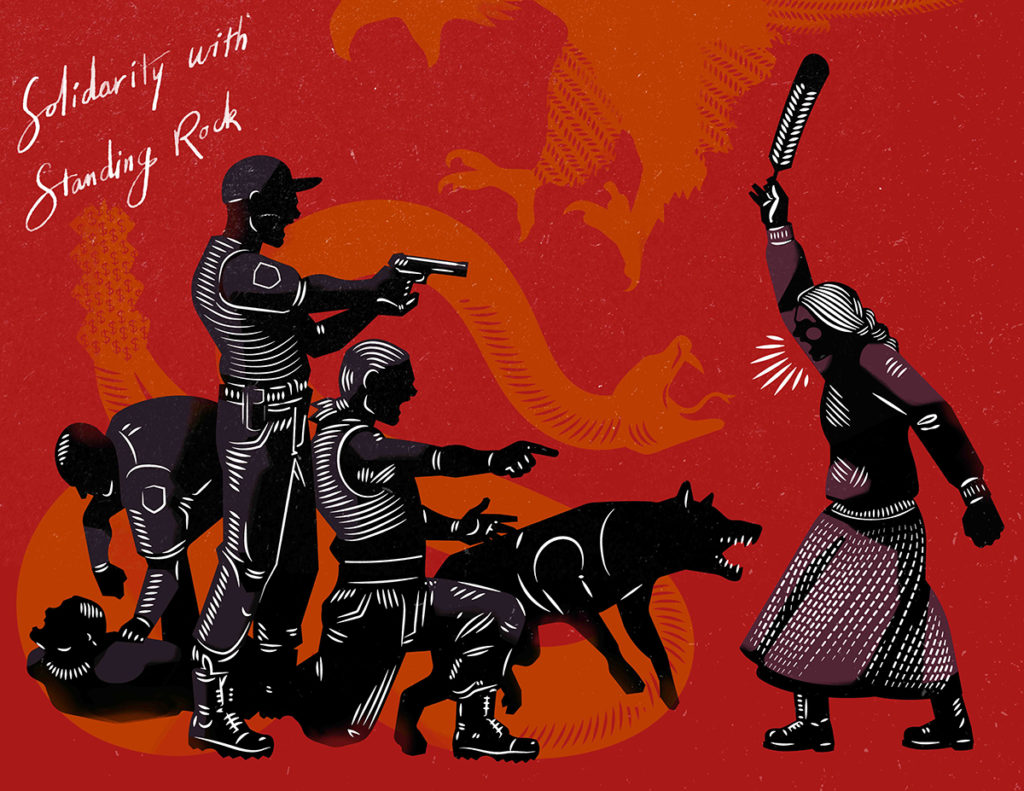 Carol Wells remembers the exact moment she discovered her calling. An art historian at the time, she was on a trip to Nicaragua with her friend David Kunzle, a UCLA art history professor, who was collecting political posters to add to his burgeoning collection. While staying with friends, Wells watched a neighbor's 8-year-old son approach a poster on the wall, stare at it intently, and then start to silently mouth the words. Wells was struck by how engaged the boy was. "In that moment I became obsessed with collecting posters."
Now over 40 years later, Wells is the founder and executive director of the Center for the Study of Political Graphics in Los Angeles. Wells has amassed approximately 90,000 posters, building one of the largest collections of its kind in the world. The Center shares its collection with the public in part through curated exhibits. This year the CSPG has produced Feminae: Typographic Voices of Women by Women and its latest is To Protect & Serve? Five Decades of Posters Protesting Police Violence, running through July 15 at the Mercado La Paloma in downtown Los Angeles.
Since that encounter in Nicaragua in 1981, Wells' obsession with collecting posters hasn't waned. In CSPG's nondescript West L.A. office space, Wells pulls out poster after poster, lecturing passionately on the backstory and cultural impact of each, including one that superimposes text from a New York Times interview with a shocking image of the My Lai massacre ("Q: And babies? A: And babies."). Recently, she managed to sit down with C&M to discuss her passion.
---
Capital & Main: So, you were an art history professor, you happen to see a kid on a trip, and suddenly your life was changed forever?
Carol Wells: Yeah, I'm in Nicaragua alone in the living room with this kid. He's looking around, and all of a sudden, he sees the poster. It was pretty big, bright green, a thick outlines of a woman holding a big basket of coffee beans. And the text in Spanish said, "In constructing the new country, we are becoming the new woman." I see him walk over to the poster and I'm watching him mouth the words. It was a pretty sophisticated concept, so I doubt he figured it out. But I literally had this epiphany: "Oh my God. That's how posters work." You're going about your daily life, and all of a sudden something breaks through the bubble, and it grabs your attention. It's the graphic, it's the color, it's the combination, and it pulls you out of your head and into that poster and it makes you ask a question. "Why is this here? What is this about? What does this mean?" And every time you ask a question, you're a different person than you were before you asked the question.
How many posters do you get a year?
We get between two to five thousand a year donated from all over the world. The bulk of our collection is [from] 1945 and later.
I assume technology has probably hurt the art form, but has it helped get the messages out?
Most people think that, and it's actually not true. Since the internet age started, there's actually a poster renaissance of works on paper. Because you can't walk with your computer monitor in a demonstration. You can't plant your monitor on your lawn.
And you can't put a laptop on the wall…
Exactly. You want to hear a really great story? Truthdig.org published a cartoon [made by] a political cartoonist named Mr. Fish. It was during the Arab spring, and he had superimposed Che Guevara with the stylized beard and King Tut's face, but it had Che's beret. And it [was titled], "Walk like an Egyptian." So, it was a reference to the music, but [it was also] a reference to what was going on the streets of Cairo. I sent it out as our poster of the week to 9,000 people. The very next day, somebody took a photograph on the street of Cairo, with somebody holding a piece of paper with that image on it. A poster can literally go around the world and people will print it out.
What struck me in viewing your exhibits is how many of these posters could still be used today, not only artistically but also, sadly, in the timeliness of their messages.
We had this fabulous poster by Yolanda Lopez, a Bay Area artist, which she first did in 1978. It depicts a young man in Aztec garb pointing a finger like Uncle Sam saying, "Who's the illegal alien, PILGRIM?" And it's a great poster, it's simple, not too many words, funny, provocative. So, we had an exhibit at UCLA in the mid '90s and there were 4 or 5 high school students standing around this poster saying, "Wow, you've got posters up to the minute." And I went over to them and I said, "Look at the date. This is before you were born."
Is that one of your goals with the exhibitions? To show the evergreen nature of this work?
Absolutely. I mean that's why we did the police abuse exhibition now. It basically goes back five decades. It's 50 years of posters protesting police abuse. Mainly in the United States, but also internationally.
What's the goal for CSPG?
Well the aim right now is really to digitize the collection and get it online. We have 10% of the collection digitized. But the mission is to collect and to document, because stories get lost. All the exhibitions, they're showing massacres, they're showing genocide, they're showing police abuse, they're showing all of these horrible things. And people often ask me, "How can you look at this stuff all day long?" I said, "Because the poster artists are optimists. They believe people can change if they have the information."
Yes, that's the reason why they're doing it, right?
That's why they're doing it, and that's why I'm doing this, because I believe that people can change if they knew the truth.
And what happens 20, 50 years from now?
Well, my goal is to stay independent, because the other option is to become part of the university. Universities, for all the fabulous things that they do, they also censor. We did an exhibition at USC in 1992 on the 500 years since Columbus, and how the legacy of racism and exploitation and genocide continues. And one of the board of trustees was Italian and took [the exhibit] as an affront to Columbus. It really wasn't about Columbus, it was about colonialism. And he ordered it down.
Do you have a favorite poster?
I'm always amazed at the creativity and vision of artists. Every week I'll say, "Oh my God, how do they think of that?" But it's always still going to be the poster I saw that kid trying to figure out. It has to be my favorite one because that one changed my life.
What makes a perfect poster?
The right balance between aesthetics and message. If you only rely on the corporate press, the New York Times and L.A. Times, for your information, you're not going to get the side from the street, from the movement, from the activists. The posters are primary historical documents that are recording the issues that were at the time, and the passions that were at the time, and the divisions that were at the time. You're not going to get it anyplace else.
---
Copyright Capital & Main