The Lies That Should Have Sunk Kavanaugh
Co-published by Newsweek
"Is he threatening the Democrats?" asks former Congresswoman Elizabeth Holtzman about Brett Kavanaugh. "Is he threatening people who oppose his nomination? We don't need a Supreme Court justice who is going to use his position to get revenge."
Co-published by Newsweek
Only the shaken confidence in Brett Kavanaugh by three senators stands in the way, Saturday, of the Supreme Court nominee's lifetime appointment to the nation's highest court. Republicans Jeff Flake and Lisa Murkowski, and Democrat Joe Manchin, will have little more on which to base their votes than the words of Kavanaugh himself versus those of his various accusers.
Below are six of the main lies Kavanaugh is accused of telling under oath, followed by a discussion with three legal experts on his behavior. The feature ends with a list of 13 other alleged lies, with thanks to GQ, the New York Times, Vox, the Washington Post, and Current Affairs.
1. May 9, 2006, SJC nomination hearing to the DC Circuit Court of Appeals, response to Senator Richard Durbin (D-IL) and the late Senator Ted Kennedy (D-MA), again about his knowledge of the "Memogate" emails.

"I'm not aware of the memos, I never saw such memos that I think you're referring to. I mean, I don't know what the universe of memos might be, but I do know that I never received any memos and was not aware of any such memos."
Distance from the Truth: Kavanaugh made the denial under oath multiple times to committee members. Senator Patrick Leahy (D-VT), however, recently posted confidential emails on Twitter that he says were in Kavanaugh's possession, proving his previous denials are, Leahy wrote, "just FALSE!"
2. May 9, 2006, SJC hearing on Kavanaugh's nomination to the DC Circuit Court of Appeals, response to Senator Durbin (D-Ill.) about the judicial nomination of William Haynes, the Pentagon's director of torture policy during the George W. Bush administration.
"I was not involved and am not involved in the questions about the rules governing detention of combatants or—and so I do not have the involvement with that."
Distance from the Truth: Kavanaugh has since been doubly implicated, both in significant involvement with Haynes' judicial confirmation for Bush and in having a hand in Bush detention and interrogation policies. Newly discovered emails from 2002 prove the former, Senate Democratic Whip Dick Durbin (D-IL) charged last month, and "show that Kavanaugh played a substantial role in the decision to nominate Haynes."
3. September 27, 2018, Senate Judiciary Hearing, on explaining partying activities during the summer of 1982.

"I never attended a gathering like the one Dr. Ford describes in her allegation."
Distance from the Truth: Both Kavanaugh's later testimony and his personal calendars detail attending parties throughout the period of the alleged assault, uncannily similar to the one Christine Blasey Ford describes.
4. April 27, 2004, SJC confirmation hearing of Kavanaugh to the DC Circuit Court of Appeals, response to Senator Orrin G. Hatch (R-UT) on whether as Associate White House Counsel he had direct knowledge of Memogate memos stolen from Democrats on the Judiciary Committee and leaked to the White House.

"No. Again, I was not aware of that matter in any way whatsoever until I learned it in the media."
Distance from the Truth: Kavanaugh made the denial under oath multiple times to committee members. Senator Patrick Leahy (D-VT), however, recently posted confidential emails on Twitter that he says were in Kavanaugh's possession, proving his previous denials are, Leahy wrote, "just FALSE!"
5. September 27, 2018, Senate Judiciary Hearing, denying a New York Times report that "Renate alumnius" [sic] on his yearbook page was a sexual boast.
"That yearbook reference was clumsily intended to show affection, and that she was one of us…It was not related to sex."
Distance from the Truth: Sean Hagan and three other former Georgetown Prep students counter that the reference was intended as degrading, albeit unsubstantiated. "So angry. So disgusted. So sad. Integrity? Character? Honesty?" Hagan posted on Facebook after the testimony.
6. September 27, 2018, SJC hearing, response to Senator Amy Klobuchar (D-MN) about whether he "drank so much that you didn't remember what happened."
"But I did not drink beer to the point of blacking out… Passed out would be—no, but I've gone to sleep, but—but I've never blacked out."
Distance from the Truth: Former Yale freshman roommate James Roche: "I saw him both what I would consider blackout drunk, and also dealing with the repercussions of that in the morning."
Capital & Main asked congressional committee veterans and a former federal prosecutor to examine Kavanaugh's September 27 testimony, as well as additional statements flagged by journalists as probable Kavanaugh mistruths. They were asked if the nominee's character, temperament and credibility under fire warrant his elevation to the Supreme Court.
Former assistant U.S. attorney Nick Akerman
"[Kavanaugh] came out with an opening statement that basically tried to take away the committee's ability to really cross examine him," says trial lawyer and former assistant U.S. attorney Nick Akerman. "Because, I think, he realized that if he left himself open to being questioned by committee members and open-ended cross examination, he'd wind up getting himself into trouble — exactly as he did."
Akerman cut his prosecutorial teeth in the 1970s with the Watergate Special Prosecution Force under Archibald Cox and Leon Jaworski. Any kind of "he said, she said" equivalence between Blasey Ford and Kavanaugh during the hearings, Akerman argues, quickly foundered on the wealth of persuasive detail in Blasey Ford's account that was made even more compelling when it dovetailed with the personal calendar that Kavanaugh introduced as supposedly exculpatory evidence.
"I don't think Kavanaugh realized what he was doing," Akerman says. "I mean, the fact that he tried to keep [the possible party date] to a weekend as opposed to a weekday during the summer is a bit ridiculous. There's just enough little details in there that when you start adding them up all point towards him lying. This is somebody who should not be on the U.S. Supreme Court."
Former Rep. Elizabeth Holtzman
When Akerman was building cases against all the president's men, Elizabeth Holtzman was holding Richard Nixon accountable for his abuses of executive power and for flouting the Constitution. As a first-term congresswoman from New York City serving on the House Judiciary Committee, she cast key impeachment votes against Nixon. Like Akerman, Holtzman also notes the contradictions around Kavanaugh's interpretation of the calendar in his testimony, but what really stands out to her is how loosely, she says, Kavanaugh plays with facts.
"First of all, there was no left-wing conspiracy," she says. "If you listen to Dr. Blasey Ford, you know that she was a very reluctant witness, and this was not an effort to undo a conservative appointment; it was to let people know about what he had done. … His claim that there was no corroboration also wasn't true. Because there is corroborative testimony — testimony that she gave about her therapist, that she told the therapist, that she told her husband; there may be other people that she told."
Kristine Lucas, Leadership Conference on Civil and Human Rights
Kristine Lucius, executive vice president of policy for the Leadership Conference on Civil and Human Rights, which opposes the nomination, has been through her share of confirmation fights. But her experience as the legal and policy adviser to the former Senate Judiciary Committee chair, Democrat Patrick Leahy of Vermont, did not prepare her for what played out at last week's hearing.
"What we saw in Brett Kavanaugh's testimony was someone belligerent and vindictive, and threatening and partisan," Lucius says. "Even setting aside the significant sexual assault allegations, I have real concerns about how the Supreme Court will be viewed if he is confirmed."
Holtzman also expresses concern on this point.
"He said, 'What comes around, goes around' — and that's a kind of a threat," Holtzman says. "Is he threatening the people that support Dr. Blasey Ford? Is he threatening the Democrats? Is he threatening people who oppose his nomination? Who is he threatening? We don't need a Supreme Court justice who is going to use his position to get revenge."
Lucius recalls past confirmation fights from her time with the Judiciary Committee, when past drug use or a sexual allegation would sometimes surface in her background briefings of a nominee for committee members. What never seemed to emerge was a consistent standard of concern by senators. It was at such moments that she saw confirmation votes as a "decency test" for each individual member.
"This is 100 percent on the shoulders of the senators," says Lucius. "They are deciding what the standard is going to be for the highest court in the land. And that has as much to do with their institutional role as [it does] their own moral compass."
Ten More Times Kavanaugh May Have Lied Under Oath
1. September 5, 2018, Day 2 of Senate Judiciary Committee hearing, explaining a dissent that compared the majority's upholding of a DC ban on assault weapons "to a ban on a category of speech."
Under Oath:
"I grew up in a city plagued by gun violence and gang violence and drug violence."
Distance from the Truth: Kavanaugh grew up as an only child in Bethesda, Maryland, one of the country's most elite communities, whose homicide rate was 2.1 deaths per 100,000 from 2009 to 2015.
2. September 27, 2018, Senate Judiciary Committee hearing, explaining to Senator Sheldon Whitehouse (D-RI) what "boofed" means in Kavanaugh's yearbook entry, "Judge — have you boofed yet?"
Under Oath:
"That refers to flatulence. We were 16."
Distance from the Truth: "Anal sex," insisted Georgetown Prep classmates of the slang's meaning, interviewed prior to Kavanaugh's testimony. None had ever heard it referring to flatulence.
3. September 27, 2018, Senate Judiciary Committee hearing, to Senator Whitehouse's question of what "Devil's Triangle" on Kavanaugh's yearbook page referred to.
Under Oath:
"Drinking game."
Distance from the Truth: For most people, this is teen argot for group sex between two men and one woman.
"The explanation of Devil's triangle does not hold water for me," said William Fishburne, who managed the Georgetown Prep football team while Kavanaugh was a senior, to the New York Times.
4. September 27, 2018, Senate Judiciary Committee hearing, to Senator Whitehouse's question about another Kavanaugh' yearbook entry: "Beach Week Ralph Club — Biggest Contributor."
Under Oath:
"I'm known to have a weak stomach."
Distance from the Truth: Beach Week was a party week for Georgetown Prep kids. Yale roommate James Roche recalls Kavanaugh "frequently drinking excessively and becoming incoherently drunk"; roommate Kit Winter remembers "a lot of vomit in the bathroom. No one ever cleaned it up. It was disgusting. It wasn't incidental. It wasn't, 'Oh, this weekend someone puked in the bathroom.' People were constantly puking in the bathroom. Constantly."
5. September 27, 2018, Senate Judiciary Committee hearing, to Republican staff counsel Rachel Mitchell, on whether he consumed alcohol in high school.
Under Oath:
"I liked beer. Still like beer. We drank beer. The drinking age, as I noted, was 18, so the seniors were legal. Senior year in high school, people were legal to drink, and we — yeah, we drank beer, and I said sometimes, sometimes probably had too many beers."
Distance from the Truth: Technically correct … for Maryland; not so for Kavanaugh. In July of 1982, seven months before he turned 18, the state raised the legal drinking age for beer and wine from 18 to 21. Those who were 18 or older at the time were "grandfathered" in, so they could continue to drink legally. Those like Kavanaugh, who didn't turn 18 until the following February, had to continue illegally.
6. September 27, 2018, Senate Judiciary Committee hearing, on his recollections of Christine Blasey Ford.
Under Oath:
"She and I did not travel in the same social circles."
Distance from the Truth: During the spring and summer of 1982, Ford testified she was dating a friend of Kavanaugh's nicknamed "Squi," who appears more than a dozen times on Kavanaugh's calendar of social events.
7. September 27, 2018, Senate Judiciary Committee hearing, commenting on the veracity of Ford's testimony.
Under Oath:
"Dr. Ford's allegation is not merely uncorroborated, it is refuted by the very people she says were there, including by a longtime friend of hers."
Distance from the Truth: Ford identified four people, including Kavanaugh, at the party; the other three participants only said they had no memory of the gathering, and one, Leland Ingham Keyser, told the Washington Post that she believes Dr. Ford's account."
8. September 27, 2018, Senate Judiciary Committee hearing
Under Oath:
"The event described by Dr. Ford presumably happened on a weekend because I believed everyone worked and had jobs in the summers. And in any event, a drunken early evening event of the kind she describes presumably happened on a weekend. … If the party described by Dr. Ford happened in the summer of 1982 on a weekend night, my calendar shows all but definitively that I was not there."
Distance from the Truth: Ford never said when the alleged incident occurred. It's also not the case that Kavanaugh's social circle restricted its drinking to weekends in the summer. Judge, Kavanaugh's friend, wrote in a book about his battle with sobriety that he would often show up to work either hungover or still intoxicated from the night before.
9. September 27, 2018, Senate Judiciary Committee hearing
Under Oath:
"The calendars show a few weekday gatherings at friends' houses after a workout or just to meet up and have some beers. But none of those gatherings included the group of people that Dr. Ford has identified. And as my calendars show, I was very precise about listing who was there. Very precise."
Distance from the Truth: One calendar entry is a near-perfect match to the party described in Ford's testimony. On July 1, Kavanaugh, Mark Judge, Patrick Smyth and the boy Ford says she was going out with were headed to a friend's house for "skis" — or beer, as Kavanaugh explained in his testimony.
10. September 10, 2018, Senate Judiciary Committee hearing, responding to written questions about direct knowledge of sexual harassment by federal judge Alex Kozinski.
Under Oath:
"I do not remember any such comments."
Distance from the Truth: Kozinski's infamous private server containing pornographic photos and his inappropriate conduct were an open secret in the legal community, particularly the circles that included Kavanaugh, who maintained a close relationship with the jurist. Ex-clerk Heidi Bond wrote that "having clerked in his chambers, I do not know how it would be possible to forget something as pervasive as Kozinski's famously sexual sense of humor or his gag list."
Kavanaugh's Misleading Statements
in Fox News Interview
September 23, 2018, Fox News interview, on his high school years.
Not Under Oath:
"I went to an all-boys Catholic high school, a Jesuit high school, where I was focused on academics and athletics, going to church every Sunday at Little Flower, working on my service projects, and friendship, friendship with my fellow classmates and friendship with girls from the local all-girls Catholic schools."
Distance from the Truth: A far cry from the Keg City Club Treasurer — "100 Kegs or Bust" — listed on his Georgetown Prep yearbook page, or with what is described in Wasted: Tales of a Gen X Drunk, high school friend Mark Judge's memoir.
September 23, 2018, Fox News interview, responding to Debbie Ramirez's New Yorker claim that a drunk Kavanaugh exposed himself to her in a room of people at Yale.
Not Under Oath:
"If such a thing had happened, it would've been the talk of campus. The women I knew in college and the men I knew in college said that it's inconceivable that I could've done such a thing."
Distance from the Truth: Yale classmate Richard Oh and another anonymous student remember hearing about the incident at the time. Yale roommate James Roche found it entirely plausible that Kavanaugh exposed himself to Ramirez.
---
Copyright Capital & Main
California Workers and Retirees Are Unwittingly Financing an Anti-Rent-Control Campaign
Co-Published by The Guardian and MapLight
Blackstone is quietly funneling investors' money into its campaign against Proposition 10.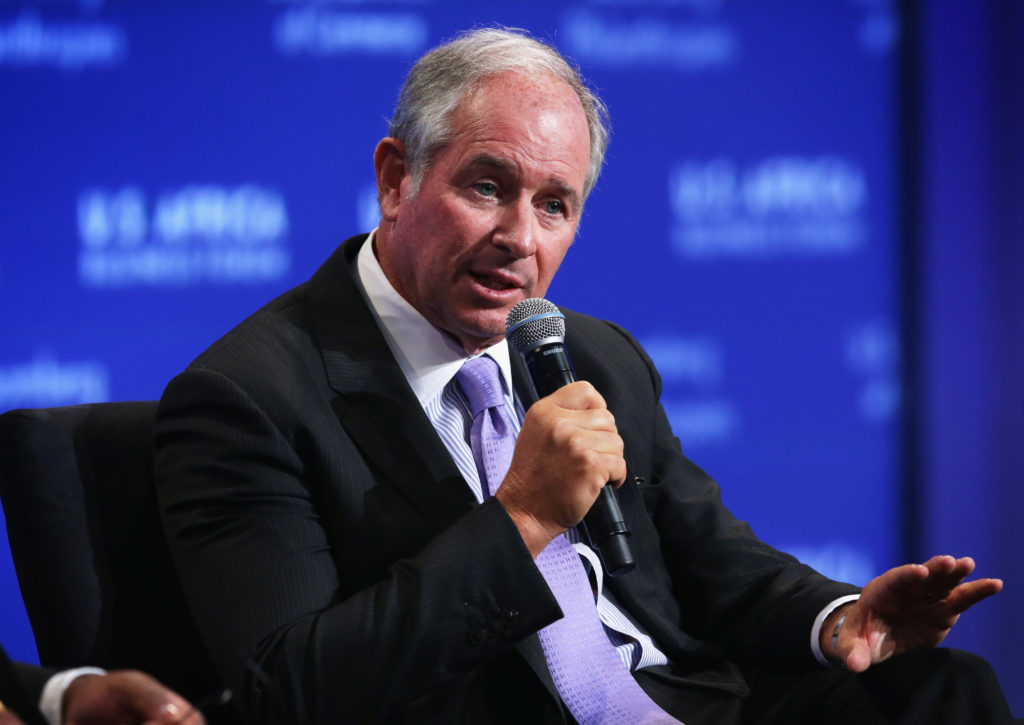 ---
Blackstone contributions did not come from the firm's corporate treasury, but from investors: Dozens of state and local pension systems, and public university endowments.
---
Co-Published by The Guardian and MapLight
When San Francisco's local government endorsed a state ballot initiative to permit rent control measures earlier this month, it appeared to be a victory for housing rights advocates in a city where stratospheric prices have sown social unrest and class animosity. The measure has found similar support from other California cities and unions representing public employees who can't afford to live in cities where they work.
Those advocates, however, may be unwittingly financing the opposition to the rent control measure. Documents reviewed by Capital & Main and MapLight reveal that a private equity giant with ties to President Donald Trump has boosted the campaign to defeat Proposition 10 with money taken from real estate investments funded by California public employees and the state university system.
Campaign finance records show entities controlled by private equity giant Blackstone have been among the biggest sources of cash for opponents of the ballot measure. More than $5.6 million has come from a Blackstone holding company and four of its  investment funds.
But unlike typical corporate political donations, the Blackstone contributions didn't come from the firm's executives or its corporate treasury. Instead, they came from pools of capital from investors, which include dozens of state and local pension systems, as well as public university endowments. The move has been described as the equivalent of mutual fund executives taking money out of customers' accounts to make political contributions.
In effect, Blackstone's maneuver means the opposition to the rent control initiative is being bankrolled by everyone from San Francisco municipal workers to university employees to public school teachers — all of whose retirement savings are in the Blackstone funds that have been tapped for the Proposition 10 fight.
"What we have is the largest Wall Street landlords in the country who are the very people profiting off of the housing crisis leading the opposition to Proposition 10," said Amy Schur, the campaign director for the Alliance of Californians for Community Empowerment, which supports the ballot measure. "It's adding insult to injury that they're using the pension funds' dollars of hard-working families to beat back an essential policy to provide relief to working families."
Michael Bustamante, a spokesman for a committee opposing Proposition 10, didn't answer questions about Blackstone's contributions. He said the measure is a "bad public policy that will make it harder for those looking for a safe, affordable place to live and is a perfect example of a well-intentioned law with disastrous consequences."
Blackstone didn't respond to a request for comment.
"Can't Afford a Place to Live"
The rent control initiative was prompted by anger over California's housing costs. The median home price in the state  has topped $600,000, double the national median. Californians pay some of the highest rents in the nation, and retirees have been hit hard.
A coalition of community organizations, tenants rights groups and unions have lined up behind Proposition 10, which would repeal a 1995 state law that blocks municipalities from imposing rent controls on new apartment units or single-family homes.
"In my district, teachers, firefighters and nurses often can't afford a place to live," said U.S. Rep. Ro Khanna (D-CA). "Cities should have the right to provide apartments at affordable rents. Any effort to kill Proposition 10 hurts not just the working class but also undermines the ability of local communities to determine their own destiny."
Opponents of Proposition 10 have cited an analysis from state legislative auditors that said the measure would likely reduce state and local revenues in the long term. The auditors estimated that revenue losses could be "in the hundreds of millions of dollars per year." Critics have also argued that reduced profitability would deter developers from building more housing.
"There is no doubt we need to make housing more affordable for Californians, but Proposition 10 will make our current situation worse, not better, by constricting future development of affordable units," former Los Angeles Mayor Antonio Villaraigosa said last month.
"The Investors Would Have No Idea"
More than $60 million has been donated for the Proposition 10 fight, with most of the money coming from landlords opposed to the measure. Blackstone and its affiliates have donated more than $6.8 million to two organizations opposing the initiative.
Almost $1.3 million has come from Invitation Homes, a Blackstone subsidiary that bought foreclosed single-family homes in the wake of the 2008 financial crisis and converted them to rental properties. Invitation now owns about 13,000 rental homes in California. Invitation tenants have complained of toxic mold, leaks and black widow spider infestations, and some have alleged they're victims of excessive and illegal late payment fees.
Another $5.6 million has come from Blackstone Property Partners, LP; Blackstone Real Estate Partners (VI-VIII); and BREIT MF Holdings LLC. Government records show that the four Blackstone investment funds are controlled by company CEO Stephen Schwarzman, a billionaire Trump ally. The funds have received investments from dozens of state pension systems, local pension funds and public university endowments.
---
---
Real estate funds typically pool institutional investors' cash, use it to buy properties, and return profits from rents and asset sales to the investors. The agreements governing public pension investments — which are usually exempted from open records laws — typically give Wall Street managers wide discretion over investor money. Blackstone appears to be using that latitude to direct investors cash into an election battle.
"Private equity fund investors — pension funds, endowments and others — are limited partners, and these private equity funds are in effect 'blind pools' which afford investors with very proscribed legal rights and with surprisingly little insight into and information about the funds' investments," said Leo Hindery, a New York-based private equity executive. "The investors would have no idea, if some of their money is going into partisan or activist political campaigns."
Blackstone has warned investors they could face losses from "fluctuations in occupancy, rental rates, operating income and expenses" as well as from "changes in legal, fiscal and regulatory regimes," corporate documents show.
Eileen Appelbaum, co-director of the Washington, DC-based Center for Economic and Policy Research, said the donations are likely legal, but she argued that pension managers should steer clear of private equity firms that use retirees' money for political causes.
"It would be bad enough if Stephen Schwarzman and [executive vice chairman] Tony James of Blackstone were spending some of their own billions to oppose legislation that will put a brake on their ability to drive sky-high rents even higher in the Bay Area," Appelbaum said. "But it is unconscionable for them to use millions of dollars taken from properties in which they have invested the retirement savings of police, firefighters, teachers and other public employees to deprive these workers of affordable rents in the communities in which they work."
"There Can Be Some Tension"
Alex Caputo-Pearl, president of United Teachers Los Angeles, said last month that teachers spend as much as half of their salaries on rent. "We need to say enough is enough and implement measures that better protect students, teachers and families. Implementing rent control is a strong first step," he said.
Even so, some of the retirement money those teachers contribute monthly to the California State Teachers' Retirement System (CalSTRS) is invested in the Blackstone funds that are financing the campaign against Proposition 10. Those investments were valued at more than $715 million last year, according to the CalSTRS website.
"As a public entity, CalSTRS does not participate directly in electoral politics," said a CalSTRS spokesperson.
Similarly, San Francisco's board of supervisors last month voted to endorse Proposition 10. But in 2015, the city employees' pension system committed $150 million to a Blackstone fund that has donated to the measure's opponents.
Then there is the University of California system. Proposition 10 was endorsed by the University of California Student Association, which represents student governments at schools throughout the UC system, and by the city government of Berkeley, which is home to one of the largest branches of the UC system.
At the same time, though, the UC Retirement Plan, which provides benefits for university employees, has invested $35 million in the Blackstone funds used to finance the Proposition 10 opposition.
"The University of California does not make donations to political campaigns," said UC spokesperson Dianne Klein. She added that the UC system's Blackstone investments only include a small amount of California real estate.
---
---
In recent years, pension overseers have faced increasing pressure to generate solid returns for retirees while ensuring their investments reflect environmental, human rights and other social values. For example, pension fund managers in New York and Chicago have announced plans to pull investments from private prison companies, citing their impact on poor and minority neighborhoods. New York City pension officials are also attempting to divest from fossil fuels.
Lou Barberini, a former San Francisco police officer whose retirement system has invested in the Blackstone funds, said his fellow retirees should be concerned that Blackstone's move will set a precedent that allows Wall Street firms to use pension money for pet political causes.
"It is morally wrong that they are using our retirement money to fund a political campaign," Barberini said. "It is also a slippery slope. Where does this stop? What if a money manager wants to take our retirement savings and give it to a candidate?
"Once you start taking money out of pensions to fund political campaigns, where do you draw the line?"
---
This story was reported by David Sirota of Capital & Main and Andrew Perez of MapLight. Amari Cowan contributed reporting.
MapLight and Capital & Main's funders include some non-profit groups that have declared their support for Proposition 10. Neither organization has received any funding from any for-profit entities that have a commercial interest in the outcome of the ballot measure.