The Haitian Women Who Live in California's Golden Purgatory
A clash between two Americas can be seen in the story of Haitian immigrants. One is a welcoming, pluralist America; the other is the nativist country that birthed Donald Trump.

Haitians from Brazil who trekked through jungles and waded rivers were truly the huddled masses of Emma Lazarus' Statue of Liberty poem. Then came Donald Trump.
---
Nadia Aly, aged 26, sits at a table in 

San Diego's Catholic Charities office, elegant in a silvery-gray chain-link sweater. Her daughter, just shy of 1 year old, rests in a stroller, a bow in her hair, a pacifier in her mouth.

In December 2015, Nadia left her impoverished home country of Haiti for Brazil. There was a growing Haitian community there, which over the previous years had been lured by a booming economy and the prospect of jobs — especially in construction– in the run-up to the 2014 World Cup and, later, the Olympics. Many had left their children behind with relatives, hoping to be able to financially support them from afar. In Brazil, Nadia and her boyfriend, Franky Jean Simon,  whom she had met at university in Port-au-Prince, the Haitian capital, worked, saved and planned their futures.
Little Haiti refugee settlement, Tijuana, Mexico. (Photo: Ted Soqui)
By the time Nadia got settled in her new home, however, the Brazilian economy had hit the skids. Most of Haitians found themselves jobless. With no income in Brazil and no prospects back in Haiti, large numbers began heading north, without papers, hoping to eventually resettle in the United States. Nadia and Franky were amongst them. It was an extraordinary odyssey. For those with money and visas, a flight from Brazil to California takes half a day. For those without, it's a months-long journey. It involves cutting through jungles, fording rivers, traipsing from one country to the next, bribing border guards, paying smugglers. They left Brazil in small groups, friends and strangers brought together by desperation. They walked north, sometimes meeting other groups, caravanning, pooling resources (food, money, information, Spanish words picked up here and there) – modern day wagon trains of Creole-speaking migrants looking to wend their way to El Dorado. Sometimes there would be as few as five or 10 people; other times, perhaps a hundred.
Haitian men who present themselves at crossing checkpoints are promptly locked away in detention facilities. They will likely spend the next several years there unless they agree to be repatriated to Haiti.
Brazil. Peru. Ecuador. Colombia. Panama. Costa Rica. Nicaragua. Honduras. Guatemala. Mexico… and, finally, months later, the United States.
They were, truly, the tired, poor, huddled masses of Emma Lazarus' poem on the base of the Statue of Liberty. Their stories were the stories of so many Americans' immigrant ancestors– heartache, pain, poverty, exposure to violence, lack of schooling, disease, flight from dysfunction and brutal government. And they had heard rumors that once at the U.S. border, if they presented themselves to officers, they would be dealt with humanely and admitted into the country. Nobody understood quite how or why, but they knew what they had heard, or read on Facebook, and they were willing to give it a go.
"People were saying there was a way for Haitians to enter the U.S.," Ivonnia Jean Baptiste remembers, as she fusses with her 2-month-old daughter. "I wasn't sure about it, but I was willing to take the risk to try.""We didn't have any type of information," says 39-year-old Nounoune Jules. "We were relying on our faith."
Rosenique, San Diego. (Photo: Sasha Abramsky)
"It was really hard," adds Gertha Bordeleus, 28, sitting in the small San Diego apartment she now shares with three other women and their children, her infant swaddled in a blanket against her shoulder. She recalls the six days that she, her husband, and their 2-year-old son walked through the jungle on the Colombia-Panama border, with only candies to eat, some Gatorade and very little water. "It was really scary. You had to walk through the forest. It was raining. We were wet; we were cold. I was too weak to carry my child."
When Gertha's family finally reached Tijuana in the first months of the Trump administration, however, they heard that the border was now largely closed, especially to Haitian men. For months, they lived in a refugee camp, taking on day-labor jobs, trying just to survive. Gertha became pregnant. Rumor had it that pregnant women were still, even in Trump's America, being allowed over the border. She decided to attempt the crossing. Her husband stayed behind with their son in Tijuana.
Since Trump's inauguration, the women and their young children are indeed still allowed in, but the door has been shut on the men. Haitian men who present themselves at crossing checkpoints and request "parole" into the country while they await their day in court are now promptly locked away in immigration detention facilities. There they will likely spend the next several years unless they forgo an immigration hearing and agree to be repatriated to Haiti; others have decided not to risk it, and are living in squalid, informal, refugee camps in Tijuana.
In December 2016, heavily pregnant, Nadia had presented herself, without papers or visa, at the Mexico-U.S. border checkpoint in Tijuana. She stated that she feared what would happen to her if she returned to Haiti and requested admission into the country. Under nearly 40-year-old programs intended to help Haitian migrants, she was "paroled" in – meaning she was allowed entry, and access to certain benefits and to a work permit, while her immigration case wended its way through the courts. Her boyfriend Franky was also admitted.
Once in the country, they were evaluated to see if they were eligible for some cash benefits for a security deposit and the first months' rent, as well as fees for work permits, administered by Catholic Charities of San Diego, with federal funds from the Cuban Haitian Entrant Program (CHEP) established in 1980.
A church-run center for Haitians in Tijuana. (Photo: Ted Soqui)
Four months later, however, amidst a growing crackdown on undocumented migrants, Franky was arrested and deported to Haiti. He lives there now, penniless, reliant on what little money Nadia can send him from her earnings as a cleaner at a Marriott Hotel.
"We didn't know we were going to live without each other," Nadia, deeply depressed, anxious, and having problems with her memory, explains. "If I need to see his face, I have his pictures in my phone. This is where I go."
Over the last couple of years, several thousand Haitians, claiming a credible fear of harm if they are returned to Haiti, have come through the Tijuana-San Diego border crossing. Once "paroled" in, many were given tickets by Catholic Charities and flown to Boston, New York and Florida. Many others took buses and trains to other points in California and the country. But large numbers stayed in the San Diego area. In 2016, 328 people received CHEP benefits – mainly cash assistance, administered by Catholic Charities, that was used to put security deposits on apartment rentals and to pay first-month's rents — in San Diego. Hundreds of others in the city were paroled in, but denied the benefits. The following year, however, that number plummeted. In 2017, according to Nadine Toppozada, director of refugee and human trafficking services at Catholic Charities San Diego, only about 200 people in San Diego received CHEP benefits; this year that number is slated to fall below 90. The decrease is largely due to the fact that the men are no longer being admitted into the United States.
As a result of this new policy of dividing families at the border, San Diego now has large numbers of young, extremely poor, and frequently illiterate, Haitian women and children living in over-crowded communal apartments in low-end rental units. Those who qualify for CHEP benefits are helped financially and with navigating government bureaucracies, by Catholic Charities and other groups. Despite the help, the road they travel is miserable.
Ruth Monexil said she would not have tried to enter the country last fall had she known that her husband and teenage son would be detained. "When I live without my family, I don't live well. I am depressed. I am not working. I don't know where my son is, what's going on. Last week, I was doing really bad, I felt like I was losing my head. I'm always feeling sad inside of me."
Ivonnia Jean Baptiste and her daughter, San Diego. (Photo: Sasha Abramsky)
These days, Ruth lives with strangers, in a small gray-stucco apartment complex. Their living-room walls are entirely bare, the room's only furniture a small TV on a little wooden table. Their kitchen is crowded with donated toys for the babies and toddlers. The bedrooms are cluttered, lived in by too many people.
The Cuban Haitian Entrant Program was begun in the 1980s to help Cuban and Haitian migrants, who met criteria laid down in the 1980 Refugee Education Assistance Act, to navigate life in the U.S.
Like so much of America's immigration and welfare system, CHEP – described by Toppozada as "the Cuban Haitian welfare program" — was as much the result of happenstance as careful planning. For years, desperate Haitian boat people had been fleeing the kleptocracy, political violence and almost unimaginable poverty of their homeland. They had been washing up on Florida's coastline and had, routinely, been rounded up, held in detention centers, and earmarked for fast-track deportation. Then, in the spring of 1980, Fidel Castro opened the port in Mariel to Cubans seeking to leave their island. In the months following, tens of thousands of Cuban boat people arrived in Florida.
Trump didn't bother to hide his distaste for Haitian immigrants. They all had AIDS, he reportedly told advisers.
For geopolitical reasons (Cuba being a communist nation, with the Cold War in full bloom), Jimmy Carter's administration felt it had to let the Cuban boat people stay in the U.S. But, the juxtaposition, one highlighted by the media and by human rights groups, was jarring – Cubans fleeing communism were being granted admission; Haitians fleeing the U.S.-backed Duvalier dictatorship, a dictatorship far worse than Castro's, were being arrested and deported. To avoid a series of messy court cases and a public opinion battle they feared they couldn't win, the administration included Haiti in the program. The U.S. Citizenship and Immigration Services and the Office of Refugee Resettlement would process the vast number of boat people arriving daily in Florida during the early 1980s, the Haitian portion of which was "paroled" in while awaiting immigration hearings.

Until 2016 most Haitians were paroled in on the East Coast, if they managed to skirt aggressive Coast Guard patrols intended to stop them before they reached U.S. soil. A

ll that changed in early 2016, when the Brazilian economy imploded and Haitian migrants there were cast adrift. Soon afterwards, Catholic Charities workers in California noted a large uptick in the numbers of Haitians requesting help on the land-crossings from Mexico. Immigration and Custom Enforcement numbers suggest somewhere between 5,000 and 7,000 Haitian entrants arrived at the San Ysidro border crossing in 2016.

While the Obama's administration sought to stem this influx, it also believed in keeping families together – and so men and women with children were paroled in, even while the administration made it clear it would seek, ultimately, to deport them. They were given the precious I-94 documents that allowed them to live and work in America, and to claim financial assistance through CHEP while their asylum cases wound through the courts. Under President Trump, however, the policy immediately tightened.

Trump didn't bother to hide his distaste for Haitian immigrants. They all had AIDS, he reportedly told advisers in the run-up to his decision to roll back Temporary Protected Status for another group of Haitian migrants who had entered the country following the 2010 earthquake, and who had been able to avoid deportation because of the widespread devastation in Haiti.
Many of the women arrive in San Diego psychically broken and separated from their husbands and boyfriends, overwhelmed by having to care for newborns without help.
The new administration begrudgingly honored the government's commitment to "parole" in the case of women and children, and to provide them documents allowing them access to benefits and work. The men, however, were detained.
"After we crossed the border, they released me and my child," recalls Nounoune Jules. "But my husband is still in the detention center. I never knew they would keep him this long. He is sick; he cannot be in detention."
Many of the women arrive in San Diego psychically broken. They are separated from their husbands and boyfriends, overwhelmed by having to care for newborns without help. Many of them are illiterate in their home tongue, unable to speak the new language and without the time or energy to enroll in ESL classes. They often wait for months for work permits from increasingly hostile federal agencies. Helped by Catholic Charities, they have been housed with other women migrants and their children, the crowded apartments rapidly becoming hubs for uniquely Trump-era "Modern Families" of female strangers and their children cast together by circumstance.
"I'm by myself," says Marie Darline Remy of her loneliness. "On Wednesday, my child was sick. I had to go to the hospital. I spent the whole night awake. I came back home; no-one asked me, 'How is your baby?' Things like that make you feel alone." She can't even phone her husband in Tijuana. His phone isn't working and she doesn't know of any other way to contact him. He has never met their infant son.
Residents of Little Haiti, Tijuana. (Photo: Ted Soqui)

A clash between two Americas can be seen in the story of these Haitians. One is the welcoming, pluralist America of Emma Lazarus' 

Statue of Liberty poem, willing to take a chance on impoverished and vulnerable new arrivals. The other is the nativist America that birthed Trump and, in turn, has been nurtured by his presidency.

The Haitian women and their children are the lucky recipients of a last-gasp generosity, beneficiaries of a stupendous humanitarian impulse that is now under assault. They are able to access cash, food and medical benefits; their children who are born after their arrival are U.S. citizens. But the men left behind in detention or in Tijuana are amongst the first victims of the new closed and narrow vision of how America treats those desperate migrants seeking succor on its shores.

And by separating the men and women, the government has condemned the women to a cruel purgatory – admitted into the country, but unable to see their partners, unable to envision a possible future in which their families will one day be made whole again.

Hermaine Pierre, jobless and adrift in San Diego, explains how her 2-year-old daughter has lost her appetite as she pines for her detained father. She herself struggles to sleep at night, terrified her husband will be deported to Haiti. One of Hermaine's roommates also talks of not being able to sleep, as she worries about her boyfriend left behind in Tijuana.

Back in Haiti, Franky Simon puts on a brave façade when he talks to Nadia. He tells her he will find a way to get back to the United States to be with her and their child. He tells her he will one day be able to watch out for her again. But, in her heart of hearts, Nadia no longer believes in happy endings.

"I don't think he'll ever be able to come back here," she admits softly. "I'm just living day by day. With no hope."
---
Copyright Capital & Main

Deadly Detention: Self-Portrait of a Tragedy
Co-published by International Business Times
The missteps and errors of ICE and its contractors have led to concerns about the safety of immigrant detainees with mental health issues.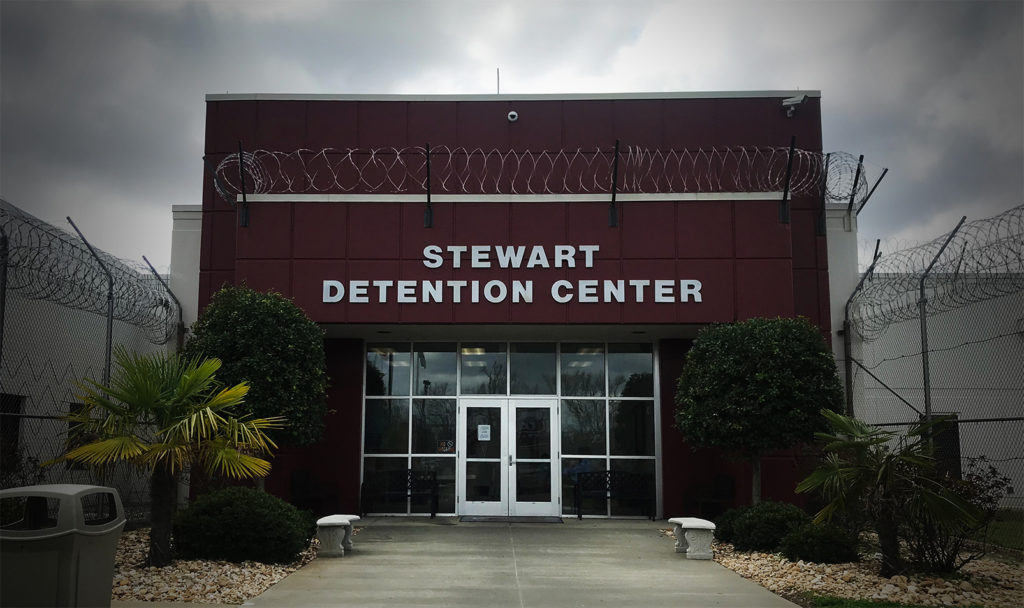 ---
A suicidal detainee never got the mental health care he needed and was placed in a cell that contained a known suicide hazard,
a ceiling sprinkler head.
---
Co-published by International Business Times
Sometime after midnight in mid-May of 2017, 27-year old JeanCarlo Jimenez Joseph fashioned a noose from a bed sheet and hanged himself in his solitary confinement cell at the Stewart Detention Center, located in the pine woods of southwest Georgia. Stewart's low-slung complex lies behind two tall chain-linked fences, each crowned with huge spirals of glinting barbed wire. Beginning in 2006, the facility began to house undocumented immigrants detained by U.S. Immigration and Customs Enforcement.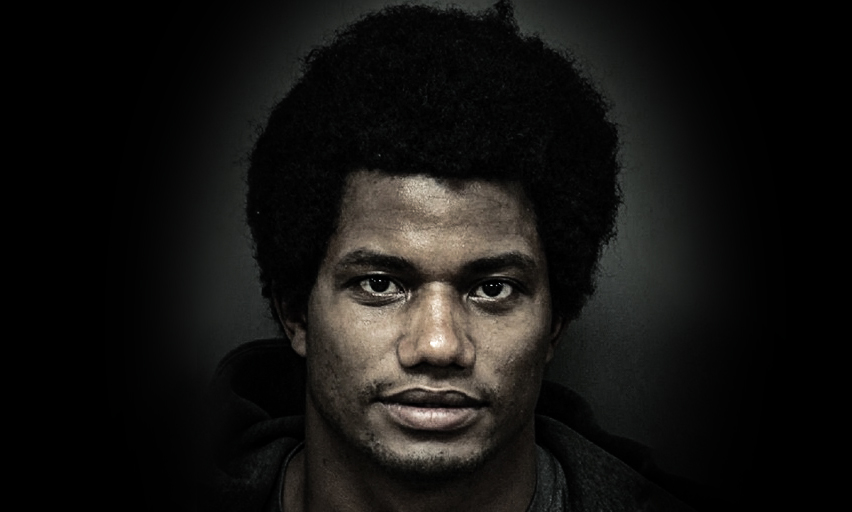 Jimenez's fall sounded like a sledgehammer blow, said 20-year-old Abel Ramirez Blanco, who was also in segregation at Stewart that night. Another detainee, Miguel Montilla, had peered through the metal grate on his door and saw guard Freddy Wims frantically knocking at Jimenez's cell door. "He got on the walkie-talkie and started screaming," Montilla said.
"I looked in the door and I didn't see him," Wims would later remember. Wims scanned the small cell until, he said, "I looked over in the corner by the commode and he was hanging there by the sheet."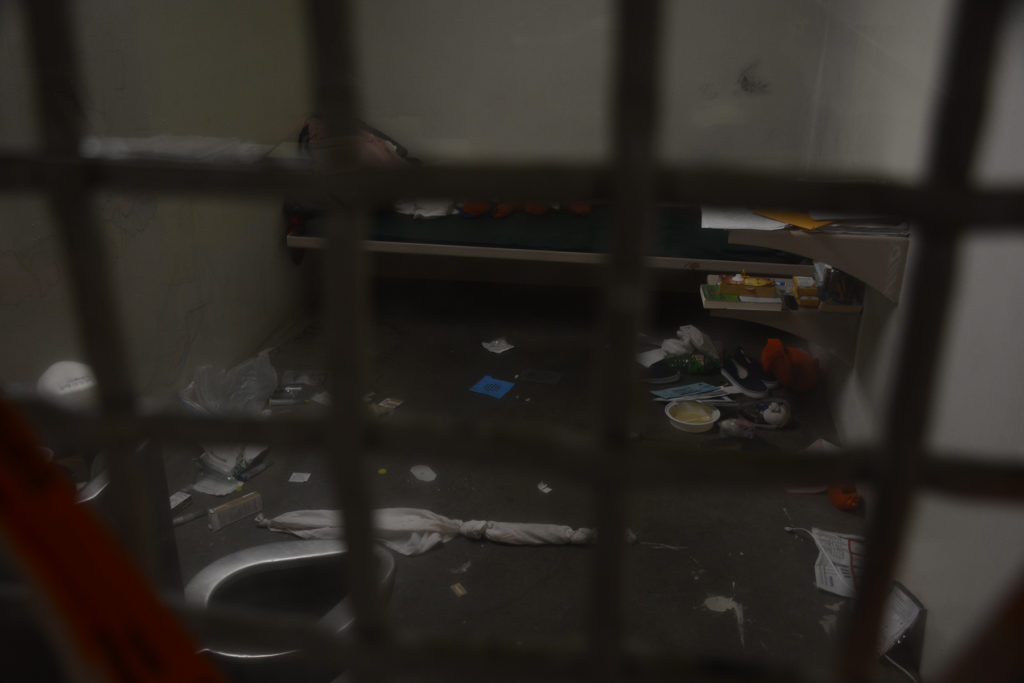 Within hours, Georgia Bureau of Investigation agents descended on Stewart, about 140 miles south of Atlanta, to find out if foul play had been involved in Jimenez's death. It wasn't. But the investigation, which generated audio interviews of Stewart staff and detainees, along with recordings of Jimenez's personal phone calls and official documents, revealed that CoreCivic, the for-profit prison company that operates Stewart for ICE, and ICE Health Services Corps, which provides health care at Stewart, cut corners and skirted federal detention rules. The organizations' missteps and errors have led to concerns about the safety of immigrant detainees with mental health issues.
The probe disclosed that Jimenez repeatedly displayed suicidal behavior, but never got the mental health care he needed. He was also placed in a cell that contained a known suicide hazard, a ceiling sprinkler head, upon which he affixed his makeshift noose. Freddy Wims was assigned to check Jimenez's cell every half hour, but didn't do so. Instead, he falsified his logs to make it appear he had, and he was later fired. Stewart's warden, Bill Spivey, retired after Jimenez's death; a CoreCivic spokesman told The Atlanta Journal-Constitution that the two events were unrelated. Spivey couldn't be reached for comment for this article.
---
Psychiatrist: Placing a suicidal prisoner in solitary confinement is like placing someone with bad asthma in a burning building.
---
CoreCivic's spokesman, Jonathan Burns, didn't respond to questions about Jimenez's death and detention. Instead, he wrote in an email, "CoreCivic is deeply committed to providing a safe, humane and appropriate environment for those entrusted to our care, while also delivering cost-effective solutions to the challenges our government partners face." ICE spokeswoman Tamara Spicer wrote in an email that she couldn't answer questions about the case because it is "still undergoing a comprehensive review that has not been released."
Jimenez had been in solitary for 19 days at the time of his death — punishment for what his sister would tell investigators was an earlier suicide attempt. He had leapt from a second-floor walkway in his dormitory, and later repeatedly told detention center personnel, "I am Julius Caesar for real." He was physically unhurt, but Stewart staff were aware he was suffering from mental illness and had a history of suicide attempts, documents show. Still, after his jump, Jimenez saw a nurse who quickly cleared him for placement in a 13-by-7-foot segregation cell alone for 23 hours a day. After that, his suffering seemed to intensify.
"Placing a suicidal prisoner in segregation is like placing someone with bad asthma in a burning building," Terry Kupers, a Bay Area psychiatrist who has studied solitary confinement and who reviewed some of the documents in Jimenez's case, noted in an email. He added that half of successful prison suicides occur among the three to eight percent of prisoners in solitary confinement.
Jimenez wasn't put on suicide watch, or even ordered monitored more frequently than the normal half-hour checks. He continued to display alarming behavior. Montilla told the GBI that he and a guard had heard Jimenez screaming and banging on his cell wall two weeks before his death. "Man, I'm suffering from psychosis and I hear voices talking to me and they're bothering the shit out of me," Montilla recalled Jimenez saying.
Registered Nurse Shuntelle Anderson told a GBI agent that some five days before his death, she saw Jimenez banging the metal mirror in his cell. He told her, "These fucking voices, they won't leave me the fuck alone …They're telling me to commit suicide…but I don't want to harm myself."
---
---
Jimenez asked Anderson for a higher dose of the anti-psychotic drug Risperidone, which he'd previously been prescribed at a North Carolina mental health facility. It was at least the second such request he'd made at Stewart — where he received only a fourth of his normal dosage.
Anderson told investigators she left a note for the facility's behavioral health counselor, Kimberly Calvery, saying that Jimenez wanted more medication. Calvery arranged for him to speak with the detention center's psychiatrist but Jimenez didn't live long enough to keep the appointment, which was scheduled later in the morning he died. Calvery later told investigators that Jimenez "never showed any suicidal tendencies at the Stewart Detention Center."
---
Homeland Security reported that at the Stewart Detention Center solitary confinement, which  isn't supposed to be punitive, appeared to be sometimes used to punish trivial offenses.
---
"He was such a good kid," Anderson told investigators in the hours after Jimenez's death. Earlier that night, she'd given him medication and he'd shared a self-portrait he'd been working on. "It was very nice, very detailed and last night, when I went down there, he said, 'Look, I finished it.'" Anderson said. Guards and detainees also described Jimenez as mostly lucid and friendly, despite his occasional outbursts, quirky comments and a propensity to call himself Julius Caesar.
In a December 2017 report, "Concerns about ICE Detainee Treatment and Care at Detention Facilities," the Homeland Security inspector general wrote that at Stewart and three other facilities (which are operated by county governments), "We identified problems that undermine the protection of detainees' rights, their humane treatment, and the provision of a safe and healthy environment." The IG's staff wrote that immigration detention isn't supposed to be punitive, and noted that at three of the facilities, including Stewart, segregation or solitary confinement appeared to be sometimes used to punish trivial offenses. At Stewart, the inspectors also found that showers were moldy and lacked cold water in some cases, and some bathrooms had no hot water, and that medical care, even for painful conditions, had been delayed for detainees.
---
Since 2003, 179 immigrant detainees have died in custody, many from preventable causes, like pneumonia and alcohol withdrawal.
---
Additionally, despite Jimenez's nonviolent crimes, he was classified as a high-risk detainee. He had been convicted of marijuana possession, petty theft and an assault charge that arose from an unwanted hug he gave a woman in Raleigh, North Carolina. He was issued a red jumpsuit to signal his danger level and housed with others who were similarly classified. The inspector general's report flagged misclassification of detainees as a problem at Stewart. While there, Jimenez wavered between wanting to wage a court battle to stay in the U.S., and paying for his own return to Panama through a process called voluntary departure. But, before he could take the first steps to fight his case, he ran into roadblocks, including the failure of the detention center to send a set of documents that Jimenez's attorney had requested.
Since 2003, 179 immigrant detainees have died in custody, many from preventable causes, like pneumonia and alcohol withdrawal. Human rights groups point to dozens of others who endure painful medical conditions and must wait for care or never receive it at all.
Like Jimenez, they've been dropped into a ballooning system whose rapid growth and diffuse nature would make it hard for the government to closely monitor, even if it attempted to do so.
ICE had fewer than 7,500 detention beds in 1995. Now the system is 500 percent bigger, with nearly 40,000 beds nationwide in 200 facilities that operate under three different sets of government standards. The Trump administration plans to add 12,000 more beds this year alone even as vulnerable detainees currently fall through the cracks.
---
JeanCarlo Jimenez completed his self-portrait and tied knots in a white bed sheet to shorten it. A guard  observed him jumping rope with it.
---
Federal officials largely maintain a hands-off approach, leaving it to private prison companies like CoreCivic and the GEO Group to run day-to-day affairs. The companies tend to run them like prisons and not as the civil detention facilities that the law says they are.
Photo: Robin Urevich
"Contractors operating facilities for ICE typically have backgrounds in corrections, and this shapes how they administer their ICE detention facilities," said Kevin Landy, who led the Obama administration's immigration detention reform efforts as the head of ICE's Office of Detention Policy and Planning.
"Problems such as medical care, the way disciplinary proceedings are administered, the lack of sensitivity to detainee needs, and conditions generally reflect the problems writ large in our correctional system," Landy said.
At Stewart, these problems have been particularly acute, said attorney Azadeh Shahshahani, whose group, Project South, monitors conditions at Stewart. "The facility needs to be shut down. It's beyond redemption."
Jimenez had come to the United States from Panama when he was 10, graduated from high school in Kansas, and considered himself American, even though he lived in the U.S. without documents most of his life. Public records show he even registered to vote in North Carolina — as a Republican.
"When I heard what happened, it blew my mind," said Matt Schott, who was about four years older than Jean Jimenez and now works for an oil and gas exploration company in Kansas. Jimenez was 19 when he and his sister, Karina Kelly, came to Matt's church, and they became friends 12 years ago. "He brought a lot of laughter to everybody," Schott said, recalling Jean's huge open smile. In photos, he's beaming, showing a mouthful of teeth and wearing a big afro.
"Jean would just show up at the house. We'd play Christian worship music, and be up till 3 or 4 in the morning. We would get a bunch of food and go to a park," Schott remembered. A video on Jean's Facebook page shows him executing expert dance moves as friends play instruments outdoors.
Schott said when they began to share more of their lives, Jean tearfully told Matt he was undocumented and had to hide in plain sight. "He had big dreams. He wanted to start an architecture firm and had already named it — Eyes Design."
Except for a few Facebook messages they exchanged, Schott lost track of Jimenez after the latter moved to North Carolina with his mother and stepfather about eight years ago. While there, Jimenez had obtained protection from deportation through the Obama administration's DACA or Deferred Action for Childhood Arrivals program.
But, in the six months before he was detained, his mental health declined. He was hospitalized twice for psychotic episodes and lost his DACA status. Jimenez also had the misfortune of being arrested just as President Trump took office. The new administration had declared that anyone in the country illegally was fair game for immigration enforcement, even if they'd committed no crime or if their crimes were as minor as Jimenez's. He was transferred to ICE custody.
For Jimenez the prospect of deportation to Panama, a country he had left behind as a child, was scary, his sister Karina wrote in a chronology of conversations with her brother that she sent to the family's attorney. "Game is over," Kelly recalled Jimenez saying. But before being shipped to Panama, he would be held at Stewart, arguably one of the most troubled detention centers in the country.
About six weeks into his detention a fellow detainee punched Jimenez in the groin and busted his lip. Jimenez was punished with his first stint in solitary — even though he was the victim in the attack and the detention center's camera shows he didn't fight back.
"I'm tired of this life," Jimenez told his stepfather Gilberto Rodriguez in a recorded phone call soon after, his voice sounding uncharacteristically weary.
"Don't give up, you can start over," Rodriguez counseled. "In God's name you're getting out…we have to do this together."
Just two days before his death, Jimenez's mother, Nerina Joseph, and Rodriguez made the trip from Raleigh, North Carolina, to visit him. "She reported that he was so happy to see them, and they had the best 60 minutes a mother in her shoes could ever ask for," Karina Kelly wrote.
Still, Jimenez's mother was concerned about his well-being, and stopped by El Refugio, a hospitality center in Lumpkin, Georgia, where detention center visitors can find a meal and place to sleep. El Refugio volunteers also visit detainees, and Joseph requested that someone check on Jimenez. A volunteer attempted to see him the next day, but was turned away because Stewart personnel mistakenly said Jimenez couldn't receive visitors. Records show there were no such restrictions on Jimenez's visits.
Later that night, Jimenez completed his self-portrait, and tied knots in a white bed sheet to shorten it. A guard even observed him jumping rope with the sheet a few hours before he died and asked him about it. Jimenez replied he was staying in shape and the guard took no further action.
Ten days after Jimenez's suicide, a fellow detainee, Abel Ramirez Blanco, told GBI investigator Justin Lowthorpe that he had listened in his cell as guards, nurses and finally paramedics labored over Jimenez's lifeless body, and an automatic defibrillator blared robotic CPR instructions.
A videotape of the scene inside Jimenez's cell shows nurses Shuntelle Anderson and Davis English desperately trying to resuscitate Jimenez. Anderson yells for guards to call 911. "I'm calling an ambulance," a voice answers. Records from a regional 911 center show paramedics were called six minutes after Wims radioed a medical emergency, and arrived in Jimenez's cell some seven minutes after they were called.
ICE inspectors haven't yet weighed in on Jimenez's case. But in studying a 2013 suicide, ICE reviewers criticized staff at a Pennsylvania facility for waiting four minutes to call 911, writing that the Mayo Clinic and the American Heart Association recommend calling 911 before beginning CPR.
Jimenez was eventually taken to a hospital where he was pronounced dead less than 15 minutes after his arrival.
Red caution tape was placed in the shape of a large X on Jimenez's cell door. Inside the cell, steel shelves held his art supplies, his artwork and a plastic instant-noodle soup bowl with some of the broth still in it. On his wall Jimenez had written, "The grave cometh. Halleluyah."
A death like Jimenez's "could have happened to me," Ramirez told GBI agent Lowthorpe, because of his own anxiety and depression. Ramirez said Stewart staff didn't help him when he reported those symptoms. Instead, he was thrown in segregation where he witnessed Jimenez's suicide, and began to feel even more desperate.
Matt Schott struggled to reconcile his friend's death with his Christian faith. "People believe you commit suicide and you go to hell," Schott said. "I can't believe that about Jean because I knew who he really was. I love the guy and I believe one day I'll see him again."
---
Copyright Capital & Main