The Haitian Women Who Live in California's Golden Purgatory
A clash between two Americas can be seen in the story of Haitian immigrants. One is a welcoming, pluralist America; the other is the nativist country that birthed Donald Trump.
Haitians from Brazil who trekked through jungles and waded rivers were truly the huddled masses of Emma Lazarus' Statue of Liberty poem. Then came Donald Trump.
---
Nadia Aly, aged 26, sits at a table in 

San Diego's Catholic Charities office, elegant in a silvery-gray chain-link sweater. Her daughter, just shy of 1 year old, rests in a stroller, a bow in her hair, a pacifier in her mouth.

In December 2015, Nadia left her impoverished home country of Haiti for Brazil. There was a growing Haitian community there, which over the previous years had been lured by a booming economy and the prospect of jobs — especially in construction– in the run-up to the 2014 World Cup and, later, the Olympics. Many had left their children behind with relatives, hoping to be able to financially support them from afar. In Brazil, Nadia and her boyfriend, Franky Jean Simon,  whom she had met at university in Port-au-Prince, the Haitian capital, worked, saved and planned their futures.
Little Haiti refugee settlement, Tijuana, Mexico. (Photo: Ted Soqui)
By the time Nadia got settled in her new home, however, the Brazilian economy had hit the skids. Most of Haitians found themselves jobless. With no income in Brazil and no prospects back in Haiti, large numbers began heading north, without papers, hoping to eventually resettle in the United States. Nadia and Franky were amongst them. It was an extraordinary odyssey. For those with money and visas, a flight from Brazil to California takes half a day. For those without, it's a months-long journey. It involves cutting through jungles, fording rivers, traipsing from one country to the next, bribing border guards, paying smugglers. They left Brazil in small groups, friends and strangers brought together by desperation. They walked north, sometimes meeting other groups, caravanning, pooling resources (food, money, information, Spanish words picked up here and there) – modern day wagon trains of Creole-speaking migrants looking to wend their way to El Dorado. Sometimes there would be as few as five or 10 people; other times, perhaps a hundred.
Haitian men who present themselves at crossing checkpoints are promptly locked away in detention facilities. They will likely spend the next several years there unless they agree to be repatriated to Haiti.
Brazil. Peru. Ecuador. Colombia. Panama. Costa Rica. Nicaragua. Honduras. Guatemala. Mexico… and, finally, months later, the United States.
They were, truly, the tired, poor, huddled masses of Emma Lazarus' poem on the base of the Statue of Liberty. Their stories were the stories of so many Americans' immigrant ancestors– heartache, pain, poverty, exposure to violence, lack of schooling, disease, flight from dysfunction and brutal government. And they had heard rumors that once at the U.S. border, if they presented themselves to officers, they would be dealt with humanely and admitted into the country. Nobody understood quite how or why, but they knew what they had heard, or read on Facebook, and they were willing to give it a go.
"People were saying there was a way for Haitians to enter the U.S.," Ivonnia Jean Baptiste remembers, as she fusses with her 2-month-old daughter. "I wasn't sure about it, but I was willing to take the risk to try.""We didn't have any type of information," says 39-year-old Nounoune Jules. "We were relying on our faith."
Rosenique, San Diego. (Photo: Sasha Abramsky)
"It was really hard," adds Gertha Bordeleus, 28, sitting in the small San Diego apartment she now shares with three other women and their children, her infant swaddled in a blanket against her shoulder. She recalls the six days that she, her husband, and their 2-year-old son walked through the jungle on the Colombia-Panama border, with only candies to eat, some Gatorade and very little water. "It was really scary. You had to walk through the forest. It was raining. We were wet; we were cold. I was too weak to carry my child."
When Gertha's family finally reached Tijuana in the first months of the Trump administration, however, they heard that the border was now largely closed, especially to Haitian men. For months, they lived in a refugee camp, taking on day-labor jobs, trying just to survive. Gertha became pregnant. Rumor had it that pregnant women were still, even in Trump's America, being allowed over the border. She decided to attempt the crossing. Her husband stayed behind with their son in Tijuana.
Since Trump's inauguration, the women and their young children are indeed still allowed in, but the door has been shut on the men. Haitian men who present themselves at crossing checkpoints and request "parole" into the country while they await their day in court are now promptly locked away in immigration detention facilities. There they will likely spend the next several years unless they forgo an immigration hearing and agree to be repatriated to Haiti; others have decided not to risk it, and are living in squalid, informal, refugee camps in Tijuana.
In December 2016, heavily pregnant, Nadia had presented herself, without papers or visa, at the Mexico-U.S. border checkpoint in Tijuana. She stated that she feared what would happen to her if she returned to Haiti and requested admission into the country. Under nearly 40-year-old programs intended to help Haitian migrants, she was "paroled" in – meaning she was allowed entry, and access to certain benefits and to a work permit, while her immigration case wended its way through the courts. Her boyfriend Franky was also admitted.
Once in the country, they were evaluated to see if they were eligible for some cash benefits for a security deposit and the first months' rent, as well as fees for work permits, administered by Catholic Charities of San Diego, with federal funds from the Cuban Haitian Entrant Program (CHEP) established in 1980.
A church-run center for Haitians in Tijuana. (Photo: Ted Soqui)
Four months later, however, amidst a growing crackdown on undocumented migrants, Franky was arrested and deported to Haiti. He lives there now, penniless, reliant on what little money Nadia can send him from her earnings as a cleaner at a Marriott Hotel.
"We didn't know we were going to live without each other," Nadia, deeply depressed, anxious, and having problems with her memory, explains. "If I need to see his face, I have his pictures in my phone. This is where I go."
Over the last couple of years, several thousand Haitians, claiming a credible fear of harm if they are returned to Haiti, have come through the Tijuana-San Diego border crossing. Once "paroled" in, many were given tickets by Catholic Charities and flown to Boston, New York and Florida. Many others took buses and trains to other points in California and the country. But large numbers stayed in the San Diego area. In 2016, 328 people received CHEP benefits – mainly cash assistance, administered by Catholic Charities, that was used to put security deposits on apartment rentals and to pay first-month's rents — in San Diego. Hundreds of others in the city were paroled in, but denied the benefits. The following year, however, that number plummeted. In 2017, according to Nadine Toppozada, director of refugee and human trafficking services at Catholic Charities San Diego, only about 200 people in San Diego received CHEP benefits; this year that number is slated to fall below 90. The decrease is largely due to the fact that the men are no longer being admitted into the United States.
As a result of this new policy of dividing families at the border, San Diego now has large numbers of young, extremely poor, and frequently illiterate, Haitian women and children living in over-crowded communal apartments in low-end rental units. Those who qualify for CHEP benefits are helped financially and with navigating government bureaucracies, by Catholic Charities and other groups. Despite the help, the road they travel is miserable.
Ruth Monexil said she would not have tried to enter the country last fall had she known that her husband and teenage son would be detained. "When I live without my family, I don't live well. I am depressed. I am not working. I don't know where my son is, what's going on. Last week, I was doing really bad, I felt like I was losing my head. I'm always feeling sad inside of me."
Ivonnia Jean Baptiste and her daughter, San Diego. (Photo: Sasha Abramsky)
These days, Ruth lives with strangers, in a small gray-stucco apartment complex. Their living-room walls are entirely bare, the room's only furniture a small TV on a little wooden table. Their kitchen is crowded with donated toys for the babies and toddlers. The bedrooms are cluttered, lived in by too many people.
The Cuban Haitian Entrant Program was begun in the 1980s to help Cuban and Haitian migrants, who met criteria laid down in the 1980 Refugee Education Assistance Act, to navigate life in the U.S.
Like so much of America's immigration and welfare system, CHEP – described by Toppozada as "the Cuban Haitian welfare program" — was as much the result of happenstance as careful planning. For years, desperate Haitian boat people had been fleeing the kleptocracy, political violence and almost unimaginable poverty of their homeland. They had been washing up on Florida's coastline and had, routinely, been rounded up, held in detention centers, and earmarked for fast-track deportation. Then, in the spring of 1980, Fidel Castro opened the port in Mariel to Cubans seeking to leave their island. In the months following, tens of thousands of Cuban boat people arrived in Florida.
Trump didn't bother to hide his distaste for Haitian immigrants. They all had AIDS, he reportedly told advisers.
For geopolitical reasons (Cuba being a communist nation, with the Cold War in full bloom), Jimmy Carter's administration felt it had to let the Cuban boat people stay in the U.S. But, the juxtaposition, one highlighted by the media and by human rights groups, was jarring – Cubans fleeing communism were being granted admission; Haitians fleeing the U.S.-backed Duvalier dictatorship, a dictatorship far worse than Castro's, were being arrested and deported. To avoid a series of messy court cases and a public opinion battle they feared they couldn't win, the administration included Haiti in the program. The U.S. Citizenship and Immigration Services and the Office of Refugee Resettlement would process the vast number of boat people arriving daily in Florida during the early 1980s, the Haitian portion of which was "paroled" in while awaiting immigration hearings.

Until 2016 most Haitians were paroled in on the East Coast, if they managed to skirt aggressive Coast Guard patrols intended to stop them before they reached U.S. soil. A

ll that changed in early 2016, when the Brazilian economy imploded and Haitian migrants there were cast adrift. Soon afterwards, Catholic Charities workers in California noted a large uptick in the numbers of Haitians requesting help on the land-crossings from Mexico. Immigration and Custom Enforcement numbers suggest somewhere between 5,000 and 7,000 Haitian entrants arrived at the San Ysidro border crossing in 2016.

While the Obama's administration sought to stem this influx, it also believed in keeping families together – and so men and women with children were paroled in, even while the administration made it clear it would seek, ultimately, to deport them. They were given the precious I-94 documents that allowed them to live and work in America, and to claim financial assistance through CHEP while their asylum cases wound through the courts. Under President Trump, however, the policy immediately tightened.

Trump didn't bother to hide his distaste for Haitian immigrants. They all had AIDS, he reportedly told advisers in the run-up to his decision to roll back Temporary Protected Status for another group of Haitian migrants who had entered the country following the 2010 earthquake, and who had been able to avoid deportation because of the widespread devastation in Haiti.
Many of the women arrive in San Diego psychically broken and separated from their husbands and boyfriends, overwhelmed by having to care for newborns without help.
The new administration begrudgingly honored the government's commitment to "parole" in the case of women and children, and to provide them documents allowing them access to benefits and work. The men, however, were detained.
"After we crossed the border, they released me and my child," recalls Nounoune Jules. "But my husband is still in the detention center. I never knew they would keep him this long. He is sick; he cannot be in detention."
Many of the women arrive in San Diego psychically broken. They are separated from their husbands and boyfriends, overwhelmed by having to care for newborns without help. Many of them are illiterate in their home tongue, unable to speak the new language and without the time or energy to enroll in ESL classes. They often wait for months for work permits from increasingly hostile federal agencies. Helped by Catholic Charities, they have been housed with other women migrants and their children, the crowded apartments rapidly becoming hubs for uniquely Trump-era "Modern Families" of female strangers and their children cast together by circumstance.
"I'm by myself," says Marie Darline Remy of her loneliness. "On Wednesday, my child was sick. I had to go to the hospital. I spent the whole night awake. I came back home; no-one asked me, 'How is your baby?' Things like that make you feel alone." She can't even phone her husband in Tijuana. His phone isn't working and she doesn't know of any other way to contact him. He has never met their infant son.
Residents of Little Haiti, Tijuana. (Photo: Ted Soqui)

A clash between two Americas can be seen in the story of these Haitians. One is the welcoming, pluralist America of Emma Lazarus' 

Statue of Liberty poem, willing to take a chance on impoverished and vulnerable new arrivals. The other is the nativist America that birthed Trump and, in turn, has been nurtured by his presidency.

The Haitian women and their children are the lucky recipients of a last-gasp generosity, beneficiaries of a stupendous humanitarian impulse that is now under assault. They are able to access cash, food and medical benefits; their children who are born after their arrival are U.S. citizens. But the men left behind in detention or in Tijuana are amongst the first victims of the new closed and narrow vision of how America treats those desperate migrants seeking succor on its shores.

And by separating the men and women, the government has condemned the women to a cruel purgatory – admitted into the country, but unable to see their partners, unable to envision a possible future in which their families will one day be made whole again.

Hermaine Pierre, jobless and adrift in San Diego, explains how her 2-year-old daughter has lost her appetite as she pines for her detained father. She herself struggles to sleep at night, terrified her husband will be deported to Haiti. One of Hermaine's roommates also talks of not being able to sleep, as she worries about her boyfriend left behind in Tijuana.

Back in Haiti, Franky Simon puts on a brave façade when he talks to Nadia. He tells her he will find a way to get back to the United States to be with her and their child. He tells her he will one day be able to watch out for her again. But, in her heart of hearts, Nadia no longer believes in happy endings.

"I don't think he'll ever be able to come back here," she admits softly. "I'm just living day by day. With no hope."
---
Copyright Capital & Main
Resistance in the Heartland: Fighting ICE in Small-Town Iowa and Nebraska
Co-published by Law at the Margins.
Mass arrests and mistreatment of immigrants split local communities.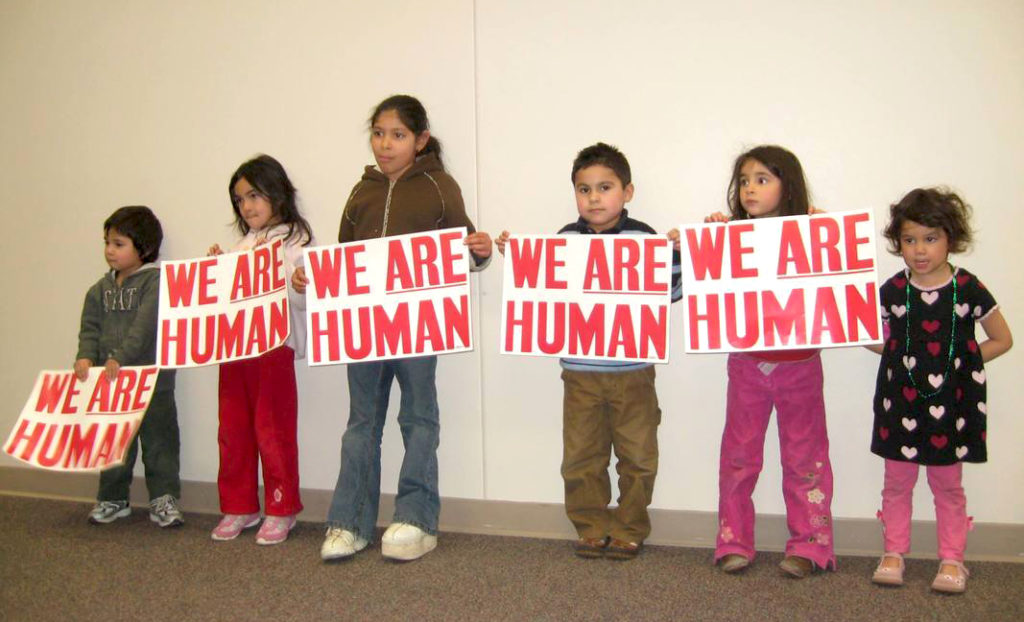 Editor's note: This article is co-published by Capital & Main and Law at the Margins. It is part of "We the Immigrants," a Community Based News Room (CBNR) series that examines how immigrant communities across the United States are responding to immigration policies.  The five-part series is supported by a Solutions Journalism Network Renewing Democracy grant.
---
"You have to leave the country now that Trump is president." That's what Latinx children heard from some white schoolmates in the small southeastern Iowa town of Mount Pleasant in the days after Donald Trump was elected.
Eighteen months later, the threat of deportation seemed much more real than a schoolyard taunt. On May 9, Immigration and Customs Enforcement (ICE) agents detained 32 men—22 from Guatemala and the rest from Mexico, El Salvador and Honduras—at Mount Pleasant's Midwest Precast Concrete (MPC) plant. A concrete mixing plant that started up more than a decade ago, MPC owes its building and success largely to migrant Latino labor, including that of some highly valued supervisors who were swept up.
The raid came out of nowhere, without warning. "They had a canine unit and a helicopter," arrested MPC worker Nelson Lopez Sanchez told a reporter through a translator. "Some people got beat up. As they were trying to get away, officers used force. Agents were very impolite, making racist comments." Sanchez came to the United States 14 year ago, fleeing corruption and violence in his native Guatemala.
When college student Juana Barrios learned about the detention of her father, an MPC worker who had worked in the United States for 17 years, it was like living a nightmare. "Scary … the worst feeling I'd ever experienced in my life," Barrios told an Iowa Public Radio (IPR) interviewer nine days after the raid. "[My father] was our rock, our everything. We need him."
Other families hit by the raid also were traumatized. Many became afraid to leave their homes. For two days after the raid, 90 children stayed out of school. Three of the detained men were married to U.S. citizens and in the process of becoming citizens themselves. Each of them nonetheless had to put up a $10,000 bond and pay hundreds of dollars for a work permit if they wanted to resume legal employment.
Others among the detained group were asylum seekers fleeing rampant drug violence and government corruption in Guatemala. It's not illegal to seek asylum in the U.S, and you have to be on U.S. soil in order to apply for asylum here.
Grassroots Emergency Responses Activated
Latinx immigrants together with local and regional allies, responded immediately to defend and support detained workers and their families—to raise bond money and help them "find a way out of this." Local churches and schools have provided critical caring, sanctuary and sustenance while regional activists have arrived to provide critical legal, counseling and organizing assistance.
Before the raid, Mount Pleasant was home to a local chapter of the League of United Latin American Citizens (LULAC), an immigrant-led organization. LULAC leader David Suarez, a respected community outreach officer for a local bank and journalist, first alerted Mount Pleasant activists of the raid after a fellow Latino community member called him and informed him of a helicopter above and state police on the industrial perimeter.
On the day of the raid, LULAC hosted a meeting for families who were impacted, but because they were a brand-new organization, Suarez immediately reached out to First Presbyterian Church (FPC) and IowaWINS (Iowa Welcomes Its Immigrant Neighbors) for support and space. By nightfall after the morning raid, the church was packed with people ready to help.
The Rev. Trey Hegar, the pastor at FPC and a Marine veteran, opposes what he calls "nationalistic politics and theology." He counters the nativism of local Republicans by quoting Leviticus: "The stranger who resides with you shall … love … as yourself, for you were aliens in the land of Egypt." After Trump was elected, Hegar agreed to make the church an immigrant sanctuary when and if "la migra" (as Latinx immigrants call ICE) arrived.  The church would soon become the place where the coalition work coalesced.
ICE actions have a history in Iowa. In 2008, a raid devastated the community of Postville—which is just 176 miles from Mount Pleasant—sweeping up 20 percent of the town's population (389 people) and costing the local economy $5 million, according to The Intercept. Grassroots allies already were in place before ICE came to Mount Pleasant. They were prepared.
'Fighting Back with Solidarity'
FPC is also home to IowaWINS, formed three years ago to support Syrian refugees. After the 2016 elections, the organization shifted its focus to defending local immigrants from Mexico and Central America.
IowaWINS raised $120,000 to pay for rent, groceries, utilities and legal expenses for impacted families. It distributes food and household goods from a pantry at the back of the church. One IowaWINS leader has become the legal guardian of a teenager who lost his sole parent during the raid. Another is a teacher who sees all her students, including the children of immigrants, as "like my own children." She reports that many of the detained workers' children are "DACA recipients," or "Dreamers," brought to the U.S. "illegally" and residing here on renewable two-year certificates of deferred action.
While support from white allies has been critical, immigrant and Latinx self-defense has been essential. Another early partner was Iowa City's immigrant-led Center for Worker Justice (CWJ), whose former president, Mazahir Saleh, became the first Sudanese-American to hold an elective office when she won an Iowa City Council race in 2016. CWJ president Rafael Morataya and volunteers came to Mount Pleasant immediately after the raid, contributing translation, organizing experience and ally networks.
"Our success and survival," the CWJ says, "depends on each other, regardless of where we are born, or what language we grew up speaking. In the face of attacks on immigrant communities, we are fighting back with solidarity. We've seen firsthand the destruction that comes from criminalizing immigrant workers. It terrorizes families, gives unscrupulous employers enormous power to intimidate workers, and weakens our entire community. It doesn't have to be this way."
Since Trump's election, the CWJ has trained hundreds of "rapid response," "family support" and "legal team" volunteers. It will be on hand when ICE conducts another raid in the region. (Hegar reports that ICE agents recently visited the personnel office of a local meatpacking plant in search of undocumented workers.)
In reflecting on the coalition work in an interview with us, Suarez stressed the importance of "working in partnerships. That was key, he said, in Mount Pleasant. "Individual effort is important, but a unified effort is better."
Bonding Out As a First Line of Defense
In time, other allies also have stepped up. Volunteers arrived from the University of Iowa (UI) Labor Center, a labor education program that has long advised and advocated for the state's highly exploited Latinx farm workers. UI law professor Bram Elias brought law students to visit the detainees in jail and to advise the men and their families. Joining the resistance were the American Friends Service Committee, Iowa's progressive teamsters local, United Food and Commercial Workers (UFCW), the American Federation of Labor and Congress of Industrial Organizations (AFL-CIO), the Catholic Diocese of Davenport (Iowa), and the Eastern Iowa Community Bond Project (EICBP), which raises funds to get detainees out of jail and into the federal immigration court system before they can be deported.
"What we need to do [first and foremost]," LULAC director Maria Bribesco told Our Quad Cities one day after the raid, "is … pay the bond … so they're not deported immediately."
Under the leadership of its co-founder, Natalia Espina, a Chilean-American Iowa City activist and LULAC member, the bond group has played a pivotal role. Paying bonds for the detained workers before they can be removed from the country puts them into a federal immigration court system that is backed up for as long as five years in many cases. This turns folks who were undocumented and living in the shadows into people who are legally safe for as much as half a decade.
The bonds—ranging from $3,500 to $10,000, depending on the immigration violations detainees are charged with—must be paid in person at the regional ICE administrative office in Omaha, Neb., a five-hour drive.
Early legal intervention is imperative, CWJ member Joe Marron reports. In the great majority of cases where detained workers receive rapid legal assistance and bond support, release is achieved.
At this moment, 26 of the 32 MPC workers seized last May have been released on bond. Four have been deported. Two remain behind bars.
Top-Down Raids vs. Bottom-Up Organizing
In Mount Pleasant as in other small towns across the American heartland in 2018, the story has started the same way—literally from the top down—as the Trump administration has re-initiated the high-profile, military-style workplace immigration raids that last occurred under George W. Bush.
The existence of immigrant leaders like Suarez and allies like FPC, Iowa Wins and CWJ were instrumental to the release of the detainees. In other towns, like in O'Neill, Neb., the Aug. 8 raids were a new experience for the community. The topic of immigration had not been discussed among neighbors, which caused the town to be split on the issue.
High school teacher and wrestling coach Bryan Corkle, father of four and a longtime resident of O'Neil, grew up on Rush Limbaugh conservative media. He experienced his own shift on immigration after seeing his immigrant students work hard, get a high school diploma, and unable to find work or continue to college.
"It started with my kids," Corkle explains. "I fell back on my faith. I was a voice of one, but moving forward, it is changing. Do unto them, as we would want for our ancestors."
Pastor Brian Loy, who leads the First United Methodist Church in O'Neill and helps run a food bank every week, reported to us that he had lost old high school friends of 30-40 years over his support of laborers.
"Fifty percent of what I knew about immigration was wrong. I was learning as the raid was unfolding." That's why, he says, "we need to educate, educate, educate our communities on immigration."
The grassroots infrastructure that existed in Mount Pleasant was not yet developed in O'Neil. "We did not have experience responding to raids at the moment, but we relied on statewide groups like Nebraska Appleseed and Center for Rural Affairs," said Corkle.
Corkle views the faith community as playing a leadership role in protecting immigrants in O'Neill and building support and financial systems for immigrants and their families. This was also true in Mount Pleasant.
In O'Neill, Pastor Loy is working with his church leadership to create an emergency response plan, which he hopes will be distributed to the 1,000-plus Methodist churches in the Kansas and Nebraska areas. This, he hopes, will better prepare other small towns where their churches are located to respond to raids and protect their immigrant congregants. He also is creating an immigration council comprised of impacted families to ensure they are part of the process of coordinating any assistance.
Both Loy and Corkle acknowledge the importance of involving the immigrant communities in humanitarian work and developing their leadership. This approach seems to be key in Mount Pleasant where Suarez and other immigrant leaders have helped bridge the divides between the town. Even there, Suarez shares, they did not have support of 50 percent of the town, but they were successful because they were unified among the remaining 50 percent.
Corkle finds future hope for such leadership in his immigrant students like Stephanie Gonzalez.  Stephanie's mom was among the immigrants detained in the raids in O'Neill and, to this day, remains in detention, leaving Stephanie, 17, a high school senior, and her two younger brothers (elementary school aged and 1 year old, respectively) in the care of her high school friend's parents.
"I'm scared about my future," says Stephanie, but "I'm determined to go to college because my mom came here to give me a better life. I want her to be proud of me. When I get my dreams, she will also get hers."
For now, she is worrying  about how to pay for nursing school, in which she has already gained admission and hopes to create an organization after completing her studies that would help families like hers.
Catch-22: Freedom Isn't Free
There are real limits to what local and regional immigrant rights first responders have been able to achieve for those targeted by ICE. Getting bonded out of detention is one thing. Being able to work legally is another. The 26 "liberated" Mount Pleasant detainees are "stuck in a catch-22," Hegar admits. Without the right to be gainfully employed in the U.S., many are tempted to "voluntarily self-deport" back to their original home countries. But "if they leave the country prior to receiving an immigration hearing," Hegar says, "the men forfeit their right to return and risk never being able to see their families again."
It's a dark twist on the bumper sticker maxim one commonly sees on the back of pickup trucks in the rural heartland: "Freedom Isn't Free."
Hegar sees some of the released detainees' "heads hanging" as they come into the church's food pantry. "These guys aren't takers. They're workers," Hegar observes. "The men don't like relying on charity, their spouses and their older children," some of whom have had to defer education and careers to take low-paid jobs.
O'Neill has the same urgent need for resources, Pastor Loy says, to help families with rent, food, so that they can stay in the community.
Volunteer psychology students from the university are counseling some of the men in Mount Pleasant on how to process the great blow to their pride and their traditional role as breadwinners.
Some of those detained and released are thinking seriously about returning to the terrible conditions they fled in Central America and Mexico.
"That's the point of the raids," Hegar concedes. "To deter immigration."
People gather at 13th St. and Norfolk Ave. in Norfolk to protest immigration enforcement in north central Nebraska…

Posted by News Channel Nebraska on Thursday, August 9, 2018
Morataya from CWJ wonders "who benefits" from a federal immigration policy that spends millions of taxpayer dollars on terrorizing and devastating families and stripping employers of a highly valued labor supplies. Suarez echoes this point.
"Mount Pleasant is a growing rural economy and needs immigrants," explains Suarez. "The evidence is in the open jobs that are not being filled." Suarez reports that Latinx workers perform difficult, dangerous and dirty work tasks (such as animal slaughtering and meatpacking) that white and a growing number of documented African (chiefly Sudanese and Congolese) immigrant workers tend to reject in Iowa—a state that is home, the EICBP reports, to 40,000 undocumented immigrants.
This is not uncommon in other parts of rural America. Corkle, for instance, says that unemployment in O'Neill is 2 percent due to the booming agro-business. "Places like Mount Pleasant and O'Neill are part of a Midwestern regional hub of rural economies, where if you want a job, you can get a job, and so there are no economic reasons to prevent immigration."
The support detained workers and their families have received in Mount Pleasant and other heartland communities subjected to ICE raids has granted them needed space and time to make deliberate and informed decisions on how best to move forward.
Still, Hegar, Suarez and Morataya say that the nation's immigration system is "fundamentally broken." It is in dire need of a "comprehensive reform" that provides a clear and reasonable path to citizenship and removes the constant fear, stigma and insecurity experienced by millions of immigrant workers on whom the nation depends for its economic vitality.
"We need immigration reform as soon as possible" says Suarez. In the meantime, LULAC will continue to help detainees because the immigration process can take a long time. Suarez knows this firsthand: "I am a first-generation immigrant. It took me 10 years and $20,000 to become a U.S. citizen. I know what the families who have no resources are going through."
Corkle knows what is needed for O'Neill. "I want to see proactive immigration reform to stop this endless cycle of raids." He believes that a majority of rural Americans agree that the immigration system needs to be fixed, but disagree on how to fix it.
Stephanie see immigration reform as the only solution to unite her family separated by the raids.
Still, Corkle says, "Rural America gets a bad rap as not being welcoming. "What I find lost in the national conversation is that on the far right, they are trying to build the wall, and to the far left, they want to abolish ICE. The oxygen is being taken out for a reasonable position on immigration reform."
Hegar also worries about the nation's political silence on the United States' role in creating the miserable conditions that so many workers and farmer are trying to escape in Mexico and Central America.
Direct service and solidarity are important, but there's no "way out of this" without effective advocacy for sweeping systemic and policy change.
---
Paul Street is an independent journalist based in Iowa City, Iowa. Chaumtoli Huq is the editor of Law at the Margins.