The Comedian As Activist: Remembering Dick Gregory
For Dick Gregory, American racism was a senseless fact of life: "I never learned hate at home, or shame. I had to go to school for that."

Dick Gregory in 2014. (Photo: Djembayz)
Dick Gregory changed my life. No, I never met him, and I saw him on stage just one time. No, I was not a fan in the usual way of following a public figure's career over decades. It happened like this.
I grew up on the white side of Stockton, the Central Valley town 50 miles east of San Francisco, which everyone referred to as The City, and 50 miles south of Sacramento, the state capital. "Fifty miles from everything," as we said as teenagers. Provincial doesn't quite catch the essence of my childhood. More sheltered, as in fundamentalist religion, a monastery, narrow, and inhaling the same air almost all white people breathed in this country at that time — racist.
Somehow at the end of my first year in community college, I heard that Dick Gregory was headlining at the "hungry i," a very hip bar-lounge-jazz joint in San Francisco's North Beach beatnik district. I wanted to go. My parents got wind of the idea and told me in no uncertain terms that I was not to go there. My mother even said that going to hear "that man" was evil. So my girlfriend and I told them we were going to Sacramento — and drove to San Francisco.
We scored tickets to a full house, where Vince Guaraldi opened with a set that included his chart-topping "Cast Your Fate to the Wind," followed by a young Episcopal priest named Malcolm Boyd, who told stories about the civil rights struggle in the South while sitting on a bar stool, smoking a cigarette. Then came Gregory himself.
Gregory's humor never preached, never condescended, never compromised. He made white people laugh out of their chairs and swallow at the same time. He helped us see how ludicrous, how absurd, racial segregation was without smearing our faces in guilt. He took us places we'd never been, and showed us ourselves.
He called his first book nigger so everyone using the word, as he wrote to his late mother, would be advertising it. He told stories that became famous:
"Last time I was down South I walked into this restaurant, and this white waitress came up to me and said: 'We don't serve colored people here.' "I said: 'That's all right. I don't eat colored people.'"
And lines that became indelibly imprinted on our minds:
"I never learned hate at home, or shame. I had to go to school for that."
Besides opening me to a new way of understanding my life as a white man, the experience introduced me to a world far beyond what I had known. Jazz, a white clergyman sitting on a stool talking tales I had never heard before, a black man doing stand-up from a core of total integrity. I did not know what my life would hold, but I cast my fate into a huge wind that night.
Later, Malcolm Boyd became a friend, a colleague and a neighbor. Later, I sat on a stool and gave sermons. Later, jazz became a core musical interest. Later, nonviolence became a way of life as well as a committed path to justice. Later…really for my entire life, now, I have struggled for a conscious way of being a white male without needing to depreciate another human being or another group of people.
Not all my contemporaries have been struck that way. The director who made Dunkirk somehow missed the reality of the evacuation, that a large percentage of the troops who escaped those beaches–British and French–were people of color from India, Morocco, Algeria and other colonies. Too many people still find their identities in statues of white men who fought for slavery. Too many white people don't get why Colin Kaepernick is a hero for kneeling – an act of prayer – instead of standing for the national anthem. So far it has only cost him his career. But as a white responder wrote on my Facebook page: "He's not courageous."
Dick Gregory spoke so clearly:
"If all you can do is judge a person by their appearance because you don't have the spirit to judge someone from within, you're in trouble."

'Skeleton Crew' Is a Play With a Moral Spine
Set in a Detroit automobile outfitting plant, Dominique Morisseau's drama grabs you from the start with its focus on blue-collar men and women, and their struggle for dignity and self-respect.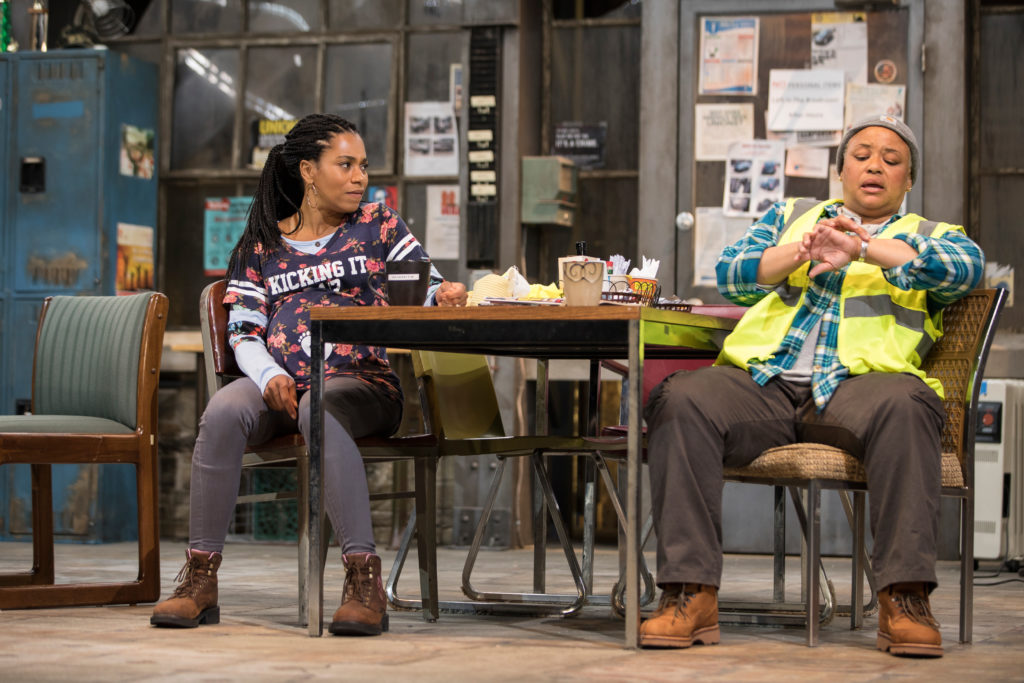 Working-class men and women of color are rarely front and center in today's media and, likewise, are presented all too occasionally on the American stage. So it's buoying to see that trend bucked in playwright Dominique Morisseau's percipient and well-crafted drama, Skeleton Crew. The play is the final installment in her Detroit  Project Trilogy; the first, Paradise Blue, is set in the 1940s amidst displacement caused by urban renewal and gentrification, while the second, Detroit '67, transpires on the eve of the 1967 Detroit riots sparked by a police action.
Directed by Patricia McGregor at Los Angeles' Geffen Playhouse, Skeleton Crew is a play with a moral spine. It takes place in 2008, when the shrinking U.S. auto industry is being further downsized. Morisseau's engaging quartet of characters — Faye (Caroline Stefanie Clay), Dez (Armari Cheatom), Shanita (Kelly McCreary) and Reggie (DB Woodside) – are employed at an automobile outfitting plant. Faye, Dez and Shanita are workers on the line while Reggie (who has a wife and kids, and has pulled himself together after a troubled youth) is their supervisor.
The first three customarily mingle in their break room (designer Rachel Myers' impressively cluttered, dingy and detailed set), trading the sort of familiar barbs and genuine concern for each other common among longtime co-workers. They also face off on philosophy: Upper-middle-aged Faye and the younger, pregnant Shanita take pride in their labor, while Dez, though a good worker, is a malcontent scornful of management and firm in the belief that everyone needs to watch out for himself. He's a thorn in Reggie's side, for while Reggie wants to be supportive of his workers, he must act at the behest of higher management. For his part, Dez resents Reggie's authority, and a palpable unease exists between them.
Besides this male matchup, we're made privy to Dez's attraction to Shanita, who mostly turns away his advances, but every now and then displays a hint of interest. Most poignant is Reggie's regard and affection for the lesbian Faye, which has roots in his boyhood when she loved, and lived, with his now-deceased mom.
These people's various predicaments intensify when rumors spread of the plant's shutdown — a disaster for all, but a particular calamity for the already near-broke Faye who, one year short of retirement, would lose her pension. The crisis forces each of these people to make a choice.
A sound piece of social realism, Skeleton Crew grabs you from the start in its focus on blue-collar men and women, and their struggle against odds for dignity and self-respect. Morisseau not only furnishes these characters a platform for their travails, she endows them with strong values, big hearts and the opportunity to choose between right and wrong.
Unfortunately, the performance I attended did not soar. Many exchanges lacked a fresh edge. The actors certainly had their characters down, but too often they appeared to be coasting on technique. (This seemed particularly true of Clay, who performed the role to great accolades in Washington, DC in 2017, also under McGregor's direction). Additionally, some of the stage movement was not entirely fluid; in confrontations, actors sometimes would just stand and face each other in an artificial way. And Cheatom's interpretation of Dez struck me as a bit overly churlish and depressive: I needed more glimpses of the intelligence and edge that would secretly attract the strong, self-directed Shanita.
The most compelling moments belong to Woodside, well-cast as a man trying his best in difficult circumstances to do the right thing.
---
Gil Cates Theater at the Geffen Playhouse, 10886 Le Conte Ave., Westwood Village; Tues.-Fri., 8 p.m.; Sat., 3 & 8 p.m. Sun., 2 & 7 p.m.; through July 8. (310) 208-5454 or www.geffenplayhouse.org