The Big Picture: Hollywood Unions Fight On
Union pickets outside Paramount, 1945. (Howard Ballew/LAPL Archive)
With large-scale domestic manufacturing off-shored and de-unionized, Hollywood film and television production may now be the most heavily unionized private-sector industry in the American economy. I had no idea when I started in the labor movement in the 1980s that I would get my foot in the (back) door of "the business" by working with some of the entertainment industry unions and guilds. Today's "above the line" unions include the Directors Guild, the Writers Guild and the newly-merged SAG-AFTRA (Screen Actors Guild and American Federation of Television and Radio Artists); "below the line" unions encompass the IATSE (International Alliance of Theatrical Stage Employees – also called the "IA"), the Teamsters and others.
Though I barely knew which end of the camera to look through, I was first hired-on for some interesting projects by IA Local 600 – the Cinematographers Guild. When three regional camera locals were consolidated in the mid-1990s, I wrote and edited mail-outs to members about the merger and, among other things, helped launch a national newsletter and membership directory. Through this work I got a look at the complicated web of unions and guilds that represent a mostly freelance workforce of actors, camera operators, make-up artists, writers, prop masters, grips, truck drivers, directors, script supervisors, stunt men and women, studio teachers and nurses.
Entertainment industry craft workers live in middle class neighborhoods all over Southern California. A 10- or 20-year run of $85,000 – or more – gets them a decent house on a nice block. But they can regularly face dry periods in which they're worried about losing their health benefits (not enough work-hours to qualify) – or worse – their homes.
They're part of the rapidly-shrinking, high-wage working-class: competitive, high-pressure and subject to global economic cycles and an all-powerful industry. They tolerate intense and perpetual career anxiety in return for a premium job with intermittent high pay and a chance at a secure retirement.
Knitting this freelance universe together are the unions. Certainly some complain that their reps don't do enough to protect them from exploitative producers or that the contracts give the bosses too much of the pie. These bosses are no less than the global corporations that control information, news, media and entertainment, and which are among the most powerful and influential entities on the planet: Disney (ABC), Viacom (Paramount), Time Warner (Warner Bros.), Sony (Columbia Pictures) CBS (Showtime), NBC Universal (A & E) and Rupert Murdoch's News Corp. (Fox).
Why don't these conglomerates follow the path of the rest of the corporate world and simply do away with their pesky American unions? Maybe the arcane jurisdictional structure of the Hollywood guilds are just too entrenched to untangle and discard. Or perhaps the status quo serves another important strata of the Hollywood "elite" – the directors, writers, actors, cinematographers, editors and others – who belong to, and help govern, these unions and guilds.
Though serious problems do hamper this system of representation, most members clearly recognize that without a union they'd be fodder for industry abuse. In fact, the global media giants who run these industries are always wagging their finger at the unions to remind them how eager other regions are for the work.
Nothing worries L.A.-based entertainment industry guilds more than "runaway production." U.S. cities and states and foreign nations lure productions with tax incentives and state-of-the-art sound stages. Profit-driven capital, always seeking to reduce labor costs, pits region against region and nation against nation.
City and Southern California film promotion officials have tried to keep the work in town by making it easier to acquire permits for location shoots and calming neighborhood residents who feel invaded by film crews. That has worked to an extent, particularly when coupled with the advantages of easy access to L.A.'s large talent pool and existing infrastructure such as visual effects and editing facilities. But the question remains: Can this region compete head-on with increasingly generous incentives from North Carolina to New Zealand? (The issue is complicated by the fact that location shooting – which has largely replaced the studio back lot — in various regions in the U.S. and Canada may be covered under a union contract).
Nevertheless, L.A. remains ground zero for this industry and its unionized writers, artisans and actors who give this region a creative ambiance. Working with AFTRA – I helped build ties with political and labor leaders, and raised money for an annual awards event – widened my view of working actors and other talented professionals in that union which includes broadcast journalists, radio hosts, recording musicians, sportscasters, singers and more.Talk to a costume designer or a camera operator to get a sense of what really happens on the set. You'll find that the view from the Hollywood working class is quite distinct from the manufactured "celebrity culture" used to sell the entertainment "product."
Much is made of the contentious and sometimes vicious battles within and among Hollywood unions. The Writers Guild strike of 2007, for example (which some say helped establish a more equitable residuals formula), was criticized by many in the IA for causing an overall drop in industry jobs.
Maybe I'm naïve, but I prefer to look at the "big picture" regarding these conflicts. As I've watched union power diminish and disappear across the country, the infighting in Hollywood can be construed as a sign of life. While you can argue that brutal battles inside the labor movement simply serve the employer class, the approval by union members of the actors' merger shows a willingness to adapt and fight on.
Finally, there's been a significant shift, I think, in how entertainment industry performers, artisans and skilled technicians self-identify. The threat of out-sourcing, job-eliminating technologies, and corporate consolidation has propelled many members to understand that – no matter how big they are – they're not immune to being crushed by the system; that even in their relatively privileged positions, they have a great deal in common with the rest of the region's working-class.
Hollywood unions in fact have become a much more significant and visible part of the L.A. labor movement. Compared to 25 years ago, you'll now find far more film and television union leaders and activists side-by-side at solidarity rallies with registered nurses, construction workers, fire fighters, janitors, supermarket clerks, flight attendants, housekeepers and public school teachers.
Above and below the line, unionized performers, grips, gaffers, keys and "best boys" – including many A-list actors, directors and writers – recognize the value and necessity of keeping this industry union. Macro economic trends and the sheer size and power of media conglomerates will exert ongoing pressure to weaken the collective nature of this workforce. But, for now at least, Hollywood holds the brand as America's highest-profile union town.
(A longer version of this post originally appeared on LaborLou.com. It is reposted here with author permission.)
The Power of the Poster
Carol Wells, the founder of the Center for the Study of Political Graphics in Los Angeles, talks to Capital & Main about the enduring power of political art.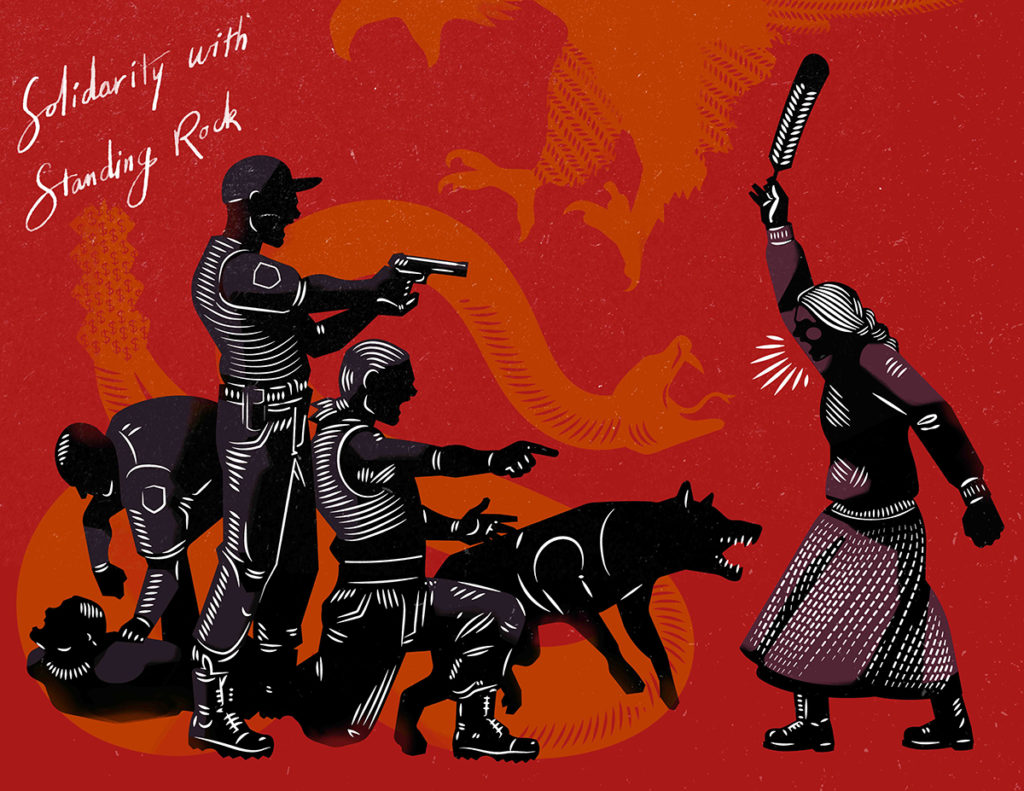 Carol Wells remembers the exact moment she discovered her calling. An art historian at the time, she was on a trip to Nicaragua with her friend David Kunzle, a UCLA art history professor, who was collecting political posters to add to his burgeoning collection. While staying with friends, Wells watched a neighbor's 8-year-old son approach a poster on the wall, stare at it intently, and then start to silently mouth the words. Wells was struck by how engaged the boy was. "In that moment I became obsessed with collecting posters."
Now over 40 years later, Wells is the founder and executive director of the Center for the Study of Political Graphics in Los Angeles. Wells has amassed approximately 90,000 posters, building one of the largest collections of its kind in the world. The Center shares its collection with the public in part through curated exhibits. This year the CSPG has produced Feminae: Typographic Voices of Women by Women and its latest is To Protect & Serve? Five Decades of Posters Protesting Police Violence, running through July 15 at the Mercado La Paloma in downtown Los Angeles.
Since that encounter in Nicaragua in 1981, Wells' obsession with collecting posters hasn't waned. In CSPG's nondescript West L.A. office space, Wells pulls out poster after poster, lecturing passionately on the backstory and cultural impact of each, including one that superimposes text from a New York Times interview with a shocking image of the My Lai massacre ("Q: And babies? A: And babies."). Recently, she managed to sit down with C&M to discuss her passion.
---
Capital & Main: So, you were an art history professor, you happen to see a kid on a trip, and suddenly your life was changed forever?
Carol Wells: Yeah, I'm in Nicaragua alone in the living room with this kid. He's looking around, and all of a sudden, he sees the poster. It was pretty big, bright green, a thick outlines of a woman holding a big basket of coffee beans. And the text in Spanish said, "In constructing the new country, we are becoming the new woman." I see him walk over to the poster and I'm watching him mouth the words. It was a pretty sophisticated concept, so I doubt he figured it out. But I literally had this epiphany: "Oh my God. That's how posters work." You're going about your daily life, and all of a sudden something breaks through the bubble, and it grabs your attention. It's the graphic, it's the color, it's the combination, and it pulls you out of your head and into that poster and it makes you ask a question. "Why is this here? What is this about? What does this mean?" And every time you ask a question, you're a different person than you were before you asked the question.
How many posters do you get a year?
We get between two to five thousand a year donated from all over the world. The bulk of our collection is [from] 1945 and later.
I assume technology has probably hurt the art form, but has it helped get the messages out?
Most people think that, and it's actually not true. Since the internet age started, there's actually a poster renaissance of works on paper. Because you can't walk with your computer monitor in a demonstration. You can't plant your monitor on your lawn.
And you can't put a laptop on the wall…
Exactly. You want to hear a really great story? Truthdig.org published a cartoon [made by] a political cartoonist named Mr. Fish. It was during the Arab spring, and he had superimposed Che Guevara with the stylized beard and King Tut's face, but it had Che's beret. And it [was titled], "Walk like an Egyptian." So, it was a reference to the music, but [it was also] a reference to what was going on the streets of Cairo. I sent it out as our poster of the week to 9,000 people. The very next day, somebody took a photograph on the street of Cairo, with somebody holding a piece of paper with that image on it. A poster can literally go around the world and people will print it out.
What struck me in viewing your exhibits is how many of these posters could still be used today, not only artistically but also, sadly, in the timeliness of their messages.
We had this fabulous poster by Yolanda Lopez, a Bay Area artist, which she first did in 1978. It depicts a young man in Aztec garb pointing a finger like Uncle Sam saying, "Who's the illegal alien, PILGRIM?" And it's a great poster, it's simple, not too many words, funny, provocative. So, we had an exhibit at UCLA in the mid '90s and there were 4 or 5 high school students standing around this poster saying, "Wow, you've got posters up to the minute." And I went over to them and I said, "Look at the date. This is before you were born."
Is that one of your goals with the exhibitions? To show the evergreen nature of this work?
Absolutely. I mean that's why we did the police abuse exhibition now. It basically goes back five decades. It's 50 years of posters protesting police abuse. Mainly in the United States, but also internationally.
What's the goal for CSPG?
Well the aim right now is really to digitize the collection and get it online. We have 10% of the collection digitized. But the mission is to collect and to document, because stories get lost. All the exhibitions, they're showing massacres, they're showing genocide, they're showing police abuse, they're showing all of these horrible things. And people often ask me, "How can you look at this stuff all day long?" I said, "Because the poster artists are optimists. They believe people can change if they have the information."
Yes, that's the reason why they're doing it, right?
That's why they're doing it, and that's why I'm doing this, because I believe that people can change if they knew the truth.
And what happens 20, 50 years from now?
Well, my goal is to stay independent, because the other option is to become part of the university. Universities, for all the fabulous things that they do, they also censor. We did an exhibition at USC in 1992 on the 500 years since Columbus, and how the legacy of racism and exploitation and genocide continues. And one of the board of trustees was Italian and took [the exhibit] as an affront to Columbus. It really wasn't about Columbus, it was about colonialism. And he ordered it down.
Do you have a favorite poster?
I'm always amazed at the creativity and vision of artists. Every week I'll say, "Oh my God, how do they think of that?" But it's always still going to be the poster I saw that kid trying to figure out. It has to be my favorite one because that one changed my life.
What makes a perfect poster?
The right balance between aesthetics and message. If you only rely on the corporate press, the New York Times and L.A. Times, for your information, you're not going to get the side from the street, from the movement, from the activists. The posters are primary historical documents that are recording the issues that were at the time, and the passions that were at the time, and the divisions that were at the time. You're not going to get it anyplace else.
---
Copyright Capital & Main