The Battle of Hastings: What's Behind the Netflix CEO's Fight to Charterize Public Schools?
Joel Warner reports on the Netflix CEO's attempts to disrupt public education.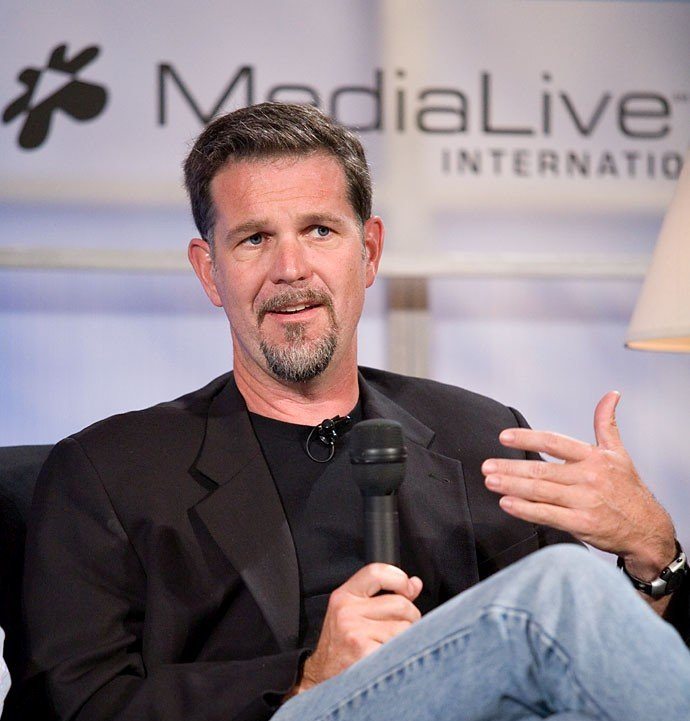 Reed Hastings (Photo: James Duncan Davidson/O'Reilly Media, Inc.)
Brett Bymaster, a Silicon Valley electrical engineer, was optimistic when Rocketship Education, a non-profit charter school chain, began building its flagship Mateo Sheedy elementary school next to his San Jose home in 2007. He and his family lived in a lower-income community, so he figured the new approach could help local kids. "I didn't know anything about charter schools, so I thought it was a good thing," he says.
But the more he learned about Rocketship and charter schools, which receive government funding but operate independently of local school boards, the more concerned he became. He was struck by the school's cramped quarters: over 600 students on a 1-acre campus, compared to the 9.2 acres per 450 students recommended for elementary schools by the California Department of Education. All those students meant big classes; last year Mateo Sheedy had one teacher for every 34 students, more than the maximum allowed for traditional elementary schools under state law.
The teacher deficit seemed to be compensated for with screen time: Thanks to its so-called "blended learning" approach, Rocketship kindergarteners were spending 80 to 90 minutes a day in front of computers in a school learning lab, nearly the daily maximum screen time recommended by the American Academy of Pediatrics. And when the kids weren't in front of computers, they seemed to be getting disciplined throughout their extra-long school days. Bymaster says he'd constantly see teachers yelling at students. "It's a military-style environment," notes Bymaster, who spearheaded a 2013 lawsuit that caused Rocketship to scrap one of its planned San Jose schools. "It's really a kill-and-drill kind of school."
Rocketship, which now operates 16 schools in the Bay Area as well as Tennessee, Wisconsin and Washington, D.C., has been praised for using technological innovation to improve test scores and other education measures for its largely low-income and Hispanic student bodies. But its stringent, tech-heavy approach has drawn criticism, while some of those lauded test scores have started to dip. (A Rocketship spokesperson did not respond to e-mailed questions by press time, but the operation published a lengthy defense of its program after an NPR feature detailed Rocketship criticisms this summer.)
Concerns about Rocketship extend to its most prominent backer: Reed Hastings, CEO of Netflix, who has heavily supported the charter chain, including a $2 million donation last year. Rocketship is far from Hastings' only charter school effort. The one-time California Board of Education president, who declined to be interviewed for this story, helped launch the powerful EdVoice pro-charter lobbying group and so far this election season has donated more than $3.7 million to the California Charter Schools Association (CCSA)'s political action committee. But critics worry that the sort of technologies and efficiencies Hastings used to build his Silicon Valley empire and is now applying to education reform might not work for the nation's schoolchildren.
These concerns were amplified when Hastings, at a 2014 CCSA meeting, asserted that public schools are hobbled by having elected schoolboards.
"Let's think large-scale," says Bymaster, who broke the story about Hastings' school board comments on his StopRocketship.com blog. "You have someone who is contributing millions and millions of dollars to local and statewide political races and who was the former president of the state school board whose stated goal is to end democracy in education. That is deeply disturbing."
H
astings, who growing up attended public and private schools, first became interested in education after college. He ditched his plan to serve in the Marine Corps and joined the Peace Corps, teaching high school math in Swaziland before returning to the States and earning his master's degree in computer science from Stanford University. "I'm not good at following orders," said Hastings in
a 2015 EducationNext profile
. "There were no rules at all [in the Peace Corps]. Just use your initiative."
After the success of his first start-up, the debugging program maker Pure Software, made him a multimillionaire in 1995, Hastings decided to use some of his wealth to tackle the problems he saw in the nation's schools. "I started… trying to figure out why our education is lagging when our technology is increasing at great rates and there's great innovation in so many other areas—health care, biotech, information technology, moviemaking," he told the Wall Street Journal. "Why not education?"
His efforts began in 1998, when he and Don Shalvey, who'd helped launch California's first charter school, set their sights on abolishing California's 100-charter school cap. According to The Founders, a new e-book about the early years of the charter school movement published by the pro-charter news organization The 74, Hastings personally gathered petitions at supermarkets for a ballot initiative to lift the restriction. Instead of passing that initiative, Hastings and Shalvey convinced the state Legislature to act. "Not only did a bill pass that essentially green-lighted an unlimited number of charter schools…but the bill included a provision barely noticed at the time, certainly not by the unions: A single board of directors could oversee multiple charters," notes The Founders. That provision would allow Hastings and Shalvey, who is now deputy director of education at the Bill & Melinda Gates Foundation, to launch Aspire Public Schools, the nation's first charter network, which now operates 40 schools in California and Tennessee.
Hastings had less success when Democratic Governor Gray Davis named him to the state Board of Education in 2000. While president of the board, he aggressively pushed for English-language instruction for immigrant students, adopting a policy that limited federal funding for elementary schools that weren't teaching at least 2 ½ hours in English every day. That rule, later overturned, was part of what education observers say was a lengthy dismantling of California's bilingual education programs. Hasting's stance on the matter caused Democratic legislators to block his reappointment in 2004, despite the fact that he was a key Democratic donor. "Just because [Hastings] and right-wing Republicans thought it was a good idea to force immigrant children to speak only English in school, he gets to derail bilingual education for a decade?" says Karen Wolfe, a California parent and founder of PSconnect, a community group that advocates for traditional public schools. "That's not disruption. That's destruction."
The fact that California Charter Academy, one of the country's largest charter school operators, collapsed and left 6,000 California students without a school during his board tenure did little to sway Hastings' enthusiasm for publicly financed yet privately run schools. Along with helping to fund the Rocketship and Aspire charter programs, he's served on the boards of the California Charter Schools Association and the KIPP Foundation, the largest network of charter schools in the country. And much of Hastings' school reform efforts have focused on technological solutions. He helped launch NewSchools Venture Fund, which has invested $250 million in education entrepreneurs and "ed tech" products. He's also been a major backer of DreamBox Learning, which develops the math software used in Rocketship schools, and the Khan Academy, an online teaching video clearinghouse.
But so far, the outcomes of many of these ed tech ventures have been mixed. Khan Academy has been criticized for including fundamental math errors in some of their instructional videos. And while DreamBox recently championed a Harvard University study that found that use of its math software was associated with test achievement gains in grades 3 through 5, the study itself noted it could not be ruled out that the gains were "due to student motivation or teacher effectiveness, rather than to the availability of the software." What's more, the user data collected by programs developed at Khan Academy, DreamBox and other companies are fueling concerns over student privacy.
More broadly, education experts are worried about the impact of minimally staffed, call center-like computer learning labs on the nation's students and teachers, especially as these approaches become more commonplace in the name of cost savings and innovation. (In a 2012 Washington Post article, former Rocketship CEO John Danner noted that "Rocketeers" could eventually spend 50 percent of their school day in front of computers.)
"The younger a kid is, the more critically important it is that they construct their own knowledge and figure out how the universe works, and they literally cannot get that from a computer screen," says Launa Hall, a former Virginia elementary school teacher who now writes and consults on education issues. "Reed Hastings had an opportunity to have a rich and nuanced education and he talks about how the Peace Corps were so awesome because there were no rules. So his heart might be in the right place, but he might have forgotten his own roots in how he came to value education."
Hastings' preferred school reforms, such as heavy use of streaming technologies and data collection, resemble the way he built Netflix. And critics say that could be part of the problem. Netflix's workplace culture, which involves employees taking as much vacation as they like and choosing their own stock-to-cash ratios, has been hailed as groundbreaking. But some say Netflix, like many Silicon Valley companies, offers these perks not because it wants to reform labor conditions across the board, but because it's a smart business move, allowing it to attract better candidates for top positions. As noted in a widely shared PowerPoint presentation on Netflix company culture that Hastings made public in 2009, "We're like a pro sports team, not a kid's recreational team. Netflix leaders hire, develop and cut smartly, so we have stars in every position."
It's why when Netflix became the first major U.S. company to offer unlimited paid family leave for both male and female employees, it was criticized for extending the policy only to its white-collar employees, not blue-collar workers in charge of customer service and DVDs. And while Microsoft has required that many of its contractors and vendors provide their workers with sick days and vacation time and Google has demanded that its shuttle bus contractors pay better wages, so far Netflix has ignored calls for improved working conditions for its contract workers, says Derecka Mehrens, co-founder of Silicon Valley Rising, a campaign to raise pay and create affordable housing for low-wage workers in the tech industry.
Mehrens sees a similar class bias in Hastings' approach to public education. "We see profound consequences, both political and economic, when technology industry leaders take action from a position of privilege and isolation from the very communities they desire to help," she says. "When tech industry leaders like Reed Hastings call for an elimination of school boards or for more privatization of public schools, they block low-income people from using the one instrument that the powerful can't ignore – their vote."
H
astings' end goal for California appears to be the near-total replacement of traditional public schools with charter schools. In
his 2014 speech
where he discussed abolishing elected school boards, Hastings pointed to New Orleans – whose school system was largely taken over by the State of Louisiana after the devastation of Hurricane Katrina and converted to the country's first predominantly charter public school system – as a model:
"So what we have to do is to work with school districts to grow steadily, and the work ahead is really hard because we're at eight percent of students [in charters] in California, whereas in New Orleans they're at 90 percent, so we have a lot of catchup to do… So what we have to do is continue to grow and grow… It's going to take 20-30 years to get to 90 percent of charter kids."
When Hastings announced a new $100 million Hastings Fund for education grants earlier this year, he named as CEO Neerav Kingsland, who previously helmed New Schools for New Orleans, a nonprofit that helps fund and support New Orleans' charters. "It's about backing great educators who want to scale great schools," says Kingsland of the new venture. "There's a huge focus on quality education, focusing on doing what needs to be done to serve great students." He adds that the Hastings Fund is not just about backing charters: "The neighborhood school is this idealistic 1950s idea, but for a lot of people enrollment in neighborhood schools is a sentence into educational disenfranchisement. Maybe charters are not the right answer and there are other ways of getting around it, but to say that what we have is okay is out of touch at best, malevolent at worst."
By some measures, what Kingsland and others accomplished with New Orleans' charter experiment has been a success. Over the past half-decade, the city boasted the greatest improvement in test scores of any urban school system ever. But the program still has a long way to go: In 2014, just 57 percent of students in grades three through eight scored a passing grade on state accountability tests, significantly below statewide and nationwide averages. "I am really open that as we built the system, there were mistakes, there were bad apples. But by the end, we figured out how to empower educators and have government accountability," says Kingsland. "I would say that there were legitimate concerns that we are just not good enough yet, and I hope we get there. But I think it would be wrong to say that things haven't gotten a lot better."
Others vehemently disagree with that characterization. "You can say until you're blue in the face that this should be a national model, but this is one of the worst-performing districts in one of the worst-performing states," Julian Vasquez Heilig, an education professor at California State Sacramento, told In These Times last summer.
Beyond test scores, New Orleans' charter system has contributed to citywide upheaval that's led to a major decrease in diversity of a once largely African American teaching force, struggles with integrating arts education and English language acquisition (ELA) into charter programs and a class-action lawsuit alleging schools were failing students with special needs. A 2015 study found that 18 percent of the city's youth ages 16 to 24 were unemployed and out of school, a figure that's markedly higher than the national average and could be contributing to the region's struggles with child poverty and crime.
"Whatever perceived benefits that are out here, they are outweighed by the harms that have been done, especially by those children with disabilities and the 26,000 kids on the streets," says New Orleans education advocate and charter school critic Karran Harper Royal. "For those people who came into town after something as devastating as Katrina and turned our school system upside down and took away arts and everything else that makes you a well-rounded student, that did a lot of harm to us as a people."
Earlier this year the Louisiana Legislature voted to return partial oversight of city schools to local school boards, a move even charter advocates like Kingsland supported. The development is at odds with Hastings' contention that locally elected school boards are part of the problem.
"This is a part of our democracy," says Vernon Billy, executive director and CEO of the California School Boards Association. "Whether it's electing school boards or city council members or congressional representatives, that is our process in this country. It may not be as timely as some people would like, but when you look at the fact that roughly 90 percent of our children go to public schools nationwide and in California as well, and this country is ultimately one of the most successful countries in the world, we must be doing something right."
Even as supporters continue to pour money into charter schools, critics have succeeded in raising fundamental questions about the charter model, leading groups like the NAACP to call for a moratorium on the expansion of privately managed charters schools. In California, test scores have fallen sharply at some charter schools, including Rocketship and Aspire campuses, while demands for greater charter accountability and oversight have increased.
Undeterred, Hastings and other school reform-minded tech billionaires want to inject the start-up mentality into the country's schools, using high-tech solutions to replace human labor and disrupting longtime management and oversight approaches in the name of efficiency. But to Bymaster in San Jose, that's not the right approach. After all, roughly half of all start-ups fail. What happens to the children who get caught in those failures, like the students left without a school when California Charter Academy folded, like the tens of thousands of kids roaming New Orleans streets?
"I have been through several successful Silicon Valley start-ups. I am as techy as they come," says Bymaster. "But ultimately the problems in our schools are people problems. Technology doesn't solve people problems. People solve people problems."

Baby Money: Can Cash Allowances Help Young Brains Grow?
Higher income has been found to correlate with larger surface area of the brain, especially in those parts associated with executive function and language.

Co-published by The American Prospect
Ever since the election of a Republican majority in Congress in 1994, the trend in assistance to the poor has been to reduce it. Work requirements for recipients, time limits on assistance and stricter eligibility conditions to receive food stamps were all part of the 1996 welfare reform overhaul signed by President Bill Clinton. The result was fewer kids receiving aid, and those who did received less money. In 2015, while 15 million American children, or about 21 percent, grow up in homes with incomes below the official poverty line—which many children's policy experts maintain is set far too low—just 2.3 million of them received welfare benefits, down from a peak of 9.5 million in 1993. (The poverty rate was even higher in California.)
But what if mothers in poverty received a cash handout every month, beginning shortly after they gave birth—no questions asked? And what if, by enabling those moms to buy toys or books, move to a different neighborhood, afford better childcare, attend continuing education classes, or just reduce the amount of stress they experience from not having to worry about money all the time, those extra funds resulted in their children's brains growing more than they would have without the money?
That's the idea behind a groundbreaking study conceived by Greg J. Duncan, an economist at University of California, Irvine who studies the relationship between family income and children's achievement and attainment as adults. Already five years in to the work, Duncan and the team of three social scientists and one neuroscientist he has assembled hope to begin recruiting subjects next year.
"Politically, the question is very important," said Katherine Magnuson, an associate director of the Institution for Research on Poverty at the University of Wisconsin, Madison and one of the designers of the study. "People in Washington talk about the pluses and minuses of programs that put money in people's pockets or take it out, and we need to understand the consequences of their decisions in terms of children."
Evidence that poverty manifests in children's development has been building for years. "Childhood socioeconomic status is strongly associated with IQ, graduation rates and test scores," said Kimberly G. Noble, MD Ph.D., the team's neuroscientist and a pediatrician and associate professor of neuroscience and education at Columbia University's Teachers College. The gap emerges early and widens through the elementary school years. Children who score poorly relative to other students on intelligence assessment but come from families of high socioeconomic status—which combines income, parent education level, parent occupation and occupational prestige—see their scores go up, relative to other kids, over time; kids who score high early on but are in low socioeconomic-status families see their scores fall.
Early in her career, Noble wanted to know which particular cognitive skills were associated with socioeconomic status. A 2007 paper she and colleagues published in Developmental Science showed that the greatest differences were in language, memory and executive function (the ability to plan and focus). Just the skills, in other words, most needed in a 21st century economy.
Exposure to violence has been shown to effectively age children prematurely, according to research published in 2012.
That led Noble to more questions: "How do differences in cognitive skill relate to differences in brain structure?" In 2012, she and colleagues found that higher family income is associated with a larger hippocampus, the part of the brain believed to govern memory and emotion. Income was also found to correlate with larger surface area of the brain, especially in those parts associated with executive function and language.
In 2015, Noble published data that extended this finding to the cerebral cortex. Four labs, independently of one another, have since replicated this research. While it wouldn't be possible to predict a kid's brain size from his parents' income—plenty of kids from well-off homes had smaller surface areas to their brains than some of the kids in poorer homes—Noble's paper showed the effect was strongest among the most disadvantaged children. "The proportional differences in income were associated with greater differences in brain structure among the worst-off kids," she said.
Media trumpeted the research with headlines like, "How Poverty Changes the Brain." But Noble knew that her results were only associational. "We can say differences in family income are associated with differences in brain structure but we can't say what's causing what," she said. "Is it other things, meaning that changing income might not make a difference?"
Then, several years ago, fate intervened. Noble met with a graduate student whom Columbia had randomly matched her with to mentor, and they got to chit-chatting. The student asked about her research, and after Noble answered, she recalls, the student mentioned that her father does similar work, but as an economist. "Well, there's like one economist in the world, maybe two, who fits that description," Noble said. "So I looked at her ID badge and said, 'Wait—is your dad Greg Duncan?'"
It was, and he happened to be in New York at the time. So the two professors had lunch.
"I'd always wanted to meet her," Duncan said of Noble. He knew that a $4,000 increase in annual income prenatally to age 2 can mean a 19 percent increase in the child's earnings as an adult. He told her of an idea of his: What if they could do an experiment that alleviates poverty and test causally the effects on child development? "She knew what the problem was with non-experiential data," Duncan said. "A lot of neuroscientists in this area take the work and say 'poverty destroys brains,' but she understood the value of random assignment." Noble told Duncan that if he ever developed this idea into an experiment, count her in.
Duncan soon spoke to some social scientists he had worked with before and assembled a team with the right combination of skills necessary to pull off a study to measure the effects of income on the developing brain during the first three years of life. They would need to find subjects, evaluate parent stress and parent involvement, and—Noble's specialty—measure brain activity.
Their study will recruit mothers who are in hospitals to give birth, with incomes no greater than the federal poverty threshold, and randomly assign them to one of two groups: Members of the treatment group will receive $333 per month as an automatic deposit on a debit card. Mothers in the control group will receive $20 per month. The researchers plan to recruit 250 new moms at each of four sites, chosen to represent a diversity of state benefits offered and of racial or ethnic composition, among other things. After they secure agreements to participate, researchers will interview the moms for 20 minutes. "You'd be surprised at how hard it is to give away money," said Magnuson, who is a former student of Duncan's. Special legislation had to be passed in Nebraska and Minnesota, two of the study sites, so the income would not threaten participants' eligibility for public benefits and thereby negate the "treatment."
Poor neighborhoods can have physiological effects: A mother's address at pregnancy predicted cortisol response and length of DNA sequences that protect infant chromosomes.
At 12 months, researchers will conduct a longer interview by telephone. When the children reach age 2, the researchers will conduct home visits and collect hair and saliva samples to test them for cortisol levels, an indicator of stress that has been shown to damage the developing brain. Researchers will also videotape the mothers' interactions with their children during a standardized play task; the videos will be coded for different aspects of parent sensitivity such as perceiving gestures from their children and picking up and responding to them. "We expect to see more sensitive reciprocal interaction in the parents in the treatment group," Duncan said. At age 3, the families will be brought into the lab to measure cognition and brain development in detail, using EEGs.
Noble would have liked to begin the study prenatally, but that would have risked missing women who weren't receiving prenatal care. "Almost everyone in the U.S. gives birth in a hospital, but the degree to which mothers receive prenatal care varies quite a bit," she said. Walking up to women with big bellies on the street wouldn't have been practical. "If there was a way to get everyone prenatally, for sure we would have loved to try that," Noble said.
Another limitation of the study will be the use of EEG instead of MRI data—or, better yet, examining the brains directly, which you can do with monkeys but not humans. Older kids can be relied upon to sit still in the noisy, dark MRI tubes, but 3 year olds not so much. An EEG scan involves a series of electrodes fitted into a cap that is placed on the child's head. "Most kids don't mind it," Noble said. "They can sit on their caretaker's lap. It gives a pretty good window into the electric brain function."
Children who grow up in more well-off families have vastly different experiences than  those in poverty today. Living in a poor neighborhood has been shown to have physiological effects: A mother's address at pregnancy predicted cortisol response and length of telomeres, DNA sequences that protect chromosomes, in their children at 12 months. The poor tend to live in more polluted areas, increasing exposure to toxins, and in more crowded and less stable housing environments, which can cause stress. They may live in violent neighborhoods; exposure to violence has been shown to affect the length of children's telomeres, effectively aging them prematurely, according to research published in 2012 in Molecular Psychiatry. Poor moms have higher rates of psychological distress and depression, which can affect how they interact with their children. They tend to be in lower-quality childcare if they are in childcare, and to have less stable family relationships.
"None of this is to say poor children don't often live in incredibly loving and warm families who do their best to support their children," Magnuson emphasized. "But it's hard to be the parent of a young child in our country—there are very few supports for it—and incredibly hard to do it with very limited financial resources."
The debit cards will show how participants are spending the money, but not what they spend it on; researchers will need to rely on surveys for that information. They are trusting that families are "able to optimize and understand their own needs," Magnuson said. Some moms might put their kids in better quality childcare; others might spend the money on ESL classes. Some may decide to move into an apartment in a safer neighborhood; others may calculate they can afford to delay returning to work and thereby spend more time with their infant. The money is expected to just generally reduce mothers' stress. "If they're less depressed maybe they'll have more bandwidth to talk more to their children, or take them to the library," Magnuson suggested. "Anything that's going to reduce the child's experience of stress could very likely improve their brain development." The surveys, physiological samples and videotaped interactions should provide such data.
"Greg and I have been studying child poverty for a lot of years, particularly Greg," Magnuson said. "We come from the perspective of wanting to know if something is causal or not, because you want to know how much money really does matter. We're not here to find something that doesn't exist. Then I'll think of other ways to help children."
---
Copyright Capital & Main