The 2018 Oscars Are Woke, But Hollywood Can Get Woker by Recalling Its Past
In the Golden Age of Hollywood, producers knew that social issues sold tickets. It's a lesson the film industry might be ready to re-learn.

At first glance, this year's Academy Awards ceremony and nominations seems as woke a lineup as the Oscars has ever offered. Films and actors honored touch on topics as varied and vital as LGBTQ love (Call Me By Your Name), veterans and overt racism (Mudbound), liberal covert racism (Get Out), police corruption (Three Billboards Outside Ebbing, Missouri), and the importance of the press (The Post). Jimmy Kimmel returns as host, after a year where he eased into the working-class champion role his bro schtick always aspired to but never quite nailed until now.
Expect much self-congratulation for these Brave New Oscars during the show, along with shoutouts for #TimesUp and digs at Trump (even as the show's producers want it to be "a giant commercial for the movie business" instead of anything political). But the nominees also show that Hollywood will practice punch-card progressivism until it realizes what the Louis B. Mayers, Jack Warners and other movie moguls of yesteryear never forgot: social issues sell.
The 2018 nominations show we're in a golden age of African-American characters, stories, and talent, and that a purge of the industry's toxic masculinity translates into better films. But it's as if Hollywood feels that tackling those two longstanding problems absolves it of trying to address anything else. Just look at today's pressing issues that big-budget films in 2017 ignored: homelessness, class inequity, the housing crisis, gentrification, climate change and more.
And in an age where diversity matters more than ever, Hollywood's depiction of Mexicans remain problematic. The touching Pixar film Coco (nominated for Best Animated Picture) notwithstanding, Hollywood still doesn't seem to want to cast Mexicans as anything else than the maids, janitors and security guards that executives and screenwriters encounter in their public and private lives, and the criminals that the media and politicians obsess over. Chris Rock's ruthless 2014 Hollywood Reporter essay on the lack of representation still rings true: Hollywood keeps Mexicans in a "slave state."
The studios need to look at their own past to see that reflecting society's people and problems are an easy moneymaker. Consider the films of the Great Depression, more relevant than ever. Films like I Am a Fugitive from a Chain Gang, The Grapes of Wrath, Sullivan's Travels, Gold Diggers of 1933 became beloved because they openly attacked the institutions that dared afflict the afflicted. Same with the 1970s: Rocky, Saturday Night Fever, Coming Home, Network and others harshly depicted the Me Decade all the way to the Oscars and massive ticket sales.
Two of this year's most prominent Best Picture nominees show a way forward for producers. The Shape of Water (directed by proud Mexican Guillermo del Toro) used a supernatural parable to critique our federal government's xenophobia. Get Out similarly used the horror genre to deliver its message. Both are in some ways the most Old Hollywood of the Best Picture bunch, as they recalled Universal Studios' historic monster movies (imagine a ride based on Get Out? Actually, you don't have to: it's called South Orange County).
The Shape of Water and Get Out each grossed over $100 million worldwide despite tiny budgets. Couple that with this month's record-breaking Black Panther, and the studios should realize that progressive films ought to be the norm, not a niche.
Two Cousins and a Magical Ice Cream Truck Figure in Leon Martell's New Play
Although not all of ICE's comedy clicks, Martell's story has both weight and charm. The production's overriding plus is its successful rendering, fashioned with humor and craft, of the difficulties immigrants face.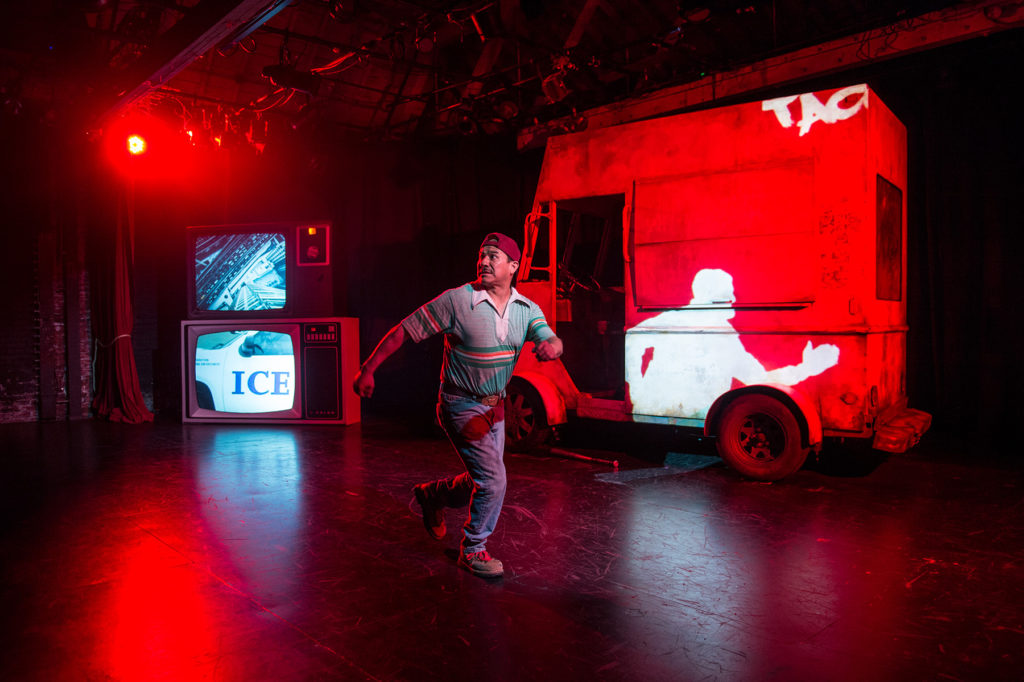 ICE, Leon Martell's family friendly play, takes place in 1988 and follows the misadventures of two undocumented immigrants: Chepe (Jesús Castaños-Chima), an avid baseball fan who dreams of making a fortune selling gourmet tacos; and his cousin Nacho (Tony Dúran), whom the beleaguered Chepe summons from Mexico to assist him in setting up his business. Directed by Debbie Devine at 24th Street Theatre, the show displays plenty of heart, not all of it realized in this premiere production. Despite this, there's enough political relevancy, moral truth and human comedy packed into the show's 65-minute time frame to overlook its shortcomings.
The core of the humor is the difference in personality between the two cousins. The ambitious Chepe is bitter and frustrated about his experience in America, where he's been cheated and lied to by bosses who exploit his labor and pay him next to nothing. Yet he's bought into the American Dream of money and fame, and to achieve that he's purchased a dilapidated old ice cream van to convert into a taco truck. It doesn't run, though, and the secret family salsa recipe is with his kin in Mexico. So, he phones home and implores his mechanic cousin to head north, bringing the salsa recipe as well as his skills.
Cousin Nacho, by contrast, is a sweet old-fashioned guy. He wants success too, but making money isn't the only thing he thinks about. He juggles tomatoes to make kids laugh and indignantly admonishes Chepe for his desperate inclination to do what it takes (steal tomatoes, for example) to score success.
Into the mix Martell tosses a blind, disgruntled priest (Davitt Felder), who plays guitar and wants to launch English classes for children in his parish (the archdiocese turns him down). Then there's Chepe's truck, which has opinions of its own. It breaks out in jingles at random intervals; later, it communicates with Nacho via blinking red letters that eerily appear on the side of the vehicle, furnishing the two men with simple directives and essential advice. When ICE (Immigration and Customs Enforcement) shows up, it alerts them to run.
Although not all of the comedy clicks, Martell's story has both weight and charm. The production's overriding plus is its successful rendering, fashioned with humor and craft, of the difficulties immigrants face. Its main weakness is Castaños-Chima's technically skilled but somewhat chilly depiction of his character, which leaves us wishing for more warmth and complexity. Felder appears awkward in his role of the blind priest, but proves versatile on video as Chepe's various nemeses. Dúran's naïve Nacho is a lovable presence from first to last.
Displayed on a monitor, Matthew G. Hill's video slides add historical and social perspective, and his backwall projections, in tandem with Dan Weingarten's lighting and Chris Moscatiello's sound, help conjure a magical aura to this parabolic piece.
24th Street Theatre, 1117 West 24th St., Los Angeles; Sat., 3 & 7:30 p.m.; Sun., 3 p.m.; through June 10, (213) 745-6516 or 24thstreet.org.
---
Copyright Capital & Main