The 2018 Oscars Are Woke, But Hollywood Can Get Woker by Recalling Its Past
In the Golden Age of Hollywood, producers knew that social issues sold tickets. It's a lesson the film industry might be ready to re-learn.

At first glance, this year's Academy Awards ceremony and nominations seems as woke a lineup as the Oscars has ever offered. Films and actors honored touch on topics as varied and vital as LGBTQ love (Call Me By Your Name), veterans and overt racism (Mudbound), liberal covert racism (Get Out), police corruption (Three Billboards Outside Ebbing, Missouri), and the importance of the press (The Post). Jimmy Kimmel returns as host, after a year where he eased into the working-class champion role his bro schtick always aspired to but never quite nailed until now.
Expect much self-congratulation for these Brave New Oscars during the show, along with shoutouts for #TimesUp and digs at Trump (even as the show's producers want it to be "a giant commercial for the movie business" instead of anything political). But the nominees also show that Hollywood will practice punch-card progressivism until it realizes what the Louis B. Mayers, Jack Warners and other movie moguls of yesteryear never forgot: social issues sell.
The 2018 nominations show we're in a golden age of African-American characters, stories, and talent, and that a purge of the industry's toxic masculinity translates into better films. But it's as if Hollywood feels that tackling those two longstanding problems absolves it of trying to address anything else. Just look at today's pressing issues that big-budget films in 2017 ignored: homelessness, class inequity, the housing crisis, gentrification, climate change and more.
And in an age where diversity matters more than ever, Hollywood's depiction of Mexicans remain problematic. The touching Pixar film Coco (nominated for Best Animated Picture) notwithstanding, Hollywood still doesn't seem to want to cast Mexicans as anything else than the maids, janitors and security guards that executives and screenwriters encounter in their public and private lives, and the criminals that the media and politicians obsess over. Chris Rock's ruthless 2014 Hollywood Reporter essay on the lack of representation still rings true: Hollywood keeps Mexicans in a "slave state."
The studios need to look at their own past to see that reflecting society's people and problems are an easy moneymaker. Consider the films of the Great Depression, more relevant than ever. Films like I Am a Fugitive from a Chain Gang, The Grapes of Wrath, Sullivan's Travels, Gold Diggers of 1933 became beloved because they openly attacked the institutions that dared afflict the afflicted. Same with the 1970s: Rocky, Saturday Night Fever, Coming Home, Network and others harshly depicted the Me Decade all the way to the Oscars and massive ticket sales.
Two of this year's most prominent Best Picture nominees show a way forward for producers. The Shape of Water (directed by proud Mexican Guillermo del Toro) used a supernatural parable to critique our federal government's xenophobia. Get Out similarly used the horror genre to deliver its message. Both are in some ways the most Old Hollywood of the Best Picture bunch, as they recalled Universal Studios' historic monster movies (imagine a ride based on Get Out? Actually, you don't have to: it's called South Orange County).
The Shape of Water and Get Out each grossed over $100 million worldwide despite tiny budgets. Couple that with this month's record-breaking Black Panther, and the studios should realize that progressive films ought to be the norm, not a niche.
'Skeleton Crew' Is a Play With a Moral Spine
Set in a Detroit automobile outfitting plant, Dominique Morisseau's drama grabs you from the start with its focus on blue-collar men and women, and their struggle for dignity and self-respect.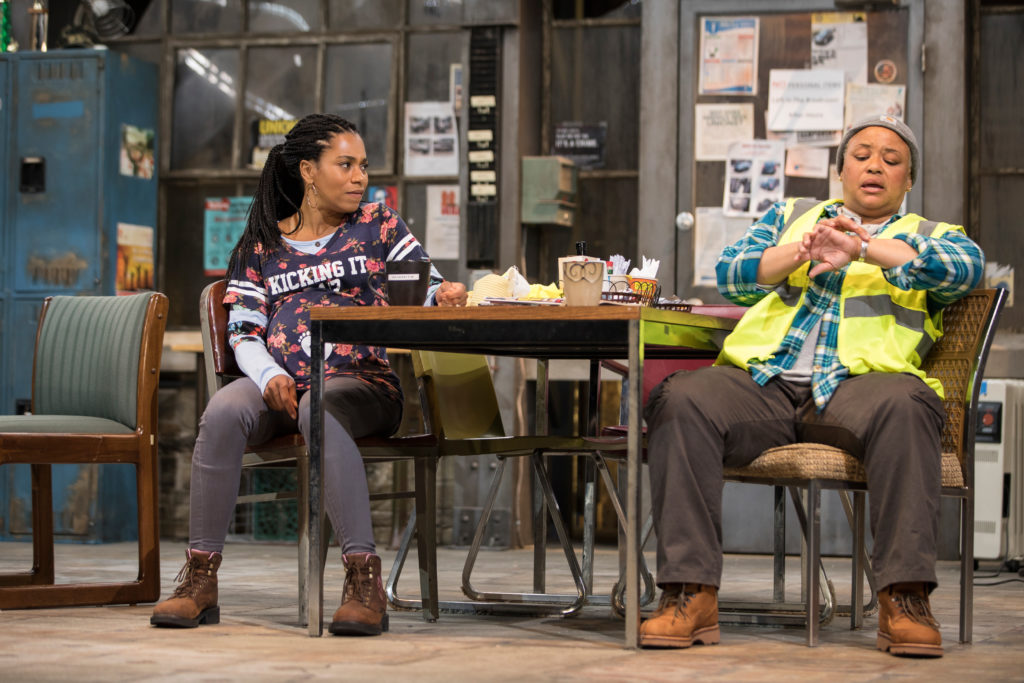 Working-class men and women of color are rarely front and center in today's media and, likewise, are presented all too occasionally on the American stage. So it's buoying to see that trend bucked in playwright Dominique Morisseau's percipient and well-crafted drama, Skeleton Crew. The play is the final installment in her Detroit  Project Trilogy; the first, Paradise Blue, is set in the 1940s amidst displacement caused by urban renewal and gentrification, while the second, Detroit '67, transpires on the eve of the 1967 Detroit riots sparked by a police action.
Directed by Patricia McGregor at Los Angeles' Geffen Playhouse, Skeleton Crew is a play with a moral spine. It takes place in 2008, when the shrinking U.S. auto industry is being further downsized. Morisseau's engaging quartet of characters — Faye (Caroline Stefanie Clay), Dez (Armari Cheatom), Shanita (Kelly McCreary) and Reggie (DB Woodside) – are employed at an automobile outfitting plant. Faye, Dez and Shanita are workers on the line while Reggie (who has a wife and kids, and has pulled himself together after a troubled youth) is their supervisor.
The first three customarily mingle in their break room (designer Rachel Myers' impressively cluttered, dingy and detailed set), trading the sort of familiar barbs and genuine concern for each other common among longtime co-workers. They also face off on philosophy: Upper-middle-aged Faye and the younger, pregnant Shanita take pride in their labor, while Dez, though a good worker, is a malcontent scornful of management and firm in the belief that everyone needs to watch out for himself. He's a thorn in Reggie's side, for while Reggie wants to be supportive of his workers, he must act at the behest of higher management. For his part, Dez resents Reggie's authority, and a palpable unease exists between them.
Besides this male matchup, we're made privy to Dez's attraction to Shanita, who mostly turns away his advances, but every now and then displays a hint of interest. Most poignant is Reggie's regard and affection for the lesbian Faye, which has roots in his boyhood when she loved, and lived, with his now-deceased mom.
These people's various predicaments intensify when rumors spread of the plant's shutdown — a disaster for all, but a particular calamity for the already near-broke Faye who, one year short of retirement, would lose her pension. The crisis forces each of these people to make a choice.
A sound piece of social realism, Skeleton Crew grabs you from the start in its focus on blue-collar men and women, and their struggle against odds for dignity and self-respect. Morisseau not only furnishes these characters a platform for their travails, she endows them with strong values, big hearts and the opportunity to choose between right and wrong.
Unfortunately, the performance I attended did not soar. Many exchanges lacked a fresh edge. The actors certainly had their characters down, but too often they appeared to be coasting on technique. (This seemed particularly true of Clay, who performed the role to great accolades in Washington, DC in 2017, also under McGregor's direction). Additionally, some of the stage movement was not entirely fluid; in confrontations, actors sometimes would just stand and face each other in an artificial way. And Cheatom's interpretation of Dez struck me as a bit overly churlish and depressive: I needed more glimpses of the intelligence and edge that would secretly attract the strong, self-directed Shanita.
The most compelling moments belong to Woodside, well-cast as a man trying his best in difficult circumstances to do the right thing.
---
Gil Cates Theater at the Geffen Playhouse, 10886 Le Conte Ave., Westwood Village; Tues.-Fri., 8 p.m.; Sat., 3 & 8 p.m. Sun., 2 & 7 p.m.; through July 8. (310) 208-5454 or www.geffenplayhouse.org