Thalidomide Tragedy: A Lesson for Today
Frances Kelsey receives the President's Award for Distinguished Federal Civilian Service from John F. Kennedy.
In recent weeks, Congress has been looking into last year's outbreak of meningitis, which killed 53 people and injured more than 700 Americans in 20 states. The cause was a tainted steroid distributed by the New England Compounding Center (NECC), which is part of an obscure $2 billion-a-year niche of the pharmaceutical industry called "compounding pharmacies." Recent reports document that this rogue industry is out of control, operating dangerously in the shadows and putting the lives of millions of Americans at risk. Democrats have been trying to give the Food and Drug Administration (FDA) the authority to regulate this shadowy niche of the drug industry, but the companies and their Republican allies have pushed back, arguing that states can do a better job and that stronger federal regulations aren't needed.
Sometimes it takes a scandal to get the public's attention, but it also helps to have a courageous figure who takes on big business to protect public health and safety. This David vs. Goliath conflict not only makes good drama. It can also make good public policy. And that's exactly what happened a half century ago when Frances Kelsey almost singlehandedly took on the pharmaceutical industry.
Frances who?
You've probably never of her, but she may have saved your life. In the early 1960s, Kelsey – a doctor and research scientist with the FDA – saved thousands of babies from severe birth defects by stopping a big pharmaceutical company from marketing the drug thalidomide. Equally important, Kelsey's courageous stance inspired Congress to revise the rules for approving new drugs protecting hundreds of millions of Americans, then and now, from unsafe medicines.
Kelsey's battle with the makers of thalidomide is not only an inspiring tale of how one individual's expertise and courage protected the public interest against the corporate push for profits, but also a warning to drug companies and their lobby groups fighting new drug safety rules that would put public health and safety over drug company profits.
After World War II, many Americans and Europeans got hooked on sleeping pills and tranquilizers. One out of seven Americans took them regularly. Thalidomide was first introduced in Germany in 1957 by Chemie Grünenthal, a drug company. It was considered safe enough to be sold as a sleeping pill without a prescription. Then doctors began giving it to their pregnant patients suffering from morning sickness. By 1960, the company was marketing thalidomide in 46 countries, but not the United States. Its sales were almost on a par with aspirin.
In 1960, Richardson-Merrell Pharmaceuticals applied for FDA approval to market thalidomide in the United States under the brand name Kevadon. At the time, pharmaceutical companies were required to show that their drugs were safe, but could sell drugs 60 days after they submitted requests to the FDA, so long as the agency didn't object, which it rarely did, because it mostly relied on the manufacturers for information. At the time, the FDA did not require scientific clinical trials. Drug laws back then allowed companies to send new drugs to doctors for "research purposes," so Richardson-Merrell distributed thalidomide tablets to more than a thousand doctors who gave them to about 20,000 patients. Approximately 3760 of them were women of childbearing age, including at least 207 who were pregnant. The doctors were not required to track their patients to find out if the drug was working or having any harmful side effects.
Assuming that the Kevadon application was a slam-dunk, the FDA assigned it to Kelsey, who had just arrived at the agency a month earlier. Born on Vancouver Island, British Columbia in 1914, she had earned both her bachelor and master of science degrees in pharmacology from McGill University, and her Ph.D. in pharmacology as well as a medical degree from the University of Chicago. She taught pharmacology at the University of Chicago and the University of South Dakota, and worked as a general practitioner from 1957 to 1960, when she moved to Washington to work for the FDA. She was one of only seven full-time physicians reviewing drug applications.
Kelsey's power to approve — or deny — the company's application was the result of the 1938 Food, Drug and Cosmetic Act that — for the first time — required pharmaceutical companies to prove that their products are safe before they can be sold. The pharmaceutical industry vigorously opposed the 1938 law, claiming it would be economic disaster for the drugmakers and pharmacies.
Despite powerful opposition, the law passed after a scandal that outraged the public. In late 1937, hundreds of children were poisoned and died after being given the antibiotic, Sulfanilamide, which was dissolved in a toxic solvent to make it easier for children to take.
Kelsey, who as a graduate student had helped with the Sulfanilamide investigation, quickly figured out that there was something fishy about Richardson-Merrell's Kevadon application. She had seen a British study that linked thalidomide to significant neurological side effects. She discovered that many of the company's claims that the drug was safe were not backed up with evidence. She asked the company for additional information. She demanded that Richardson-Merrell contact the physicians who were given Kevadon samples, but the company didn't comply. She then asked the company for the names of patients who had been given the samples, but the drug company didn't provide the list. Instead, Richardson-Merrell harassed Kelsey with constant phone calls, went behind her back to talk with her superior and threatened to file a lawsuit.
Kelsey refused to back down. She conducted further research and discovered that some of the documents used to "prove" thalidomide's safety were falsified. She discovered that some European doctors reported that a growing number of children were being born without limbs or with flipper-like arms and legs, but Chemie Grunenthal denied that there was any connection between these deformities and the drug.
Assuming that the FDA would rubber-stamp its application, Richardson-Merrell had already created a marketing brochure for its salespeople claiming that it had ". . . firmly established the safety, dosage and usefulness of Kevadon by both foreign and U.S. laboratory and clinical studies." But thanks to Kelsey, the company never got to use those brochures. She recommended that the FDA deny the company's application.
Her concerns were vindicated when it came to light that at least 10,000 children in Europe were damaged by thalidomide. Thanks to Kelsey, the United States was spared this tragedy, with fewer than 50 cases of thalidomide-related birth defects, due to the samples the company provided doctors, who then gave the drug to their patients.
But Kelsey did more than stop one drug company from marketing a dangerous drug to the public. She was also the catalyst for a major change in federal drug safety laws.
Senator Estes Kefauver (D-TN) had been trying for years to pass legislation to strengthen federal regulation of drug approvals, but industry lobbying had thwarted any progress. Then, on July 15, 1962, the Washington Post published a front-page article by reporter Morton Mintz, "Heroine of FDA Keeps Bad Drug Off Market," exposing Kelsey's role in preventing a thalidomide epidemic. The publicity strengthened Kefauver's hand. The drug companies opposed Kefauver's efforts to strengthen government rules and FDA authority. They claimed that new pretesting requirements would harm patients by keeping drugs off the market; that publicizing the side effects of drugs was unnecessary because it was really the physicians' responsibility to warn their patients; and that increased regulation of drugs would give government control over our lives.
But as the horrible effects of thalidomide on newborns became public, the industry opposition was overwhelmed by public demands for more government regulation and safer drugs.
Congress soon enacted the Kefauver-Harris Drug Amendments Act in 1962 — giving the FDA more authority to demand that drugmakers prove their products were not only safe, but also effective before receiving approval to market them in the United States. The law mandated that drug manufacturers maintain records of adverse events linked to drugs and promptly report these to the FDA. It required that advertisements of medications include information about their side effects.
Kelsey's unrelenting demands to use her legal authority despite intense pressure from powerful industry leaders made her a heroine and restored the public's faith in government to protect people from reckless and greedy corporations who would knowingly put dangerous products on the market. In fact, Kelsey's determination made her one of the 10 "most admired women in the world," according to a Gallup national survey.
Kelsey, the patron saint of drug safety, was a government bureaucrat, working in anonymity until her name surfaced because of a sympathetic newspaper reporter. For her courage, she was publicly honored. In 1962, President John F. Kennedy presented Kelsey with the Distinguished Civilian Service Medal. In 2010, the FDA initiated the Dr. Frances O. Kelsey Award for Excellence and Courage in Protecting Public Health. Fittingly, it selected Kelsey — then 96 years old — as the first recipient.
If you are in your 40s or 50s, thank God that Frances Kelsey was there, working quietly in her FDA office, making sure that your doctor didn't prescribe thalidomide to your mother.
Today's corporate lobbyists — like Richardson-Merrell Pharmaceuticals 50 years ago — never claim that they want to weaken government to increase profits for shareholders. They argue, instead, that government standards are a "burden," that they are "arbitrary," that they snag companies in "bureaucratic red tape," that they deny consumers "choice" in the marketplace and that they "kill jobs." These words are consistently echoed by the Chamber of Commerce, industry lobbyists, right-wing think tank propagandists and their allies in Congress, especially (but not only) Republicans who do the bidding for drug and food companies, the mining and oil industries, and other business interests.
When you hear words like that coming from the mouths of corporate executives and their lobbyists, think about the thousands of people like Dr. Kelsey working today in government offices and labs around the country, quietly protecting Americans from products that could kill or injure them if their manufacturers were allowed to make and market them. They work as researchers and inspectors for the FDA, the Occupational Safety and Health Administration, the Federal Aeronautics Administration, the Environmental Protection Agency, the National Transportation Safety Administration, the Centers for Disease Control, the Consumer Product Safety Commission and other federal agencies. Every day, they save lives.
(This post first appeared on Truthout and is republished with permission.)

Rick Scott Super PAC Donations Challenge Federal Anti-Corruption Rule
Co-published by Fast Company
The Florida governor led a group that raked in cash from Wall Street firms after Scott's administration gave them pension deals.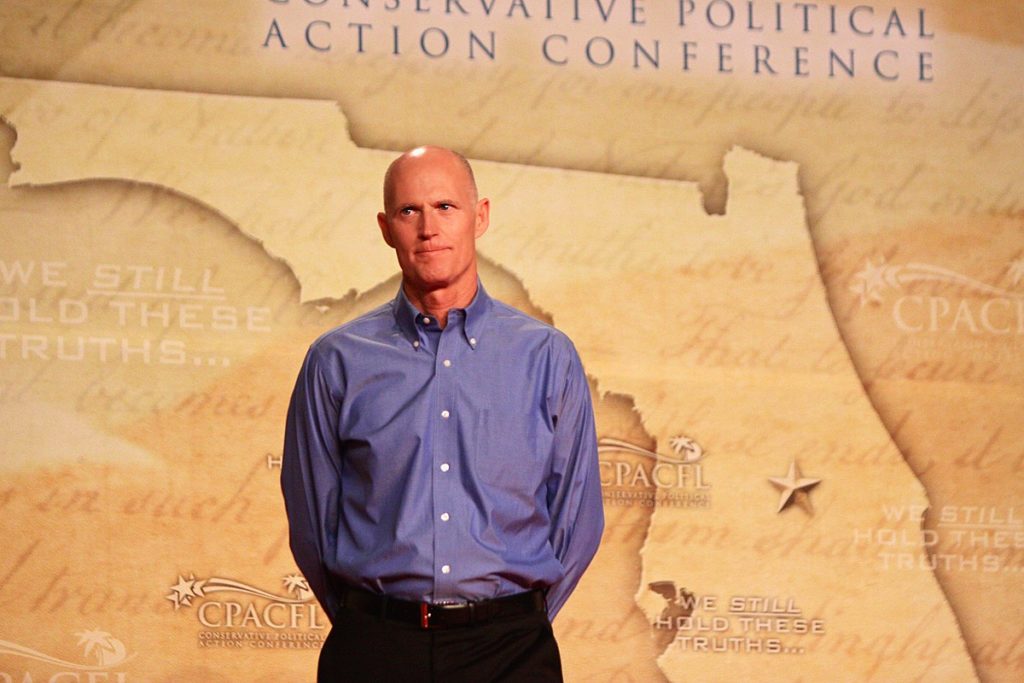 Co-published by Fast Company
A super PAC led by Florida Gov. Rick Scott raked in donations from two private equity executives after Scott's administration directed lucrative state pension investments to their firms, according to government records reviewed by MapLight and Capital & Main.
The donations were made to a committee that's now supporting Scott's U.S. Senate bid, despite a federal rule designed to prevent financial firms from bankrolling the election campaigns of public officials who oversee state pension investments.
Scott, a Republican, began chairing the New Republican PAC in May 2017 and announced his former campaign manager would serve as its executive director. Soon after, the group received $5,000 from New Mountain Capital Chief Executive Officer Steve Klinsky and $50,000 from Energy Capital Partners founder Douglas Kimmelman.
The contributions flowed to the super PAC after New Mountain Capital and Energy Capital Partners received a combined $250 million worth of new investment commitments from Florida's state pension system in 2014 and 2015. Scott is one of three state officials who oversee the $160 billion pension system. During the most recent fiscal year, the Florida investments generated more than $3 million in fees for the firms.
A 2010 Securities and Exchange Commission (SEC) rule prohibits firms from receiving investment fees from public pension systems if their executives donate campaign cash to pension overseers like Scott. SEC officials aimed to prevent investment decisions from being shaped by political influence.
But the commission didn't explicitly bar donations to "independent" political groups, unless the donations were deliberately designed to circumvent the restrictions. And it hasn't addressed whether a state official can lead a super PAC that received donations from firms with pension business and later be supported by the super PAC.
John Kuczwanski, a spokesperson for the Florida State Board of Administration, told MapLight/Capital & Main that Florida's first investments in the two private equity firms happened in 2005 and 2009, and he said Scott had nothing to do with new investments during his governorship, which started in 2011.
"The [state's] initial relationships with both managers predate Governor Scott's time in office," said Kuczwanski, whose agency manages the day-to-day operations of the pension system. "Neither the trustees, nor their appointed investment advisory council members are involved in the investment manager/fund selection process."
Scott's campaign and the super PAC did not respond to questions from MapLight/Capital & Main. New Mountain Capital and Energy Capital Partners did not return requests for comment.
Energy Capital recently completed the purchase of Calpine, whose natural gas power plant near Tampa is regulated by Scott's appointees at the Florida Public Service Commission. Kimmelman, who is now a director of Calpine, also donated $35,000 in 2017 to the National Republican Senatorial Committee, which is backing Scott's Senate campaign.
"A Very Clear Case"
Under the SEC rule — which GOP state parties have tried to overturn — investment executives are not prohibited from donating to independent political groups. But the rule allows regulators to apply restrictions to donations that are deliberately routed through third parties in order to support public officials — a situation that critics argue is happening with Scott and his super PAC.
After the governor announced his Senate bid last week, New Republican PAC's website began promoting his candidacy. End Citizens United, a Democratic-leaning political action committee based in Washington, DC, filed a complaint alleging that Scott has violated Federal Election Commission rules and is using the super PAC, which can accept unlimited donations, to evade contribution limits. Scott's campaign says he stepped down as New Republican PAC's chair in February.
In writing the original rule, SEC officials noted that while they could not restrict all donations to political action committees, contributions to third parties "may effectively operate as a funnel to the campaigns of the government officials." They said the final rule "prohibits acts done indirectly, which, if done directly, would violate the rule."
One ethics expert said that those anti-circumvention provisions should apply to the donations to Scott's super PAC.
"This appears to be a very clear case of close coordination and circumvention of the pay-to-play rule," said Craig Holman, an ethics lobbyist at the government watchdog group Public Citizen. "This is something that I'd like the SEC to pay attention to."
"No Loopholes"
The SEC has only occasionally enforced the pay-to-play rule, and the agency hasn't applied the provisions dealing with third parties to donations to super PACs. Because Scott is a sitting governor who can influence pension investments, he is covered by the rule, which has hampered the fundraising of past governors who tried to run for federal office.
A spokesman for former Texas Gov. Rick Perry's presidential campaign said the rule prevented him from raising enough money to be competitive in the 2012 race. Bloomberg reported that during the same election cycle, then-New Jersey Gov. Chris Christie was rejected as the vice presidential nominee, partly because Republicans feared the rule would prevent them from raising money from Wall Street firms that do business with his state's pension system.
"There is no way around it, and there are no loopholes," said Bill Palatucci, Christie's longtime advisor.
Even so, in recent years the rule has not deterred financial executives from donating to groups that help lawmakers who can influence pension investments. Financial executives whose firms received New Jersey and New Mexico investments continued to donate to the Republican Governors Association (RGA) when Christie and New Mexico Gov. Susana Martinez led the group. During the 2016 election cycle, executives at firms managing state pension money donated nearly $1.3 million to the GOP association, even as the group boosted the campaigns of Republican governors with power over state pension investments.
Last year, U.S. Sen. Tom Udall, D-N.M., called for the SEC to apply the pay-to-play rule to outside groups "to ensure that no one is able to circumvent these laws by using super PACs, dark money groups or other campaign spending vehicles." The RGA has argued that because it funds multiple candidates and does not allow donors to earmark contributions for particular races, it can accept donations from firms with investment business that can be influenced by individual governors. The SEC said in 2016 that donations to outside political groups "are independent expenditures that do not trigger" the rule.
"So long as the PAC faithfully observes the requirement to operate independently of candidates, a contribution to a super PAC will not trigger the [rule], even if the super PAC supports a covered official," Sam Brown, a former advisor to Federal Election Commissioner Ellen Weintraub, wrote in 2016. "Super PACs are increasingly being used in novel ways, and it remains to be seen whether these changes will result in increased circumvention risks."
---
This story is a collaboration between MapLight and Capital & Main.