Tech Workers Are Not Our Enemies
(Randy Shaw is the editor of BeyondChron and author of The Activist's Handbook, Second Edition. This post first appeared November 14 on BeyondChron and is republished with permission.)
Last week's Twitter IPO triggered stories about "tech culture's" impact on San Francisco and the broader society. It made me ask: is there really a culture of tech outside the workplace and, if so, what is it? More importantly, does labeling popular activities among young workers as "tech culture" create divisions among people who otherwise could be working together to solve social problems? Many (including myself) have identified the term with a libertarian political philosophy, hostility to unions and overwhelming white and Asian-American workers under-40 without kids. It is also identified with the rise of artisan coffees and foods, wine bars, upscale restaurants and the now legendary $4 toast that led the Courage Campaign to launch a petition to Mayor Lee regarding the city's rising costs.
But associating "tech culture" with the politics of the tech elite, as occurred after Facebook's Mark Zuckerberg's founded a pro-immigration reform group that ran opportunistic ads supporting the Keystone XL Pipeline and drilling in the Arctic National Wildlife Refuge, makes little sense. It is akin to assuming that the opinions expressed by the head of General Motors in its boom years reflected the views of auto workers. And on the cultural side, it was artists and hipsters who popularized Stumptown or Philz Coffee and artisanal cheeses, not tech workers. Stigmatizing young workers for their affluence is a strange way to build broader movements for change, particularly when tech workers share many progressive values and goals.
When we hear that most employees at Twitter and Square ride bikes to work and that few arrive by car, does that mean that "tech culture" is environmentally conscious? Or are tech workers part of a larger young demographic concerned about climate change and global warming?
These types of questions should cause us to pause before labeling activities by tech workers as part of a distinct "tech culture."
What many in San Francisco criticize as "tech culture" is a more widespread and expensive version of what hipsters and bohemians previously created. Consider the archetypical urban gentrification saga of artists moving into a rundown neighborhood. They open up cafes, hip restaurants and vintage clothing and craft stores only to be displaced by more affluent residents (some of whom may work in tech) attracted to such culture.
The result of this process is not the creation of a "tech culture." After all, artists created this culture, not techies.
Creating Disunity
The biggest problem with the increasingly hostile criticism of tech workers and "tech culture" in San Francisco and other cities is that it is divisive. Why activists would make a special effort to alienate a growing sector of the electorate in any city is a mystery, particularly when young tech workers are potential recruits to many progressive causes.
Some progressives talk about tech workers as if they are spreading an infectious value system that is eradicating what San Francisco has always been and is supposed to be.
Voting results since San Francisco's dot-com boom shows the city has not become more politically conservative despite rising affluence. San Francisco is at least as progressive today as in the 1980's and the November 2012 election results confirm this.
Tenant activists proved as far back as the Prop H campaign in 1992 (which cut annual rent increases in more than half) that affluent tenants also vote their economic interests. The tech workers paying the $3000 monthly rents will support greater tenant protections and are not going to vote to weaken strong rent and eviction controls that protect their own tenancies.
I am hard pressed to think of any issue area where tech workers and the fictional "tech culture" is overriding progressive San Francisco values. And on issues like bike lanes, support for the arts, affordable housing, reducing homelessness, improving public transit and many others, tech workers will prove a great asset to progressive campaigns.
Those demonizing an evil "tech culture" and alienating thousands of young tech workers are missing a great opportunity to build broader campaigns for causes they care about. It is a roadmap for political isolation and a strategy progressives continue to pursue at their peril.

Rick Scott Invested in the Same Financial Firms As Florida's Pension System
Co-published by MapLight
For most of his time in office, Florida's governor has shielded his investments from public view. A new disclosure shows Rick Scott and his wife have invested at least $18 million in financial firms managing money for the state's pension system that he oversees.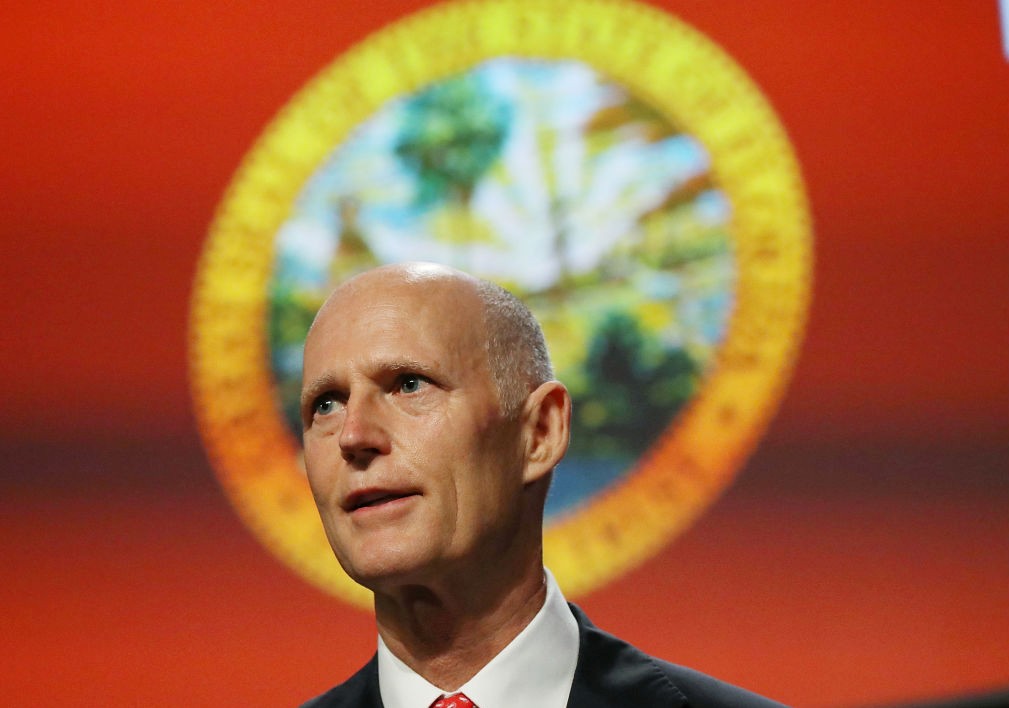 ---
Former SEC Lawyer: "There needs to be an investigation into whether the state is subsidizing Rick Scott's personal returns."
---
Co-published by MapLight
Florida Gov. Rick Scott and his wife have invested at least $18 million in three financial firms managing money for the state's pension system that Scott oversees — a situation that intertwines the governor's personal finances with his responsibility for supervising state employees' retirement savings.
The investments were first divulged in a federal financial disclosure form that Scott filed as part of his U.S. Senate campaign in July. For most of his time in office, Scott has shielded his investments from public view, and only reported their overall value in his blind trust.
The terms of Scott's investments remain undisclosed. The firms' own corporate documents say they can give certain investors special preferences not afforded to other investors — and experts have in recent years argued that hedge funds, private equity firms, and other "alternative investments" are giving such preferences to elite investors. One former Securities and Exchange Commission attorney told MapLight and Capital & Main that Scott must disclose whether he is being given such preferences.
---
Critics have raised questions about how blind the Scott family trusts really are.
---
Florida ethics laws are supposed to prohibit state officials from entering into contractual relationships with companies that do business with their agencies. However, after Scott became governor in 2011, state ethics officials said he and his family members could put their assets into a blind trust to avoid conflicts of interest and still maintain their investments in companies operating in Florida.
Critics have raised questions about how blind the Scott family trusts really are. Scott placed one of his longtime business associates in charge of managing his blind trust. The Tampa Bay Times reported that Scott's blind trust has invested with a private equity firm tied to a high-speed rail project in Florida. The trust also had an indirect interest in a cancer treatment company that received tax breaks from Scott's administration.
---
"The question is whether Rick Scott is being allowed to invest on better terms than the state pension fund."
---
"When Governor Scott was elected, he put all of his assets in a blind trust, which is managed by an independent financial professional who decides what assets are bought, sold or changed," said Scott campaign spokesperson Lauren Schenone. "The rules of the blind trust prevent any specific assets or the value of those assets within the trust from being disclosed to the governor, and those requirements have always been followed."
Scott is one of three state officials who serve as trustees for the Florida State Board of Administration, which manages a $160 billion fund for roughly 400,000 retirees. Scott, Attorney General Pam Bondi, and Chief Financial Officer Jimmy Patronis oversee lucrative state investment deals granted to cash-hungry Wall Street firms.
The three firms that have received $325 million worth of Florida pension investments have allowed the Scott family's blind trusts to simultaneously invest their personal fortunes in these funds. Scott's investments in the funds did not appear in a 2014 disclosure itemizing his holdings. His campaign did not say when the investments were made.
"There are no ethics rules that prohibit or limit a trustee from investing in funds also invested in by the SBA," said SBA spokesperson John Kuczwanski, though he added that trustees are subject to Florida's general code of ethics. Kuczwanski said that the governor has no involvement in specific pension investment decisions.
Don Hinkle, a Democratic lawyer, filed a lawsuit last year alleging that the governor has failed to comply with the state's blind trust and financial disclosure laws. He said he was surprised by the news that Scott had invested in the same firms as the Florida pension system.
"I would think that he would have avoided investments where the state of Florida's money is propping his up," Hinkle told MapLight and Capital & Main.
In 2011, a few months after Scott became governor, the SBA committed $150 million to Highline Capital Partners, a New York-based hedge fund. Scott's financial disclosure shows that his family's trusts have invested at least $4 million in the same Highline fund as the state.
The SBA also committed $100 million in 2015 to a hedge fund managed by Canyon Capital Advisors, a Los Angeles-based firm created by veterans of the notorious investment bank Drexel Burnham Lambert, which was driven into bankruptcy as a result of illegal and unethical trading practices. Scott and his family have invested at least $12 million in Canyon funds, according to his financial disclosure.
Before Scott became governor, the SBA invested $75 million with VSS, a New York-based private equity firm that was launched by a co-founder of Psychology Today. Scott and his wife, Ann, have invested more than $2.2 million in another VSS fund. A spokesperson for VSS said the firm doesn't comment on its investors.
All three firms' SEC filings say they can offer certain investors special fee terms or other benefits not offered to other investors.
"Alternative investment funds have the ability to offer every investor different fees at a different rate of return, so the question is whether Rick Scott is being allowed to invest on better terms than the state pension fund," said former SEC attorney Edward Siedle, whose Florida-based firm conducts forensic investigations of state pension systems.
"If you give one investor an advantage, another investor has to be disadvantaged," Siedle said. "That means there needs to be an investigation into whether the state is actually subsidizing Rick Scott's personal returns and whether the governor enjoys advantages that are harming the retirees."
Schenone, Scott's spokesperson, said that his blind trust has "been upheld multiple times by the State Commission on Ethics and the court system. Governor Scott has also followed the requirements of all state and federal financial filings."
She noted that former Florida Republican Gov. Jeb Bush and Scott's 2010 Democratic opponent Alex Sink had also used blind trusts, although Scott's campaign attacked Sink for hers at the time.
"Blind trusts sound good but can run afoul of state laws requiring public officials to disclose their personal finances," a Scott campaign ad said in 2010. "[But] simply moving large amounts of money into a blind trust does not magically erase the knowledge of what you own."
---
This piece was reported by Andrew Perez of MapLight and David Sirota of Capital & Main, and published in partnership with the Florida Center for Investigative Reporting.