Taking the Train to the Women's March: A Transformative Moment
How people traveled to the Women's March in downtown Los Angeles was itself extraordinary and could make January 21 the date that transit re-established its role as central to the L.A. experience.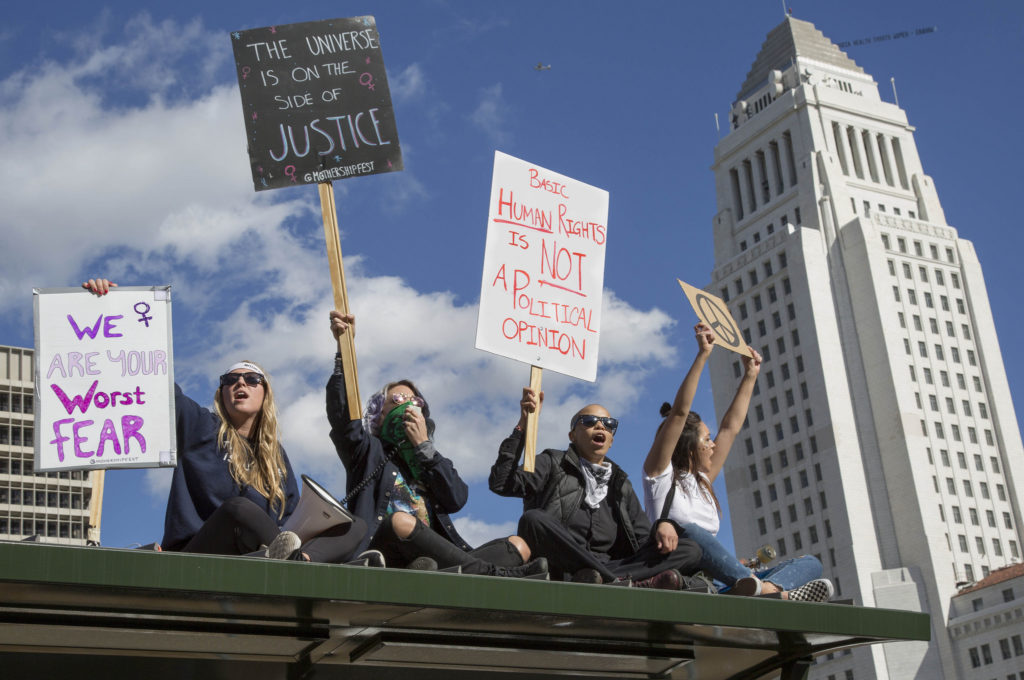 The January 21 women's march was extraordinary in many ways, but for Los Angeles it might also have been a transformative moment. The turnout here was as much as 10 times the size of the most optimistic forecasts — estimates of the number of participants reached as high as 750,000. But how people traveled to the march sites at Pershing Square and City Hall was itself extraordinary and could make January 21 the date that transit re-established its role as central to the L.A. experience.
In the morning hours, and then again later in the afternoon, nearly every bus and rail line that headed towards or from downtown was packed at full capacity, to the point that people waited, sometimes for two hours or more, but still couldn't board because the trains were so crowded. In my own experience, since the station for the Expo Line at Bergamot Station in Santa Monica was completely filled on the platform for the eastbound train, my friends and I decided to board the train at 8:30 in the morning going west. Its last Santa Monica stop was Fourth Street – before it reversed and headed to downtown L.A. (We weren't the only ones with that idea.) Though our train was packed to the hilt, passengers were friendly, courteous, cheerful and boisterous, and clearly seemed to enjoy the sense that they were about to be part of something special.
This was truly a different kind of L.A. moment.
The numbers released by Metro about the number of riders on the day of the march bear that out. There were 592,000 people who boarded trains the day of the women's march. The typical number of boarding passengers on a Saturday, according to Metro, is around 230,000. And there were more than 40,000 new TAP cards issued the day of the march, likely representing first-time users. To put that in perspective, more people took the Metro on January 21 in Los Angeles than rode Washington, DC's Metro on Inauguration Day — and Washington is a city rightly applauded for its transit system.
Los Angeles still has a long way to go to re-establish itself as a major transit-oriented city — a claim it was able to make through the mid-1940s. But as it seeks to extend its rail (and hopefully, as well, its bus) systems, and also increase its bike and pedestrian capacity, one major barrier that remains is the idea that to get from one place to the next, no matter the distance or the circumstance or the location, one needs to travel by car. L.A. still remains a bit transit-phobic; the women's march suggests it might become less so.
---
Robert Gottlieb's latest book, co-authored with Simon Ng, is Global Cities: Urban Environments in Los Angeles, Hong Kong, and China, to be published in May by MIT Press.

LISTEN: How Two African-American Entrepreneurs Are Determined To Change Diets In The Black Community
On the latest episode of "The Bottom Line" podcast, Naturade's Claude Tellis and Kareem Cook share how their own families' experience with diabetes has spurred them to promote healthy eating options.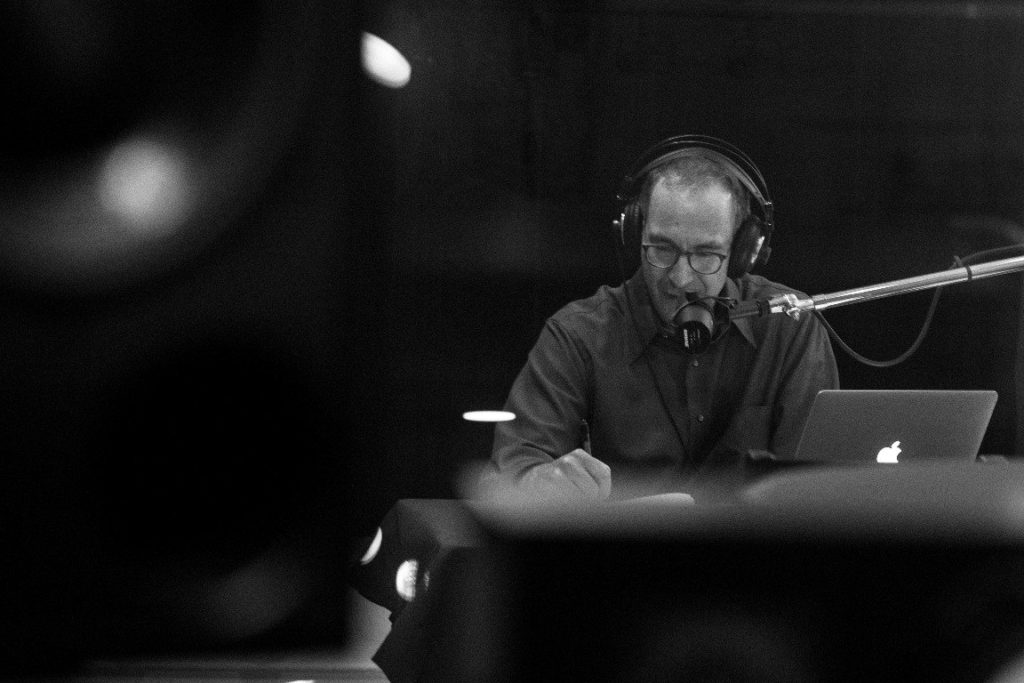 Many entrepreneurs pride themselves on solving some sort of "pain point" for their customers. But as Claude Tellis and Kareem Cook, the co-owners of health-products provider Naturade make clear, some pain points are a lot more serious than others.
"I had an uncle that went into the doctor, wasn't morbidly obese or anything, lived in Louisiana and . . . the family was faced with, 'Do we amputate both of his legs or not?'" Tellis told me on the latest episode of my podcast, The Bottom Line. "He never made it out of the hospital. He died, and he was about 55 years old."
Another uncle, says Tellis, who serves as Naturade's CEO, "was faced with losing a couple toes." Eventually, "they had to take his leg from the knee down."
In the African-American community, dealing with this grim loss of life and limb—often brought on by diabetes and peripheral arterial disease—has become disturbingly routine. "You just kind of grew up with insulin in the refrigerator," says Cook, Naturade's chief marketing officer.
And so Tellis and Cook have set out to combat this crisis by helping underserved populations—especially those in black neighborhoods—eat better. Their vehicle for sparking change is Naturade, which they acquired in 2012 for $8 million.
Although the Orange, Calif., company is nearly a century old, Tellis and Cook have revamped it completely, including introducing a new product that is now their No. 1 seller: VeganSmart, a plant-based meal replacement that is high in protein, low in sugar, and full of vitamins and minerals. Its suggested retail price is $35 for 15 servings.
"What we really wanted," says Tellis, "was something that had Whole Foods quality that could be sold to a Walmart consumer."
To achieve that vision, they've built the brand methodically. Step one, Tellis says, was making sure that vegans bought in, so that "people when they look online will see that there's an authenticity and there's a rigor" to what's being offered.
From there, they handed out VeganSmart at Wanderlust yoga festivals, aiming to attract a hip, upscale crowd. This helped advance a "premium viewpoint of the product," Tellis says.
Finally, there came the last step: bridging into urban America. To catch on there, they've adopted an influencer strategy, tapping rappers like Styles P and Da Brat and professional basketball players to promote VeganSmart. (Grant Hill, soon to be inducted into the NBA Hall of Fame, is an investor in Naturade.)
The result is a profitable company that is now selling into, among other retailers, both Whole Foods and Walmart—just as Tellis and Cook had planned it.
Not that any of this has come easy. The duo, who met as Duke University students in the early 1990s, have played in the health-food space for more than 15 years now.
Their first venture, launched in 2002, was a vending machine company called Healthy Body Products, which supplied nutritious snacks and drinks instead of junk food and soda. The business won contracts with the Los Angeles Unified School District, but it was difficult to scale. So Cook and Tellis ultimately sold the venture—but not before gaining some insight into what it takes to persuade those in the mainstream to eat right.
At one point, they brought in actor Michael Ealy (then fresh off one of the Barbershop films) to talk to the students about the importance of maintaining a good diet. "One of the biggest things we learned in our first business was how to make it cool," Tellis explains.
And, of course, if that doesn't work as a motivator, there's always a second message to fall back on. "Everyone wants to be cool," says Cook. "And no one wants to die."
You can listen to my entire interview with Tellis and Cook here, along with Bridget Huber reporting on Impact America Fund's efforts to help improve low- to moderate-income areas, and Karan Chopra laying out what small rice farmers in West Africa can teach American business leaders.
The Bottom Line is a production of Capital & Main.