Study Finds Elevated Levels of Dangerous Chemicals in Porter Ranch Residents
A family practice physician, testing patients living near the Aliso Canyon natural gas leak, says he has discovered the presence of toxins in their systems.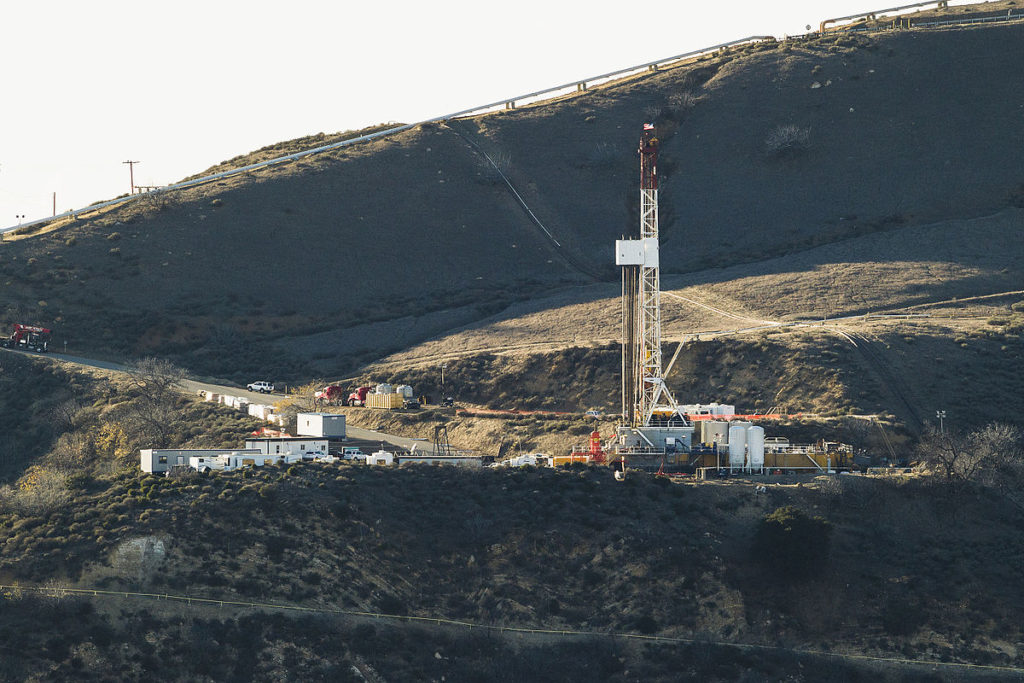 Aliso Canyon photo by Scott L.
Porter Ranch Doctor: "State agencies
are withholding information."
---
An independent health study released earlier this month showed elevated levels of carcinogens in residents living near Aliso Canyon, the site of the massive 2015 natural gas blowout in Los Angeles' San Fernando Valley.
Dr. Jeffrey Nordella, a family practice physician in Porter Ranch, near Aliso Canyon, tested 120 patients just after the gas leak was capped in February 2016 and followed up months later. He found significantly elevated levels of styrene, also known as ethynylbenzene, in urine samples, and higher levels of uranium and lithium in hair samples. In 26 Porter Ranch homes, lithium was detected in water supplied by the Los Angeles Department of Water and Power (LADWP), but there were no detectable levels of lithium in water from other sources.
Capital & Main discussed Dr. Nordella's study with him on October 23, the second anniversary of the massive natural gas leak in the Aliso Canyon storage field.
---
Larry Buhl: How dangerous are some of these chemicals like styrene?
Jeffrey Nordella: Styrene is a volatile organic compound [VOC] and well documented in its use in oil and gas production. It is a carcinogen that is metabolized to a chemical in the liver and it's collected in urine. The level was very high in residents I tested. When you put all of these chemicals in the body, there will be different effects than when you introduce one chemical. The term we use in medicine is polypharmaceutical. We are in unchartered waters in terms of understanding what all of these together will do.
How many of the Porter Ranch residents tested had abnormal symptoms or health problems?
JN: All of them except one patient were ill with a combination of symptoms.
Was there any correlation between the toxins you found in their systems and the symptoms?
JN: I didn't look for that. And remember that more than one chemical can cause the same health symptom. Methane and lithium can cause headaches, for example. This requires further study, but unfortunately a good percentage of the window of opportunity is gone for some of the necessary studies. I started months after the well was sealed. Next week I'm going to initiate an epidemiology study to find out who is sick with what. I will look at how many cases [there are] of leukemia, anemia, transitional cell carcinoma and others. I will see how the findings compare to other populations.
Why isn't the city or county health department doing this?
JN: That's what I want to know. The county health department hired a company to study 103 homes. They did the wipe testing of hard surfaces and they also did air canister testing, but decided not to test for benzene in the wipe study. Why? In their air canister study, six of 103 homes tested positive for benzene above the EPA's acceptable level, but they didn't notify the residents about the levels. Why? As well as benzene, why wasn't the acrolein disclosed when 96 percent of homes tested positive? Acrolein is a VOC linked to cancer. State agencies are withholding information.
Do you think the county department of public health has been forthright with the community?
JN: Absolutely not. And politicians [should] get their heads out of the sand. [State Senator] Henry Stern [D-Canoga Park] has been on top of this, but where are the others? The biggest issue is the lack of transparency.
Your study showed that nearly a third of Porter Ranch residents were experiencing nosebleeds months after the leak was capped. Does this suggest the physical symptoms began before the 2015 blowout and leak?
JN: We had testimony from people who said they smelled mercaptan, a chemical used as an odorant added to natural gas, for a long time before the blowout. Also, we tested hair samples — like rings of a tree. I tested at 12 inches, which is approximately two years of growth, and at a quarter inch. The toxicological appearance of [chemicals] was greater at two years' growth, suggesting residents were exposed a long time ago.
What about lithium in the water? This wasn't due to the gas leak, was it?
JN: It is unknown at this time. I gave my presentation showing lithium in 26 out of 26 samples to LADWP, and I feel their explanation is not sufficient. Their argument is because [the Environmental Protection Agency] has no health goals regarding lithium, there's no reason to test [for] it. It's a circular argument. I provided LADWP with a study out of Copenhagen, Denmark in August, which recommends that people should not take lithium supplements. In my opinion the EPA should look at what's a safe level of lithium, if any.
---
Note: The County Department of Public Health (DPH) said in an email that it had tested a number of homes for many chemicals and published reports of the overall findings, available at: http://publichealth.lacounty.gov/media/gasleak/.
"DPH continues to advocate for a comprehensive, long-term health study of this community, consistent with the scope of work and cost agreed to by a multi-disciplinary panel of experts," the email said. "The projected cost of the study is approximately $35-$40 million."
Dr. Nordella's findings can be read here.
---
Copyright Capital & Main