State of Resistance: Protecting California's Air and Water
As Oklahoma's attorney general, Scott Pruitt pinned his career on fighting laws and regulations that stood in the way of agricultural, mining or energy interests. Now he's Trump's pick to lead the EPA.
In December of 2016, the U.S. Environmental Protection Agency cracked down on Canyon Plastics of Valencia, California, for allegedly polluting local waters with nurdles. Tiny bits of resin used in the manufacture of plastic products, nurdles leach chemicals as they collect on beaches and clog up the digestive tracts of marine creatures. Canyon Plastics, the EPA alleged, had been disposing of them in a tributary of the Santa Clara River, which empties into the ocean. The nurdles posed an immediate threat to the endangered steelhead trout that persist in the river, and after an inspection, the federal agency proposed a fine and a remediation plan that was open to public comment.
Nurdles in the Santa Clara might seem trivial compared with lead poisoning a city's tap water, or Volkswagen (and now, allegedly, Fiat Chrysler) cars tricking smog tests. But policing nurdles is an example of an important function of the EPA that often flies under the radar of anyone who hasn't been subscribing to the agency's news feed. Just in the last few months in California, the EPA has ordered a home renovator in Anaheim to spend $34,000 on blood tests for clients' children, who may have been exposed to lead dust; forced Trader Joe's grocery stores to spend $2 million to fix faulty and polluting refrigerators; and imposed a six-figure penalty on a Bay Area refinery that was illegally disposing of the toxic chemical benzene in an unlined waste pond.
All of the small, cumulative enforcement actions over time add up to a single, worthwhile purpose: The safeguarding of the country's air and water to the extent that the EPA's resources allow.
That news feed abruptly went dark this week, as Myron Ebell, the overseer of the EPA transition for the Trump administration, ordered staff to cease communicating with the public except for critical messages. Ebell also ordered the suspension of grants and contracts, according to information provided to the Huffington Post and ProPublica. The unprecedented move was a cold reminder of what everyone following the news has known since December 7, when the news broke that then-President-elect Donald Trump would pick Scott Pruitt as his EPA administrator: The federal agency created under the Nixon administration to enforce our environmental laws may very well be in peril. "Pruitt," says Vermont Law School professor Patrick Parenteau, "is everything people say he is." To wit: no friend to regulation that restrains the polluting industries.
The proof is in Pruitt's record. As Oklahoma's attorney general, Pruitt pinned his career on fighting laws and regulations that would stand in the way of agricultural, mining or energy interests. He has sued to stop a creature on the brink of extinction from being added to the endangered species list; he went to court to defend a state ballot measure that would bar any restrictions on agribusiness' right to pollute the state's waterways (the measure failed at the polls).
Pruitt has also gone after the EPA itself — 19 times, in fact — suing to block a rule that would reduce the haze that contaminates the skies in national parks. He's even tried to stop the time-honored practice of citizens—privately, or under the aegis of environmental nonprofits —taking the agency to court when it falls short, a practice enshrined in the nation's bedrock environmental laws.
There was much discussion of citizen lawsuits during Pruitt's January 18 confirmation hearing before the U.S. Senate Committee on Environment and Public Works. (Pruitt affirmed, to Massachusetts Senator Ed Markey, that he opposed the practice.) Also on the docket was Pruitt's handling of poultry waste in the Illinois River, with New Jersey Senator Cory Booker recounting how Pruitt turned his back on a legal settlement that Pruitt's predecessor, Drew Edmondson, had achieved with the poultry producers to reduce phosphorous pollution. Vermont Senator Bernie Sanders pressed the nominee on his views on climate, which, like every other Trump nominee's views on climate, came out sounding more measured and reasonable than the president's "Climate change is a Chinese hoax" remark.
Less attention was paid, however, to what will happen to these many smaller enforcement duties when the EPA and Justice Department abandon their roles in protecting public health. Pruitt has said that he respects state's rights; it's been one of the key phrases of his tenure. He nevertheless indicated during the hearing that he might deny California its currently held right to impose limits on tailpipe emissions that exceed federal standards; he also suggested that the federal government should have stepped in sooner in Flint, Michigan's water crisis. "The EPA should have acted expeditiously" when it became clear the state wasn't acting to clean up the lead in the city's water supply, Pruitt said. But that's a statement that runs counter to literally everything Pruitt has done in his active career as the chief enforcer in his home state, where, as Delaware Senator Tom Carper noted, every county for which data is collected consistently exceeds federal air pollution standards.
Pruitt's record on enforcement has been one of laxity, not enforcement. His inaction as the new EPA head could nullify environmental laws in practice even while they remain on the books.
Environmental laws are only as good as their implementation," says Jared Blumenfeld, the recent former regional EPA administrator for the Pacific Southwest and Hawaii. "They are great things to have on the books; we can feel good about them. But without enforcement, they're paper tigers."
Enforcement, in fact, is the very reason for the EPA's existence—as well as the defining characteristic of modern environmentalism. If President Theodore Roosevelt's famous camping trip with John Muir had ushered in the era of conservation, it was Rachel Carson's 1962 book Silent Spring, a "quietly shocking tale about the widespread pesticide poisoning of man and nature," according to the agency's official origin story, that gave rise to "a political movement which demanded the state not only preserve the Earth, but act to regulate and punish those who polluted it." It was, at the time, a nonpartisan ideal: The EPA's first administrator was a staunch Indiana Republican, William Ruckelshaus, who nonetheless believed wholeheartedly in the agency's mission. "Obviously," he told senators at his confirmation hearing, "if we are to make progress in pollution abatement, we must have a firm enforcement policy at the federal level."
One of the first things Blumenfeld did after President Obama appointed him was rebuild the EPA's enforcement division, which had been gutted way back under President Ronald Reagan's first EPA administrator, Anne Gorsuch. (George W. Bush's administration further hobbled enforcement staff, sending longtime staffers fleeing in disgust.) Still, the Obama administration's EPA has not been the most robust in history. Criminal prosecutions for environmental crimes, which peaked under President Bill Clinton in 1998, in 2016 were the lowest they'd been in two decades, reports the Transactional Records Access Clearinghouse at Syracuse University. But that's mostly a problem of diminishing resources, a situation Congress has responded to by further diminishing them.
And Pruitt is right about Flint: The EPA did err when it failed to intervene in that city's water crisis, long after agency scientists knew lead was leaching into the water supply. But the Flint disaster also points up why the EPA is necessary. Most enforcement of the Clean Air and Clean Water Acts, those twin landmark laws first authored during the Nixon administration, is delegated to the states, which in turn pass the responsibility on to regional or local authorities. (California, for instance, takes its federally delegated authority to regulate pollutants under the Clean Air Act and distributes it among 35 local air districts.) When those local agencies fail to protect public health, the EPA can and should intervene. Its failure to do so in Flint shows what happens to state environmental law when the EPA isn't there as a backstop.
"States need to know that someone else is watching to make sure federal environmental laws are being effectively implemented and enforced," Blumenfeld says.
Even a governor who views himself as an environmental warrior at times lacks the political will to do the right thing. In 2011, when California regulators warned that Central Valley oil-drilling operations risked polluting local aquifers, Governor Jerry Brown fired the regulators; three years later, the EPA ordered a more thorough review, and shut down 56 wells.
There's also the issue of local authorities getting to know their industrial operators a little too well. "The basic enforcement philosophy at EPA is that the closer the relationship between the enforcer and the entity that's being inspected, the greater the likelihood that problems will arise," says Blumenfeld. Exide Technologies' battery recycling facility in Vernon was allowed to pollute the community under a temporary permit for 33 years, with the California Department of Toxic Substances Control exacting only minimal fines before the story broke wide in 2013. This, despite a long history of inspections that revealed leaks of lead-acid battery waste and arsenic into the neighborhood's soil and water. It took the EPA and U.S. Department of Justice to close down the plant for good.
And even when California regulators abide by environmental laws better than their counterparts in other states—and pass emissions laws that exceed federal standards—there's no guarantee California will remain the beacon of environmental progress that it is now. Jim McElfish, a senior attorney with the Washington, D.C.-based Environmental Law Institute, points out that Wisconsin was once "one of the great environmental pioneers" and the home of conservationist hero Aldo Leopold. Now, with Wisconsin under conservative political leadership, environmental groups complain that the state has scrubbed all mention of climate change from its official websites, and say officials repeatedly turn a blind eye to Clean Water Act violations.
"California might feel pretty good right now with a unified state legislature and governor and strong economy," McElfish says. "But if you look back a decade, when you had a legislature that couldn't pass much of anything, a huge budget deficit and the economy flagging — it was hard back then to do much for the environment." Depending on shifts in the political winds, California could go that way again.
"States," says McElfish, "can regress."
Environmental enforcement at its best, however, happens when states' own environmental laws are strong and the federal government acts to shore them up. Richard Frank, an environmental law professor at the University of California, Davis, cites the recent Volkswagen settlement as an example of that fact: A state with rigorous air laws had the support of the federal government to make them stick. "The opportunity for an efficient, effective and swift resolution of that case was enhanced considerably when you had the state of California and its air board working shoulder to shoulder with the EPA and the Justice Department," Frank says. "It's a very good example of a collaborative, aggressive approach." A similar drama is now unfolding with Fiat Chrysler, which also allegedly installed test-beating software in some of its cars.
Such collaborations will no doubt be rare in the next four years — the arrest of Volkswagen's emissions compliance executive, Oliver Schmidt, at Miami International Airport on January 7, may be the last of its kind for a while. (Schmidt allegedly lied to California regulators about why polluting diesel cars were passing their emissions tests, adding a criminal investigation to the civil settlement). In California, potential criminal operators might still be found out, but holding them accountable will require more time and money. And the air we breathe could well get worse.
Which brings us back to those EPA announcements that until recently came over the email transom—not just the news of penalties and fix-it orders, but the grants and the financial support the agency provides for clean-fuel vehicles in polluted areas, or its offers to install better ventilation in alarmingly toxic nail salons. However much the average citizen blanches at the surfeit of data, however mind-numbing all those announcements had become to the public and reporters, there's always a subset to whom each one of them matters a great deal: The people whose air or water has been contaminated, whose children on some days can only breathe with the help of inhalers, who've been living on bottled water for fear of what issues from their taps, whose parents died young of some strange cancer. Before the Clean Air and Clean Water Acts were written, a smog event in Pennsylvania had killed 20 people in a single week, and a river in Ohio had burst into flames. The U.S. Environmental Protection Agency, the creation of a Republican president under pressure from both an alarmed public and a relentless Democratic congress, was established to stop such things from happening.
Congressional Democrats are hosting a panel discussion today, Tuesday (live video here), to hear testimony about Pruitt's nomination from tribal leaders, environmental advocates and other interested parties, in order to probe "serious questions" that remain about Pruitt, Sen. Carper's office said in a statement Monday. Pruitt may not be confirmed, but his defeat wouldn't be the end of the threat. The next pick will still come guided by Ebell, known as the "climate contrarian" of the Competitive Enterprise Institute, an industry-lobbying group.
California can still do a lot to protect the environment within its borders, and no doubt will. The chair of the state's air board, Mary Nichols, who served in President Bill Clinton's EPA, is renowned as a relentless firebrand on clean air policy—she's even pushed for an end to the internal combustion engine. State water authorities, while refusing to speculate on the new administration, insist they'll carry out their duties to public health and ecology with or without the support of the federal government. "Our authority is very clear," wrote spokesman George Kostyrko in an email, "and we will continue to ensure that the beneficial uses of surface waters are sustained for the residents of California under our authority within both the Clean Water Act and California Water Code."
"We've been the best environmental stewards in the country," says Mark Gold, associate vice chancellor for environment and sustainability at the University of California, Los Angeles. "Our economy is tied to the green economy, and our economic recovery is an example of what happens when as a state you do what's in the best interest of the environment."
California's environmental groups aren't in an unfamiliar place when it comes to taking up the slack of a feckless EPA. The key, say some, is to ride herd on the state while continuing to pressure the feds in court. Blumenfeld points to the example set by Luis Olmedo, executive director of Comite Civico Del Valle, a nonprofit based in the Imperial Valley that uses citizen science to take action on local pollution. In 2007, the group began conducting "Toxic Bus Tours" of low-income neighborhoods in the Imperial Valley; Olmedo and his crew later branched out with websites where people can report environmental violations and keep track of whether they're being addressed. So far the group has developed portals for seven communities and has outfitted some with air-quality monitors.
Olmedo calls the online reporting system a way of "democratizing environmental protection," inspired by the Louisiana Bucket Brigade's data crowdsourcing after the BP oil-spill disaster of 2010. It's raised the community's environmental awareness and fostered relationships between local communities and state regulators, who show up at local task force meetings to discuss current or impending issues.
The new White House's policies and practices aren't of much concern to Olmedo; his group's information gathering, he believes, is insulated against politics. Data-gathering is hard to fight on partisan grounds. "We've already been through two administrations in the time since we've been evolving this model," he says. Transparency, he finds, gives a community the "political muscle" to force change. "It's proactive policing."
Crowdsourcing may be California environmentalists' best chance of protecting the state's resources in the face of federal hostility. Many complaints of potential environmental crimes, Olmedo says, come from business owners who are following environmental laws and want their competitors to do the same. "Even in the worst of circumstances, communities can expose corruption and get it addressed," he says. "What we have is a feasible way for the state to cover more ground."
And that's probably what the state agencies will have to do—expand their reach, and investigate more deeply. It can be done. "We learned during the Bush administration that we can't rely on the federal government to fix our problems," says Mark Gold. "California is big enough to lead by example."
---
Trump photo by Michael Vadon; Yosemite photo by Guy Francis.
Michael Mann Says This Summer Is a Big Warning About Climate Change
Many scientists assert that this summer's intense weather is being fueled by climate change. One of the most prominent is Penn State climatologist Michael Mann, who says the connection between the two is like "the link between smoking cigarettes and lung cancer."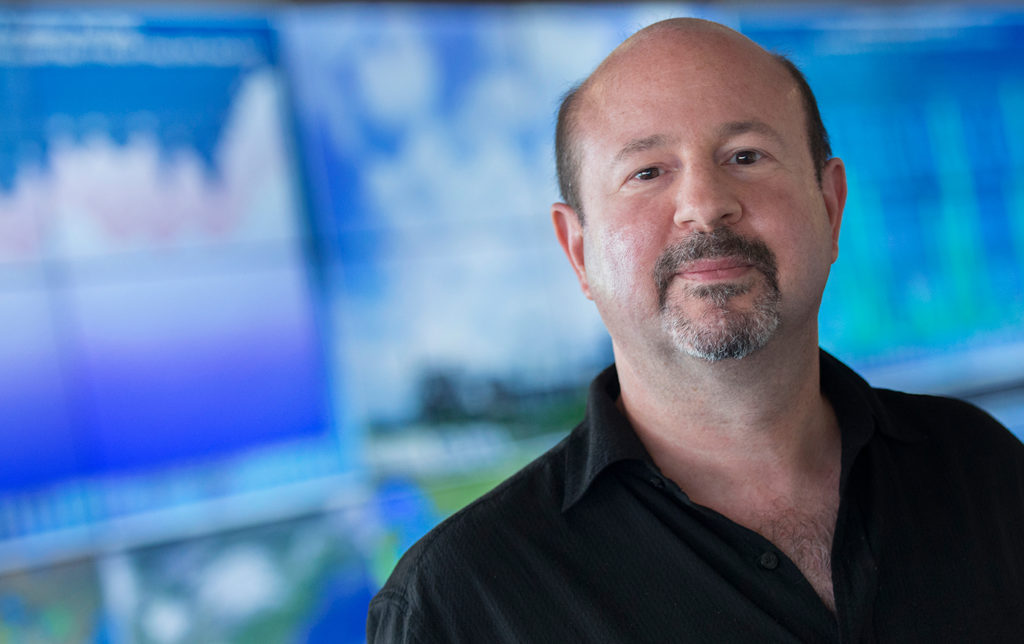 In late July, a CNN story summed up what was becoming a watershed moment. The cable TV outlet reported that "the summer of temperature extremes just keeps going, with record heat waves this month on all four continents that occupy the Northern Hemisphere."
And yet for all the heat and wildfires, relatively little media coverage has contextualized the situation with a mention of climate change. The watchdog group Media Matters reported: "Over a two-week period from late June to early July, ABC, CBS, and NBC aired a combined 127 segments or weathercasts that discussed the heat wave, but only one segment, on CBS This Morning, mentioned climate change."
Despite the media blackout, many scientists assert that the intense weather is being fueled by climate change. One of the most prominent is Penn State climatologist Michael Mann, the author of the books The Madhouse Effect and The Hockey Stick and the Climate Wars. In a new podcast, Capital & Main recently spoke with Mann about why he believes this summer is a turning point in the battle over climate change.
What follows is an lightly edited excerpt of the podcast interview. Podcast subscribers can click here to hear the full discussion.
---
David Sirota: What do you say to those who argue that there is no definitive proof that climate change is directly responsible for intense weather systems like the ones we've seen this summer?
Michael Mann: It's sort of in the domain of the link between smoking cigarettes and lung cancer. We don't question that link. You know, smoking cigarettes leads to lung cancer and other diseases, because it increases the likelihood of those afflictions by such a large amount that we basically equate it with a causal relationship…
We would not be seeing this in the absence of climate change, so the signal of climate change as expressed in extreme weather is now undeniable…We are talking about floods, droughts, heat waves, wildfires and superstorms, you name it. We have seen unprecedented events in each of those categories over the last year that we would not have seen in the absence of climate change.
When I say that, I don't literally mean that the underlying weather event might not have occurred. What I'm saying is the extreme nature of that event would not have been observed…What would have been a bad drought becomes a record drought, becomes an unprecedented drought. What would have been a bad wildfire becomes the largest wildfire in California history…
Wildfires aren't supposed to happen in the winter in California, and what that tells us is that we've now evolved into a state where there isn't a fire season in California anymore, there's a perpetual fire season.
Which areas of the United States do you think are facing the most extreme and intense consequences of climate change?
Everywhere essentially along the coast of the United States you have increasing coastal threats because of climate change impacts on sea level rise, hurricanes. As you go inland, you look around, you can't find a region of the country that hadn't dealt with a thousand-year flood within the last couple of years…
The wildfires in the west, not just California. Essentially the entire Western U.S. has been afflicted with massive wildfires, drought, and a drought in California that's now the worst in at least 1,200 years, as far back as the paleoclimate scientists are able to go, and heat waves that have basically crossed the entire country this summer. There's no region of the country that hasn't dealt with a record or near-record heat wave this summer.
You would be hard pressed to find a region in the country that hasn't been impacted by one of those extreme weather events, and of course that's just the U.S. We can say that now about essentially the entire globe. This is the summer where climate change showed its hand.
If the weather and wildfires that we're experiencing aren't a wake-up call to the political system about climate change, what will be?
What more do people need to see? We've had what I sometimes call the Cuyahoga River moment, that critical moment when a river caught on fire and that captured the public imagination. It led to Richard Nixon establishing the EPA, the Clean Air Acts, the Clean Water Acts. What is that moment in the climate change debate? How many do we need to have?
This summer, many of us who work in this space think that we've finally reached the point where it's impossible for anybody to credibly deny not just that climate change is happening, not just that it's caused by burning of fossil fuels and the elevation of greenhouse gases, but that it is already a problem.
We are already suffering the consequences. It's already costing us far more. The cost of inaction is already so much greater than the cost of taking action. What's playing out in California of course is sort of Exhibit A in that argument. We are now suffering the consequences, toll on infrastructure, human lives and our economy, frankly. What will it take?
The opponents of dealing with climate change seem to prey on people's fear of change – they portray aggressive action as so radical that it will completely disrupt and destroy everyone's lives. Are the changes we need to make really that radical and scary?
Not nearly as radical or scary as the critics would like people to believe. It's going to require change. Remaking the global energy economy, shifting away from a two-century-long reliance on fossil fuels to new sources of energy? Yeah, that's going to take action. It's going to require some sort of market incentives, a price on carbon.
We pay a little bit more right now here in Central Pennsylvania to elect to get all of our power from renewables, from wind, and we're happy to do that. Most people won't do that just because it's the right thing to do, and that's why you need market incentives to guide people in the right direction.
The irony is that there's a great degree of projection in that sort of argument from the critics, this idea that we have to make great sacrifice, that it's going to [harm the economy]. They said that when we acted on acid rain, they said that when we acted on ozone depletion. At every juncture, they said, "This is going to destroy the economy," and the reality is it didn't destroy the economy. Instead, it actually saved our environment. At every juncture, they've made that argument, and it's always been proven to be false.
The reason I say it's projection and misdirection is that they don't want people to focus on the fact that we are making a huge sacrifice right now. If you look at California, if you look at Houston, if you look at Puerto Rico, if you look at Miami Beach, we are making a huge sacrifice right now in terms of the toll that climate inaction is taking, and they don't want people to notice that. They want to turn it around on its head, to somehow argue that the steps that we need to take to mitigate that damage and risk are somehow the costly scenario, when the costly scenario is not acting on this problem.
I think many people accept that climate change is happening and that it's a really dangerous thing, but I also think lots of people feel like since it's already happening, there's nothing that can be done to combat it. What do you say to folks like that?
I think there are people of good will, who mean well, who really are frightened and really think that we may be close to if not past of the point no return, and are expressing genuine frustration and genuine fear. That having been said, I think they have been happily co-opted by the forces of inaction, by the forces of denial…This sort of despair and this argument, this defeatist notion that it's too late to do anything, is in some ways every bit as dangerous and paralyzing as outright denial of the problem itself, because it leads us down the same path of inaction.
Ultimately for that reason, it has been convenient for the forces of denial, who are looking to divide the public, to actually amplify those arguments in a cynical way and provide a voice to those arguments that, "Hey, there's nothing we can do about it, so why enact any policies to deal with the problem?" I do think that it's dangerous. I don't think that those making the argument are cynics or have themselves been co-opted, but I do think that the forces of inaction and denial have happily capitalized on this, and have used it as a way to divide the community of people who do care about this problem and do want to solve it.
A recent study raised the prospect of so-called "Hothouse Earth" – or runaway climate change that is far more extreme than anyone predicts. Do you think that's a possibility?
James Hansen has been making this argument for a number of years, I think with some credibility. These authors, to me it was just sort of recasting that basic way of looking at the problem. I think it just happened to get a lot of media attention, in part through a provocative headline. It's real, the threat is real. We have to think about these worst-case scenarios, and if this is true…then it means that not only do we have to stop emitting carbon into the atmosphere, we are going to need to find ways to draw it back down, to bring it back out of the atmosphere over a longer time frame, over many decades, if we want to mitigate the higher-end risk here.
What are the most positive things happening in the effort to address climate change?
Probably first and foremost to me, the re-energization of our youth, the fact that the youth of this country are re-engaging with politics. We saw that in the wake of the Parkland High School shooting, but that seems to have taken. We seem to be going through sort of a tipping point now where the youth of this country have recognized that if they want to protect their future, they have to be involved in the political process. I think that could be a game-changer. To that extent, there is room for political progress here if we see younger folks re-engaged with our politics coming out to vote in this midterm election. That could really make a difference.
Then separately from that is just stepping back and taking a very high-level view of what's going on here. The world is moving on. We moved on in the 19th century from whale oil. We recognized that something better had come along when it comes to providing energy, fossil fuels, and now we've gone through that next transition where we realize the dangers and the risks of our dependence on fossil fuels, and something better has come along in the form of renewable energy and the world is moving on…
There's an exponential trajectory that we're on right now. We'd like to see the growth even faster, but it is exponential. We're moving away from a global fossil fuel-driven economy towards a new renewable energy economy, and I believe there's nothing that can stop that transition.
Now, the problem of course is here in the United States, we have gone from a position of leadership, relative leadership on this issue under the past administration, to a political landscape where the United States is essentially the only holdout in the global community. Trump has threatened to withdraw from the Paris Accord, and if we were to do that, we would be the only country now in the world that's not committed to Paris.
To some extent the only decision that we will be able to make here in the United States isn't does the world move on, it's do we get left behind in that transition. That's the only thing that we can actually do.
What does our world look like 20 or 30 years in the future, if we are doing what needs to be done to seriously addressing climate change?
I think we can envision a future just in terms of the trends that we see under way, not necessarily just towards electric vehicles. At least in urban locations, we may see the elimination of personally-owned vehicles. We will have a more advanced transportation system, streets filled with Lyft and Uber and automated vehicles potentially.
There are studies that show that if we do that, if we move towards automated vehicles, that sort of system, then that shrinks the footprint of a city down tremendously, because it's so much area. Take New York. You know how much surface area is used for parking of vehicles. If we can get rid of that, then the populations condense. There's a smaller spatial footprint. That means less resource depletion…
We will have renewably-driven microgrids. There's a real question as to whether we will have the sorts of continental-scale power grids that we have today. We may see more decentralized sources of electricity generation. We may all live off the grid, in the sense that we're not part of a continental-scale grid.
Our food choices, I think we're going to be healthier in our food choices. I think there's a movement in that direction.
There are many possible futures, and one can certainly imagine a dystopian future where none of that happens, where we double down on the trends that are under way in the era of Trump, and one can envision a dystopian future like Mad Max, Soylent Green, The Road or Hunger Games. One can't rule that out, but one can also imagine a utopian future that's more like the one that I just laid out.
I don't pretend to know. Predictions are hard, especially about the future, as Niels Bohr once famously said. It turns out it's not Yogi Berra, it's actually Niels Bohr, the physicist, who said that. The choice is ours to make, and I'm convinced of that.
---