Stage: "The Sweetheart Deal" Looks at UFW Conflicts
The time for Diane Rodriguez's play is 1970, and the immediate setting is the office of El Malcriado, the newspaper founded by Dolores Huerta and Cesar Chavez in Delano, California.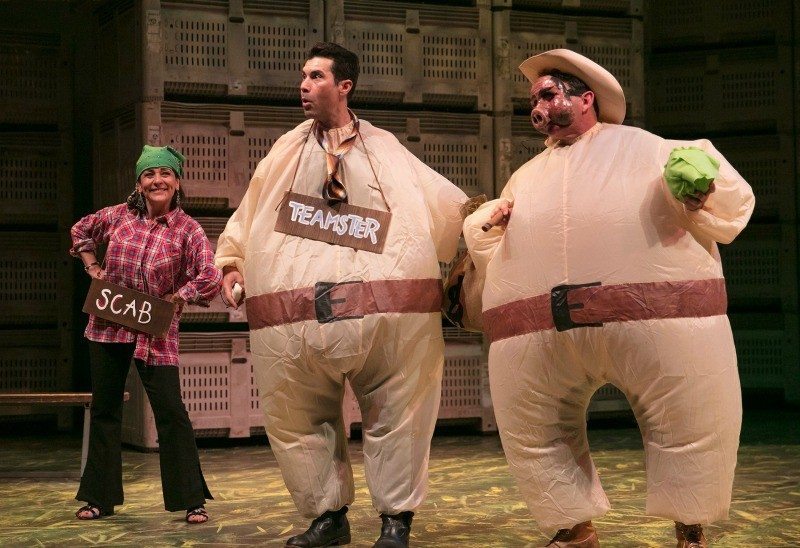 Linda Lopez, David DeSantos and Valente Rodriguez. (Grettel Cortes Photography)
Written and directed by Diane Rodriguez, The Sweetheart Deal is an amiable blend of political agitprop and audience-pleasing melodrama that unfolds against the backdrop of the struggle to empower the United Farm Workers union. While there's little complexity to the script, the production features skillful performances, especially from the two leads, and accomplished production values that envelop the unexceptional plot and dialogue with historical significance and scope.
The time is 1970, and the immediate setting is the office of El Malcriado, the newspaper founded by Dolores Huerta and Cesar Chavez in 1964 in Delano, California. Will (Geoff Rivas), an easygoing guy with integrity to spare, arrives to volunteer, accompanied by his practically kicking-and-screaming wife Mari (Ruth Livier), who is unhappy at being displaced from her more comfortable surroundings. The pair are welcomed not only for Will's skills but for his contacts — namely Mari's brother, Mac (David DeSantos), a steward for a Teamster local.
Mac's position with the Teamsters is significant because the growers have been working to undercut the UFW's efforts to unionize by forming an alliance with the Teamsters, who are lobbying to represent the farmworkers instead. Although there's bad blood between Mari and Mac, he and Will served together in the military and are close, so the organizers at the paper are looking to Will to see if he can get Mac to feed them info from the inside.
The plot interweaves the efforts of the organizers to build their movement with tensions among Mac, Will and Mari, and is interspersed with short colorful sketches, similar to "actos" — skits that fused Brechtian and commedia del arte traditions, and were performed by Luis Valdez's El Teatro Campesino for farmworkers in the fields and union halls. The play derives its title from its initial skit, in which an actor in female drag (DeSantos) portrays a salacious hooker named "Sweetheart," who is attempting to trick workers into signing a Teamster contract.
Performed in masks by the same actors fulfilling the other roles, these skits, some of which involve the audience, are lively and stirring. And while the story, which builds around Mari's transformation into a leading organizer, is schmaltzy and simplistic, both Livier and Rivas are charismatic, with enough substance and charm — Livier especially — to temper the bathos. As the down-to-earth operative who is Mari's foil and then her colleague, Linda Lopez also establishes a strong, likable presence.
Costume designer Lupe Valdez does a notable job of marking Mari's transitions from truculent housewife to a woman who comes to fight for her people. Yee Eun Nam's projections recall the farmworkers' struggle of the '60s and '70s, and in tandem with Cricket S. Myers' sound and Pablo Santiago's lighting, create an impressive background tableaux.
---
The Latino Theater Company at the Los Angeles Theatre Center, 514 S. Spring St., downtown L.A.; Thurs. –Sat., 8 p.m.; Sun., 3 p.m.; through June 4. (866) 811-4111 or thelatc.org.

Weak Stage Production Mars Drama About Returned Vet
The second drama in playwright Quiara Alegría Hudes' trilogy juxtaposes one soldier's post-war tribulations with stories generated by a group of recovering drug addicts.

A 2012 Pulitzer Prize winner, Water by the Spoonful is the second in Quiara Alegría Hudes' trilogy revolving around Elliot, a young war veteran from a Puerto Rican family living in Philadelphia. The first play, Elliot: A Soldier's Fugue, is an interweaving of several narratives that relays the experiences of war from the standpoint of the working-class soldier. It's a strong, lyrical work (although the production, at the Kirk Douglas Theatre through February 25, doesn't fulfill that potential).
In this second, less compelling installment at the Mark Taper Forum (yes, I know it won a Pulitzer, but that goes to show how subjective literary prizes can be), the playwright juxtaposes Elliot (Sean Carvajal)'s post-war tribulations with the stories generated by a group of recovering drug addicts. The play's fractured narrative proves a liability, with problems related to the writing compounded by Lileana Blain-Cruz's lax direction, weak performances, and an unimaginative scenic design (Adam Rigg) that drains the show of whatever dynamic a couple of the performers manage to scrounge up.
The story takes place in 2009, six years after Elliot, haunted by a ghost and nursing a pronounced limp from a war injury, returns from Iraq. He's working at a Subway and hoping for a career as an actor, while maintaining a mutually supportive friendship with his cousin Yazmin (Keren Lugo), a music professor. Elliot is struggling with his PTSD but managing to cope until his world spins out of control when his adoptive mom Ginny, much loved by her family and the community, nears death.
Keren Lugo and Sean Carvajal
These scenes involving a family in crisis alternate with others that depict the online squabbling of the members of the recovery group, who bear the pseudonyms of Chutes&Ladders (Bernard K. Addison), Orangutan (Sylvia Kwan) and Fountainhead (Josh Braaten). Haikumom (Luna Lauren Vélez), the site leader, is (we later discover) Elliot's biological mother, Odessa, and she also is in recovery. The play takes its title from a recollection by Elliot of an event in his childhood: He and his baby sister were ill and needed a spoonful of water every hour – something Odessa failed to administer, with tragic results. Elliot has never forgiven her.
Much of Act 1 is taken up with the repartee among the group, but these characters never physically interact, and these "online" sequences are long-winded and static. It doesn't help that the actors are positioned willy-nilly about the proscenium, fronting a drab living room interior unrelated to their dialogue. Why these scenes were not mounted in a separate area of the stage and with a different lighting design is a puzzlement.
The play gets more interesting in the second act, with Elliot's emotional crisis intensifying and brought to a head in his confrontation with Odessa. Unfortunately, the drama is done in by subpar acting. Carvajal, employing a weird pseudo-street dialogue (it's as if he has marbles in his mouth), sounds an unconvincing one-note. (As someone born and raised in Philadelphia, I can personally testify that that is not how residents of Philly speak.) Lugo's Yazmin lacks personality of any sort — she seems to be there just for Elliot to play off of. Vélez's performance in a linchpin role projects neither charisma nor clarity.
The best work is by Addison as a 50-something white collar guy emotionally invested in the group and with a growing attachment to Orangutan, a much younger woman, and Braaten as a well-heeled cokehead, desperately trying to hold his life together. These actors bring a certain heft to their roles that the other performances are missing. It's too bad we don't get to see them perform at their best.
The third play in the trilogy, The Happiest Song Plays Last, opens at the Los Angeles Theatre Center on Feb. 22, with an entirely different ensemble. Here's hoping they can do better.
Mark Taper Forum, 135 N. Grand Ave., downtown; Tues.-Fri., 8 p.m.; Sat., 2:30 & 8 p.m.; Sunday, 1 & 6:30 p.m.; through March 11. Centertheatregroup.org.
---
Copyright Capital & Main