Stage: "The Sweetheart Deal" Looks at UFW Conflicts
The time for Diane Rodriguez's play is 1970, and the immediate setting is the office of El Malcriado, the newspaper founded by Dolores Huerta and Cesar Chavez in Delano, California.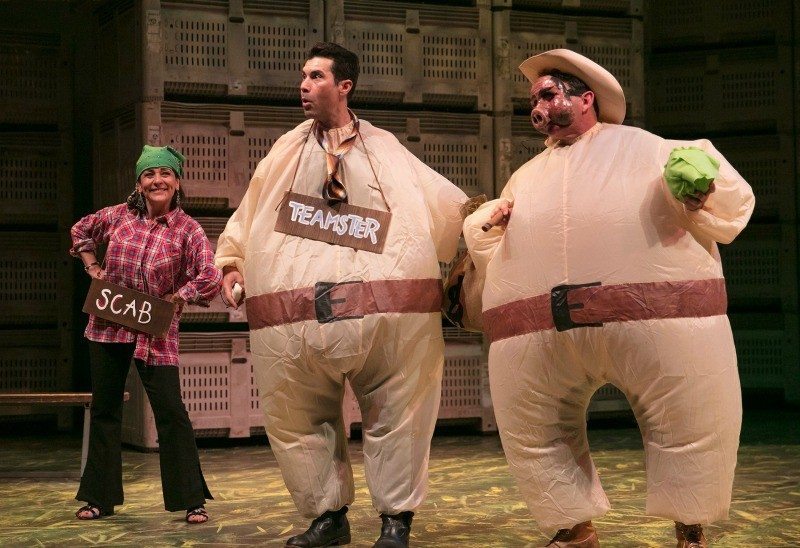 Linda Lopez, David DeSantos and Valente Rodriguez. (Grettel Cortes Photography)
Written and directed by Diane Rodriguez, The Sweetheart Deal is an amiable blend of political agitprop and audience-pleasing melodrama that unfolds against the backdrop of the struggle to empower the United Farm Workers union. While there's little complexity to the script, the production features skillful performances, especially from the two leads, and accomplished production values that envelop the unexceptional plot and dialogue with historical significance and scope.
The time is 1970, and the immediate setting is the office of El Malcriado, the newspaper founded by Dolores Huerta and Cesar Chavez in 1964 in Delano, California. Will (Geoff Rivas), an easygoing guy with integrity to spare, arrives to volunteer, accompanied by his practically kicking-and-screaming wife Mari (Ruth Livier), who is unhappy at being displaced from her more comfortable surroundings. The pair are welcomed not only for Will's skills but for his contacts — namely Mari's brother, Mac (David DeSantos), a steward for a Teamster local.
Mac's position with the Teamsters is significant because the growers have been working to undercut the UFW's efforts to unionize by forming an alliance with the Teamsters, who are lobbying to represent the farmworkers instead. Although there's bad blood between Mari and Mac, he and Will served together in the military and are close, so the organizers at the paper are looking to Will to see if he can get Mac to feed them info from the inside.
The plot interweaves the efforts of the organizers to build their movement with tensions among Mac, Will and Mari, and is interspersed with short colorful sketches, similar to "actos" — skits that fused Brechtian and commedia del arte traditions, and were performed by Luis Valdez's El Teatro Campesino for farmworkers in the fields and union halls. The play derives its title from its initial skit, in which an actor in female drag (DeSantos) portrays a salacious hooker named "Sweetheart," who is attempting to trick workers into signing a Teamster contract.
Performed in masks by the same actors fulfilling the other roles, these skits, some of which involve the audience, are lively and stirring. And while the story, which builds around Mari's transformation into a leading organizer, is schmaltzy and simplistic, both Livier and Rivas are charismatic, with enough substance and charm — Livier especially — to temper the bathos. As the down-to-earth operative who is Mari's foil and then her colleague, Linda Lopez also establishes a strong, likable presence.
Costume designer Lupe Valdez does a notable job of marking Mari's transitions from truculent housewife to a woman who comes to fight for her people. Yee Eun Nam's projections recall the farmworkers' struggle of the '60s and '70s, and in tandem with Cricket S. Myers' sound and Pablo Santiago's lighting, create an impressive background tableaux.
---
The Latino Theater Company at the Los Angeles Theatre Center, 514 S. Spring St., downtown L.A.; Thurs. –Sat., 8 p.m.; Sun., 3 p.m.; through June 4. (866) 811-4111 or thelatc.org.

'Skeleton Crew' Is a Play With a Moral Spine
Set in a Detroit automobile outfitting plant, Dominique Morisseau's drama grabs you from the start with its focus on blue-collar men and women, and their struggle for dignity and self-respect.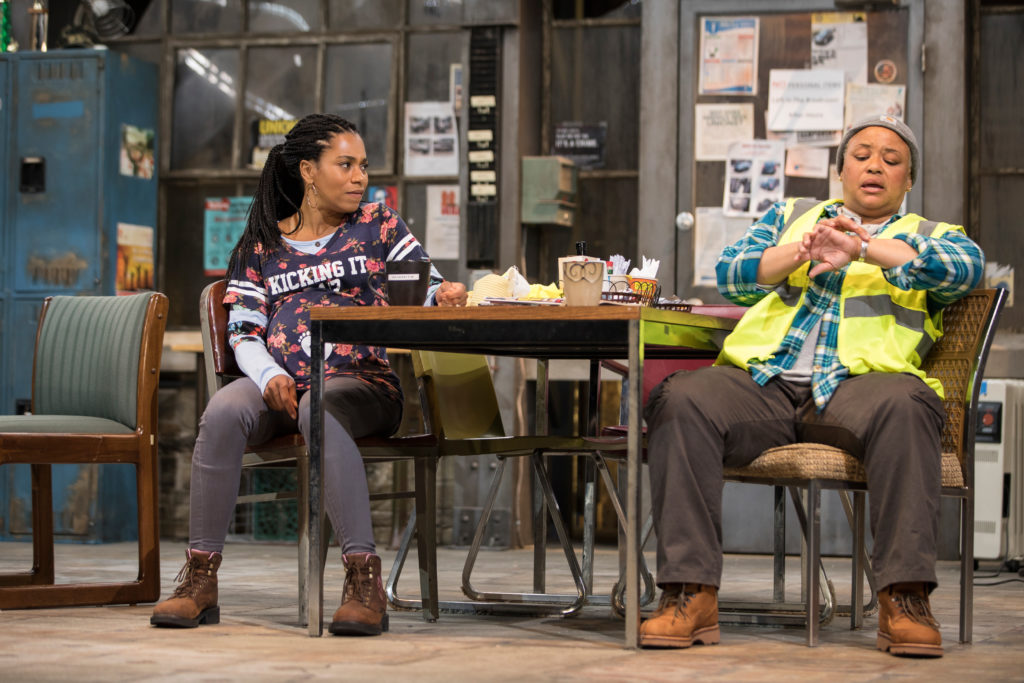 Working-class men and women of color are rarely front and center in today's media and, likewise, are presented all too occasionally on the American stage. So it's buoying to see that trend bucked in playwright Dominique Morisseau's percipient and well-crafted drama, Skeleton Crew. The play is the final installment in her Detroit  Project Trilogy; the first, Paradise Blue, is set in the 1940s amidst displacement caused by urban renewal and gentrification, while the second, Detroit '67, transpires on the eve of the 1967 Detroit riots sparked by a police action.
Directed by Patricia McGregor at Los Angeles' Geffen Playhouse, Skeleton Crew is a play with a moral spine. It takes place in 2008, when the shrinking U.S. auto industry is being further downsized. Morisseau's engaging quartet of characters — Faye (Caroline Stefanie Clay), Dez (Armari Cheatom), Shanita (Kelly McCreary) and Reggie (DB Woodside) – are employed at an automobile outfitting plant. Faye, Dez and Shanita are workers on the line while Reggie (who has a wife and kids, and has pulled himself together after a troubled youth) is their supervisor.
The first three customarily mingle in their break room (designer Rachel Myers' impressively cluttered, dingy and detailed set), trading the sort of familiar barbs and genuine concern for each other common among longtime co-workers. They also face off on philosophy: Upper-middle-aged Faye and the younger, pregnant Shanita take pride in their labor, while Dez, though a good worker, is a malcontent scornful of management and firm in the belief that everyone needs to watch out for himself. He's a thorn in Reggie's side, for while Reggie wants to be supportive of his workers, he must act at the behest of higher management. For his part, Dez resents Reggie's authority, and a palpable unease exists between them.
Besides this male matchup, we're made privy to Dez's attraction to Shanita, who mostly turns away his advances, but every now and then displays a hint of interest. Most poignant is Reggie's regard and affection for the lesbian Faye, which has roots in his boyhood when she loved, and lived, with his now-deceased mom.
These people's various predicaments intensify when rumors spread of the plant's shutdown — a disaster for all, but a particular calamity for the already near-broke Faye who, one year short of retirement, would lose her pension. The crisis forces each of these people to make a choice.
A sound piece of social realism, Skeleton Crew grabs you from the start in its focus on blue-collar men and women, and their struggle against odds for dignity and self-respect. Morisseau not only furnishes these characters a platform for their travails, she endows them with strong values, big hearts and the opportunity to choose between right and wrong.
Unfortunately, the performance I attended did not soar. Many exchanges lacked a fresh edge. The actors certainly had their characters down, but too often they appeared to be coasting on technique. (This seemed particularly true of Clay, who performed the role to great accolades in Washington, DC in 2017, also under McGregor's direction). Additionally, some of the stage movement was not entirely fluid; in confrontations, actors sometimes would just stand and face each other in an artificial way. And Cheatom's interpretation of Dez struck me as a bit overly churlish and depressive: I needed more glimpses of the intelligence and edge that would secretly attract the strong, self-directed Shanita.
The most compelling moments belong to Woodside, well-cast as a man trying his best in difficult circumstances to do the right thing.
---
Gil Cates Theater at the Geffen Playhouse, 10886 Le Conte Ave., Westwood Village; Tues.-Fri., 8 p.m.; Sat., 3 & 8 p.m. Sun., 2 & 7 p.m.; through July 8. (310) 208-5454 or www.geffenplayhouse.org