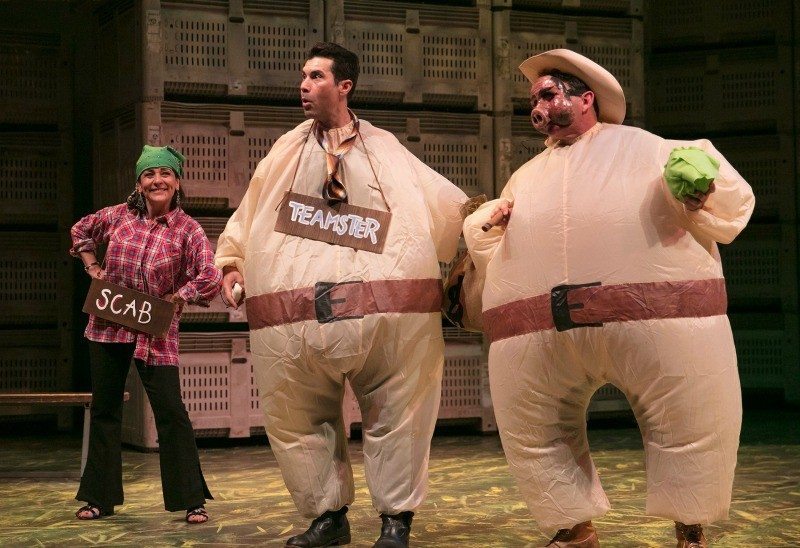 Linda Lopez, David DeSantos and Valente Rodriguez. (Grettel Cortes Photography)
Written and directed by Diane Rodriguez, The Sweetheart Deal is an amiable blend of political agitprop and audience-pleasing melodrama that unfolds against the backdrop of the struggle to empower the United Farm Workers union. While there's little complexity to the script, the production features skillful performances, especially from the two leads, and accomplished production values that envelop the unexceptional plot and dialogue with historical significance and scope.
The time is 1970, and the immediate setting is the office of El Malcriado, the newspaper founded by Dolores Huerta and Cesar Chavez in 1964 in Delano, California. Will (Geoff Rivas), an easygoing guy with integrity to spare, arrives to volunteer, accompanied by his practically kicking-and-screaming wife Mari (Ruth Livier), who is unhappy at being displaced from her more comfortable surroundings. The pair are welcomed not only for Will's skills but for his contacts — namely Mari's brother, Mac (David DeSantos), a steward for a Teamster local.
Mac's position with the Teamsters is significant because the growers have been working to undercut the UFW's efforts to unionize by forming an alliance with the Teamsters, who are lobbying to represent the farmworkers instead. Although there's bad blood between Mari and Mac, he and Will served together in the military and are close, so the organizers at the paper are looking to Will to see if he can get Mac to feed them info from the inside.
The plot interweaves the efforts of the organizers to build their movement with tensions among Mac, Will and Mari, and is interspersed with short colorful sketches, similar to "actos" — skits that fused Brechtian and commedia del arte traditions, and were performed by Luis Valdez's El Teatro Campesino for farmworkers in the fields and union halls. The play derives its title from its initial skit, in which an actor in female drag (DeSantos) portrays a salacious hooker named "Sweetheart," who is attempting to trick workers into signing a Teamster contract.
Performed in masks by the same actors fulfilling the other roles, these skits, some of which involve the audience, are lively and stirring. And while the story, which builds around Mari's transformation into a leading organizer, is schmaltzy and simplistic, both Livier and Rivas are charismatic, with enough substance and charm — Livier especially — to temper the bathos. As the down-to-earth operative who is Mari's foil and then her colleague, Linda Lopez also establishes a strong, likable presence.
Costume designer Lupe Valdez does a notable job of marking Mari's transitions from truculent housewife to a woman who comes to fight for her people. Yee Eun Nam's projections recall the farmworkers' struggle of the '60s and '70s, and in tandem with Cricket S. Myers' sound and Pablo Santiago's lighting, create an impressive background tableaux.
---
The Latino Theater Company at the Los Angeles Theatre Center, 514 S. Spring St., downtown L.A.; Thurs. –Sat., 8 p.m.; Sun., 3 p.m.; through June 4. (866) 811-4111 or thelatc.org.