Stage Review: "The Grapes of Wrath"
Don't miss this inspiring theatrical adaptation of The Grapes of Wrath, the rabble-rousing, pro-union Depression-era classic that, alas, remains as timely now as the day John Steinbeck wrote it in 1939. With imaginative mise-en-scene, sets, props and an integrated use of live music, A Noise Within's production brings the Homeric, heroic odyssey of the Joad family from Oklahoma to California vividly, memorably alive.
Forced off of what had been the family farm for generations by a calamity worse than the Dustbowl — greedy bankers — the displaced Joads join the "Okie" trek to California in their decrepit truck (which is assembled onstage like a jalopy jigsaw puzzle that even assembly line maestro Henry Ford would marvel at). The company creatively expresses the Joads' long march as they go westward ho! on the thrust stage of A Noise Within's beautiful new space. But once they reach California's land of milk and honey, with the low hanging fruit in its fabled orchards waiting to be plucked by migrant laborers, the Joads' journey really begins, as these ordinary salts of the earth become embroiled in a strike and the workers' struggle for a decent life. So much for California dreaming!

One of the great things about Noise's rendition of Grapes, which was adapted for the stage by the Steppenwolf Theatre Company's Frank Galati circa 1990 (for which he received two Tonys), is that this Pasadena production boasts a big cast of about 20 actors. This is only proper since Grapes is a mass drama with action ranging from square dancing to squaring off in deadly fights.
With such a large, excellent cast clad in period costume please forgive this reviewer for being able to just single out for praise a few of the thesps. Deborah Strang steals the show as Ma Joad, the moving matriarch who is the no nonsense glue that holds the clan together as they face and battle adversity. Strang may not have the physical heft of Jane Darwell — who unforgettably played the part in John Ford's immortal 1940 screen adaptation for which both Darwell and Ford very deservedly won Oscars (it was nominated for five other Academy Awards, including Best Picture) — but Strang certainly has the artistic breadth to convincingly, poignantly portray this beleaguered earth mother who is hanging on for dear life. Strang's Ma Joad may not be touchy-feely but she is love — albeit tough love — incarnate. Steinbeck gave Ma great lines, which Nunnally Johnson's splendid, Oscar-nominated screenplay repositions to the denouement of the movie, and which Strang poetically invokes earlier onstage: "We're the people…"
I once met David Carradine at the DGA and when I blurted out "Preacher Casy rules!" he gave me a big knowing grin. The greatest role his father, John Carradine, ever played was arguably Jim Casy, the more or less defrocked clergyman who finds in the union what he had lost in religion. The wonderful thing about Matt Gottlieb's depiction of this uneducated but intellectual-prone (if cornpone) Midwesterner is that the ex-preacher is really taking it all in and trying to figure it all out: As capitalism collapses, what is to be done? Gottlieb's quirky Casy is idiosyncratic and full of eccentricities — all too human, although he has a touch of the Jesus of liberation theology about him. Bravo, Mr. Gottlieb — what better complement than to say you did your character proud? Not to mention his author.
Lindsey Ginter as Pa Joad has a much stronger presence than the unmanned Russell Simpson had in the film version, wherein Ma started wearing the pants in the family, so to speak, and Pa was emasculated and eclipsed. Jill Hill and Gary Ballard are delightful as Granma and Grampa Joad, who provide some comic relief in this grim saga.
If Henry Fonda as Tom Joad was the proletarian protagonist in Ford's film, in this production Steve Coombs' Tom is less central. Perhaps because this is more of a mass drama and ensemble piece. In any case, Coombs acquits himself well as the ex-con who delivers a knockout punch to a deputy, as well as one of the grandest speeches in 20th-century American literature.
Like Tom's near oration as (plot spoiler alert) he farewells Ma Joad, Steinbeck's theme is that of solidarity. If you think you know this harrowing, powerful saga from just the movie, but have never read the book or seen the stage version before, guess again. The hitherto blithe Rose of Sharon's (Lili Fuller) act of compassion at the end, which I will not reveal here but which is not to be missed, is Steinbeck's luminous way of saying that when the going gets tough, the ordinary folks, the fabled people, will stick together, through thick and thin, come hell and (literally) high water. And that is what will save the salt of the earth: Unity.
Steinbeck's insight and brilliance was, at the height of the Depression to posit that the transcendental notion of "oneness" was to be found not in some pie in the sky mumbo jumbo but in the labor union. To paraphrase Casy, who first realizes this [before] Tom finally does: "Maybe a man doesn't have a soul of his own but is part of one big soul." In other words, as someone else eloquently put it: "Workers of the world unite."
The only reservations I have about Michael Michetti's expertly directed ensemble piece is that at almost three hours long, you almost feel as if you're with the Joads as they crawl their way cross country. Nunnally Johnson's adaptation of Steinbeck's sprawling, epic novel — my paperback copy weighs in at 619 pages — cuts through a lot of the fat that may work on the page but not necessarily onscreen or onstage. Galati's version is a bit too wordy and long and could be cut by about 20 minutes or so.
But this is a mere quibble about grandeur. More workers are unorganized now than when Steinbeck's immortal masterpiece about the wretched of the earth was first published. This play about the mystical union of the people remains as relevant as ever, a highly entertaining, enlightening drama to lift your soul and connect it to the rest of our fellow downtrodden struggling humanity. If you see only one play this season pick The Grapes of Wrath — and then join a picket line.
The Grapes of Wrath runs in repertory through May 11 at A Noise Within, 3352 East Foothill Blvd., Pasadena. Call (636) 356-3100.
Ed Rampell is a Los Angeles-based film critic/historian and author (Progressive Hollywood, A People's Film History of the United States). His post first appeared on LA Progressive and is republished with permission.


'Skeleton Crew' Is a Play With a Moral Spine
Set in a Detroit automobile outfitting plant, Dominique Morisseau's drama grabs you from the start with its focus on blue-collar men and women, and their struggle for dignity and self-respect.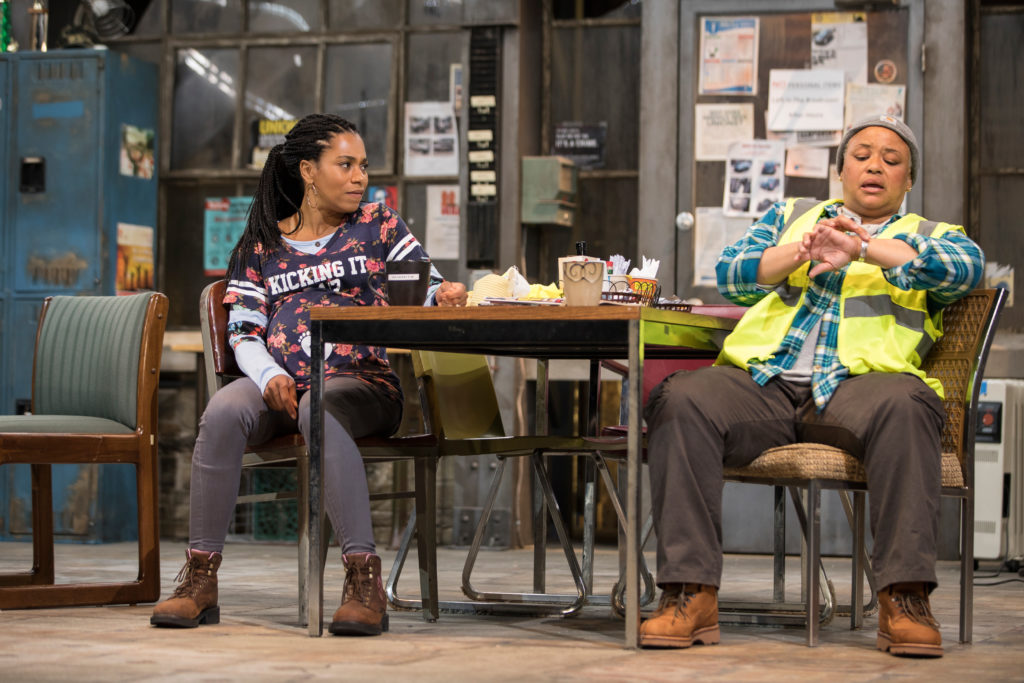 Working-class men and women of color are rarely front and center in today's media and, likewise, are presented all too occasionally on the American stage. So it's buoying to see that trend bucked in playwright Dominique Morisseau's percipient and well-crafted drama, Skeleton Crew. The play is the final installment in her Detroit  Project Trilogy; the first, Paradise Blue, is set in the 1940s amidst displacement caused by urban renewal and gentrification, while the second, Detroit '67, transpires on the eve of the 1967 Detroit riots sparked by a police action.
Directed by Patricia McGregor at Los Angeles' Geffen Playhouse, Skeleton Crew is a play with a moral spine. It takes place in 2008, when the shrinking U.S. auto industry is being further downsized. Morisseau's engaging quartet of characters — Faye (Caroline Stefanie Clay), Dez (Armari Cheatom), Shanita (Kelly McCreary) and Reggie (DB Woodside) – are employed at an automobile outfitting plant. Faye, Dez and Shanita are workers on the line while Reggie (who has a wife and kids, and has pulled himself together after a troubled youth) is their supervisor.
The first three customarily mingle in their break room (designer Rachel Myers' impressively cluttered, dingy and detailed set), trading the sort of familiar barbs and genuine concern for each other common among longtime co-workers. They also face off on philosophy: Upper-middle-aged Faye and the younger, pregnant Shanita take pride in their labor, while Dez, though a good worker, is a malcontent scornful of management and firm in the belief that everyone needs to watch out for himself. He's a thorn in Reggie's side, for while Reggie wants to be supportive of his workers, he must act at the behest of higher management. For his part, Dez resents Reggie's authority, and a palpable unease exists between them.
Besides this male matchup, we're made privy to Dez's attraction to Shanita, who mostly turns away his advances, but every now and then displays a hint of interest. Most poignant is Reggie's regard and affection for the lesbian Faye, which has roots in his boyhood when she loved, and lived, with his now-deceased mom.
These people's various predicaments intensify when rumors spread of the plant's shutdown — a disaster for all, but a particular calamity for the already near-broke Faye who, one year short of retirement, would lose her pension. The crisis forces each of these people to make a choice.
A sound piece of social realism, Skeleton Crew grabs you from the start in its focus on blue-collar men and women, and their struggle against odds for dignity and self-respect. Morisseau not only furnishes these characters a platform for their travails, she endows them with strong values, big hearts and the opportunity to choose between right and wrong.
Unfortunately, the performance I attended did not soar. Many exchanges lacked a fresh edge. The actors certainly had their characters down, but too often they appeared to be coasting on technique. (This seemed particularly true of Clay, who performed the role to great accolades in Washington, DC in 2017, also under McGregor's direction). Additionally, some of the stage movement was not entirely fluid; in confrontations, actors sometimes would just stand and face each other in an artificial way. And Cheatom's interpretation of Dez struck me as a bit overly churlish and depressive: I needed more glimpses of the intelligence and edge that would secretly attract the strong, self-directed Shanita.
The most compelling moments belong to Woodside, well-cast as a man trying his best in difficult circumstances to do the right thing.
---
Gil Cates Theater at the Geffen Playhouse, 10886 Le Conte Ave., Westwood Village; Tues.-Fri., 8 p.m.; Sat., 3 & 8 p.m. Sun., 2 & 7 p.m.; through July 8. (310) 208-5454 or www.geffenplayhouse.org