Stage Review: "The Grapes of Wrath"
Don't miss this inspiring theatrical adaptation of The Grapes of Wrath, the rabble-rousing, pro-union Depression-era classic that, alas, remains as timely now as the day John Steinbeck wrote it in 1939. With imaginative mise-en-scene, sets, props and an integrated use of live music, A Noise Within's production brings the Homeric, heroic odyssey of the Joad family from Oklahoma to California vividly, memorably alive.
Forced off of what had been the family farm for generations by a calamity worse than the Dustbowl — greedy bankers — the displaced Joads join the "Okie" trek to California in their decrepit truck (which is assembled onstage like a jalopy jigsaw puzzle that even assembly line maestro Henry Ford would marvel at). The company creatively expresses the Joads' long march as they go westward ho! on the thrust stage of A Noise Within's beautiful new space. But once they reach California's land of milk and honey, with the low hanging fruit in its fabled orchards waiting to be plucked by migrant laborers, the Joads' journey really begins, as these ordinary salts of the earth become embroiled in a strike and the workers' struggle for a decent life. So much for California dreaming!

One of the great things about Noise's rendition of Grapes, which was adapted for the stage by the Steppenwolf Theatre Company's Frank Galati circa 1990 (for which he received two Tonys), is that this Pasadena production boasts a big cast of about 20 actors. This is only proper since Grapes is a mass drama with action ranging from square dancing to squaring off in deadly fights.
With such a large, excellent cast clad in period costume please forgive this reviewer for being able to just single out for praise a few of the thesps. Deborah Strang steals the show as Ma Joad, the moving matriarch who is the no nonsense glue that holds the clan together as they face and battle adversity. Strang may not have the physical heft of Jane Darwell — who unforgettably played the part in John Ford's immortal 1940 screen adaptation for which both Darwell and Ford very deservedly won Oscars (it was nominated for five other Academy Awards, including Best Picture) — but Strang certainly has the artistic breadth to convincingly, poignantly portray this beleaguered earth mother who is hanging on for dear life. Strang's Ma Joad may not be touchy-feely but she is love — albeit tough love — incarnate. Steinbeck gave Ma great lines, which Nunnally Johnson's splendid, Oscar-nominated screenplay repositions to the denouement of the movie, and which Strang poetically invokes earlier onstage: "We're the people…"
I once met David Carradine at the DGA and when I blurted out "Preacher Casy rules!" he gave me a big knowing grin. The greatest role his father, John Carradine, ever played was arguably Jim Casy, the more or less defrocked clergyman who finds in the union what he had lost in religion. The wonderful thing about Matt Gottlieb's depiction of this uneducated but intellectual-prone (if cornpone) Midwesterner is that the ex-preacher is really taking it all in and trying to figure it all out: As capitalism collapses, what is to be done? Gottlieb's quirky Casy is idiosyncratic and full of eccentricities — all too human, although he has a touch of the Jesus of liberation theology about him. Bravo, Mr. Gottlieb — what better complement than to say you did your character proud? Not to mention his author.
Lindsey Ginter as Pa Joad has a much stronger presence than the unmanned Russell Simpson had in the film version, wherein Ma started wearing the pants in the family, so to speak, and Pa was emasculated and eclipsed. Jill Hill and Gary Ballard are delightful as Granma and Grampa Joad, who provide some comic relief in this grim saga.
If Henry Fonda as Tom Joad was the proletarian protagonist in Ford's film, in this production Steve Coombs' Tom is less central. Perhaps because this is more of a mass drama and ensemble piece. In any case, Coombs acquits himself well as the ex-con who delivers a knockout punch to a deputy, as well as one of the grandest speeches in 20th-century American literature.
Like Tom's near oration as (plot spoiler alert) he farewells Ma Joad, Steinbeck's theme is that of solidarity. If you think you know this harrowing, powerful saga from just the movie, but have never read the book or seen the stage version before, guess again. The hitherto blithe Rose of Sharon's (Lili Fuller) act of compassion at the end, which I will not reveal here but which is not to be missed, is Steinbeck's luminous way of saying that when the going gets tough, the ordinary folks, the fabled people, will stick together, through thick and thin, come hell and (literally) high water. And that is what will save the salt of the earth: Unity.
Steinbeck's insight and brilliance was, at the height of the Depression to posit that the transcendental notion of "oneness" was to be found not in some pie in the sky mumbo jumbo but in the labor union. To paraphrase Casy, who first realizes this [before] Tom finally does: "Maybe a man doesn't have a soul of his own but is part of one big soul." In other words, as someone else eloquently put it: "Workers of the world unite."
The only reservations I have about Michael Michetti's expertly directed ensemble piece is that at almost three hours long, you almost feel as if you're with the Joads as they crawl their way cross country. Nunnally Johnson's adaptation of Steinbeck's sprawling, epic novel — my paperback copy weighs in at 619 pages — cuts through a lot of the fat that may work on the page but not necessarily onscreen or onstage. Galati's version is a bit too wordy and long and could be cut by about 20 minutes or so.
But this is a mere quibble about grandeur. More workers are unorganized now than when Steinbeck's immortal masterpiece about the wretched of the earth was first published. This play about the mystical union of the people remains as relevant as ever, a highly entertaining, enlightening drama to lift your soul and connect it to the rest of our fellow downtrodden struggling humanity. If you see only one play this season pick The Grapes of Wrath — and then join a picket line.
The Grapes of Wrath runs in repertory through May 11 at A Noise Within, 3352 East Foothill Blvd., Pasadena. Call (636) 356-3100.
Ed Rampell is a Los Angeles-based film critic/historian and author (Progressive Hollywood, A People's Film History of the United States). His post first appeared on LA Progressive and is republished with permission.


A Woman's Art Is Never Done: The Feminae Exhibition
A striking juxtaposition between the past and present courses throughout the small gallery. Celia Blomberg's "International Women's Day March 8" can't help but make one think of 2017's Women's March, which occurred 37 years after the print's first appearance.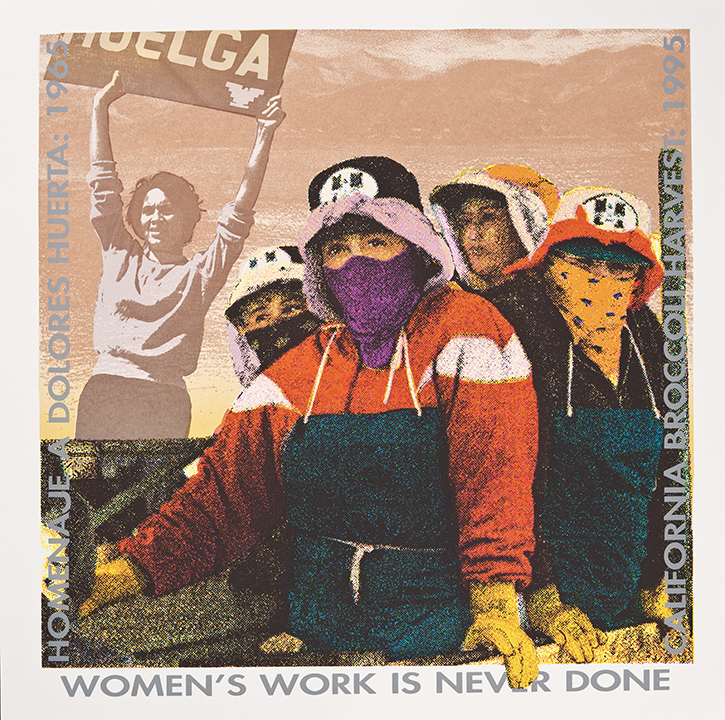 Among the 50-plus works in the Feminae: Typographic Voices of Women By Women exhibit is Yolanda Lopez's "Women's Work is Never Done." Lopez's title is particularly ironic, given the exhibit's gender-based subject matter. The show spans work from the past 50 years, making it easy to understand how much society is still grappling with its themes of gender inequality. Culled from the archives of the Center for the Study of Political Graphics, the graphic images of protest, persuasion and empowerment are truly works of art in their own right.
However, political posters aren't made to merely spruce up walls, but to help figuratively bring barriers down as well.
Two silkscreens from the 1970s, Liliana Porter and John Schneider's "This Woman is Vietnamese" and See Red Woman's Workshop's "So Long As Women Are Not Free People Are Not Free," are particularly powerful, underscoring, as they do, the fact that the subjugation and persecution of women crosses borders and cultures as an unfortunate shared global experience. These two pieces' stark simplicity exemplifies most of the work in the exhibit. In the former, a New York Times photo of a distraught Vietnamese woman with a gun held to her head is centered above these basic words typed out in a typewriter font: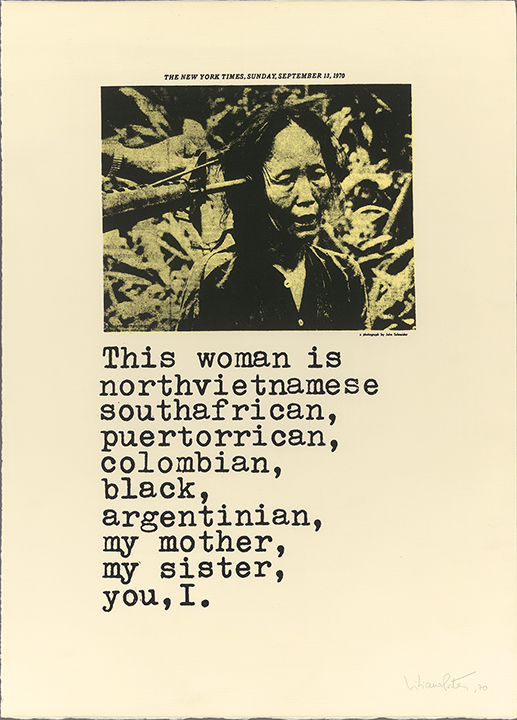 This woman is
northvietnamese
southafrican
puertorrican,
colombian,
black,
argentinian,
my mother,
my sister,
you, I.
By juxtaposing the photo with these words, the creators take the plight of this woman and immediately globalize her pain. In the latter, three female demonstrators are silkscreened in red onto a yellow background. They are marginalized by being stuck in the lower left third of the poster, but two of them are raising their fists skyward and their mouths are open, screaming in defiance. Its non-serif, eponymous type reads: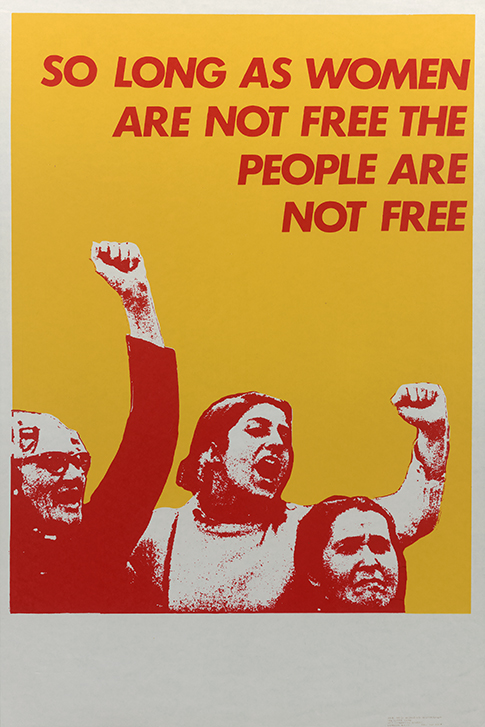 SO LONG AS WOMEN
ARE NOT FREE THE
PEOPLE ARE
NOT FREE
This piece's message takes the global message even farther, making the plight of women a human one — a common theme in the exhibition.
There is also a striking juxtaposition between the past and present that seethes throughout the small gallery. Celia Blomberg's "International Women's Day March 8" can't help but make one think of 2017's Women's March that would take place 37 years later. See Red Woman's Workshop's 1977 "Black Women Will Not Be Intimidated" could easily be repurposed to address the recent spate of blue-on-black brutality. Notable works by Barbara Kruger, Sister Corita Kent and the Guerilla Girls are also included.
Ironically , while it can be surmised that most of these works were made as populist posters to be distributed at the time as banners of protest, their beautiful simplicity and nostalgic elegance probably have resulted in the originals (mostly now found in art museums) sporting hefty vintage-resale prices.
But it is not just the art that has stood the test of time. The fact that the issues addressed in the show — feminism, choice, gender equality, war, immigration, police brutality or violence against women — are all issues at the forefront of debate in 2018 ultimately engenders conflicting feelings.
On one the hand, it is inspiring to see a vibrant exhibit that showcases such diversity in artistic styles, no doubt spawned by the diversity of the artists' own backgrounds. On the other hand, there is a realization that while there has been some progress over the past half century, there is so much work to be done.
Art Center's Hoffmitz Milken Center for Typography, 950 South Raymond Ave., Pasadena; through May 15.
---
Copyright Capital & Main