Stage Review: "Straight White Men"
L-R: Richard Riehle, Gary Wilmes, Frank Boyd and Brian Slaten (Photo by Craig Schwartz)
There's something deceptively familiar about the first scene of Young Jean Lee's play, Straight White Men, receiving its West Coast premiere at the Kirk Douglas Theater. It opens with an American family gathered together for Christmas. The three adult Norton brothers spend a lot of time horsing around their dad's living room in flannel jammies, re-enacting childhood pranks, recalling old nicknames and play-fighting with one another as though they're young boys again. It's the kind of reunion play whose lines often begin, "Remember the time . . ." So we know, with all this holiday cheer and familial merriment, that things are about to go to hell.
Sure enough, eldest son Matt (Brian Slaten) abruptly begins to cry as the brothers and their father eat a Chinese take-out dinner. Matt's got a secret but this is 2015, so veteran theatergoers raised on the social-issue dramas of the late 20th century surmise it's not that Matt is gay or that he has an incurable disease – especially since we also know this 90-minute play was written and directed by a New York playwright who is the reigning queen of experimental theater.
Matt's family, however, is clueless. His novelist brother Drew (Frank Boyd), along with banker brother Jake (Gary Wilmes) and father Ed (Richard Riehle), take turns trying to draw out Matt on what's eating him. A divide emerges: Should Matt seek a therapist? Should he be left alone? It's from these questions that the explanation for Matt's crying jag appears.
The cause lies in the Nortons' moral DNA – they are ultra-liberal, service-minded folks who can laugh at their own lapses into cant or stridency, but who still see racists behind every tree and bend over backward not to offend anyone who is otherwise different from them. In the boys' youth, in fact, their late mother made the family play a version of Monopoly that she doctored and rebranded "Privilege." The politically corrected board game would make an ideal gift for people caught up in identity issues – unless, that is, they are straight white men.
And that's why Matt, a failed Harvard PhD student, has become a lost soul working at menial temp jobs for other people's causes. And why, facing the crushing debt of his student loans, he has moved in with his father. Matt, in other words, is paralyzed by the knowledge that while straight white men have routinely defined the direction of America's various social justice movements (along with everything else), today they aren't particularly needed. His malady is his malaise.
Playwright Lee has glimpsed some important truths about power in her story, but having done so, only describes what she has seen through her characters. She doesn't, for example, press a full-throttled exploration of what it means to discover, as Matt does in middle age, that some people want to change the world because they believe they know what's best for others. That's a truth certainly not confined to straight white men or to the progressive end of the political spectrum.
This play could have been The Homecoming of American politics – cutting, acidic, revealing – but that wasn't the kind of play Lee wanted to write. She has said that writing and staging a naturalistic play like Straight White Men has been a something of a genre experiment for her, which may explain why Lee's direction of her ensemble doesn't dig too deeply beneath the emotional surface – or stretch her audience's expectations.
---
(Runs through December 20; see schedule.)

'Skeleton Crew' Is a Play With a Moral Spine
Set in a Detroit automobile outfitting plant, Dominique Morisseau's drama grabs you from the start with its focus on blue-collar men and women, and their struggle for dignity and self-respect.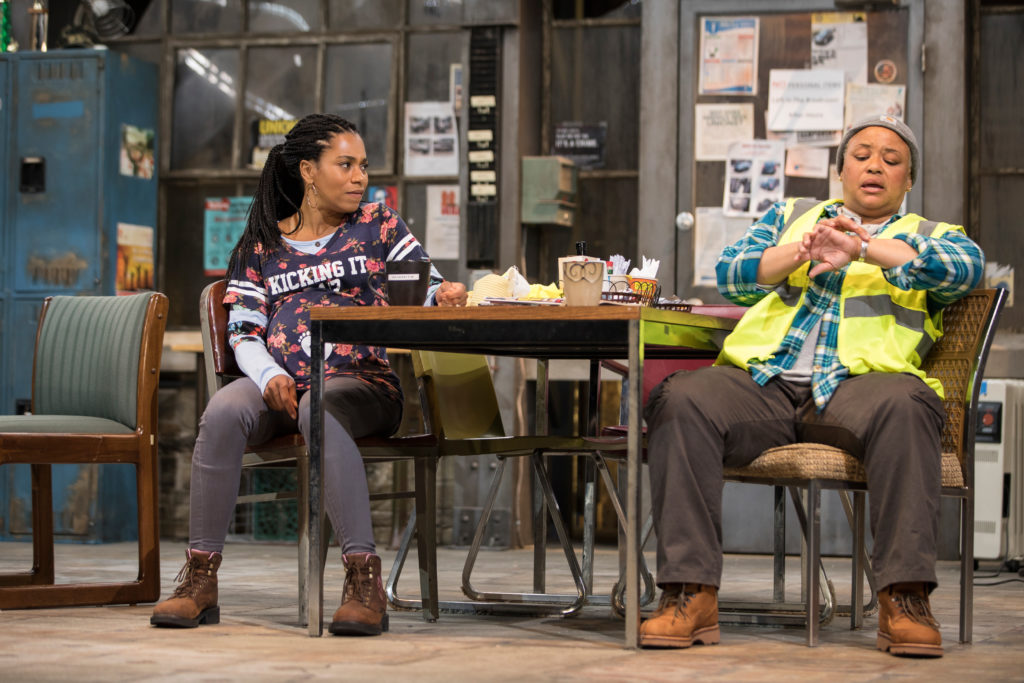 Working-class men and women of color are rarely front and center in today's media and, likewise, are presented all too occasionally on the American stage. So it's buoying to see that trend bucked in playwright Dominique Morisseau's percipient and well-crafted drama, Skeleton Crew. The play is the final installment in her Detroit  Project Trilogy; the first, Paradise Blue, is set in the 1940s amidst displacement caused by urban renewal and gentrification, while the second, Detroit '67, transpires on the eve of the 1967 Detroit riots sparked by a police action.
Directed by Patricia McGregor at Los Angeles' Geffen Playhouse, Skeleton Crew is a play with a moral spine. It takes place in 2008, when the shrinking U.S. auto industry is being further downsized. Morisseau's engaging quartet of characters — Faye (Caroline Stefanie Clay), Dez (Armari Cheatom), Shanita (Kelly McCreary) and Reggie (DB Woodside) – are employed at an automobile outfitting plant. Faye, Dez and Shanita are workers on the line while Reggie (who has a wife and kids, and has pulled himself together after a troubled youth) is their supervisor.
The first three customarily mingle in their break room (designer Rachel Myers' impressively cluttered, dingy and detailed set), trading the sort of familiar barbs and genuine concern for each other common among longtime co-workers. They also face off on philosophy: Upper-middle-aged Faye and the younger, pregnant Shanita take pride in their labor, while Dez, though a good worker, is a malcontent scornful of management and firm in the belief that everyone needs to watch out for himself. He's a thorn in Reggie's side, for while Reggie wants to be supportive of his workers, he must act at the behest of higher management. For his part, Dez resents Reggie's authority, and a palpable unease exists between them.
Besides this male matchup, we're made privy to Dez's attraction to Shanita, who mostly turns away his advances, but every now and then displays a hint of interest. Most poignant is Reggie's regard and affection for the lesbian Faye, which has roots in his boyhood when she loved, and lived, with his now-deceased mom.
These people's various predicaments intensify when rumors spread of the plant's shutdown — a disaster for all, but a particular calamity for the already near-broke Faye who, one year short of retirement, would lose her pension. The crisis forces each of these people to make a choice.
A sound piece of social realism, Skeleton Crew grabs you from the start in its focus on blue-collar men and women, and their struggle against odds for dignity and self-respect. Morisseau not only furnishes these characters a platform for their travails, she endows them with strong values, big hearts and the opportunity to choose between right and wrong.
Unfortunately, the performance I attended did not soar. Many exchanges lacked a fresh edge. The actors certainly had their characters down, but too often they appeared to be coasting on technique. (This seemed particularly true of Clay, who performed the role to great accolades in Washington, DC in 2017, also under McGregor's direction). Additionally, some of the stage movement was not entirely fluid; in confrontations, actors sometimes would just stand and face each other in an artificial way. And Cheatom's interpretation of Dez struck me as a bit overly churlish and depressive: I needed more glimpses of the intelligence and edge that would secretly attract the strong, self-directed Shanita.
The most compelling moments belong to Woodside, well-cast as a man trying his best in difficult circumstances to do the right thing.
---
Gil Cates Theater at the Geffen Playhouse, 10886 Le Conte Ave., Westwood Village; Tues.-Fri., 8 p.m.; Sat., 3 & 8 p.m. Sun., 2 & 7 p.m.; through July 8. (310) 208-5454 or www.geffenplayhouse.org