Spring's Awakening and the Dawn of Change
Spring equinox always arrives in what feels like the middle of winter. Snow falls in the Northwest while the Northeast tries to dig out from under the most recent storm and ice still covers Midwestern roads. Even in Los Angeles, spring does not really feel like, well, spring until sometime in late April or early May. The foundational spring stories of the Northern Hemisphere also have that hidden element.
Passover in the Jewish tradition tells the story of a people oppressed by enslavement in Egypt, the dominant empire of its time. Over and over again terrible experiences overtake the land, but the slave masters refuse to let go. A plague of frogs is not enough. Nor locusts. Nor dying animals. Nine times the plagues come and the masters will not relent. Then, suddenly, with number ten, the slaves are released, or actually, told to leave. It could have happened after the first disaster. It could have happened following any one of them, but apparently not. Suddenly, a people in slavery are free.
Easter, which is the Christian spring story, occurs during a Passover more than a millennium later and is a kind of parallel version of that past – with the Jewish people finding themselves under the thumb of yet another empire.  This time, as the oppressors face a divided but restless populace agitating for freedom, a side drama takes center stage. An itinerant teacher from the northern provinces arrives, his reputation preceding him. A spontaneous demonstration against the occupiers greets his arrival. On his second day, he rips into the bankers. By the end of the week, the empire executes him. In the aftermath, a new movement slowly infiltrates, then replaces the established order. It takes two centuries — a slow process that no one could have predicted.
I have long thought you could have Western civilization without the Easter story, but not without the Passover story, but maybe we need both of them to remind us that liberation always comes unexpectedly and often silently, unseen, in the shadows and only after some long wait and struggle. It certainly did not feel like something earthshaking occurred when the calendar said it was vernal equinox. The weather did not suddenly change and the plants did not abruptly begin flourishing. The change slipped in without notice.
It must have felt that way the day Rosa Parks sat down on the bus in Montgomery. The oppression of American Apartheid was deeply embedded in the system. Few African Americans in the South were allowed to vote. Work for them was menial and demeaning. The white master class ruled by fear and intimidation and terror. People had sat down on the wrong side of the color bar many times in many places before that day. When she was hustled off the bus and into the hands of the police, not many thought much about it. Even in Montgomery. But it was the right spark at the right moment that began a motion that still rolls through our nation.
When Cesar Chavez decided to leave the Community Services Organization and head out into the countryside to organize among farm workers, no one noticed. No brass band greeted him in Delano, and no foundation stepped up to offer funding. Over the next decades he met failure and defeat – yet he stirred the conscience of a nation, created a self-awareness and identity among a people, and launched a thousand organizers in communities and workplaces across this country and beyond its borders. That California is the only region in this nation where unions have increased in membership is a direct legacy of the spark he struck in an obscure place.
I believe that we do not know, and cannot know, where a spark will ignite fires that blaze for justice, just as we do not know when spring has arrived, unless we are looking at the calendar. But arrive it does so the world can go on.

'Skeleton Crew' Is a Play With a Moral Spine
Set in a Detroit automobile outfitting plant, Dominique Morisseau's drama grabs you from the start with its focus on blue-collar men and women, and their struggle for dignity and self-respect.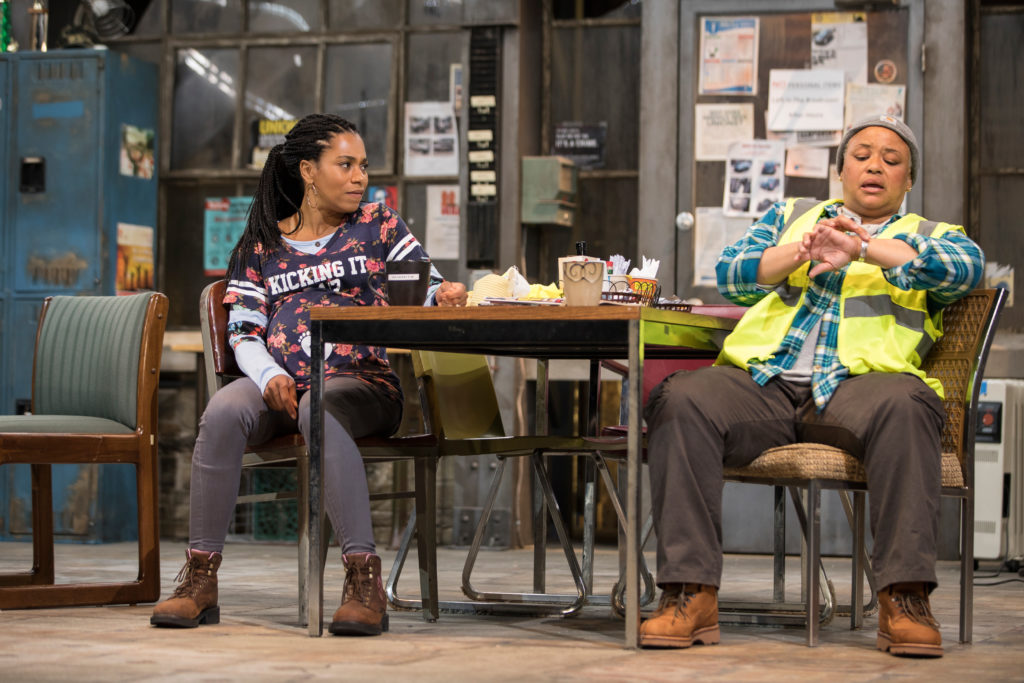 Working-class men and women of color are rarely front and center in today's media and, likewise, are presented all too occasionally on the American stage. So it's buoying to see that trend bucked in playwright Dominique Morisseau's percipient and well-crafted drama, Skeleton Crew. The play is the final installment in her Detroit  Project Trilogy; the first, Paradise Blue, is set in the 1940s amidst displacement caused by urban renewal and gentrification, while the second, Detroit '67, transpires on the eve of the 1967 Detroit riots sparked by a police action.
Directed by Patricia McGregor at Los Angeles' Geffen Playhouse, Skeleton Crew is a play with a moral spine. It takes place in 2008, when the shrinking U.S. auto industry is being further downsized. Morisseau's engaging quartet of characters — Faye (Caroline Stefanie Clay), Dez (Armari Cheatom), Shanita (Kelly McCreary) and Reggie (DB Woodside) – are employed at an automobile outfitting plant. Faye, Dez and Shanita are workers on the line while Reggie (who has a wife and kids, and has pulled himself together after a troubled youth) is their supervisor.
The first three customarily mingle in their break room (designer Rachel Myers' impressively cluttered, dingy and detailed set), trading the sort of familiar barbs and genuine concern for each other common among longtime co-workers. They also face off on philosophy: Upper-middle-aged Faye and the younger, pregnant Shanita take pride in their labor, while Dez, though a good worker, is a malcontent scornful of management and firm in the belief that everyone needs to watch out for himself. He's a thorn in Reggie's side, for while Reggie wants to be supportive of his workers, he must act at the behest of higher management. For his part, Dez resents Reggie's authority, and a palpable unease exists between them.
Besides this male matchup, we're made privy to Dez's attraction to Shanita, who mostly turns away his advances, but every now and then displays a hint of interest. Most poignant is Reggie's regard and affection for the lesbian Faye, which has roots in his boyhood when she loved, and lived, with his now-deceased mom.
These people's various predicaments intensify when rumors spread of the plant's shutdown — a disaster for all, but a particular calamity for the already near-broke Faye who, one year short of retirement, would lose her pension. The crisis forces each of these people to make a choice.
A sound piece of social realism, Skeleton Crew grabs you from the start in its focus on blue-collar men and women, and their struggle against odds for dignity and self-respect. Morisseau not only furnishes these characters a platform for their travails, she endows them with strong values, big hearts and the opportunity to choose between right and wrong.
Unfortunately, the performance I attended did not soar. Many exchanges lacked a fresh edge. The actors certainly had their characters down, but too often they appeared to be coasting on technique. (This seemed particularly true of Clay, who performed the role to great accolades in Washington, DC in 2017, also under McGregor's direction). Additionally, some of the stage movement was not entirely fluid; in confrontations, actors sometimes would just stand and face each other in an artificial way. And Cheatom's interpretation of Dez struck me as a bit overly churlish and depressive: I needed more glimpses of the intelligence and edge that would secretly attract the strong, self-directed Shanita.
The most compelling moments belong to Woodside, well-cast as a man trying his best in difficult circumstances to do the right thing.
---
Gil Cates Theater at the Geffen Playhouse, 10886 Le Conte Ave., Westwood Village; Tues.-Fri., 8 p.m.; Sat., 3 & 8 p.m. Sun., 2 & 7 p.m.; through July 8. (310) 208-5454 or www.geffenplayhouse.org