South Los Angeles: Renaissance and Potential
Co-published by Salon
For many of us the passage of 25 years hasn't produced clarity about why and how Los Angeles' 1992 unrest occurred, and whether the city that we inherited from that awful moment in our history is now a better or worse place in which to live.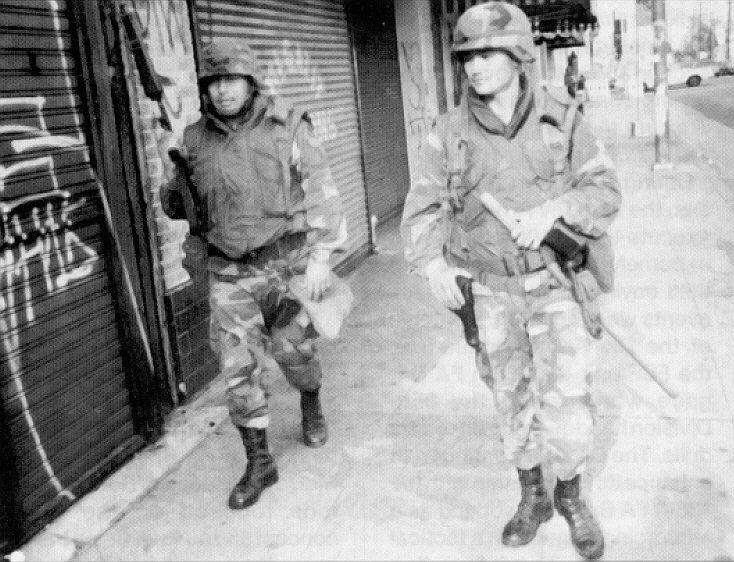 South L.A.: A cradle of hope? (Photo: Alfred Twu)
Co-published by Salon
It's been a quarter of a century since Los Angeles exploded in six days of chaotic destruction that cost the lives of more than 60 people and an estimated billion dollars in property losses. Yet for many of us the passage of so much time hasn't produced clarity about why and how the 1992 unrest occurred, and questions continuously arise about whether the city that we inherited from that awful moment in our history is now a better or worse place in which to live. According to an opinion poll conducted by Loyola Marymount University, nearly six out of 10 respondents believe a new upheaval is likely to occur within the next five years.
The search for answers was the focus last week of Forward LA, a conference whose co-organizers included the University of Southern California's Program for Environmental and Regional Equity (PERE) and the Sol Price Center for Social Innovation. Headlined, "Race, Arts and Inclusive Placemaking After the 1992 Civil Unrest," the two-day event, which surveyed the effects of neighborhood change, as well as the cultural and social import of art, music and food, was held at the Radisson Hotel across from the USC campus. One key panel, called "Which Way, South LA: Making the Future in South Los Angeles," drew about 200 people to the Radisson's Grand Ballroom for discussions on the causes of the 1992 riots, problems that still exist and what the future holds for South L.A. The panel was moderated by PERE director Manuel Pastor. In his opening remarks Pastor, who is also the Turpanjian Chair in Civil Society and Social Change, touched on a few of the problems that South L.A. still faces – poverty, the lack of opportunity and the pressures of changing demographics on the region. Despite these lingering issues, Pastor remained fervently optimistic about the future.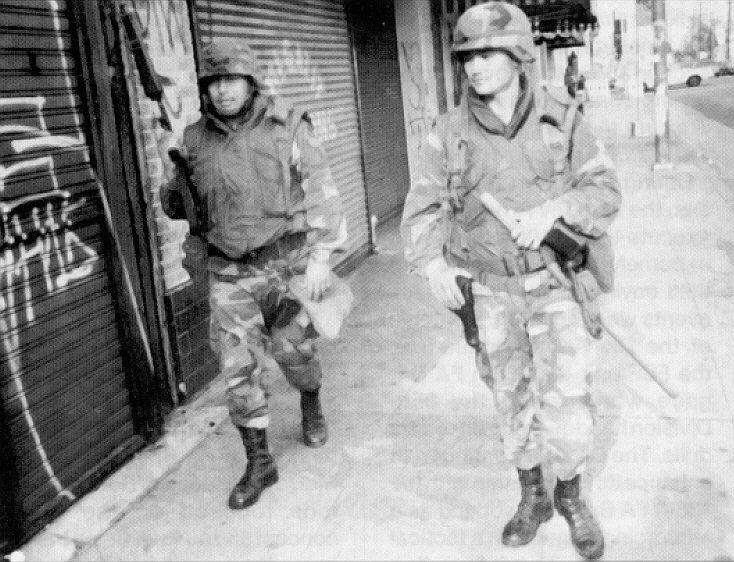 May, 1992: California National Guard members patrolling Los Angeles.
"I get calls from reporters back East every five years about the conditions in South Central," he said. "They portray the area as a place of desperation, as if nothing has changed since the riot. They don't see it as a place of renaissance and potential." He added that this panel's goal was to try and get the story right.
Panelists Laurence Frank, Aurea Montes-Rodriguez, Tunua Thrash-Ntuk, Gloria Walton and Peter White) all have deep roots in civic and community activism. Their discussion began with each briefly telling the gathering a little about themselves and their work, and sharing their riot-experience stories, with Montes-Rodriguez snagging laughs when she told of a looter who got his truck stolen while he was loading it up with goods. Pastor then asked the panelists to speak about what has changed in South L.A. and what hasn't.
"The short answer," said White, the executive director and founder of the Los Angeles Community Action Network, "is that the city has changed, but conditions have remained the same in many ways."
Much of what followed consisted of an expansive discourse on topics Pastor cited earlier in his opening remarks: the stubborn existence of poverty; the failure of Rebuild LA, a much-ballyhooed program to transform the area that was started in the immediate aftermath of the riot; the continuing significant impact of demographic changes on the community and conflicts between Latino and black residents.
Ntuk, the executive director of the Los Angeles Local Initiatives Support Corporation, stated that underemployment is also a critical issue sustaining poverty in South L.A. "Many people in the area have to work two jobs just to make ends meet," she said. Another topic was the ongoing impact of gentrification and whether it has improved the overall quality of life in the area; political strategies that will promote and sustain progressive agendas for the community, and the persistent scarcity of affordable housing. Strangely absent was an in-depth talk about the significant changes within the Los Angeles Police Department since the riots, which have resulted in better police practices and improved relations between the community and law enforcement.
Identifying problems is much easier than formulating viable solutions for them. There was much of the former taking place here, but in looking towards a better future for South L.A., there were also many positives that emerged during the hour-and-a-half panel. Montes-Rodriguez, who is the executive vice president of the Community Coalition, placed hope on the passage in March of Measure H, which aims to provide housing and support services for Los Angeles' large homeless population, and she spoke enthusiastically about the enormous increase in activism among young people in the community.
Frank, the president of Los Angeles Trade-Technical College, spoke at length about his school's ongoing efforts to provide quality job training and education for students, and singled out the extensive upgrade to that school's welding laboratory. Ntuk praised Metro's massive Crenshaw/LAX Transit Project, which has created thousands of jobs, and is certain, when completed in 2018, to have a beneficial economic impact on a portion of the city that has historically been disregarded whenever large-scale public works projects are planned.
The city of today is nothing like it was in April 1992. Much has changed, and much remains to be done. If there is little reason for a sunny outlook about the future (especially in the Trump era), there is an abundant foundation for a cautious sense of hope.