South Los Angeles: Renaissance and Potential
Co-published by Salon
For many of us the passage of 25 years hasn't produced clarity about why and how Los Angeles' 1992 unrest occurred, and whether the city that we inherited from that awful moment in our history is now a better or worse place in which to live.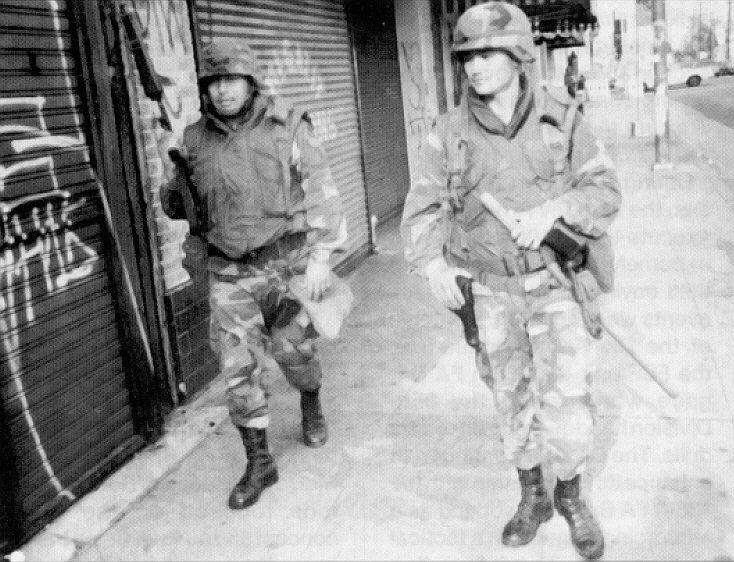 South L.A.: A cradle of hope? (Photo: Alfred Twu)
Co-published by Salon
It's been a quarter of a century since Los Angeles exploded in six days of chaotic destruction that cost the lives of more than 60 people and an estimated billion dollars in property losses. Yet for many of us the passage of so much time hasn't produced clarity about why and how the 1992 unrest occurred, and questions continuously arise about whether the city that we inherited from that awful moment in our history is now a better or worse place in which to live. According to an opinion poll conducted by Loyola Marymount University, nearly six out of 10 respondents believe a new upheaval is likely to occur within the next five years.
The search for answers was the focus last week of Forward LA, a conference whose co-organizers included the University of Southern California's Program for Environmental and Regional Equity (PERE) and the Sol Price Center for Social Innovation. Headlined, "Race, Arts and Inclusive Placemaking After the 1992 Civil Unrest," the two-day event, which surveyed the effects of neighborhood change, as well as the cultural and social import of art, music and food, was held at the Radisson Hotel across from the USC campus. One key panel, called "Which Way, South LA: Making the Future in South Los Angeles," drew about 200 people to the Radisson's Grand Ballroom for discussions on the causes of the 1992 riots, problems that still exist and what the future holds for South L.A. The panel was moderated by PERE director Manuel Pastor. In his opening remarks Pastor, who is also the Turpanjian Chair in Civil Society and Social Change, touched on a few of the problems that South L.A. still faces – poverty, the lack of opportunity and the pressures of changing demographics on the region. Despite these lingering issues, Pastor remained fervently optimistic about the future.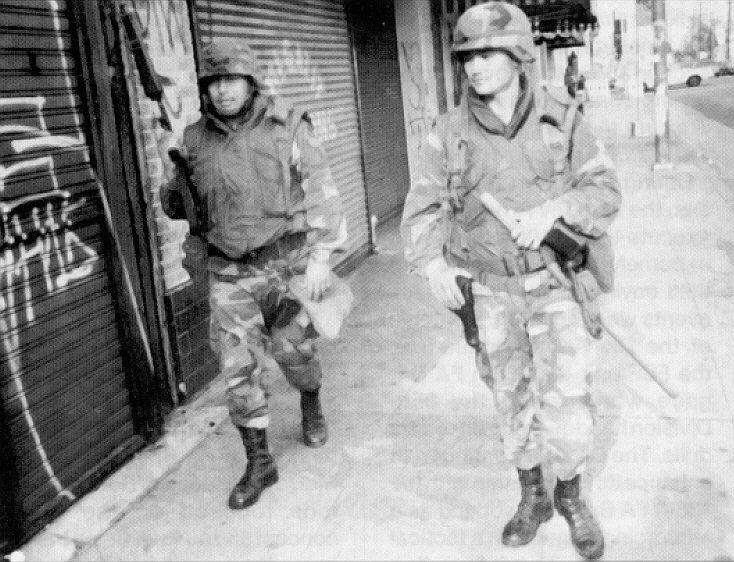 May, 1992: California National Guard members patrolling Los Angeles.
"I get calls from reporters back East every five years about the conditions in South Central," he said. "They portray the area as a place of desperation, as if nothing has changed since the riot. They don't see it as a place of renaissance and potential." He added that this panel's goal was to try and get the story right.
Panelists Laurence Frank, Aurea Montes-Rodriguez, Tunua Thrash-Ntuk, Gloria Walton and Peter White) all have deep roots in civic and community activism. Their discussion began with each briefly telling the gathering a little about themselves and their work, and sharing their riot-experience stories, with Montes-Rodriguez snagging laughs when she told of a looter who got his truck stolen while he was loading it up with goods. Pastor then asked the panelists to speak about what has changed in South L.A. and what hasn't.
"The short answer," said White, the executive director and founder of the Los Angeles Community Action Network, "is that the city has changed, but conditions have remained the same in many ways."
Much of what followed consisted of an expansive discourse on topics Pastor cited earlier in his opening remarks: the stubborn existence of poverty; the failure of Rebuild LA, a much-ballyhooed program to transform the area that was started in the immediate aftermath of the riot; the continuing significant impact of demographic changes on the community and conflicts between Latino and black residents.
Ntuk, the executive director of the Los Angeles Local Initiatives Support Corporation, stated that underemployment is also a critical issue sustaining poverty in South L.A. "Many people in the area have to work two jobs just to make ends meet," she said. Another topic was the ongoing impact of gentrification and whether it has improved the overall quality of life in the area; political strategies that will promote and sustain progressive agendas for the community, and the persistent scarcity of affordable housing. Strangely absent was an in-depth talk about the significant changes within the Los Angeles Police Department since the riots, which have resulted in better police practices and improved relations between the community and law enforcement.
Identifying problems is much easier than formulating viable solutions for them. There was much of the former taking place here, but in looking towards a better future for South L.A., there were also many positives that emerged during the hour-and-a-half panel. Montes-Rodriguez, who is the executive vice president of the Community Coalition, placed hope on the passage in March of Measure H, which aims to provide housing and support services for Los Angeles' large homeless population, and she spoke enthusiastically about the enormous increase in activism among young people in the community.
Frank, the president of Los Angeles Trade-Technical College, spoke at length about his school's ongoing efforts to provide quality job training and education for students, and singled out the extensive upgrade to that school's welding laboratory. Ntuk praised Metro's massive Crenshaw/LAX Transit Project, which has created thousands of jobs, and is certain, when completed in 2018, to have a beneficial economic impact on a portion of the city that has historically been disregarded whenever large-scale public works projects are planned.
The city of today is nothing like it was in April 1992. Much has changed, and much remains to be done. If there is little reason for a sunny outlook about the future (especially in the Trump era), there is an abundant foundation for a cautious sense of hope.

Historian: Why Economic Libertarianism Is an Overwhelmingly White Cause
While the eyes of most journalists and citizens have been fixed on Washington and Donald Trump, a Duke University professor warns, Charles Koch-funded groups and politicians are quietly lining up the state authorizations needed for a new constitutional convention.

Nancy MacLean is a historian in a hurry. Leaning forward, hands pressed on the table in front of her, she is telling a room full of activists that an assault on democratic institutions has created an "all-hands-on-deck emergency" on a scale that "we have not seen in our lifetime." MacLean has a dramatic flair in her writing and in her personal presentations. She speaks with the urgency of someone who recognizes a pivotal historical moment when she see one.
Seated in the windowless basement of a union hall that is shared with a local economic justice non-profit, she is dressed in a white blouse and blazer.
Those assembled take turns expressing dismay over a divided country, over the daily attack on immigrants, and over the legendary discipline of an extreme right-wing political movement that has advanced all the way to the White House.
"Economic libertarianism produces a kind of social Darwinism — the idea that anyone who is not thriving in the economy must have something wrong with them."
The Duke University professor says she discovered the intellectual underpinnings of the country's rightward tilt while digging through the archive of a Southern economist named James McGill Buchanan. She laid out her argument in her impassioned and highly readable 2017 book, "Democracy in Chains: The Deep History of the Radical Right's Stealth Plan for America. That history holds important lessons for those resisting the right's ascendance, she tells the group.
The "days of silos are over," says MacLean. Whereas the left has been focused on discrete campaigns and issues, the extreme right, she warns, has undertaken "an audacious bid that has been six decades in the making to fundamentally change the relationship between the government and the people — and to do so permanently."
Buchanan, who was 93 when he died in 2013, provided a key set of anti-democratic ideas that propelled the libertarian right's effort to dismantle the liberal state, while giving plutocrats free rein, according to MacLean. Part of his agenda, MacLean says, included shielding the "makers" from the "takers" by eroding the public's faith in government as a means to protect the rights of the property-owning class.
Buchanan, a Nobel Prize winner, favored requiring supermajority votes to approve tax increases, making it more difficult for public officials to meet the needs of ordinary citizens. In a long and varied career, he advocated dismantling Social Security, counseled the government of Chilean dictator Augusto Pinochet and nurtured generations of scholars at Southern universities, including at a center he founded at George Mason University with the help of $10 million from the right-wing billionaire Charles Koch.
One of her book's insights is how conservative legal scholars and economists have understood the degree to which the devil lay in the mind-numbing detail of policy.
"The wicked genius of Buchanan's approach to binding popular self-government was that he did it with detailed rules that made most people's eyes glaze over. In the boring fine print, he understood transformations can be achieved by increments that few will notice, because most people have no patience for minutiae," she writes.
That passage refers to the advice he gave Pinochet's government, which she argues has hampered Chile's current president, Michelle Bachelet, from enacting social programs in spite of a strong popular mandate.
Now MacLean is warning progressive activists that the Republican tax bill and its projected $1.5 trillion deficit could help fuel a growing right-wing clamor for a state-led constitutional convention, whose first order of business would be a balanced budget amendment to curtail future government spending.
"While the eyes of most journalists and citizens have been fixed on Washington" and Trump, she warns, "scores of organizations and elected officials funded by Charles Koch and his donor network" have been "quietly lining up the state authorizations" needed for a constitutional convention that will curtail legislators' ability to serve the needs of the governed. "They now have 28 of the 34 states needed to call such a constitutional convention under Article 5 [of the U.S. Constitution]."
Such a move, she adds, would put the country further down the path toward the "glorious period of liberty" favored by Koch and Buchanan — a place in which workers have "no legal right to organize for collective voice and power" and where corporations are "all but free of democratic accountability" — and where privatization had eliminated Social Security, Medicaid, and Medicare.
Nobody is immune from the right-wing attack on government, says MacLean. "Every civil rights activist, every feminist, every environmentalist, every queer and every retirees' group who goes to government to move a public agenda is a target for this and will suffer if it goes through," she says.
Yet this creates a "perverse source of strength," she says. "Our common need for government can potentially unite all these constituencies across groups to protect and expand democracy."
MacLean's fifth book has received a slew of positive reviews from major publications and a National Book Award nomination. Not surprisingly, Democracy in Chains has also drawn an avalanche of attacks from the very right-wing think tank networks that she critiques, as well as complaints from some left academics.
MacLean's claim of Buchanan's centrality to the rise of libertarianism, wrote political scientists Henry Farrell and Steven Teles, could be misleading to a progressive movement "liable to overestimate the extent to which the right is operating by a single plan. The most serious danger is that the left might look to this mistaken understanding of the right's success as a model for how it should organize itself."
Speaking to Capital & Main, MacLean actually gives some credit to Buchanan, who in spite of his deeply reactionary politics, was "probably the most original thinker about democracy in the last 50 years," she said.
But Buchanan's "very, very reductionist analysis" was deployed to erode popular trust in government, she argues.
"He sought to build a case that government could not do what it promised because politicians were not really seeking to advance the public interests as they claimed. They were just trying to get themselves elected using other people's money. The same was true of all public actors, according to Buchanan," as she told the union-hall gathering.
MacLean's book anchors Buchanan's thinking in the South's troubled history of segregation and slavery. He advocated for state-funded voucher systems for private schools in the late 1950s, after local officials had closed public schools as part of massive resistance against court-ordered desegregation.
MacLean is careful to say her research found no evidence that Buchanan operated on the basis of racial animus — although he must have understood the context of his proposal for school privatization. MacLean joins conservative scholars in connecting Buchanan's ideas to those of antebellum South Carolina Senator and plantation owner John C. Calhoun, who thought democracy needed to be curbed because it failed to preserve the liberty of the slave-owning elite.
And what about today's libertarians? She believes there is a reason libertarianism has remained an overwhelmingly white cause.
"Economic libertarianism," she told this website, "produces a kind of social Darwinism — the idea that anyone who is not thriving in the economy must have something wrong with them. There's always this slippage between [economic libertarianism] and the really ugly white-supremacist right," she says.
MacLean's fundamental message is that Buchanan – and the extreme right – have an Achilles heel. Their ideas are extremely unpopular and so they have had to proceed by stealth – whether through voter suppression laws, gerrymandering or other means.
"We've had the most radical gerrymandering in American history," MacLean told Capital & Main. "And they're trying to destroy labor unions without actually saying that they don't want working people to have a collective voice."
"However much they may offer bromides to freedom or liberty in the abstract," she added about the far right, "what they're really talking about is freeing corporations, and the wealthiest taxpayers, who don't support what the majority of their fellow citizens do."
---
Copyright Capital & Main