Song Sung Red, White and Blue
News that George Zimmerman (a "white Latino") got away with shooting and killing Trayvon Martin, a black teenager armed with nothing more than a bag of Skittles, brought joy to many conservatives. Some went so far as to say "God Bless George Zimmerman."
Less than 24 hours before the Zimmerman verdict, Grammy-winning singer Marc Anthony, a dark-skinned Latino, was viciously lambasted — for having had the audacity to sing 'God Bless America' at Major League Baseball's All Star Game. One tweeted "Why is some Spanish fuck singing 'God Bless America' at the all-star game?" Another wrote, "C'mon MLB. How you gonna pick a Mexican to sing 'God Bless America'? Was Castro unavailable?"
Anthony happens to be a born-and-bred American citizen of Puerto Rican descent.
This was as ironic as it was painful, seeing as how Irving Berlin, one of America's greatest songwriters — Jerome Kern said Berlin is American music — wrote the song in question as a celebration of America's inclusiveness. In her new book God Bless America: The Surprising History of an Iconic Song, ethnomusicology scholar Sheryl Kaskowitz traces the history of a song written in 1918 but not published until 20 years later. She argues that the broad appeal of "God Bless America" stems from the ambiguity of its lyrics. Whose God was Berlin, a Jew, talking about?
Initially, "God Bless America" served as an apolitical anthem — it was the theme song for the 1940 presidential campaigns of both FDR and his Republican challenger Wendell Willkie. During the '40s, Kate Smith sang it every week on her extraordinarily successful radio show and popularized it to the extent that it's often been put forward as a replacement for the difficult-to-sing "Star-Spangled Banner."
Over the past half-century, the right has used "God Bless America" as an all-purpose signifier of the God-given superiority of All-American values over those of the secularists, socialists, anarchists and malcontents of the left.
Kaskowitz credits Ronald Reagan for making especially potent political hay from the song. She adds, "It is a satisfying and intriguing coincidence that Reagan, who would become so strongly associated with 'God Bless America,' was the star of the 1943 film This Is the Army, in which the song made its movie debut — in fact, Reagan first appears on screen while the song is playing, during a reenactment of Kate Smith's premiere of the song on her radio show."
Not everyone loved "God Bless America." Progressive hero Woody Guthrie, another of America's greatest songwriters, wrote an angry response to what he considered the schmaltz of Berlin's tune in what would become his best-known song. "This Land Is Your Land" — originally titled "God Blessed America" — includes a verse that evokes an America that could not be shouted out of sight by right-wing polemics: "One bright sunny morning in the shadow of the steeple /By the Relief Office I saw my people/As they stood hungry, I stood there wondering if /God Blessed America for me."
If the mushy lyrics and the conservative hijacking of "God Bless America" leave you cold, Mark Kurlansky's new book Ready For A Brand New Beat offers an alternative: If Kaskowitz's book focuses on the ambiguities of "God Bless America," Kurlansky goes all in with praise of the 1964 Martha and the Vandellas' classic "Dancing in the Street," which, he says, became "the anthem for a changing America."
"Dancing in the Street," the smash hit that blasted nationwide from car radios and record stores during a steaming summer of protest riots by blacks in every major American city, was a product of black culture with a message that appealed to everyone. Its writers, singers and musicians were mostly black, and the record was released on Motown, the wildly successful label owned by Berry Gordy, a black entrepreneur who adopted the inclusive slogan "The Sound of Young America." Co-writer Marvin Gaye reportedly came up with its title when he saw inner city black, white and Latino kids playing together in the street.
Both "God Bless America" and "Dancing in the Street" aim to celebrate a spirit rather than a particular God — and certainly not the God George Zimmerman invoked when he told Fox News's Sean Hannity that Trayvon's killing was God's plan.
Our species rolls on — never, as Martin Luther King Jr. observed, on the wheels of inevitability, but in the brave actions of men and women who can see the promised land from here. Asked on a TV talk show about those who declared him and his All-Star game performance un-American, Marc Anthony showed the real meaning of "stand your ground." In the spirit of "God Bless America" and "Dancing in the Street," he said, "I'm more New York than ever. I'm more Puerto Rican than ever."
(Michael Sigman is a writer/editor, media consultant and the president of Major Songs, a music publishing company. His post first appeared on Huffington Post and is republished with permission.)

'Skeleton Crew' Is a Play With a Moral Spine
Set in a Detroit automobile outfitting plant, Dominique Morisseau's drama grabs you from the start with its focus on blue-collar men and women, and their struggle for dignity and self-respect.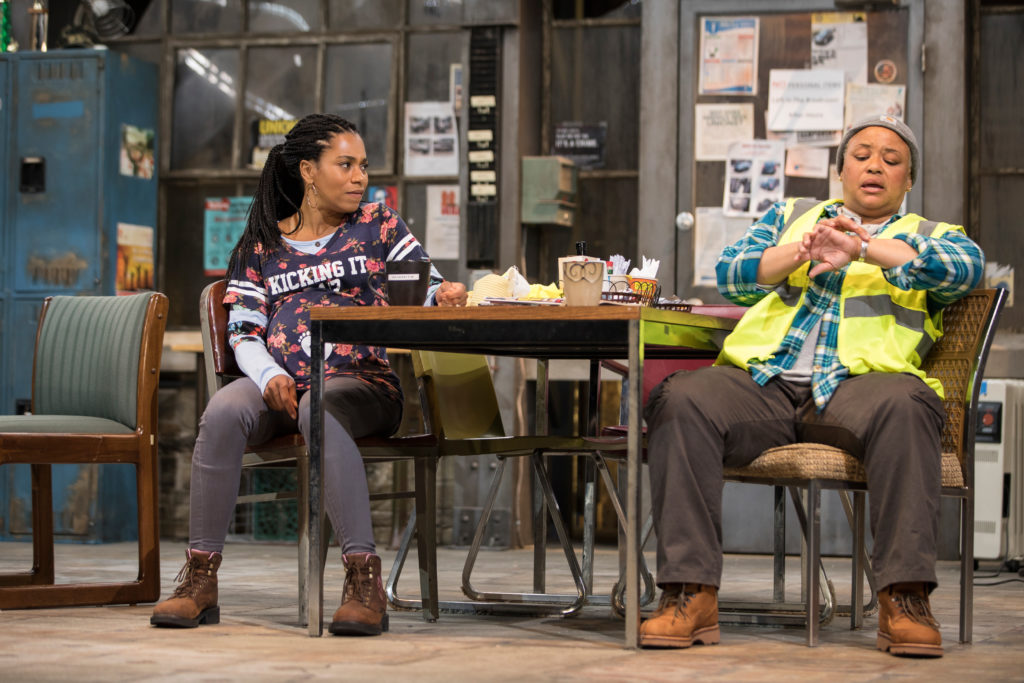 Working-class men and women of color are rarely front and center in today's media and, likewise, are presented all too occasionally on the American stage. So it's buoying to see that trend bucked in playwright Dominique Morisseau's percipient and well-crafted drama, Skeleton Crew. The play is the final installment in her Detroit  Project Trilogy; the first, Paradise Blue, is set in the 1940s amidst displacement caused by urban renewal and gentrification, while the second, Detroit '67, transpires on the eve of the 1967 Detroit riots sparked by a police action.
Directed by Patricia McGregor at Los Angeles' Geffen Playhouse, Skeleton Crew is a play with a moral spine. It takes place in 2008, when the shrinking U.S. auto industry is being further downsized. Morisseau's engaging quartet of characters — Faye (Caroline Stefanie Clay), Dez (Armari Cheatom), Shanita (Kelly McCreary) and Reggie (DB Woodside) – are employed at an automobile outfitting plant. Faye, Dez and Shanita are workers on the line while Reggie (who has a wife and kids, and has pulled himself together after a troubled youth) is their supervisor.
The first three customarily mingle in their break room (designer Rachel Myers' impressively cluttered, dingy and detailed set), trading the sort of familiar barbs and genuine concern for each other common among longtime co-workers. They also face off on philosophy: Upper-middle-aged Faye and the younger, pregnant Shanita take pride in their labor, while Dez, though a good worker, is a malcontent scornful of management and firm in the belief that everyone needs to watch out for himself. He's a thorn in Reggie's side, for while Reggie wants to be supportive of his workers, he must act at the behest of higher management. For his part, Dez resents Reggie's authority, and a palpable unease exists between them.
Besides this male matchup, we're made privy to Dez's attraction to Shanita, who mostly turns away his advances, but every now and then displays a hint of interest. Most poignant is Reggie's regard and affection for the lesbian Faye, which has roots in his boyhood when she loved, and lived, with his now-deceased mom.
These people's various predicaments intensify when rumors spread of the plant's shutdown — a disaster for all, but a particular calamity for the already near-broke Faye who, one year short of retirement, would lose her pension. The crisis forces each of these people to make a choice.
A sound piece of social realism, Skeleton Crew grabs you from the start in its focus on blue-collar men and women, and their struggle against odds for dignity and self-respect. Morisseau not only furnishes these characters a platform for their travails, she endows them with strong values, big hearts and the opportunity to choose between right and wrong.
Unfortunately, the performance I attended did not soar. Many exchanges lacked a fresh edge. The actors certainly had their characters down, but too often they appeared to be coasting on technique. (This seemed particularly true of Clay, who performed the role to great accolades in Washington, DC in 2017, also under McGregor's direction). Additionally, some of the stage movement was not entirely fluid; in confrontations, actors sometimes would just stand and face each other in an artificial way. And Cheatom's interpretation of Dez struck me as a bit overly churlish and depressive: I needed more glimpses of the intelligence and edge that would secretly attract the strong, self-directed Shanita.
The most compelling moments belong to Woodside, well-cast as a man trying his best in difficult circumstances to do the right thing.
---
Gil Cates Theater at the Geffen Playhouse, 10886 Le Conte Ave., Westwood Village; Tues.-Fri., 8 p.m.; Sat., 3 & 8 p.m. Sun., 2 & 7 p.m.; through July 8. (310) 208-5454 or www.geffenplayhouse.org