Solarcoaster: The Promise and Pitfalls of Rooftop Solar Jobs
Co-published by Slate
Solar-panel installers workers are riding a "solarcoaster" — joining an industry that has provided jobs and opportunity to tens of thousands of workers — while also raising concerns about how fairly workers in a fast-growing, Wall Street-fueled industry are being treated.

Co-published by Slate
Barely 18 and fresh out of high school, George Estrada was lucky to land a job as a solar installer. He needed work, and the pay — $15 per hour — was not bad for a teenage dad willing to work hard.
The year was 2012. SolarCity – the company cofounded by Elon Musk's cousin Lyndon Rive, had just gone public after gobbling up smaller installers across the country. While SolarCity has been an incredible job engine, for some workers the pace of growth has come at a cost. In lawsuits and interviews, workers allege being denied overtime, meal and bathroom breaks, minimum wages, and complain about managers' inattention to quality and safety.
"At first it was good," Estrada remembers. But four years later, after SolarCity had exploded in size, from 2,500 employees to more than 15,000, Estrada quit, disillusioned by what he says was the company's focus on meeting sales goals over workmanship and the well-being of its employees.
Estrada had taken a ride on what some call the "solarcoaster," joining an industry that has provided jobs and opportunity to tens of thousands of workers across the country, even as it has recently faced mass layoffs and employee lawsuits — raising concerns about how fairly workers in a fast-growing, Wall Street-fueled industry are being treated.
George Estrada (Photo: Pandora Young)
No company is more emblematic of the residential solar industry's rollicking ride than SolarCity, with its recognizable fleet of green and white trucks, vast army of salespeople and installers, and its headline-grabbing chairman, Elon Musk, whose electric car company Tesla acquired SolarCity last November, several months before reporting in securities filings that the solar company had shed 3,000 jobs in 2016.
SolarCity, which is based in San Mateo, built its name on a zero-down financing model that leveraged investor dollars and federal tax credits to finance a rapid expansion that has yet to produce positive returns. Its big vision captured the imagination of environmentalists like Bill McKibben, who wrote a 2015 New Yorker article that quoted chief executive officer Rive proclaiming that his goal was to get solar on a rooftop "every three seconds." The climate crisis seemed to demand that kind of vision and scale of operation.
The industry also includes smaller regional firms such as Sullivan Solar Power in San Diego, where Estrada went to work after leaving SolarCity. Started in 2004, Sullivan Solar Power built its customer base slowly and aimed at creating a highly trained and well-compensated workforce. Estrada would find a different pace of work there, one that he says has allowed him to focus more care on each customer and to build a future as a skilled electrician, able to find work in any industry.
A
t SolarCity, crews are provided with "panel pay," a bonus system that incentivizes speed by paying installers for every panel they install if that rate is higher than their hourly wage. According to Estrada, the rapid pace led to leaky roofs when holes drilled to secure the panels weren't properly sealed, requiring return visits after customers complained.
It is impossible to know whether the company's incentive system led to sloppy workmanship, but complaints of roof leaks following SolarCity installations do appear on the Better Business Bureau's website. Homes outfitted with solar are required to pass muster with city building inspectors.
Estrada claims he was asked by supervisors to accept bonuses in exchange for not reporting overtime. Because of the pace of work, he was unable to get time off to be with his family, he says. In 2016, he quit, before the company began laying off workers.
SolarCity declined to comment for this story.
Some workers I interviewed spoke highly of the company, crediting SolarCity with providing ample training and promotion opportunities, generous benefits, as well as a chance to be part of an innovative company on the forefront of the move toward clean energy. One former installer, a graduate of Homeboy Industries' training program, described SolarCity as "the best job I ever had" and is now earning $55,000 a year as an inspector for the company. Kevin Midei, who worked as an installer in Maryland in 2015, and who now runs his own business, says SolarCity is "cool" and "forward-looking," and, he says, in reference to the 2016 layoffs, "like any other young industry," it faces ups and downs.
George Estrada, however, is hardly alone in criticizing SolarCity's employment practices. Ravi Whitworth, another installer, and four other plaintiffs, are seeking class action status in an amended complaint filed in March in U.S. District Court in San Francisco, claiming that the company denied them overtime, minimum wages, meal and rest breaks.
The company did not provide its workers access to bathrooms during worktime, requiring them to urinate in bottles or buckets while on the job, according to the lawsuit. The plaintiffs — installers from various parts of California — claim to represent 2,000 workers at the company.
One of the lawsuit's allegations – that SolarCity failed to compensate installers for travel between jobs — was repeated in another lawsuit by former SolarCity crew leader John Zazueta, filed in Los Angeles County Superior Court in 2016.
Zazueta also alleges he was fired by SolarCity after he  refused to perform electrical work under conditions he deemed unsafe. His charge echoes Estrada's claim that, when he worked out of the San Diego warehouse, certified electricians "would get fired if they asked too many questions."
Some of the lawsuit allegations are also echoed by "Jake," a Southern California field inspection coordinator for SolarCity who requested that his real name not be used in this article. He confirmed that installers clock out between jobs and also said the company was not always forthcoming with promised wages.
"There's the thing where they promise if you get it done in a certain amount of time, you get this bonus pay, but it never happens," he said. Jake has spent about four years in the industry, with a year and a half of that at SolarCity, and earns $16 per hour. He too hopes to become an electrician.
SolarCity is not the only firm to face adversity recently. Even though business is strong for many installers, the residential solar industry's other large national firms, including Vivint and Sungevity, have also had a difficult year, according to Energywire. A chaotic layoff at Sungevity, which declared insolvency in March, prompted the filing of a lawsuit by workers alleging the company violated laws requiring advance notice of mass layoffs.
Nicholas De Blouw, an employment attorney, works at a firm that has brought lawsuits seeking class action status for employees at the big solar companies, including Verengo, Sunrun, Vivint and SolarCity. These companies' focus on meeting corporate targets has caused them to run afoul of California labor law, he says.
"It's a classic example of these big corporations caring about one thing – especially if they are filing IPOs [initial public offerings] on the stock exchange – they care about the shareholder's bottom line." Employees in the field "are the ones that get the squeeze," says De Blouw.
S
itting in the backyard of an Escondido customer's home, Estrada is happy, having finished a day's work installing panels for Sullivan Solar Power, where he went to work in 2016 after leaving SolarCity.
Estrada is in a five-year electrical apprenticeship program—with a steady wage progression—that gives him access to full health, dental and vision benefits while he earns $17.25 per hour. It took him four months to quality for the program, a process that included tests and interviews, and that puts him on a path to be an electrician, where he will be able to earn more than $90,000 per year.
"You're talking about a way different story," says Estrada who, at 23, has a second child on the way. "Here we take our time," he adds. "We replace every tile. We double-test everything." Like every apprentice in the firm, he always works under the supervision of a journeyman electrician.
SolarCity vans (Wikimedia photo by BrokenSphere)
Sullivan Solar Power doesn't have the reach of SolarCity. Since its inception in 2004, the company has served more than 6,000 homes in San Diego, Riverside and Orange counties, to SolarCity's 300,000 in more than 20 states. Still, it is a major player in San Diego, voted by San Diego Union Tribune readers as the best solar company in the area and listed by Inc. Magazine as one of the 5,000 fastest-growing private companies in the country seven years in a row. It has about 150 employees and revenues of $50 million a year, according to its founder, Daniel Sullivan.
Sullivan brings to the job his background as an electrician and hires workers through International Brotherhood of Electrical Workers hiring halls. He acknowledges that using union labor costs more, but says that what he spends on the front end he saves by only having to do the job once. Homeowners "are installing a generating system on the roof of their most valuable asset," he points out. The company has no customer complaints on the Better Business Bureau website.
The company also has a different approach to growth than SolarCity. Whereas SolarCity, a public company, has relied on Wall Street investors to finance its rapid expansion, Sullivan Solar Power has reinvested its profits.
Of course, the vast majority of residential solar companies do not hire union labor through hiring halls. But Sullivan Solar Power's employment practices are the norm for firms that are building the giant, utility-scale solar arrays in the desert, according to Carol Zabin, co-chair of the University of California, Berkeley's Donald Vial Center on Employment in the Green Economy. The benefits of union jobs in the solar industry go far beyond higher wages, says Zabin.
"The state-approved apprenticeship programs used by union firms give workers a set of skills and capabilities that can be used broadly, not only in solar, but in all kinds of other kinds of construction projects, giving workers a real career, not just a job as a solar installer, making them much more employable," Zabin says.
The entire solar industry is becoming more serious about training and there are good jobs to be had at union and non-union firms alike, according to Brano Goluža, an associate professor at L.A. Trade Technical College, who has run a renewable training program for the past 10 years. Whereas five years ago, "companies were looking for bodies," Goluža says, now they are requiring board certifications and are also looking for licensed electricians and other tradespeople.
A new and fast-growing industry, solar is like a "teenager" going through the expected "growing pains," according to Goluža.
In spite of President Trump's pro-fossil-fuel agenda, the demand for clean energy alternatives is not going away, Goluža adds. Growth has slowed in the rooftop solar industry in the past year, but many see the evolution of battery storage technology and vehicle electrification as promising for the long-term health of the residential solar industry.
And industry leaders have been cautiously optimistic that Republicans will leave be the federal Solar Investment Tax Credit (ITC), a major policy driver of rooftop solar, in spite of Trump's efforts to roll back the Clean Power Plan.
"There is support for solar on both sides of the aisle," according to Bernadette Del Chiaro, executive director of the California Solar Energy Industries Association. She said that the extension of the tax credit, which will ramp down over time, was "developed and passed by the same folks who remain in control of Congress."
As long as there are more homes going solar, that's good news for George Estrada who, after a long day on a rooftop, says he loves his work.
"You do something different every day. You're out in the sun," Estrada says. "Nothing's better than this."

Smog Check: Central Valley Congressmen Refuse to Clear the Air
Both ozone and particulate pollution are attributed to oil and gas production, agribusiness, mega-dairies, power generation, heavy equipment and truck traffic – many of the Central Valley's major businesses.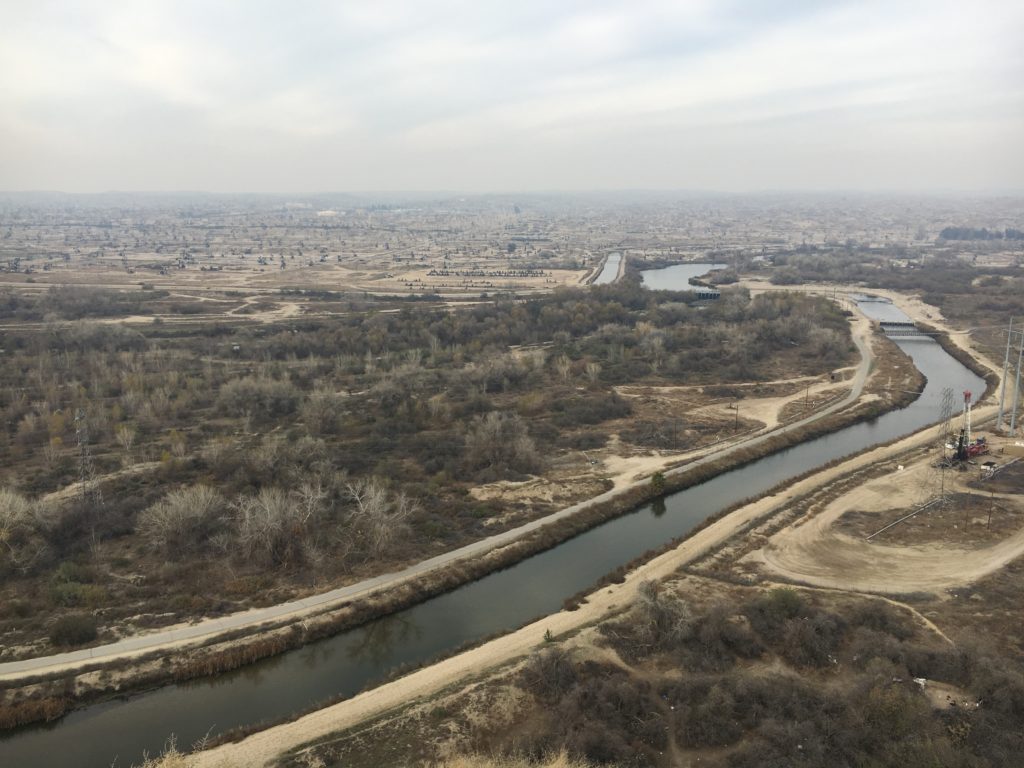 According to the American Lung Association, Bakersfield has some of the worst air in the country with regard to the two principal ingredients that make smog.
---
When you stand on Bakersfield's Panorama Bluffs, the Central Valley's chronic air quality problems hit you right in the face. A thick, blue-gray aerial sauce lays over the Kern River below and the massive, 9,000-well oilfield to the north, a smog that sweeps up the bluff. The haze smells of oil and cow manure and stings the eyes.
On the day I visited, the Environmental Protection Agency warned residents that the air was "Unsafe for Sensitive Groups" like children and the elderly, who were advised to limit outdoor activity. Unfortunately, these EPA "action days" are the new normal here. According to the American Lung Association's "State of the Air 2017" report, Bakersfield has some of the worst air in the country with regard to the two principal ingredients that make smog. The city ranks Number One for short-term spikes in fine particle pollution, or PM2.5, and Number Two for ozone (after Los Angeles).
Ozone forms in the atmosphere as the combination of nitrogen oxides, or NOx, and volatile organic compounds, or VOCs, that mix in the presence of sunlight. PM2.5 is a tiny particle produced by diesel engines and wood-burning, and by the conversion of NOx and sulfur dioxides, among other chemicals, into particles. Both are dangerous to health and contribute to asthma, lung disease and other ailments.
"It's like this most days," said Debbie Saltello, 50, who was walking from Bakersfield College, which sits at the top of the bluffs directly south of the oilfields. "That's why we're always sick. People really want to do something about this, and we need to be fighting for cleaner air. But each of us only has time to do so much."
Saltello felt like she needed to do something, because her representative in Congress was voting the other way. In 2017, congressmen whose districts lie in the Central Valley voted for a little-known new bill, the Ozone Standards Implementation Act, or HR 806, which critics say guts the EPA's ability to set healthy ozone and particulate-matter standards, and delays the implementation of clean-air solutions.
The bill, which passed the House and is now in the U.S. Senate's Environment and Public Works Committee as S263, delays the implementation of 2015 National Ambient Air Quality Standards until October 2024, and permanently changes the EPA's air quality review from a five-year to a 10-year cycle. More important, the proposed measure allows the EPA to consider "technological feasibility" when the agency sets these standards. Currently, the EPA must set standards "requisite to protect public health with an adequate margin of safety," even if those goals are hard to attain, thus challenging districts and industry to innovate.
Republicans in this conservative swath of the state supported the bill, including House Majority Leader Kevin McCarthy of Bakersfield, Devin Nunes of Visalia, Jeff Denham of Modesto and David Valadao of Hanford. It was a mostly partisan vote, with only 11 Republicans voting against the bill and only four Democrats voting for it. One Democrat, however, was Jim Costa, whose Fresno district – along with Bakersfield, Visalia, Modesto and Hanford – is routinely among the Top Six worst cities in the U.S. for year-round PM2.5 spikes and ozone.
Costa, Nunes, Denham, Valadao and McCarthy declined to be interviewed for this story, but the bill's sponsor, Rep. Pete Olson of Sugar Land, Texas – a Houston  suburb that is also a center for oil and gas production and has its own claims on having the nation's most polluted air – said his bill was necessary because the EPA was creating red-tape bottlenecks, and he wanted to see fewer communities struggle with the fines and penalties for being in "non-attainment" of the standards. The 2015 NAAQS, which are the latest released, were met by a barrage of litigation and President Trump's EPA chief, Scott Pruitt, created a task force to explore ways to ease compliance.
"In recent years, we have seen the Environmental Protection Agency's inability to issue rulemakings and guidance in a timely way on air quality standards," said Olson in an email interview. "Communities are left with uncertainty and a lack of implementation guidance, while job creators and local businesses are left dealing with the regulatory difficulties of trying to expand in a 'non-attainment' area." Further, Olson claimed, districts were punished for air pollution that might not be their fault. "We have seen significant issues with how the EPA handles emissions outside the control of localities. The State of Texas has spent years struggling to avoid being penalized for pollution caused by natural events like forest fires. It is also worth noting that a significant portion of pollution in the Western U.S. is either naturally occurring or comes from as far away as China."
Olson denied that his bill will hurt health standards.
Paul Billings, senior vice president for advocacy at the American Lung Association, said the bill was driven by the American Petroleum Institute, the National Association of Manufacturers and other groups that lobby on behalf of big polluters.
"Oh, you mean the Smoggy Skies Act?" Billings asked in reply to a question about the legislation. "This bill is really designed to repeal the fundamental health premise of the Clean Air Act, or, I would say, rip the lungs out of that law. Currently, the standards are based on the health science: 'Requisite to protect public health with an adequate margin of safety.' In this legislation, they impose a technological feasibility test. Not having doctors and scientists tell us what levels harm health, but to allow engineers and economists to discuss whether or not it is feasible to meet these standards. This is kind of like diagnosing a patient by what it will cost to cure the patient, rather than by what ails the patient."
In their published dissent, House Energy and Commerce Committee Democrats called the bill a "compilation of attacks that in reality strikes at the heart of the CAA [Clean Air Act]," adding: "This bill would undermine decades of progress on cleaning up air pollution and protecting public health from all criteria pollutants – not just ozone."
Bakersfield's Rep. McCarthy, who sponsored versions of this bill for years, provided a statement to Capital & Main, which reads in part: "…the Obama Administration's regulation [meaning the 2015 NAAQS] will saddle our communities with punitive fines for failing to meet a near-impossible task of complying with a standard so unrealistic it is approaching naturally occurring background ozone levels…. This bill makes the right reforms, without sacrificing air quality that will help our communities be healthy and thrive."
The Lung Association's "State of the Air 2017" report notes that air quality has been getting progressively better throughout the country since the passage of the 1970 Clean Air Act, even as it remains unhealthful: Los Angeles still has the nation's worst ozone problem, but the numbers have been steadily improving. But that has required increasingly more stringent quality standards.
Dolores Barajas-Weller, director of the Central Valley Air Quality Coalition, a clean-air advocacy group, says the San Joaquin Valley Air Pollution Control District has resisted clean-air strategies proposed by her group. The district's executive director, Seyed Sadredin, is well-known for wanting to soften the very law he's supposed to uphold: He submitted a white paper on that subject to the Trump transition team, and testified in support of HR 806 in committee hearings, while the California Air Resources Board and many other agencies in charge of air quality opposed the bill.
"[The District] say they've left it all on the table, but they haven't," Barajas-Weller said.
Wood-burning and the widespread charbroiling of restaurant foods, for example, could be more strictly regulated, she said, and agricultural burning could be replaced by offering incentives to growers in the valley to chip, mulch and compost their waste. Similarly, the waste water that is a byproduct of oil and gas extraction is a major source of VOCs and needs addressing. Farm equipment can be transitioned from diesel to clean energy. And biomass energy facilities need to be more strictly controlled.
"The Rio Bravo biomass facility here in Fresno is the top PM2.5 source for the entire county, and it's located in one of the poorest unincorporated communities," said Barajas-Weller. "The governor signed a five-year bill to bring in all of the forests affected by the tree mortality issues, trucking them down on diesel trucks and burning them in a disadvantaged community."
"With respect to particulate matter and ozone, it's very disheartening that the congressional Republicans, now that they're in power, are working tirelessly to gut to protections in the Clean Air Act," said José Gurrola, mayor of the Kern County town of Arvin, located just south of Bakersfield. "Here in Kern County, we saw over the holidays a period of about 10 days where particulate-matter pollution was so bad that we hadn't seen that kind of pollution since the 1990s."
Gurrola, who was elected in 2016 on an environmental platform, sees vast opportunity for the valley in the process of air cleanup. He wants smart growth, mass transit, tractors and oilfield equipment running off clean energy, and subsidies for electric vehicles targeted directly to the Central Valley.
"Rather than weaken the standards of the Clean Air Act," Gurrola said, "I think that [Congress] should provide more resources to the Valley Air District, to provide more incentives for both industry and the community to work together to improve the air."
---
Copyright Capital & Main