Skechers' Labor Troubles: A Nike for the 21st Century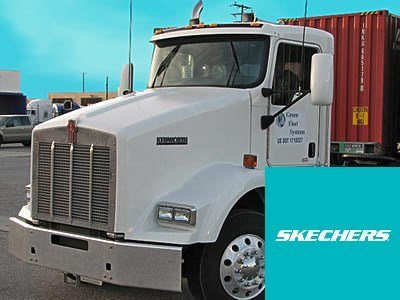 If you're wondering what all the fuss is about down at the ports of L.A. and Long Beach, where drivers have been on an Unfair Labor Practice strike since Monday, think Nike during the 1990s. Remember the barrage of news stories and reports about the horrendous conditions endured by workers at plants run by Nike contractors? Remember how the company tried for years to distance itself from the practice of its contractors, even though it had the power all along to put an end to the exploitation?
The same story is unfolding right now in Southern California, where multinational retailers are refusing to take responsibility for the egregious abuses of their contractors. A case in point is Skechers, which recently supplanted New Balance as the nation's fifth-largest athletic footwear brand.
Based in Manhattan Beach, Skechers is experiencing enormous growth in sales and profits. In the first quarter of 2014, the company saw a five-fold rise in profits, fueled by more than half a billion dollars in sales. Skechers CEO Robert Greenberg's total holdings in the company are worth an estimated $380 million.
At the same time, Skechers is turning a blind eye to the behavior of Green Fleet Systems, Skechers' primary port trucking contractor, which hauls thousands of pairs of shoes every day from the Port of L.A. to the footwear giant's California distribution center.
Green Fleet, by any measure, is a low-road operator. In addition to illegal wage deductions that resulted in an order by the state to pay workers back wages of nearly $300,000, the company has been charged by the National Labor Relations Board with a dizzying array of violations. These include threatening union supporters with statements that they deserve to die, engaging in unlawful surveillance of employees' union activity and firing employees for their union activities.
So what is Skechers doing about Green Fleet's abuses? Not much. Unlike Nike, Adidas and other companies, Skechers has yet to adopt a code of conduct that would establish a detailed set of standards regulating the labor conditions of its contractors and subcontractors. Nor has it provided a list of its suppliers of services or goods, or developed plans to address violations within its subcontractors.
This is in stark contrast to Skechers' pledges to ensure that "all of its products are sourced, produced and delivered to [their] customers in a manner that upholds international labor and human rights standards," and to promote ethical business practices among their contractors, including the principle that compensation should be "paid in accordance with local law and that their [facilities] should be in compliance with local safety regulation."
The gap between Skechers' rhetoric and its conduct is reminiscent of the long years during which Nike denied that it had any responsibility for what was happening in the plants run by its contractors. It took nearly a decade of protests on a global scale for Nike to finally change its business model.
As protesters gather today at Skechers' flagship store in Manhattan Beach as part of the ongoing port truck driver strike, the question that only the company can answer is, How long will it take to do the right thing?