Saying Farewell to an Unforgettable Editor
Capital & Main's founding editor-in-chief is stepping down after ten years at the helm.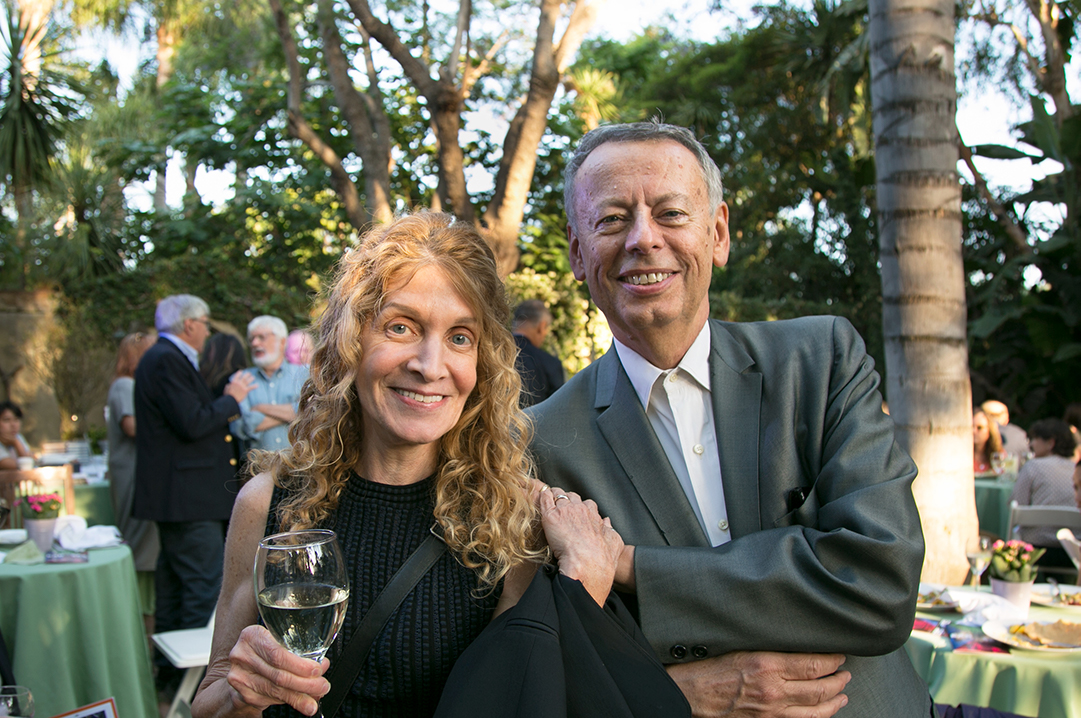 Steven Mikulan, Capital & Main's founding editor-in-chief, has been many things in the world of journalism in Los Angeles over the last three-and-a-half decades. 
A pillar of Angeleno letters, Mikulan was for 25 years a theater critic and editor, a features writer and a courtroom reporter at the LA Weekly. For the last decade, he has run Capital & Main, where he has overseen the publication's development into an award-winning investigative newsroom covering both California and national issues.
Mikulan is stepping down today, and on the occasion of his retirement, we celebrate his formidable contributions through the eyes of his peers. 

The L.A. Theater Writer's Dream
In the 1980s, the LA Weekly's editor-in-chief, Kit Rachlis, decided to beef up the arts sections because he believed that identifying breaking waves of artistic expression — including in rap and avant-garde theater — was crucial to the duty and appeal of alternative weeklies.
Rachlis gave Mikulan a regular page in the paper. "Theater is very important in L.A. and plays a complicated role here — and Steve was just so good." That was recognized in 1989-1990 when Mikulan earned the George Jean Nathan Award for Dramatic Criticism.
Renowned opinion writer Erin Aubry Kaplan recalls being hired as a young staff writer at the LA Weekly and it felt like "the end of my rainbow." 
"I came of age reading the LA Weekly, and though there were many standout writers, Steven was my favorite. I aspired to be him."
Aubry Kaplan, who serves as board chair for Capital & Main, credits Mikulan with a lasting contribution to how she would come to see herself as a writer. 
"He intuited what I might be good at, and that what I thought might be interesting was worth writing about. I hadn't developed that yet, and he was such a big part of that."
Bill Raden, whom Mikulan brought in as a writer at Capital & Main, where he won a multitude of awards, was a literature student when they met in 1983 under awkward circumstances. "I turned up at the apartment of a ravishing painting undergrad from UCLA's Fine Arts Department for what I had overoptimistically understood to be a date," Raden says. 
Upon arrival, he found Mikulan sprawled on the painter's settee behind an LA Weekly issue containing his first byline there. The "date" introduced Raden to Mikulan, whom the painting undergrad described as her boyfriend. "Steven was characteristically way ahead of me and gracious in my defeat, warmly inviting me to join them in celebrating his review."
In his years writing alongside Mikulan at the LA Weekly and then for him at Capital & Main, Raden came to some conclusions about the man: "Steven's knowledge is incontestable, and the better part of conversational valor in his presence is to simply shut up and take notes."
In the late 1980s Mikulan invited Steven Leigh Morris to become a contributor at the LA Weekly. Morris soon discovered that Mikulan frequently instructed theater critics to be respectful when reviewing performances. "Do not put your feet on the chair in front of you. Do not make out with your girlfriend or boyfriend or whatever in the third row." 
The consistent message was to be insightful and respectful and to "show some class." 

Gifted Writer, Loyal Friend
When Mary Melton became the editor at Los Angeles magazine, she sought to assemble a freelance pool of the very finest writers in the city. From her five years at LA Weekly, she knew she needed Mikulan.
His poignant and always riveting articles for Melton often focused on brutal crimes and tragedies. He pulled humanity from the story of Anna Nicole Smith, the saga of Stephanie Lazarus, a detective in the LAPD's art theft department who committed a murder, and many other tales from the city's underbelly. The one that touched Melton most was about Yvette Vickers, a 1950s-era pin-up and B-movie starlet who, more than half a century later, became such a recluse that no one noticed for nearly a year when she died. The octogenarian's corpse was finally discovered in her home, mummified by the passage of time. 
Of his ability to use such stories to get at deep, dark truths about the City of Angels, Melton says, "Steven just gets L.A. He understands the complexity of the city, its characters, and can tap into the ethos, and bring that to life in vivid, deeply reported and analytical pieces in a really delightful voice that's very accessible."
Melton says Mikulan could deadpan like Jack Benny and missed a calling as a great character actor, like George Sanders, who played theater critic Addison DeWitt in All About Eve. 
She describes his classic stance at staff meetings: in a corner with arms crossed, an eyebrow cocked, hand over his mouth, delivering some highly calibrated zingers, sotto voce.
Lynell George, a native Angeleno and former colleague at the Weekly, recalls spending time at Mikulan's home atop a hill in Echo Park with magnificent views of the city — downtown to the south, the dome of Aimee Semple McPherson's church and the old California Federal building in view, and to the west on a clear day, a glint of the Pacific Ocean. 
"It was wonderful to have him be part of this cadre of people who mattered and wrote about the city and the culture," she says. "We sat in the back of his place looking out at the city and, as writers, it felt like it was ours, and we were discovering it in different ways [including] in writing."
Writer and music publisher Michael Sigman, who was the publisher at the Weekly until 2002, remembers Mikulan's grace under pressure — and his commitment to his colleagues.
There was a time when the paper was shifting from its old printing house to a new one. Sigman says that workers were doing things "on an emergency basis, and I remember Steven coming to me and in a very calm way saying, 'You've got some people that are doing shop work that are not in the union.' And he was right. I think we fixed it. But I'll never forget that because it was a very tense moment for the paper, and he made it clear he was standing up for the union, but he wasn't filing a grievance, and he wasn't angry about it in any visible way. He was like, 'Here's what's going on, let's get it right.'"

A New Chapter 
The Great Recession of 2008 added to the desperation already in Southern California and worsened the city's already brutal inequalities. It also sped up the implosion of the business model of most print journalism. Eventually, this would precipitate Mikulan's departure from the LA Weekly and lead to a fresh start with Danny Feingold at a new digital media outlet that would eventually become Capital & Main.
Feingold had a plan to remedy the lack of media focus on the region's glaring economic disparities and tell the story of "how it's shaping and shortchanging the lives of millions of people." But he needed an editor, one with a similar passion to explore and expose such injustices in Southern California. He sought advice from Harold Meyerson, a former colleague of Mikulan's at the LA Weekly and one of the country's foremost chroniclers of inequality. Over Korean food in Washington, D.C., Meyerson narrowed the search down. "Hire Steven," he advised Feingold.
Mikulan and Feingold shared something in common: They had both been immersed in the once-thriving world of alternative journalism, and they both had undergone professional loss. Mikulan's last four years at the LA Weekly were marked by waves of staff firings. He finally left in 2009 after 25 years of service. More than a decade earlier, Feingold had been running one of the Weekly's competitors, the Los Angeles View, until it was abruptly sold and closed down by the New Times chain.
"The idea of starting something new was exciting for both of us," says Feingold, who became the publisher of their new media venture. "I wanted to get back to journalism. Steven had never left journalism. But in some way, journalism had left him."
As the former shop steward for the LA Weekly's unionized workers, Mikulan didn't have to be convinced that more and better coverage of the region's burgeoning inequities was sorely needed.

'Send Me to Detroit, Steven!'
Judith Lewis Mernit, who overlapped with Mikulan at the Weekly for 17 years, says she doesn't know the roots of Mikulan's compassion for working people, only that it's part of the blood beating in his heart.
When Lewis Mernit's own neck was on the Weekly's chopping block, Mikulan wanted the union to intervene and tried to talk to her about it.
Instead, she resigned, "but took a long time to leave" — and did so only after speaking to the National Labor Relations Board.
Mikulan wanted to take up an action on her behalf. But at the time, she says, she didn't want the stigma of being fired on her record. "In retrospect I see that he was willing to stand up for me," she says. "He's astonishingly selfless. Every buck was stopping with him."
Jessica Goodheart, a senior reporter at Capital & Main, has been writing for Mikulan since the days when it was called Frying Pan News. 
Goodheart remembers Mikulan's comments on her first story for him, which was a remembrance of the poet Wanda Coleman. "I'd had the privilege to meet her and hear her read years before," Goodheart says. 
"Steven said something like, 'This has everything in it that a story should' — and that really meant so much to me."
In 2019-2020 Goodheart edited Capital & Main's yearlong United States of Inequality series and wrote its first entry, titled "Is America Ready to Tackle Economic Inequality?" It contained the comments of a number of experts expounding on the question from various elevated perspectives. She remembers his skeptical comments on that draft. "This is just a round of talking heads," he said, "the usual suspects." 
Irked, Goodheart blurted out, "So send me to Detroit, Steven!" 
He did, and the trip helped Goodheart to establish a template for the series that grounded it in the human impact of worsening inequalities. 
The work culture Mikulan facilitated as editor-in-chief was magnetic. "When Steven asked me to join Capital & Main, I didn't have to think twice," says Pandora Young, the associate editor. "I knew from my time working with Steven at the LA Weekly that it was an opportunity to learn from one of the best journalists in Los Angeles."
Marco Amador, Capital & Main's multimedia editor, says that Steven is part of "an elite cadre of L.A. journalists" that fortunate reporters, photojournalists, videographers and people like himself were able to work with and learn from. "We will miss Steven's sense of humor, understanding of culture and connection with the stories," Marco says, adding that Mikulan somehow managed to keep his cool "no matter what assignments we did — or didn't — turn in!"
Under Mikulan's leadership, Capital & Main won more than 70 awards from national and regional contests, including Online Journalist of the Year, and Best News Website Exclusive to the Internet from the Southern California Journalism Awards. He edited an influential investigative series on Andrew Puzder, the fast-food CEO tapped by Donald Trump to be Labor Secretary. That series was credited with playing a significant role in Puzder's decision to withdraw his nomination. 
Among the signature stories shepherded by Mikulan was an investigation into lead contamination in California that triggered state legislation signed into law by Gov. Gavin Newsom in 2019. Mikulan guided major reporting projects on the detention of immigrants, the inexorable rise of economic inequality, L.A.'s homelessness debacle and California's affordable housing crisis. In the last year, he oversaw more than 200 stories on COVID-19 and the pandemic's disparate impacts on the poor, communities of color and health care workers.
"Steven will leave both an incredible legacy and a huge void at Capital & Main," Feingold says. "I hope that he feels tremendous pride in having been an architect of a media publication that under his guidance made an important contribution to reporting on one of the defining issues of our time."
"I will forever owe Steven a huge debt of gratitude. We're talking about somebody who has a really high level of skills as an editor, who has an extraordinary work ethic and who people love. How rare is that in the field of journalism — or in any world?"
---
Copyright 2021 Capital & Main