Saturday Rally Targets Pasadena Minimum Wage
If you would like to help lift thousands of Pasadena families out of poverty, please join us on Saturday as we march to urge Pasadena's mayor and city council to adopt a $15/hour minimum wage (gradually by 2020), then adjust it annually for inflation — similar to the law that the City of Los Angeles and L.A. County (for unincorporated areas) adopted in June. 
What:
March from Pasadena Community Jobs Center to Central Park and rally to raise the wage and abolish wage theft.
When:
Saturday November 14, 9 a.m. 
Where:
Begin at Pasadena Community Jobs Center, 500 N. Lake Avenue, Pasadena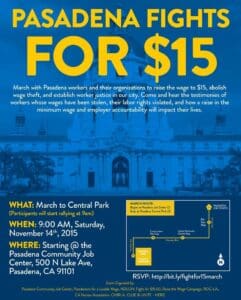 (Click on event flyer)
Since L.A.  adopted its minimum wage law, a number of other cities in L.A. County (including Long Beach, Santa Monica, West Hollywood, Glendale and others) are considering doing the same. Pasadenans for a Livable Wage — a coalition of nonprofits, educators, community groups, unions, businesses and elected officials – has been organizing to get Pasadena, one of the wealthiest and most unequal cities in California, to follow L.A.'s example. Raising the minimum wage is one thing that cities can do to deal with widening income inequality. Once Pasadena adopts a minimum wage, it will be easier to get other cities in Southern California to do the same. These local efforts are part of a national movement to address the nation's economic disparities.
A recent public opinion poll found that 74 percent of Pasadena voters support the $15 minimum wage plan – including large majorities in each city council district. But a few council members are still on the fence. That's why we're organizing to keep the pressure on.
Why do we need a minimum wage increase in Pasadena?
• Many Pasadenans earn low wages. Nearly one third of working Pasadena residents earn less than $15 per hour, despite working full-time, year-round. About 15 percent of those employed in Pasadena earn less than $15 per hour.
• Families aren't making enough to get by. More than 17 percent of households in Pasadena live on less than $25,000 per year. An astounding 28 percent of households spend more than half their income on rent.
• Low wages are bad for the economy. When workers struggle to pay for the basics like food and rent, they aren't able to spend money at local businesses.
• A higher minimum wage would create economy-boosting jobs. A $15 per hour Pasadena minimum wage would inject over $150 million per year into the economy; generate many new jobs; increase tax revenue; and reduce spending on the social safety net. Like its counterparts in other cities, the Pasadena Chamber of Commerce claims that the minimum wage will kill jobs. They are crying wolf. Other cities have already adopted similar laws with no negative consequences. A cover story in the October 23 Puget Sound Business Journal  headlined, "Apocalypse Not: $15 and the Cuts that Never Came."  It reported that more than a year since Seattle adopted a $15/hour minimum wage law, the number of restaurants is growing.
Join this social justice movement. I hope to see you at the march on Saturday.
---
(Photo: Oleknutlee)