Salinas Farm Workers March to Oppose Immigration Raids
Protest marches, which also commemorated the birthday of UFW co-founder Cesar Chavez, follow several months of UFW activity opposing immigration enforcement, and of organizing workers to defend themselves against it.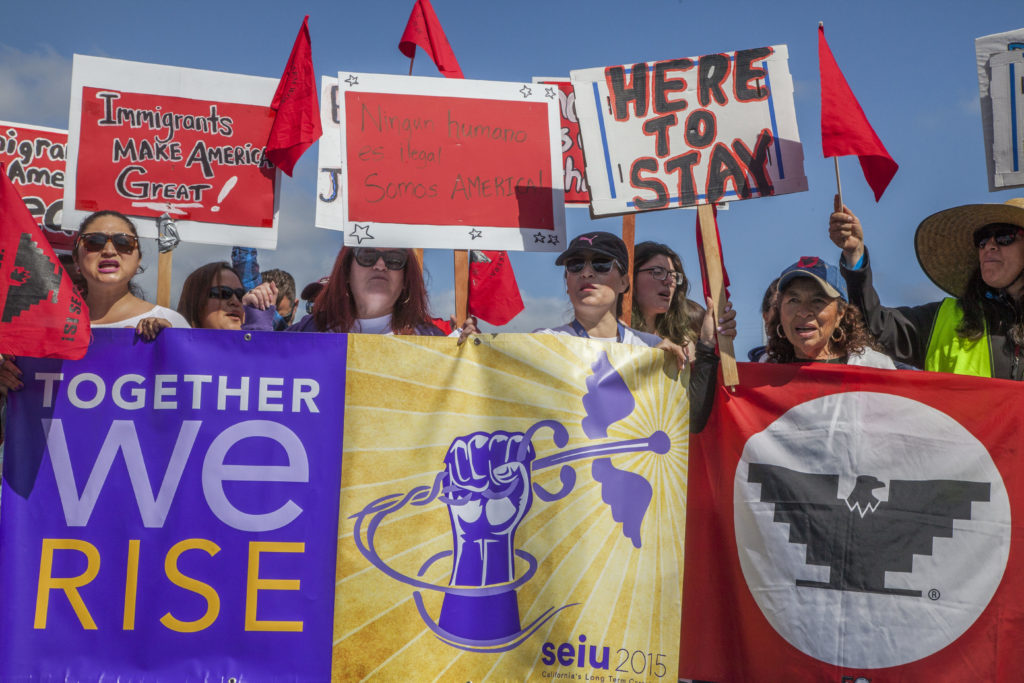 ---
All photos by David Bacon
---
In Salinas, California, last Sunday, over a thousand farm workers and allies filled the streets of its working-class barrio to protest the Trump administration's immigration policies, including an increase in immigration raids that, according to United Farm Workers President Arturo Rodriguez, are "striking terror in rural communities across California and the nation." It was one of six marches taking place this month in agricultural communities around California, Texas and Washington state.
Highlighting the cost of the immigration crackdown were the deaths last month in Delano of husband and wife Santos Hilario Garcia and Marcelina Garcia Porfecto. On March 13, the couple, both farm workers, had just dropped off their daughter at school on their way to work when two black, unmarked Jeeps with tinted windows, driven by Immigration and Customs Enforcement (ICE) agents, stopped them. The couple drove off, but lost control of their car, hit a utility pole and flipped over, killing them both. They leave six children behind.
According to a police report obtained by the Los Angeles Times, immigration agents told police that they were not in "pursuit with emergency lights/sirens," but that surveillance footage appears to show the ICE vehicles following the couple with emergency lights flashing. The Delano Police Department has asked Kern County prosecutors to investigate the discrepancies in the immigration agents' accounts of the incident. On Monday, ICE spokesperson Richard Rocha sought to divert blame in a statement to the Times that sanctuary policies, "have pushed ICE out of jails," and "force our officers to conduct more enforcement in the community — which poses increased risks for law enforcement and the public … It also increases the likelihood that ICE will encounter other illegal aliens who previously weren't on our radar."
The marches, which also commemorated the birthday of UFW co-founder Cesar Chavez, follow several months of UFW activity opposing immigration enforcement, and of organizing workers to defend themselves against it. The union has distributed fliers in the fields that tell workers, "Don't sign anything and demand to speak with a lawyer. Take photographs, videos, and notes about what happens, including names, and license plates." It lists a toll-free number to call for help.
Organizers are advised by the UFW Foundation to tell employers that ICE cannot enter the private area of their business without a signed judicial warrant, that in I-9 audits, employers have three work days to produce the forms, and that employers also have the right to speak to an attorney before answering questions or signing ICE documents.
In March, UFW protesters in Hanford, Visalia and Modesto picketed the offices of Republican Congressmen David Valadao, Devin Nunes and Jeff Denham, respectively. General meetings denouncing ICE actions were also held in Salinas and Orosi, and protests in Merced and Bakersfield.
"Do growers who supported and financed the campaign that put Donald Trump in office condone the climate of fear that is gripping farm worker communities?" a union statement asks. It points out that growers are currently supporting bills in Congress to remove protections from guest workers recruited in Mexico. "Such legislative schemes are aimed at driving down the wages and working conditions of all agricultural workers. We will fight them."
The Center for Immigration Studies, an arm of the anti-immigrant lobby in Washington, DC, used Cesar Chavez' birthday to announce the launch of National Border Control Day "in tribute to the late labor leader and civil rights icon's forceful opposition to illegal immigration and support for strong border enforcement."
UFW spokesperson Marc Grossman called that "an abomination." A UFW statement in response said, "There are two separate and distinct issues — immigration reform and strikebreaking." The union had a controversial history of trying to use immigration enforcement to remove undocumented strikebreakers in strikes during the late 1960s and '70s, but the statement says that from the first grape strike "the UFW welcomed all farm workers into its ranks, regardless of immigration status."
It noted that the union opposed employer sanctions, which made it illegal for undocumented immigrants to work, and lobbied for the amnesty provision in the 1986 Immigration Reform and Control Act that enabled one million undocumented farm workers to become legal residents. Given that the union's membership reflects the composition of farm workers generally, most of whom have no papers according to Farmworker Justice, a farm worker advocacy group in Washington DC, it is possible that a majority of the union's members are undocumented.
According to Rodriguez, protesting immigration enforcement is part of defending farm laborers generally, both union and non-union. At the Salinas rally, Rodriguez told workers and supporters "Santos Hilario Garcia and Marcelina Garcia Porfecto, and their six orphaned children, are casualties of the Trump administration's targeting of hard-working immigrant farm workers who toil and sacrifice to feed all of us."
---

Stephen Miller's Former Rabbi Speaks Out About Trump's Adviser and Immigration
Co-published by International Business Times
Before Stephen Miller, who is said to be an architect of Trump's zero-tolerance border policy, began espousing far-right views as a teenager, his family belonged to Santa Monica's progressive Temple Beth Shir Shalom.

Co-published by International Business Times
White House speechwriter and senior adviser Stephen Miller did not grow up poor in a rural town, anxious over his father losing a manufacturing job to a trade agreement — a popular origin story for the nativist movement led by Miller's boss, President Donald Trump. Before reportedly devising the plan to separate immigrant children from their parents, Miller, 32, grew up in socially liberal Santa Monica, a beach city that is whiter and wealthier than the rest of the United States.
According to a Los Angeles Times profile, it wasn't a bad economy but the "culturally sensitive environment" that "infuriated and ultimately shaped" a young Miller. High school announcements in Spanish as well as English, for example.
Before he began espousing far-right views as a teenager, Miller's family belonged to liberal places of worship, the Jewish Journal reported, including Beth Shir Shalom, a progressive Reform temple.
"The Judaism that we teach here is a liberal, progressive Judaism based on longstanding, Reform Jewish values. That of course includes respect for all human beings, respect for families and respect for children," Rabbi Neil Comess-Daniels, organizer of a planned Thursday protest against the Miller-Trump policy of separating and detaining foreign children, said in an interview. "The message was clear," he said, and it was the opposite of what Miller espouses today.
What follows is a lightly edited transcript of a phone interview with Comess-Daniels.
---
Capital & Main: As an educator and a man of faith, what lessons do you take from the fact that maybe some of the people you teach grow up to be Stephen Millers? Does that make you hopeless at all?
Rabbi Neil Comess-Daniels: Oh, it doesn't make me hopeless at all. What it continues to underscore is that I have a lot of work to do. We teach people to have respect for other people — by respecting them and respecting their perspectives and their input. I don't really remember anything about Stephen Miller as a kid — I have no recollection of him being part of who we are. That may tell you a lot too, that he sort of kept it under wraps or it wasn't even really developing yet.
But the reality is that when you tell kids their opinion matters, and you take that risk of allowing their perspectives to flow forward, you have to be able to give that respect to them so that they can give it to other people. That may well be part of the lesson that he didn't pick up.
Do you think bigotry, or anti-immigrant sentiment, manifests itself differently in a wealthy, socially liberal environment?
There are people in Santa Monica who have been here quite a while, and people who are here as rather newbies. There is a certain degree of NIMBYism that's going on here, and a certain resistance to growing this little city literally, physically upwards, because it's really the only place it can go, and also to being inclusive of people at many levels of the economic ladder. Those of us who are working on that are doing everything that we can to try to make that happen.
People who have been here for a while and see it as a haven and very nice place to live, they hear of people coming from other economic levels and they get frightened. It's not just xenophobic — in a lot of ways, it comes out racist too. And fear is easily stoked among people. That's what we're experiencing on a national level and it takes a lot to combat it.
I live not too far from Santa Monica and it's my sense that some of these nationally progressive people that live there might support the idea of a wall — around Santa Monica. There was some opposition to even building out the Expo [light rail] Line to the beach for fear it would bring a bunch of people from a different economic class.
I think the progressive work that people try to do has to base itself in the reality that every single one of us is prone to pull inwards and prone to self-select our friends and neighbors. But for the sake of an American model, and a Santa Monica model and an L.A. model that we want for the future, this is something that we have to deal with every day. A future, inclusive America means we're going to have to get comfortable with something else.
White people are going to be a minority, despite this administration's current efforts. Is this the last-gasp backlash of a minority that has, for now, power?
I don't think that this is any kind of a last gasp. We constantly have to be vigilant to make sure that all of our institutions, from the bottom up, are transparent and treat their neighbors, their workers fairly. People need to have a living wage and have a decent standard of living. And like I said, intolerance is very easy to unleash; it's always waiting in the background.
What's happened is that this xenophobia, this racism, this anti-Semitism, has been let loose from the top down and people who have been hanging on to it more secretly have felt bolder over the last two years. But it is going to ebb and flow. It's never going to go away. That's what humanity is, unfortunately.
What is your reaction to a powerful person claiming their reactionary politics are a product of everything you stand for and have done?
You catch me having just seen the movie about Fred Rogers. That happened to him, from Fox News. They went after him for acknowledging the specialness and wonderfulness of each individual, and saying, "that's not America. In America, kids need to earn that — and he's destroying that American value of earning your place in society."
That whole conservative cliche of "everybody getting a merit badge for participation, and that's ruining our children."
Look, I get that. But I'm going to respond the same way [Rogers] did: It's very, very sad. And the kids who grow up under that cloud need my outreach. The baton has been passed to those of us who are going to take care of these kids who are being separated from their parents. I'm involved in creating an action downtown on Thursday morning, a prayer vigil, at the Department of Homeland Security. What we are going to do is just let these people know there are values and perspectives that are deeper and more important than theirs, and we will never go away. We're just not. And we're not going to become them, in terms of their tactics. We're going to hold on to our integrity and do this the right way.
What are you doing in reaction to what is going on in our country?
Number one, sign every petition you can. When you sign a petition, give a small donation to that organization to keep them going. Constantly call your senators and congresspeople, even if they agree with you. They count up those emails and they count up those phone calls.
But also we should march every time there's a march…. We all need to "pray with our legs." We all need to just do something and set that example for our kids and grandkids. That's really, really important, that they pick up this baton.
The other thing is to personalize it. There is this story of a rabbi who was on his deathbed — there's all these stories of rabbis on their deathbeds in literature — and students are gathering around and he's starting to cry and they ask, Why? He says, "Well, when I was a young rabbi, I thought I could make change all over. I tried to do it in our region. I tried to do it in our city. I tried to do it in our little community. I tried to do it in my family. And then I realized I should have started with myself and worked outwards." We need to do that.
Without falling into solipsism.
Right. I know so many people who, unfortunately, have just become cynical about all of this. And I don't blame them. My tradition says when you doubt, climb out of it. We need to climb out of it and get to work. That's again what my tradition teaches: We're not expected to complete the work, but we're not free to desist from doing it.
---
Copyright Capital & Main