Robert Reich's Seriously Funny Crusade to Save Capitalism and America's Middle Class: Part 1
It's two weeks before Thanksgiving, and a crowd of 500 people has filled the Silicon Valley Commonwealth Club to hear former U.S. Labor Secretary Robert Reich discuss a decidedly less than festive topic: How the economy is leaving most Americans behind. The subject, which inspired Reich's latest book, Saving Capitalism, hits particularly close to home here, where uber-rich tech titans coexist with legions of low-wage workers, even as the middle class is increasingly squeezed out of nearby communities like Redwood City and Milpitas by ever-rising housing prices.
But Reich has no intention of bludgeoning his audience with bleak statistics and grim predictions. "As you can see, the economy has worn me down," says the 4-foot-11-inch Reich, pausing as laughter spreads across the room. "Really, before the Great Recession I was, you know, 6 foot 2."
Moments earlier, when I met Reich in an empty banquet room and asked if he preferred to be called "Professor" or "Bob," he answered in a deadpan voice: "'Your Highness.'" I had traveled from Los Angeles to trail Reich for a couple of days to better understand the man who has become at once the most visible, and most entertaining, critic of the nation's unequal economy.
In an era dominated by polarizing blowhard commentators, Reich is an anomaly: The avuncular scholar who prefers to disarm rather than denigrate.
"He can never be accused of being a zealot," Alan Simpson, the arch-conservative former Republican Senator from Wyoming and one of Reich's best friends, explained to me later. "A zealot is one who, having forgotten his purpose, redoubles his efforts. He is not that. He's a very complex and a very deep, centered human being. And he thinks of human beings who are not doing well, and he gravitates toward, 'How do you solve that?'"
Reich's humor is woven seamlessly into a narrative that is also veined with generous doses of history, a style that, along with his fame, has made him a popular professor at the University of California, Berkeley's Goldman School of Public Policy, where he has been a faculty member since 2006.
"Bob is one of the best explainers out there," said Jared Bernstein, Vice President Joe Biden's former chief economist and who, like Reich, is one of the country's most prominent progressive voices on inequality. "He takes issues that are complicated and multilayered and distills their essence into quick, simple, accurate and entertaining points that make sense to any interested party. Listening to Bob is like watching a master musician or athlete."
As he nears 70, Reich is explaining at a furious pace, with a nonstop output of blog posts, op-eds, videos and lectures. (He has even appeared in an animated video for Capital & Main.) "I don't want to do anything else," he told me the day after the Silicon Valley speech. "This is extremely satisfying. I have the best job in the world."
I was interviewing Reich in his U.C. Berkeley office, where, dressed casually in a blue sweater and gray jeans, he was catching his breath between book tour events. In one corner of the room stood a video camera attached to a tripod, ready to use whenever Reich records messages requested by groups across the country. On a wall hung a frame with Supreme Court Justice Louis Brandeis' famous quote: "We may have democracy, or we may have wealth concentrated in the hands of a few, but we can't have both."
The 35-year decline in wages for most Americans, coupled with the demise of pensions, the escalating cost of housing, rising student debt and a host of other discouraging economic indicators, has led to what Reich and many other observers see as a steady erosion of the American Dream. The 2013 documentary Inequality for All offers a primer on the prolonged tailspin of the American middle class. In the film, director Jacob Kornbluth distills Reich's thoughts about the waning of that dream, making sure to include healthy doses of his subject's trademark humor.
Saving Capitalism expands Reich's critique: It's not just the economic system that is failing us, he argues, but a political system that, in the wake of the Supreme Court's 2010 Citizens United ruling, is controlled more than ever before by the wealthy. In Reich's view, the "free market" is a misleading construct that distracts from the reality that rules govern any market economy — and that in the U.S. those rules are being rewritten to advance the interests of a few rather than the many.
"Anybody who thinks that the answer is found in policy has not been paying attention," he said, revealing a major shift in thinking for a man who has championed his share of policy prescriptions. "Good policies are a dime a dozen. The real issue now is a matter of power. How in the world do you get good policies enacted and enforced?"
Reich's firm belief that fundamental economic change will only come through a sweeping realignment of political power may partially explain the intensity of his crusade against the excesses of contemporary capitalism. As economic inequality has entered the national conversation, he has become to that issue what Al Gore is to climate change – only funnier.
He credits one of his early bosses with teaching him the importance of humor: the late Robert Bork, for whom Reich worked when Bork was Solicitor General in the Ford administration. "He was a lovely man. Very funny," Reich recalled. When Bork came up during the question-and-answer portion of his Silicon Valley appearance, Reich said, "I liked him a great deal. We disagreed, however, on the First, Second, Fourth, Fifth, Eighth and Ninth Amendments to the Constitution, which put a crimp in our working relationship."
Though hardly the lightning rod his old boss was, Reich attracts his share of criticism, some of it quite heated. During an argument over income taxes on ABC's This Week in 2011, conservative commentator George Will fumed, "You are a pyromaniac in a field of strawmen." On the left, Reich has been targeted by fellow economist Paul Krugman, who in one article acidly dismissed his colleague's concerns about economic insecurity among well-paid workers: "Like much of what Reich says, this story is clear, compelling, brilliantly packaged and mostly wrong." (Krugman did write a positive review of Saving Capitalism for the New York Review of Books.)
Reich rolls with the punches. During his Silicon Valley speech, he acknowledged that his new book has raised the ire of both ends of the political spectrum. While on a promotional tour through several red states, he told the Commonwealth Club audience, he found that "nobody liked the title, Saving Capitalism. They were kind of annoyed — 'It sounds like you are being critical. What's wrong with capitalism?' I got back to Berkeley and nobody liked the title. They said, 'Why do you want to save it?'"
Born in 1946 in Scranton, Pennsylvania, a city renowned for its fierce union organizing battles of the early 20th century, Reich grew up in what he describes as a middle-class home. "We weren't rich but never felt poor, and our standard of living rose steadily throughout the 1950s and 1960s," he writes in Saving Capitalism, evoking collective memories of a simpler, more prosperous era. It was a time when his father got ahead by selling women's clothing.
In our interview, Reich added some nuance to his personal story, shedding light on his decades-long effort to change an often unforgiving economy. His dad, now 101, struggled for years with his business, moving it from town to town until things finally improved, in part due to his mother helping out in the shop. "My father worked incredibly hard and I was sensitive to his anxiety about just keeping a roof over our heads and keeping us going," he explained.
Reich and his family also experienced anti-Semitism, further sensitizing him to exclusion from the halcyon promise of mid-century America. And then there was his height – born with a rare genetic disorder that stunted his growth, he was bullied throughout his youth and sought protection from older boys.
I asked Alan Simpson, who now practices law in Cody, Wyoming, why he thought Reich was so driven to address the economic inequities of American society. "It has to do with his upbringing, his background, his philosophy of life," he said.
That philosophy includes respect for those with views different than his own, like Simpson. The two met in Washington, D.C. in the early 1990s, and hit it off right away when the 6-foot-7-inch senator introduced himself at a Beltway mixer, prompting Reich to respond, "I can't even see you," and jump on a chair.
Simpson shared with me a story about visiting Reich shortly after he became Labor Secretary. "I said to my staff, 'I'm gonna go over to see Bob Reich, I'm gonna go eat lunch with him.' And they said, `You don't want to go see Bob Reich, he's a liberal Democrat, for God's sake. He's FDR, you know, he's this and that.' So I said, 'I don't give a damn about that, that's where we're going.' And then one time he told his staff he was going to go over to see Simpson. They said, 'Oh, God, you don't want to go see Simpson. He's a Republican from Wyoming.' He said, 'I don't care what you think about it.' So we would actually meet somewhere and have a tuna sandwich and just have a good time."
(In the late 1990s, while the two men were both living in Boston, they co-hosted a PBS political talk show, The Long and the Short of It, which attracted guests in part because of the congenial relationship between the two. "People loved coming [on] because we weren't playing sharpshooter or talking across each other," Simpson said.)
His tolerance for dissenting ideas notwithstanding, Reich is very much a product of the liberal social movements of the 1960s. Like many from his generation, Reich's idealism was both forged and shaken by the traumatic events of that time. His childhood friend Michael Schwerner was one of three civil rights activists murdered by the Ku Klux Klan in Philadelphia, Mississippi in 1964, and he lost another friend in the Vietnam War. Reich would later intern for Senator Robert F. Kennedy, absorbing his "absolute commitment to a more just society." With the 1968 assassinations of Kennedy and Martin Luther King Jr., and with American cities erupting in flames, Reich began to sink into despair. "I thought the country was going to hell," he admitted.
But Reich's innate optimism and buoyant temperament have carried him through several decades of generally bad news for the middle class that he sees as the linchpin of the country's economic stability and social cohesion. These also sustained him during his years in the Clinton Administration, where he witnessed a brilliant politician slide down the slippery slope of sometimes unprincipled compromise.
"Bill Clinton is a very skillful, charming man, and I learned a lot watching him at close range," observed Reich, who met Clinton when they were on a boat sailing to England as young Rhodes Scholars in 1968. "I learned what skillful politicians do to win people over. I certainly learned that I'm not one, and I also learned how easy it is to confuse means with ends. This is a deep and endemic problem in politics, because a politician is always trading off means and ends. But sometimes those trade-offs are so demanding and persistent that a politician loses sight of what the ends are all together. It all becomes means."
---

Is a Conflict-Minerals Law Helping or Harming African Miners?
A Dodd-Frank rule requires Silicon Valley tech companies and others to reveal whether minerals in their supply chains fund conflicts in Central Africa. Why do some progressives oppose this requirement?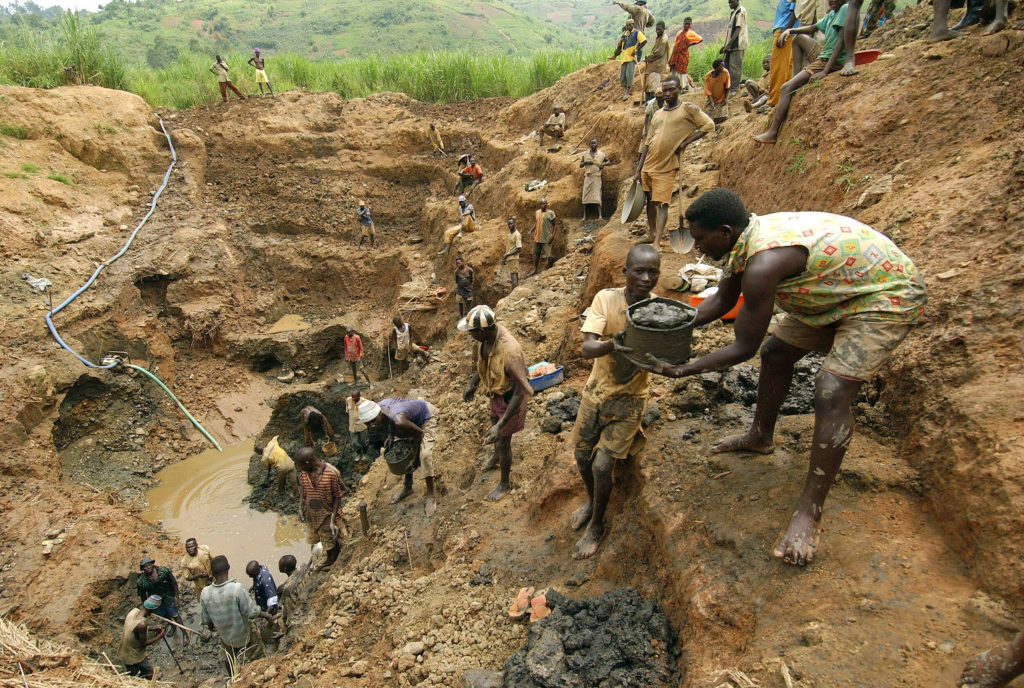 ---
The conflict-minerals law's opponents include progressive journalists and academics who say the rule rests on an overly simplistic analysis of a complex crisis.
---
By the end of next month Intel, HP and more than a thousand publicly traded companies are expected to report to the U.S. Securities and Exchange Commission on whether the minerals in their cellphones, laptops or other products were used to fund armed conflict in Central Africa.
This, despite concerted attempts by the Trump administration and Republicans in Congress to do away with an Obama-era rule that requires them to reveal whether their supply chains include tin, tantalum, tungsten or gold from the Democratic Republic of Congo (DRC) and surrounding countries.
The survival of Section 1502 of the Dodd-Frank Wall Street Reform and Consumer Protection Act may look at first glance like a case of blue-state resistance with California's tech companies—backed by their ethically minded consumers—standing strong against Republicans bent on destroying progressive, forward-looking regulations.
---
"The legislation has actually made the situation worse for these [miners]."
---
"Tech companies are the ones leading the way," says Annie Callaway, deputy director of advocacy at the Enough Project, a Washington, DC-based human rights organization that led the campaign to pass the conflict mineral law. Their due diligence efforts have been among the best arguments against those who say the law is too burdensome, she says.
But the law's opponents include progressive journalists and academics who say the rule rests on an overly simplistic analysis of a complex crisis. Some say it has done more harm than good to Eastern Congolese mining communities, whose livelihoods are already precarious.
The law has deprived "very vulnerable populations, already very poor people, of their sole means of livelihood," says Séverine Autesserre, a political science professor at Barnard College and Columbia University, and a former humanitarian aid worker who studies the DRC. "The legislation has actually made the situation worse for these people."
The law seems to have staying power, nonetheless. Eight years after its passage, tech companies have changed their sourcing practices, making it unlikely that the law's repeal would alleviate companies' concerns about having their products associated with violent militias, supporters and a critic of the measure say.
There are "very strong business reasons" to maintain the relationships and programs connected to Dodd-Frank, according to Michael Rohwer, who worked on conflict minerals for the Electronic Industry Citizenship Coalition, now known as the Responsible Business Alliance.
Companies increasingly recognize the efficiencies as well as the "risk mitigation" benefits, says Rohwer, now with BSR, a non-profit business network focused on sustainability.
The risks of sourcing from the DRC were made clear to companies in 2008 when U.S. human rights organizations launched a campaign that highlighted the role that the minerals found in jewelry and electronics play in funding violence, including sexual violence used as a weapon of war against women and girls, in the eastern DRC.
---
The goals of multinational companies—and their ethically-minded consumers—are not identical to those of any region, war-torn or otherwise.
---
That campaign drafted high profile celebrities, like actors Ben Affleck and Robin Wright, as well as idealistic college students eager to leverage their buying power and social media prowess to help a region that has seen millions die over the last two decades in the deadliest conflict since World War II.
Last fall, the Enough Project, a lead organization in the campaign, released a progress report that ranked the 20 largest jewelry retail and consumer electronics companies—industries that consume the most tin, tantalum, tungsten and gold–on their sourcing practices. Four of the five best performers—in terms of responsible sourcing practices–were Silicon Valley-based tech companies, with Apple securing the lead spot.
Thus far, the rule has withstood a lawsuit brought by the National Association of Manufacturers, a threatened executive order and House legislation aimed at its elimination. (The biggest threat to the rule remains the attachment of a rider to a continuing resolution in Congress, according to Arvind Ganesan of Human Rights Watch.)
The law has also withstood criticism from more than 70 critics who signed an open letter in 2014 that blamed Dodd-Frank for driving some unemployed miners to join militias or to turn to smuggling, and for misunderstanding the cause of the conflict. Last year, a journalist completed a two-part investigative series that found that the law imposed a monopoly on miners that suppressed prices and forced some to trade their wares illegally.
Both the rule's advocates and critics agree that its roll-out was problematic. The DRC's president, Joseph Kabila, instituted a six-month ban on mining shortly after the law was passed in 2010 but before it was implemented. A United Nations Working Paper, published in 2016, attributed a child mortality increase of 143 percent in mining communities to the implementation of the Dodd-Frank conflict mineral rule.
The Enough Project's Callaway argues that most of the criticism of the Dodd-Frank rule relies on information from 2014 and earlier, in the aftermath of its implementation. "Since then, there's been tons of progress," she says. She points out that of miners producing tin, tantalum and tungsten, 79 percent of those surveyed in 2016 by the International Peace Information Society are no longer working under threat of armed groups and that less violence can pave the way for other improvements, "once the conflict is out of the mines."
But "overall, armed presence at mining sites has persisted over the last years in eastern DRC," according to the study by the Belgian International Peace Information Service that Callaway cites. That's because the majority of gold mines – the most important mining sector in the region – remain under the influence of armed actors, even as the tin, tantalum and tungsten mines have seen dramatic reductions in violence, according to the report.
The law has supporters from the region. Representatives from more than a 100 Congolese civil society organizations signed letters in support in of the rule when SEC commissioner Michael Piwowar opened up public comment to explore whether it should be implemented early last year. "The people who are most impacted by these changes are saying please don't mess with this," Callaway said.
Ben Radley, a British doctoral student, who helped make a 2015 documentary sharply critical of the Enough Project, remains a skeptic of the law. But he argues that repealing it would also constitute "a backward step" and a futile one at a time when the DRC and the European Union are creating sourcing standards for mining.
It's very difficult to measure the impacts of the law because information is so hard to come by in the region, adds Radley, who lives in Kinshasa. "The numbers are so easily manipulated from both sides of the debate" because of lack of quality data, he says.
Furthermore, the Dodd-Frank rule is not the only force affecting miners' livelihoods for better or worse. The price of minerals has been falling in recent years. Meanwhile, a U.N. peacekeeping force of 18,000, the world's largest, is stationed in the eastern part of the country.
The laws' critics say there are lessons to be learned for consumers and businesses that want to make a positive difference in the region. Autesserre would like to see Western advocacy groups do a much better job consulting Congolese mining communities as they develop their policy agenda. Radley suggests that advocates focus on labor and human rights issues instead of ensuring products are "conflict free."
The Enough Project's report calls for increased investment in "livelihood projects" on the part of end-user companies doing business in the region. So far, such investment has been inadequate . Apple, Microsoft Corp., Google, Signet and Tiffany contributed a paltry $500,000 toward improvements in Congolese mining communities in the last fiscal year, a mere "rounding error of the more than $3 trillion combined market capitalization of the 20 companies Enough ranked," as the report points out.
Most of the due diligence work conducted by multinational corporations happens outside the DRC, at smelters, the factories that extract the minerals from the ore. Radley says companies would have more credibility if they undertook the more resource-intensive approach of working directly at the mine site, where advocates hope to improve conditions.
Some companies are already moving in that direction. Bloomberg reported in February that Apple is in negotiations to secure cobalt, a mineral used in batteries, directly from miners. Cobalt is not covered under the Dodd-Frank rule, but a 2016 investigation conducted by Amnesty International found cobalt was mined by child laborers.
Still, the goals of multinational companies—and their ethically-minded consumers—are not identical to those of any region, war-torn or otherwise. Perhaps partly with the tangled politics and human rights landscape of Central Africa in mind, Apple pledged last April to one day end its reliance on mining entirely and make products only from renewable resources or recycled material.
That has BSR's Rohwer feeling optimistic. "I'm eager to see more companies get involved in product reuse, repair, refurbishment and recycling," he says. "I think that would be a huge benefit for the tech sector."
---
Copyright Capital & Main