Review: "San Francisco 2.0"
It's hard to imagine now, but there was a time when San Francisco was considered a working-class town. It had always been home to a generous share of bohemians, dilettantes and tycoons, of course – but it had also been the city of unchallenged union power, the general strike and rough-hewn but familial neighborhoods spilling from the Fillmore District to Potrero Hill. It's where even Jack Kerouac worked as a brakeman for Southern Pacific.
"Anyone who disappears," says a character in The Picture of Dorian Gray, "is said to be seen at San Francisco. It must be a delightful city and possess all the attractions of the next world." Generations of Americans in search of reinventing themselves have agreed – along with those simply searching to invent. This latter group of "tech bros, hipsters and yoga yuppies" is the focus of Alexandra Pelosi's 40-minute documentary, currently viewable on HBO TV and its streaming platforms.
San Francisco 2.0 opens with Pelosi, the daughter of House Minority Leader Nancy Pelosi, telling us how her hometown has been invaded and taken over by techies, and she throws in some scenes from Don Siegel's paranoid sci-fi classic, Invasion of the Body Snatchers. ("They're here – you're next!") Pelosi gives us a bare-bones explainer of the problem: Tech startup executives and their well-paid staffs, backed by millions of dollars in venture capital, are gobbling up prime commercial and residential real estate, driving up rents to stratospheric heights, while developers are obligingly building luxury homes and office towers on the debris of old blue-collar neighborhoods such as the traditionally Latino Mission District.
While Pelosi doesn't tell us anything new, she provides a tidy primer in economic inequality, showing us how a service-industry startup like Airbnb can price people out of their rental homes, and how the state's controversial Ellis Act is permitting speculators to throw lifelong residents out of their apartments to make way for a far wealthier class of condo owners.
Because of its short length, Pelosi's documentary comes across as an extended 60 Minutes segment and doesn't probe very deeply into the issues she raises. Still, occasionally it captures the hubris of the new generation of body snatchers who have seized Pelosi's city. "There's no old people or kids in San Francisco," one of her young tech tyrants notes approvingly.
There are noticeable holes, though. Pelosi's chirpy narrative distracts from the seriousness of her documentary and offers only a superficial analysis of the city's complex political culture and its intersection with developer interests. After quickly referencing the city's scruffy Tenderloin District, Pelosi just as quickly moves on – never returning to the neighborhood, as though afraid of it, despite its pivotal role in San Francisco's gentrification wars.
Furthermore, while it is easy for audiences to visualize a tech company as an all-purpose villain, the city's transformation into a playground for the well-off can't entirely be blamed on the tech bros – San Francisco began that metamorphosis in the 1970s. It's no accident that director Philip Kaufman set his 1978 Invasion of the Body Snatchers remake in San Francisco, within a milieu of foodies and the human potential movement.
The city's yawning class divide is partly due to location and geography – it's a stunningly beautiful place but almost an island with no place to build lower-income suburbs. And so, decade by decade, more and more of the city's populations of blacks, Latinos, working- and middle-class whites have been displaced by younger people with more disposable incomes. For a more comprehensive examination of this phenomenon we'll have to wait for another documentary maker to come up with San Francisco 3.0.
The Power of the Poster
Carol Wells, the founder of the Center for the Study of Political Graphics in Los Angeles, talks to Capital & Main about the enduring power of political art.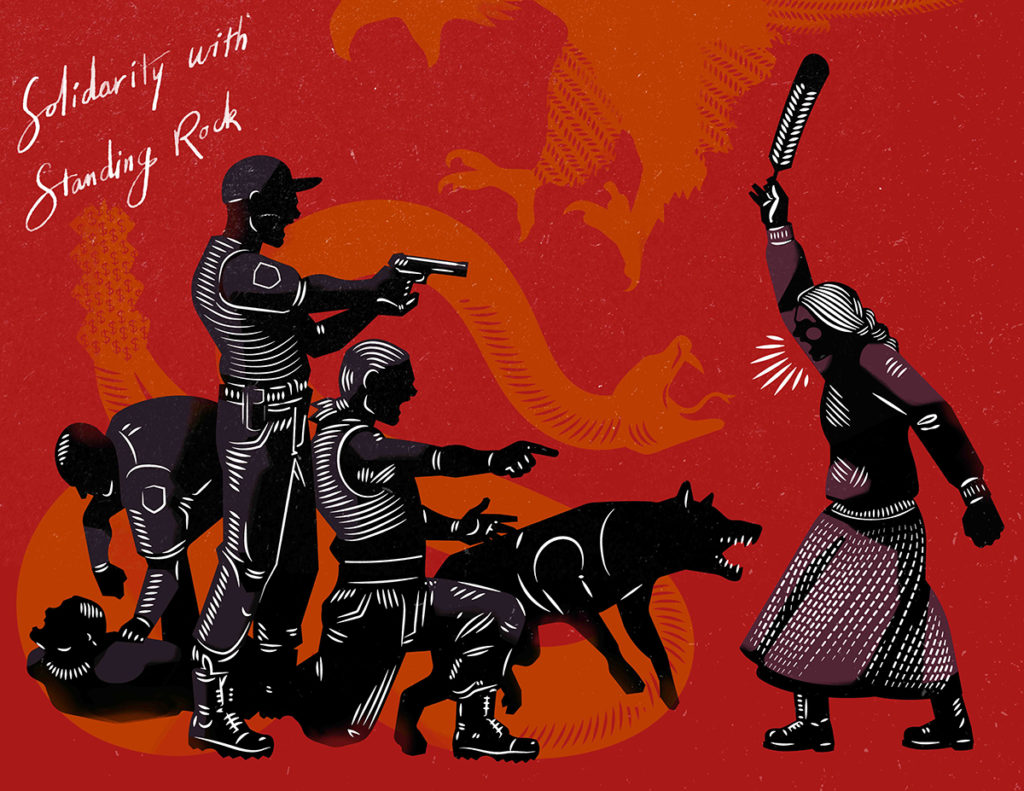 Carol Wells remembers the exact moment she discovered her calling. An art historian at the time, she was on a trip to Nicaragua with her friend David Kunzle, a UCLA art history professor, who was collecting political posters to add to his burgeoning collection. While staying with friends, Wells watched a neighbor's 8-year-old son approach a poster on the wall, stare at it intently, and then start to silently mouth the words. Wells was struck by how engaged the boy was. "In that moment I became obsessed with collecting posters."
Now over 40 years later, Wells is the founder and executive director of the Center for the Study of Political Graphics in Los Angeles. Wells has amassed approximately 90,000 posters, building one of the largest collections of its kind in the world. The Center shares its collection with the public in part through curated exhibits. This year the CSPG has produced Feminae: Typographic Voices of Women by Women and its latest is To Protect & Serve? Five Decades of Posters Protesting Police Violence, running through July 15 at the Mercado La Paloma in downtown Los Angeles.
Since that encounter in Nicaragua in 1981, Wells' obsession with collecting posters hasn't waned. In CSPG's nondescript West L.A. office space, Wells pulls out poster after poster, lecturing passionately on the backstory and cultural impact of each, including one that superimposes text from a New York Times interview with a shocking image of the My Lai massacre ("Q: And babies? A: And babies."). Recently, she managed to sit down with C&M to discuss her passion.
---
Capital & Main: So, you were an art history professor, you happen to see a kid on a trip, and suddenly your life was changed forever?
Carol Wells: Yeah, I'm in Nicaragua alone in the living room with this kid. He's looking around, and all of a sudden, he sees the poster. It was pretty big, bright green, a thick outlines of a woman holding a big basket of coffee beans. And the text in Spanish said, "In constructing the new country, we are becoming the new woman." I see him walk over to the poster and I'm watching him mouth the words. It was a pretty sophisticated concept, so I doubt he figured it out. But I literally had this epiphany: "Oh my God. That's how posters work." You're going about your daily life, and all of a sudden something breaks through the bubble, and it grabs your attention. It's the graphic, it's the color, it's the combination, and it pulls you out of your head and into that poster and it makes you ask a question. "Why is this here? What is this about? What does this mean?" And every time you ask a question, you're a different person than you were before you asked the question.
How many posters do you get a year?
We get between two to five thousand a year donated from all over the world. The bulk of our collection is [from] 1945 and later.
I assume technology has probably hurt the art form, but has it helped get the messages out?
Most people think that, and it's actually not true. Since the internet age started, there's actually a poster renaissance of works on paper. Because you can't walk with your computer monitor in a demonstration. You can't plant your monitor on your lawn.
And you can't put a laptop on the wall…
Exactly. You want to hear a really great story? Truthdig.org published a cartoon [made by] a political cartoonist named Mr. Fish. It was during the Arab spring, and he had superimposed Che Guevara with the stylized beard and King Tut's face, but it had Che's beret. And it [was titled], "Walk like an Egyptian." So, it was a reference to the music, but [it was also] a reference to what was going on the streets of Cairo. I sent it out as our poster of the week to 9,000 people. The very next day, somebody took a photograph on the street of Cairo, with somebody holding a piece of paper with that image on it. A poster can literally go around the world and people will print it out.
What struck me in viewing your exhibits is how many of these posters could still be used today, not only artistically but also, sadly, in the timeliness of their messages.
We had this fabulous poster by Yolanda Lopez, a Bay Area artist, which she first did in 1978. It depicts a young man in Aztec garb pointing a finger like Uncle Sam saying, "Who's the illegal alien, PILGRIM?" And it's a great poster, it's simple, not too many words, funny, provocative. So, we had an exhibit at UCLA in the mid '90s and there were 4 or 5 high school students standing around this poster saying, "Wow, you've got posters up to the minute." And I went over to them and I said, "Look at the date. This is before you were born."
Is that one of your goals with the exhibitions? To show the evergreen nature of this work?
Absolutely. I mean that's why we did the police abuse exhibition now. It basically goes back five decades. It's 50 years of posters protesting police abuse. Mainly in the United States, but also internationally.
What's the goal for CSPG?
Well the aim right now is really to digitize the collection and get it online. We have 10% of the collection digitized. But the mission is to collect and to document, because stories get lost. All the exhibitions, they're showing massacres, they're showing genocide, they're showing police abuse, they're showing all of these horrible things. And people often ask me, "How can you look at this stuff all day long?" I said, "Because the poster artists are optimists. They believe people can change if they have the information."
Yes, that's the reason why they're doing it, right?
That's why they're doing it, and that's why I'm doing this, because I believe that people can change if they knew the truth.
And what happens 20, 50 years from now?
Well, my goal is to stay independent, because the other option is to become part of the university. Universities, for all the fabulous things that they do, they also censor. We did an exhibition at USC in 1992 on the 500 years since Columbus, and how the legacy of racism and exploitation and genocide continues. And one of the board of trustees was Italian and took [the exhibit] as an affront to Columbus. It really wasn't about Columbus, it was about colonialism. And he ordered it down.
Do you have a favorite poster?
I'm always amazed at the creativity and vision of artists. Every week I'll say, "Oh my God, how do they think of that?" But it's always still going to be the poster I saw that kid trying to figure out. It has to be my favorite one because that one changed my life.
What makes a perfect poster?
The right balance between aesthetics and message. If you only rely on the corporate press, the New York Times and L.A. Times, for your information, you're not going to get the side from the street, from the movement, from the activists. The posters are primary historical documents that are recording the issues that were at the time, and the passions that were at the time, and the divisions that were at the time. You're not going to get it anyplace else.
---
Copyright Capital & Main