Review: "San Francisco 2.0"
It's hard to imagine now, but there was a time when San Francisco was considered a working-class town. It had always been home to a generous share of bohemians, dilettantes and tycoons, of course – but it had also been the city of unchallenged union power, the general strike and rough-hewn but familial neighborhoods spilling from the Fillmore District to Potrero Hill. It's where even Jack Kerouac worked as a brakeman for Southern Pacific.
"Anyone who disappears," says a character in The Picture of Dorian Gray, "is said to be seen at San Francisco. It must be a delightful city and possess all the attractions of the next world." Generations of Americans in search of reinventing themselves have agreed – along with those simply searching to invent. This latter group of "tech bros, hipsters and yoga yuppies" is the focus of Alexandra Pelosi's 40-minute documentary, currently viewable on HBO TV and its streaming platforms.
San Francisco 2.0 opens with Pelosi, the daughter of House Minority Leader Nancy Pelosi, telling us how her hometown has been invaded and taken over by techies, and she throws in some scenes from Don Siegel's paranoid sci-fi classic, Invasion of the Body Snatchers. ("They're here – you're next!") Pelosi gives us a bare-bones explainer of the problem: Tech startup executives and their well-paid staffs, backed by millions of dollars in venture capital, are gobbling up prime commercial and residential real estate, driving up rents to stratospheric heights, while developers are obligingly building luxury homes and office towers on the debris of old blue-collar neighborhoods such as the traditionally Latino Mission District.
While Pelosi doesn't tell us anything new, she provides a tidy primer in economic inequality, showing us how a service-industry startup like Airbnb can price people out of their rental homes, and how the state's controversial Ellis Act is permitting speculators to throw lifelong residents out of their apartments to make way for a far wealthier class of condo owners.
Because of its short length, Pelosi's documentary comes across as an extended 60 Minutes segment and doesn't probe very deeply into the issues she raises. Still, occasionally it captures the hubris of the new generation of body snatchers who have seized Pelosi's city. "There's no old people or kids in San Francisco," one of her young tech tyrants notes approvingly.
There are noticeable holes, though. Pelosi's chirpy narrative distracts from the seriousness of her documentary and offers only a superficial analysis of the city's complex political culture and its intersection with developer interests. After quickly referencing the city's scruffy Tenderloin District, Pelosi just as quickly moves on – never returning to the neighborhood, as though afraid of it, despite its pivotal role in San Francisco's gentrification wars.
Furthermore, while it is easy for audiences to visualize a tech company as an all-purpose villain, the city's transformation into a playground for the well-off can't entirely be blamed on the tech bros – San Francisco began that metamorphosis in the 1970s. It's no accident that director Philip Kaufman set his 1978 Invasion of the Body Snatchers remake in San Francisco, within a milieu of foodies and the human potential movement.
The city's yawning class divide is partly due to location and geography – it's a stunningly beautiful place but almost an island with no place to build lower-income suburbs. And so, decade by decade, more and more of the city's populations of blacks, Latinos, working- and middle-class whites have been displaced by younger people with more disposable incomes. For a more comprehensive examination of this phenomenon we'll have to wait for another documentary maker to come up with San Francisco 3.0.
A Woman's Art Is Never Done: The Feminae Exhibition
A striking juxtaposition between the past and present courses throughout the small gallery. Celia Blomberg's "International Women's Day March 8" can't help but make one think of 2017's Women's March, which occurred 37 years after the print's first appearance.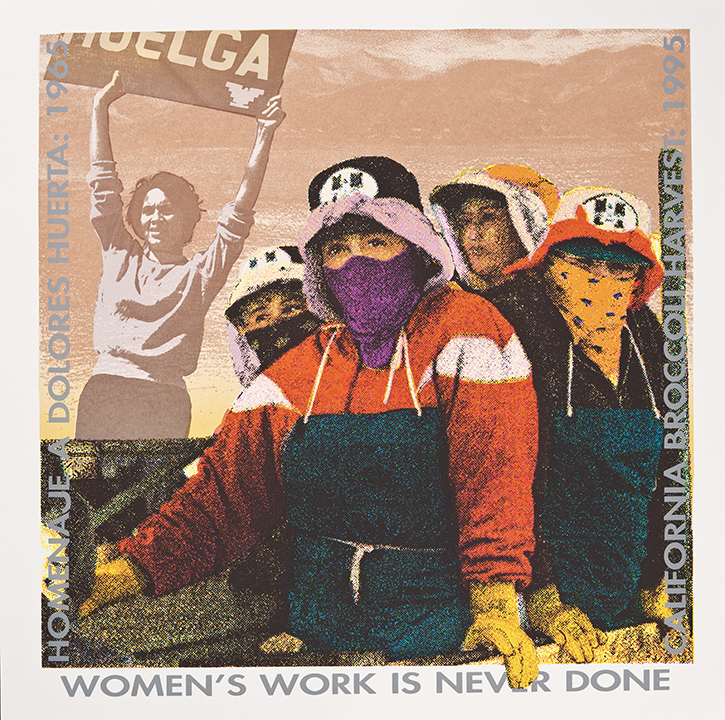 Among the 50-plus works in the Feminae: Typographic Voices of Women By Women exhibit is Yolanda Lopez's "Women's Work is Never Done." Lopez's title is particularly ironic, given the exhibit's gender-based subject matter. The show spans work from the past 50 years, making it easy to understand how much society is still grappling with its themes of gender inequality. Culled from the archives of the Center for the Study of Political Graphics, the graphic images of protest, persuasion and empowerment are truly works of art in their own right.
However, political posters aren't made to merely spruce up walls, but to help figuratively bring barriers down as well.
Two silkscreens from the 1970s, Liliana Porter and John Schneider's "This Woman is Vietnamese" and See Red Woman's Workshop's "So Long As Women Are Not Free People Are Not Free," are particularly powerful, underscoring, as they do, the fact that the subjugation and persecution of women crosses borders and cultures as an unfortunate shared global experience. These two pieces' stark simplicity exemplifies most of the work in the exhibit. In the former, a New York Times photo of a distraught Vietnamese woman with a gun held to her head is centered above these basic words typed out in a typewriter font: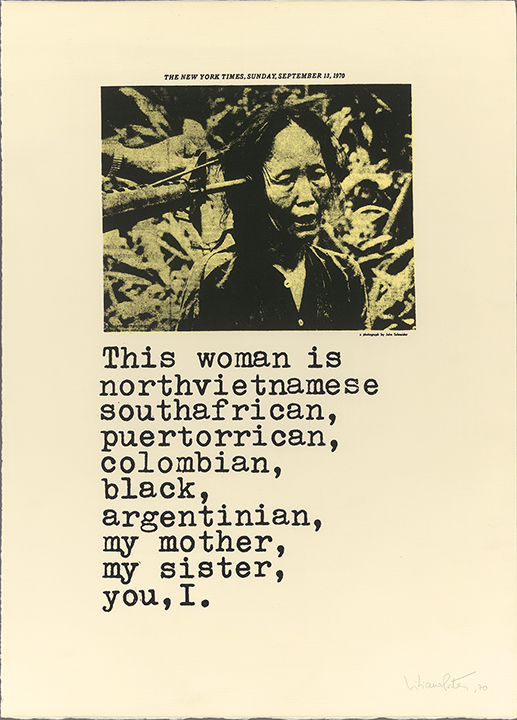 This woman is
northvietnamese
southafrican
puertorrican,
colombian,
black,
argentinian,
my mother,
my sister,
you, I.
By juxtaposing the photo with these words, the creators take the plight of this woman and immediately globalize her pain. In the latter, three female demonstrators are silkscreened in red onto a yellow background. They are marginalized by being stuck in the lower left third of the poster, but two of them are raising their fists skyward and their mouths are open, screaming in defiance. Its non-serif, eponymous type reads: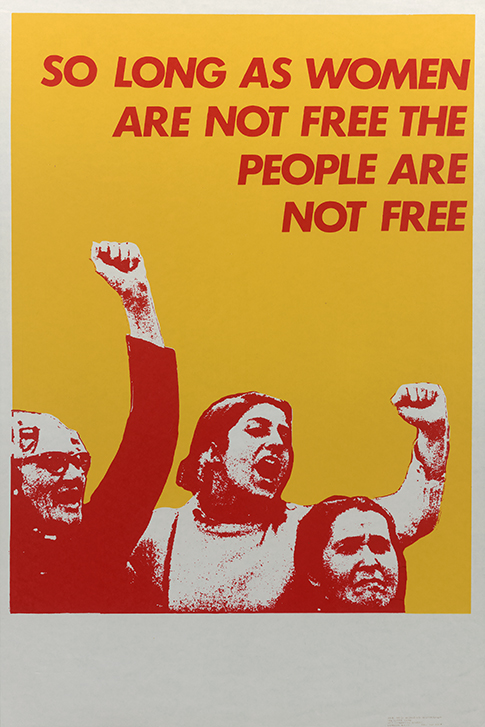 SO LONG AS WOMEN
ARE NOT FREE THE
PEOPLE ARE
NOT FREE
This piece's message takes the global message even farther, making the plight of women a human one — a common theme in the exhibition.
There is also a striking juxtaposition between the past and present that seethes throughout the small gallery. Celia Blomberg's "International Women's Day March 8" can't help but make one think of 2017's Women's March that would take place 37 years later. See Red Woman's Workshop's 1977 "Black Women Will Not Be Intimidated" could easily be repurposed to address the recent spate of blue-on-black brutality. Notable works by Barbara Kruger, Sister Corita Kent and the Guerilla Girls are also included.
Ironically , while it can be surmised that most of these works were made as populist posters to be distributed at the time as banners of protest, their beautiful simplicity and nostalgic elegance probably have resulted in the originals (mostly now found in art museums) sporting hefty vintage-resale prices.
But it is not just the art that has stood the test of time. The fact that the issues addressed in the show — feminism, choice, gender equality, war, immigration, police brutality or violence against women — are all issues at the forefront of debate in 2018 ultimately engenders conflicting feelings.
On one the hand, it is inspiring to see a vibrant exhibit that showcases such diversity in artistic styles, no doubt spawned by the diversity of the artists' own backgrounds. On the other hand, there is a realization that while there has been some progress over the past half century, there is so much work to be done.
Art Center's Hoffmitz Milken Center for Typography, 950 South Raymond Ave., Pasadena; through May 15.
---
Copyright Capital & Main