Return to Sender: Immigration Policy After Supreme Court Ruling
Last month millions of undocumented immigrants were left in legal limbo when a divided U.S. Supreme Court let stand a lower court ruling that had blocked President Barack Obama's executive action on immigration.

Last month millions of undocumented immigrants were left in legal limbo when a divided U.S. Supreme Court let stand a lower court ruling that had blocked President Barack Obama's executive action on immigration. Obama called the 4 to 4 vote "frustrating" and "heartbreaking." He also rebuked Congress over the pervasive gridlock that has stymied meaningful immigration reform and led to his decisions to use executive actions to bring legal relief to the undocumented population.
Here in Los Angeles, the court's decision, which rebuffed the federal government's challenge to the 5th U.S. Circuit Court's appellate ruling in the case of United States v. Texas, was denounced by the Mexican-American Legal Defense and Education Fund's (MALDEF) president and general counsel, Thomas Saenz, who had helped argue the case before the high court.
"I think the decision was shameful," Saenz told Capital & Main. "It's a shameful example of the politicization of our court system."
MALDEF received legal standing in the case after it began representing three intervenors – three Jane Doe mothers who live in the United States without documentation and also have U.S.-citizen children.
"Texas and the other states are acting out their political disagreements with the Obama administration in court, at the expense of the immigrant population," Saenz said.
At the heart of this case were Obama administration decisions to use executive orders to institute two programs to help undocumented but otherwise law-abiding immigrants, by reducing deportation threats and enabling them to work here legally.
The first program began in 2012, when Obama issued an order creating the Deferred Action for Childhood Arrivals (DACA) program. It was aimed at noncitizens who came to the U.S. before the age of 16, and have lived in the country for at least five years. DACA allows individuals meeting that criteria to step forward, pass a legal background check, pay a fee, apply for the program and if they are approved, get a work permit that must be renewed every two years.
"Young people who apply and are accepted can stay in the country legally, and it protects them against deportation," explained Angelica Salas, executive director of the Coalition for Humane Immigrant Rights of Los Angeles (CHIRLA). "But you must be at least 15 years old to apply."
CHIRLA provides low- and no-cost legal assistance to young people applying to the DACA program. Salas said the fees paid by DACA enrollees are close to $500 and must be paid every time their DACA status is renewed.
However, DACA does not provide any legal protections to undocumented parents, pointed out Alvaro Huerta, a staff attorney at the National Immigration Law Center (NILC) in Los Angeles.
"Parents of DACA enrollees can be deported if they are here illegally," Huerta said. NILC attorneys, including Huerta, worked on a friend of the court (amicus) brief filed as part of the government's appeal.
In 2014, Obama issued his second executive order, creating the Deferred Action for Parents of Americans and Lawful Permanent Residents (DAPA) program.
This program would have protected many of the estimated five million undocumented parents of U.S. citizens and legal residents by shielding them from deportation, while enabling them to pass a background check, pay a fee and apply for a three-year work permit.
The 2014 executive order would also have expanded the DACA program.
"It would have removed the age cap," Salas said. "Right now you have to apply for DACA before you reach 31. It would also have eliminated the total cap on applicants, which was about 800,000 nationwide. And it would have enabled DACA recipients to get three-year work permits instead of two-year ones."
The new executive order was scheduled to take effect in February 2015, but Texas filed suit, claiming it would suffer a serious financial injury because the state subsidizes driver's licenses and the creation of DAPA and expansion of DACA would cause Texas to massively increase those subsidies. Texas also accused the Obama administration of unconstitutional executive overreach, alleging the two immigration policies violated a federal law that sets forward procedures for how federal agencies establish regulations.
The U.S. government vehemently challenged the issue of drivers license subsidies, claiming the Texas subsidies were voluntary. It also argued that immigration regulations were the purview of federal authorities, and the federal government had a right to issue regulations related to its discretionary enforcement of its deportation powers.
The case was initially filed on behalf of Texas and 16 other states in U.S. District Court in Brownsville, Texas; eventually nine more states signed on, for a total of 26.
United States v. Texas would eventually be heard twice by a three-judge panel in 5th U.S. Circuit Court of  Appeals, and twice the U.S. government lost 2-1. The Obama administration could have requested a hearing before the full 5th Circuit but pressure was mounting to get the case to the Supreme Court because the end of the administration was in sight.
And now the Supreme Court's deadlock has affirmed the injunction without setting any precedent, which means the case can be heard again. In the meantime, it will likely be returned to sender. Saenz and Huerta both lamented the fact that the Supreme Court tie vote provided no direction to the lower courts on how to proceed.
So where do things go from here? It appears the battle to lift the lower court's injunction will be fought on two fronts.
On a political level, Huerta said, progressive groups – particularly immigrant rights organizations — need to redouble their efforts to get out the vote this November, put more pressure on Congress to enact a comprehensive immigration reform bill, elect a new Congress and help get millions of lawful permanent residents to apply for citizenship, so they can begin voting and flex their political muscle.
On the legal front, Saenz said that the U.S. government and MALDEF have until the middle of July to file a motion for a rehearing before the Supreme Court.
Saenz said discussions are underway between the case's parties, and either side can request the rehearing, but no decision has been reached.
If a rehearing is requested and accepted by the Supreme Court, it would effectively freeze the case in place and nothing would happen until the court takes action.
"And who knows how long that would be?" Saenz said. "The court works at its own pace."
Even if the court agreed to a rehearing, according to Saenz, the earliest it could happen would be during the court's next session, in October.
"But since this court decision ended in a tie, it doesn't make sense to have a rehearing until a new justice is confirmed, and that's unlikely until after the election in November," Saenz said, referring to a future replacement for Associate Justice Antonin Scalia, whose death last February set the stage for the court's current ideological stalemate.
In the meantime, the case will probably land back in Texas. There, the government and MALDEF can petition to have the original judge reverse himself, which again is unlikely.
Otherwise, the case could be settled by a summary judgment or a trial, and that decision would then be appealable back to the 5th Circuit and start the process all over again.
What could make a real difference, Saenz said, is if one of the 26 states that is now a plaintiff in the suit withdraws from the case, or if another state that is not part of the suit, like California, petitions the court to become an intervenor in the case, and if granted, then petitions to be exempted from the nationwide injunction.
"Citizens can petition California's governor and attorney general to join the suit as an intervenor in conjunction with the federal government and MALDEF," Saenz said. "But it's going to take a lot of conversation and some pressure to make that happen."
---
Jim Crogan is a Los Angeles-based writer and investigative reporter.
Rick Scott Super PAC Donations Challenge Federal Anti-Corruption Rule
Co-published by Fast Company
The Florida governor led a group that raked in cash from Wall Street firms after Scott's administration gave them pension deals.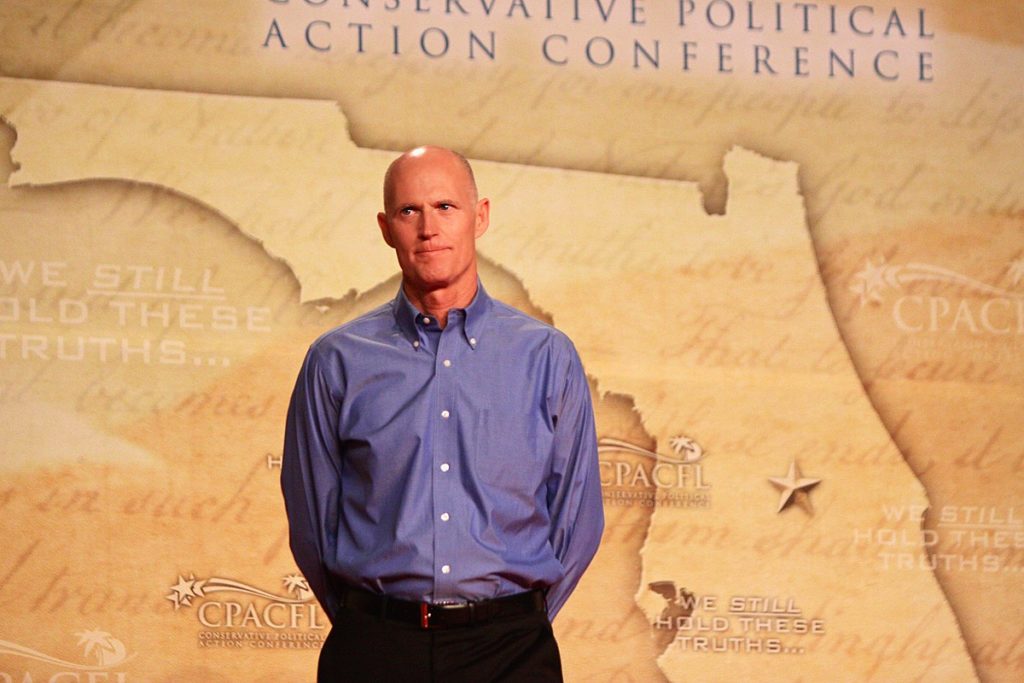 Co-published by Fast Company
A super PAC led by Florida Gov. Rick Scott raked in donations from two private equity executives after Scott's administration directed lucrative state pension investments to their firms, according to government records reviewed by MapLight and Capital & Main.
The donations were made to a committee that's now supporting Scott's U.S. Senate bid, despite a federal rule designed to prevent financial firms from bankrolling the election campaigns of public officials who oversee state pension investments.
Scott, a Republican, began chairing the New Republican PAC in May 2017 and announced his former campaign manager would serve as its executive director. Soon after, the group received $5,000 from New Mountain Capital Chief Executive Officer Steve Klinsky and $50,000 from Energy Capital Partners founder Douglas Kimmelman.
The contributions flowed to the super PAC after New Mountain Capital and Energy Capital Partners received a combined $250 million worth of new investment commitments from Florida's state pension system in 2014 and 2015. Scott is one of three state officials who oversee the $160 billion pension system. During the most recent fiscal year, the Florida investments generated more than $3 million in fees for the firms.
A 2010 Securities and Exchange Commission (SEC) rule prohibits firms from receiving investment fees from public pension systems if their executives donate campaign cash to pension overseers like Scott. SEC officials aimed to prevent investment decisions from being shaped by political influence.
But the commission didn't explicitly bar donations to "independent" political groups, unless the donations were deliberately designed to circumvent the restrictions. And it hasn't addressed whether a state official can lead a super PAC that received donations from firms with pension business and later be supported by the super PAC.
John Kuczwanski, a spokesperson for the Florida State Board of Administration, told MapLight/Capital & Main that Florida's first investments in the two private equity firms happened in 2005 and 2009, and he said Scott had nothing to do with new investments during his governorship, which started in 2011.
"The [state's] initial relationships with both managers predate Governor Scott's time in office," said Kuczwanski, whose agency manages the day-to-day operations of the pension system. "Neither the trustees, nor their appointed investment advisory council members are involved in the investment manager/fund selection process."
Scott's campaign and the super PAC did not respond to questions from MapLight/Capital & Main. New Mountain Capital and Energy Capital Partners did not return requests for comment.
Energy Capital recently completed the purchase of Calpine, whose natural gas power plant near Tampa is regulated by Scott's appointees at the Florida Public Service Commission. Kimmelman, who is now a director of Calpine, also donated $35,000 in 2017 to the National Republican Senatorial Committee, which is backing Scott's Senate campaign.
"A Very Clear Case"
Under the SEC rule — which GOP state parties have tried to overturn — investment executives are not prohibited from donating to independent political groups. But the rule allows regulators to apply restrictions to donations that are deliberately routed through third parties in order to support public officials — a situation that critics argue is happening with Scott and his super PAC.
After the governor announced his Senate bid last week, New Republican PAC's website began promoting his candidacy. End Citizens United, a Democratic-leaning political action committee based in Washington, DC, filed a complaint alleging that Scott has violated Federal Election Commission rules and is using the super PAC, which can accept unlimited donations, to evade contribution limits. Scott's campaign says he stepped down as New Republican PAC's chair in February.
In writing the original rule, SEC officials noted that while they could not restrict all donations to political action committees, contributions to third parties "may effectively operate as a funnel to the campaigns of the government officials." They said the final rule "prohibits acts done indirectly, which, if done directly, would violate the rule."
One ethics expert said that those anti-circumvention provisions should apply to the donations to Scott's super PAC.
"This appears to be a very clear case of close coordination and circumvention of the pay-to-play rule," said Craig Holman, an ethics lobbyist at the government watchdog group Public Citizen. "This is something that I'd like the SEC to pay attention to."
"No Loopholes"
The SEC has only occasionally enforced the pay-to-play rule, and the agency hasn't applied the provisions dealing with third parties to donations to super PACs. Because Scott is a sitting governor who can influence pension investments, he is covered by the rule, which has hampered the fundraising of past governors who tried to run for federal office.
A spokesman for former Texas Gov. Rick Perry's presidential campaign said the rule prevented him from raising enough money to be competitive in the 2012 race. Bloomberg reported that during the same election cycle, then-New Jersey Gov. Chris Christie was rejected as the vice presidential nominee, partly because Republicans feared the rule would prevent them from raising money from Wall Street firms that do business with his state's pension system.
"There is no way around it, and there are no loopholes," said Bill Palatucci, Christie's longtime advisor.
Even so, in recent years the rule has not deterred financial executives from donating to groups that help lawmakers who can influence pension investments. Financial executives whose firms received New Jersey and New Mexico investments continued to donate to the Republican Governors Association (RGA) when Christie and New Mexico Gov. Susana Martinez led the group. During the 2016 election cycle, executives at firms managing state pension money donated nearly $1.3 million to the GOP association, even as the group boosted the campaigns of Republican governors with power over state pension investments.
Last year, U.S. Sen. Tom Udall, D-N.M., called for the SEC to apply the pay-to-play rule to outside groups "to ensure that no one is able to circumvent these laws by using super PACs, dark money groups or other campaign spending vehicles." The RGA has argued that because it funds multiple candidates and does not allow donors to earmark contributions for particular races, it can accept donations from firms with investment business that can be influenced by individual governors. The SEC said in 2016 that donations to outside political groups "are independent expenditures that do not trigger" the rule.
"So long as the PAC faithfully observes the requirement to operate independently of candidates, a contribution to a super PAC will not trigger the [rule], even if the super PAC supports a covered official," Sam Brown, a former advisor to Federal Election Commissioner Ellen Weintraub, wrote in 2016. "Super PACs are increasingly being used in novel ways, and it remains to be seen whether these changes will result in increased circumvention risks."
---
This story is a collaboration between MapLight and Capital & Main.