Return to Sender: Immigration Policy After Supreme Court Ruling
Last month millions of undocumented immigrants were left in legal limbo when a divided U.S. Supreme Court let stand a lower court ruling that had blocked President Barack Obama's executive action on immigration.
Last month millions of undocumented immigrants were left in legal limbo when a divided U.S. Supreme Court let stand a lower court ruling that had blocked President Barack Obama's executive action on immigration. Obama called the 4 to 4 vote "frustrating" and "heartbreaking." He also rebuked Congress over the pervasive gridlock that has stymied meaningful immigration reform and led to his decisions to use executive actions to bring legal relief to the undocumented population.
Here in Los Angeles, the court's decision, which rebuffed the federal government's challenge to the 5th U.S. Circuit Court's appellate ruling in the case of United States v. Texas, was denounced by the Mexican-American Legal Defense and Education Fund's (MALDEF) president and general counsel, Thomas Saenz, who had helped argue the case before the high court.
"I think the decision was shameful," Saenz told Capital & Main. "It's a shameful example of the politicization of our court system."
MALDEF received legal standing in the case after it began representing three intervenors – three Jane Doe mothers who live in the United States without documentation and also have U.S.-citizen children.
"Texas and the other states are acting out their political disagreements with the Obama administration in court, at the expense of the immigrant population," Saenz said.
At the heart of this case were Obama administration decisions to use executive orders to institute two programs to help undocumented but otherwise law-abiding immigrants, by reducing deportation threats and enabling them to work here legally.
The first program began in 2012, when Obama issued an order creating the Deferred Action for Childhood Arrivals (DACA) program. It was aimed at noncitizens who came to the U.S. before the age of 16, and have lived in the country for at least five years. DACA allows individuals meeting that criteria to step forward, pass a legal background check, pay a fee, apply for the program and if they are approved, get a work permit that must be renewed every two years.
"Young people who apply and are accepted can stay in the country legally, and it protects them against deportation," explained Angelica Salas, executive director of the Coalition for Humane Immigrant Rights of Los Angeles (CHIRLA). "But you must be at least 15 years old to apply."
CHIRLA provides low- and no-cost legal assistance to young people applying to the DACA program. Salas said the fees paid by DACA enrollees are close to $500 and must be paid every time their DACA status is renewed.
However, DACA does not provide any legal protections to undocumented parents, pointed out Alvaro Huerta, a staff attorney at the National Immigration Law Center (NILC) in Los Angeles.
"Parents of DACA enrollees can be deported if they are here illegally," Huerta said. NILC attorneys, including Huerta, worked on a friend of the court (amicus) brief filed as part of the government's appeal.
In 2014, Obama issued his second executive order, creating the Deferred Action for Parents of Americans and Lawful Permanent Residents (DAPA) program.
This program would have protected many of the estimated five million undocumented parents of U.S. citizens and legal residents by shielding them from deportation, while enabling them to pass a background check, pay a fee and apply for a three-year work permit.
The 2014 executive order would also have expanded the DACA program.
"It would have removed the age cap," Salas said. "Right now you have to apply for DACA before you reach 31. It would also have eliminated the total cap on applicants, which was about 800,000 nationwide. And it would have enabled DACA recipients to get three-year work permits instead of two-year ones."
The new executive order was scheduled to take effect in February 2015, but Texas filed suit, claiming it would suffer a serious financial injury because the state subsidizes driver's licenses and the creation of DAPA and expansion of DACA would cause Texas to massively increase those subsidies. Texas also accused the Obama administration of unconstitutional executive overreach, alleging the two immigration policies violated a federal law that sets forward procedures for how federal agencies establish regulations.
The U.S. government vehemently challenged the issue of drivers license subsidies, claiming the Texas subsidies were voluntary. It also argued that immigration regulations were the purview of federal authorities, and the federal government had a right to issue regulations related to its discretionary enforcement of its deportation powers.
The case was initially filed on behalf of Texas and 16 other states in U.S. District Court in Brownsville, Texas; eventually nine more states signed on, for a total of 26.
United States v. Texas would eventually be heard twice by a three-judge panel in 5th U.S. Circuit Court of  Appeals, and twice the U.S. government lost 2-1. The Obama administration could have requested a hearing before the full 5th Circuit but pressure was mounting to get the case to the Supreme Court because the end of the administration was in sight.
And now the Supreme Court's deadlock has affirmed the injunction without setting any precedent, which means the case can be heard again. In the meantime, it will likely be returned to sender. Saenz and Huerta both lamented the fact that the Supreme Court tie vote provided no direction to the lower courts on how to proceed.
So where do things go from here? It appears the battle to lift the lower court's injunction will be fought on two fronts.
On a political level, Huerta said, progressive groups – particularly immigrant rights organizations — need to redouble their efforts to get out the vote this November, put more pressure on Congress to enact a comprehensive immigration reform bill, elect a new Congress and help get millions of lawful permanent residents to apply for citizenship, so they can begin voting and flex their political muscle.
On the legal front, Saenz said that the U.S. government and MALDEF have until the middle of July to file a motion for a rehearing before the Supreme Court.
Saenz said discussions are underway between the case's parties, and either side can request the rehearing, but no decision has been reached.
If a rehearing is requested and accepted by the Supreme Court, it would effectively freeze the case in place and nothing would happen until the court takes action.
"And who knows how long that would be?" Saenz said. "The court works at its own pace."
Even if the court agreed to a rehearing, according to Saenz, the earliest it could happen would be during the court's next session, in October.
"But since this court decision ended in a tie, it doesn't make sense to have a rehearing until a new justice is confirmed, and that's unlikely until after the election in November," Saenz said, referring to a future replacement for Associate Justice Antonin Scalia, whose death last February set the stage for the court's current ideological stalemate.
In the meantime, the case will probably land back in Texas. There, the government and MALDEF can petition to have the original judge reverse himself, which again is unlikely.
Otherwise, the case could be settled by a summary judgment or a trial, and that decision would then be appealable back to the 5th Circuit and start the process all over again.
What could make a real difference, Saenz said, is if one of the 26 states that is now a plaintiff in the suit withdraws from the case, or if another state that is not part of the suit, like California, petitions the court to become an intervenor in the case, and if granted, then petitions to be exempted from the nationwide injunction.
"Citizens can petition California's governor and attorney general to join the suit as an intervenor in conjunction with the federal government and MALDEF," Saenz said. "But it's going to take a lot of conversation and some pressure to make that happen."
---
Jim Crogan is a Los Angeles-based writer and investigative reporter.
California Workers and Retirees Are Unwittingly Financing an Anti-Rent-Control Campaign
Co-Published by The Guardian and MapLight
Blackstone is quietly funneling investors' money into its campaign against Proposition 10.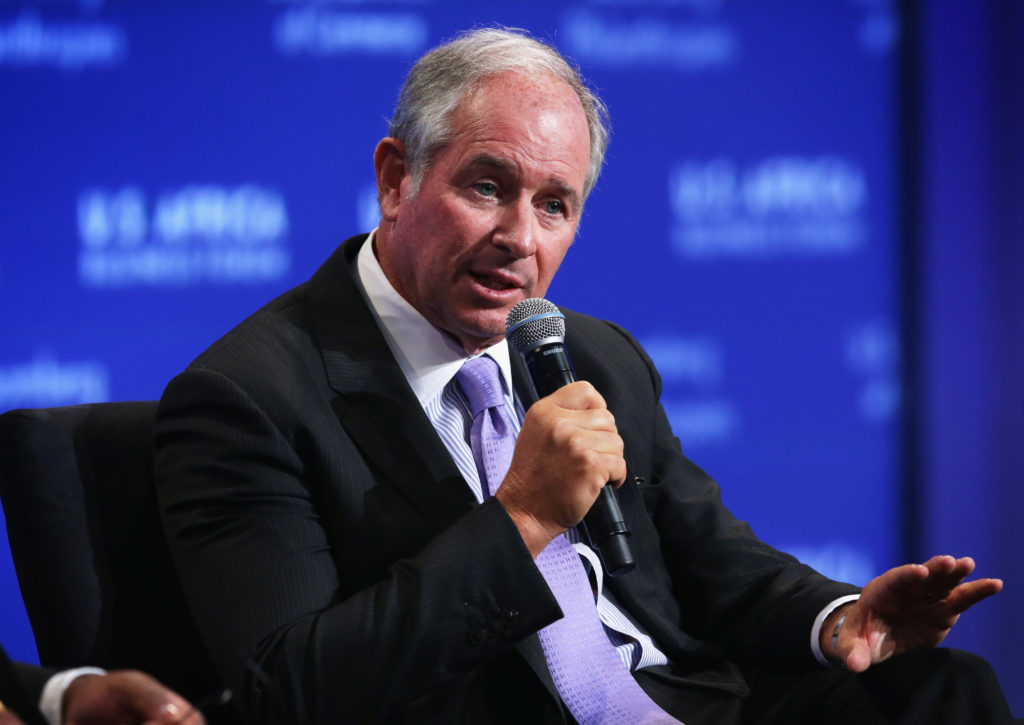 ---
Blackstone contributions did not come from the firm's corporate treasury, but from investors: Dozens of state and local pension systems, and public university endowments.
---
Co-Published by The Guardian and MapLight
When San Francisco's local government endorsed a state ballot initiative to permit rent control measures earlier this month, it appeared to be a victory for housing rights advocates in a city where stratospheric prices have sown social unrest and class animosity. The measure has found similar support from other California cities and unions representing public employees who can't afford to live in cities where they work.
Those advocates, however, may be unwittingly financing the opposition to the rent control measure. Documents reviewed by Capital & Main and MapLight reveal that a private equity giant with ties to President Donald Trump has boosted the campaign to defeat Proposition 10 with money taken from real estate investments funded by California public employees and the state university system.
Campaign finance records show entities controlled by private equity giant Blackstone have been among the biggest sources of cash for opponents of the ballot measure. More than $5.6 million has come from a Blackstone holding company and four of its  investment funds.
But unlike typical corporate political donations, the Blackstone contributions didn't come from the firm's executives or its corporate treasury. Instead, they came from pools of capital from investors, which include dozens of state and local pension systems, as well as public university endowments. The move has been described as the equivalent of mutual fund executives taking money out of customers' accounts to make political contributions.
In effect, Blackstone's maneuver means the opposition to the rent control initiative is being bankrolled by everyone from San Francisco municipal workers to university employees to public school teachers — all of whose retirement savings are in the Blackstone funds that have been tapped for the Proposition 10 fight.
"What we have is the largest Wall Street landlords in the country who are the very people profiting off of the housing crisis leading the opposition to Proposition 10," said Amy Schur, the campaign director for the Alliance of Californians for Community Empowerment, which supports the ballot measure. "It's adding insult to injury that they're using the pension funds' dollars of hard-working families to beat back an essential policy to provide relief to working families."
Michael Bustamante, a spokesman for a committee opposing Proposition 10, didn't answer questions about Blackstone's contributions. He said the measure is a "bad public policy that will make it harder for those looking for a safe, affordable place to live and is a perfect example of a well-intentioned law with disastrous consequences."
Blackstone didn't respond to a request for comment.
"Can't Afford a Place to Live"
The rent control initiative was prompted by anger over California's housing costs. The median home price in the state  has topped $600,000, double the national median. Californians pay some of the highest rents in the nation, and retirees have been hit hard.
A coalition of community organizations, tenants rights groups and unions have lined up behind Proposition 10, which would repeal a 1995 state law that blocks municipalities from imposing rent controls on new apartment units or single-family homes.
"In my district, teachers, firefighters and nurses often can't afford a place to live," said U.S. Rep. Ro Khanna (D-CA). "Cities should have the right to provide apartments at affordable rents. Any effort to kill Proposition 10 hurts not just the working class but also undermines the ability of local communities to determine their own destiny."
Opponents of Proposition 10 have cited an analysis from state legislative auditors that said the measure would likely reduce state and local revenues in the long term. The auditors estimated that revenue losses could be "in the hundreds of millions of dollars per year." Critics have also argued that reduced profitability would deter developers from building more housing.
"There is no doubt we need to make housing more affordable for Californians, but Proposition 10 will make our current situation worse, not better, by constricting future development of affordable units," former Los Angeles Mayor Antonio Villaraigosa said last month.
"The Investors Would Have No Idea"
More than $60 million has been donated for the Proposition 10 fight, with most of the money coming from landlords opposed to the measure. Blackstone and its affiliates have donated more than $6.8 million to two organizations opposing the initiative.
Almost $1.3 million has come from Invitation Homes, a Blackstone subsidiary that bought foreclosed single-family homes in the wake of the 2008 financial crisis and converted them to rental properties. Invitation now owns about 13,000 rental homes in California. Invitation tenants have complained of toxic mold, leaks and black widow spider infestations, and some have alleged they're victims of excessive and illegal late payment fees.
Another $5.6 million has come from Blackstone Property Partners, LP; Blackstone Real Estate Partners (VI-VIII); and BREIT MF Holdings LLC. Government records show that the four Blackstone investment funds are controlled by company CEO Stephen Schwarzman, a billionaire Trump ally. The funds have received investments from dozens of state pension systems, local pension funds and public university endowments.
---
---
Real estate funds typically pool institutional investors' cash, use it to buy properties, and return profits from rents and asset sales to the investors. The agreements governing public pension investments — which are usually exempted from open records laws — typically give Wall Street managers wide discretion over investor money. Blackstone appears to be using that latitude to direct investors cash into an election battle.
"Private equity fund investors — pension funds, endowments and others — are limited partners, and these private equity funds are in effect 'blind pools' which afford investors with very proscribed legal rights and with surprisingly little insight into and information about the funds' investments," said Leo Hindery, a New York-based private equity executive. "The investors would have no idea, if some of their money is going into partisan or activist political campaigns."
Blackstone has warned investors they could face losses from "fluctuations in occupancy, rental rates, operating income and expenses" as well as from "changes in legal, fiscal and regulatory regimes," corporate documents show.
Eileen Appelbaum, co-director of the Washington, DC-based Center for Economic and Policy Research, said the donations are likely legal, but she argued that pension managers should steer clear of private equity firms that use retirees' money for political causes.
"It would be bad enough if Stephen Schwarzman and [executive vice chairman] Tony James of Blackstone were spending some of their own billions to oppose legislation that will put a brake on their ability to drive sky-high rents even higher in the Bay Area," Appelbaum said. "But it is unconscionable for them to use millions of dollars taken from properties in which they have invested the retirement savings of police, firefighters, teachers and other public employees to deprive these workers of affordable rents in the communities in which they work."
"There Can Be Some Tension"
Alex Caputo-Pearl, president of United Teachers Los Angeles, said last month that teachers spend as much as half of their salaries on rent. "We need to say enough is enough and implement measures that better protect students, teachers and families. Implementing rent control is a strong first step," he said.
Even so, some of the retirement money those teachers contribute monthly to the California State Teachers' Retirement System (CalSTRS) is invested in the Blackstone funds that are financing the campaign against Proposition 10. Those investments were valued at more than $715 million last year, according to the CalSTRS website.
"As a public entity, CalSTRS does not participate directly in electoral politics," said a CalSTRS spokesperson.
Similarly, San Francisco's board of supervisors last month voted to endorse Proposition 10. But in 2015, the city employees' pension system committed $150 million to a Blackstone fund that has donated to the measure's opponents.
Then there is the University of California system. Proposition 10 was endorsed by the University of California Student Association, which represents student governments at schools throughout the UC system, and by the city government of Berkeley, which is home to one of the largest branches of the UC system.
At the same time, though, the UC Retirement Plan, which provides benefits for university employees, has invested $35 million in the Blackstone funds used to finance the Proposition 10 opposition.
"The University of California does not make donations to political campaigns," said UC spokesperson Dianne Klein. She added that the UC system's Blackstone investments only include a small amount of California real estate.
---
---
In recent years, pension overseers have faced increasing pressure to generate solid returns for retirees while ensuring their investments reflect environmental, human rights and other social values. For example, pension fund managers in New York and Chicago have announced plans to pull investments from private prison companies, citing their impact on poor and minority neighborhoods. New York City pension officials are also attempting to divest from fossil fuels.
Lou Barberini, a former San Francisco police officer whose retirement system has invested in the Blackstone funds, said his fellow retirees should be concerned that Blackstone's move will set a precedent that allows Wall Street firms to use pension money for pet political causes.
"It is morally wrong that they are using our retirement money to fund a political campaign," Barberini said. "It is also a slippery slope. Where does this stop? What if a money manager wants to take our retirement savings and give it to a candidate?
"Once you start taking money out of pensions to fund political campaigns, where do you draw the line?"
---
This story was reported by David Sirota of Capital & Main and Andrew Perez of MapLight. Amari Cowan contributed reporting.
MapLight and Capital & Main's funders include some non-profit groups that have declared their support for Proposition 10. Neither organization has received any funding from any for-profit entities that have a commercial interest in the outcome of the ballot measure.