Report: State's Low-Income Workers Are Falling Behind
"If we're serious about fighting inequality, we need to understand it and track it to see how we're doing," Dr. Annette Bernhardt tells Capital & Main. Bernhardt is the lead author of Low Wage Work in California: 2014 Chartbook, the first of what will be an annual report from the University of California, Berkeley Labor Center. "Our goal was to show that the story of inequality isn't just about the top one percent; it's also about the millions of low-wage workers and their families who struggle with economic insecurity every day."
Bernhardt and co-authors Ian Perry and Lindsay Cattell have assembled a detailed yet accessible profile of California's low-wage workers – those earning less than $13.63 per hour in 2014, which is two-thirds of the state's median hourly wage. A third of California workers, about 4.7 million, fell below that standard last year.
It won't shock Capital & Main readers, but those millions of workers have been falling farther behind – not just compared to the very rich, but compared to everyone above. Despite overall productivity increasing 89 percent since 1979, wages for low-income Californians have fallen by between five and 12 percent during that period.
And without significant changes, the future doesn't look any better. Seven of the 10 occupations projected to grow the most over the next decade are low-wage occupations.
Low-Wage Work, Low-Income Families
"Low-wage workers are older and more educated than 30 years ago, and yet they've seen declining wages relative to the cost of living. This matters because the large majority of low-wage workers are adults and many are working full-time and supporting families," says Bernhardt, pointing out that the average low-wage worker is responsible for 61 percent of his or her families' income, and 43 percent have children (almost half of them are single parents). Women and Latinos are over-represented among low-wage workers, with Latinos making up 56 percent of this group.
While lack of work is certainly a problem for some, the report shows that it's only part of the story. Sixty percent of low-wage workers are employed full time (while another 14 percent would like to work full time), but the average income for that full time work is just $20,400. Forty-eight percent have at least some college education. California workers with a bachelor's degree still face a nearly one-in-six chance of falling into the low-wage group, as do almost three in 10 of those with an associate's degree. Clearly, hard work and education aren't enough for millions of Californians and their families.
The Work Itself
"It won't come as a surprise that restaurants and retailers are the biggest employers of low-wage workers. But we found low-wage jobs in virtually every part of our state's economy," Bernhardt explains.
Nearly three in 10 low-wage workers are employed in two industries: retail trade or restaurants and other food services. However, 19 other industries employ between two percent and six percent of the state's low-wage workers.
Bernhardt also draws our attention in particular to the caregiver sector: "Even though home care and childcare workers do some of the most important jobs by taking care of our loved ones, they're earning just over the minimum wage and often have to rely on government programs to support their own families." The sector is poised to become even more important to the economy, too. Personal care aide is the occupation projected to grow the most in the next decade, with an additional 200,000 expected to have been hired between 2012 and 2022. Six other low-wage occupations make the top ten list for projected growth.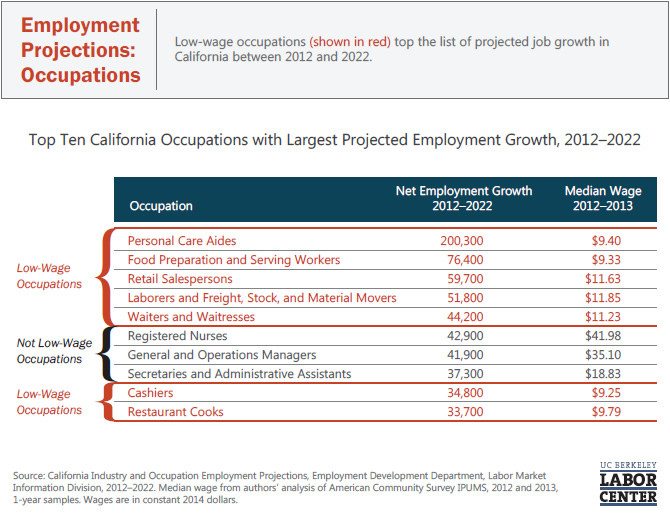 One chart that may surprise people concerns self-employed workers.
"When people hear the term 'self-employed,' they often think of freelance graphic designers or architects with their own businesses," says Bernhardt. "But we found that 43 percent of self-employed workers in California earn low wages, in jobs like landscaping, construction, childcare and beauty salons."
The Geography of Low Wages
The Labor Center included a few interactive maps in the online toolkit. And while they're visually striking, two of the three maps mostly serve to highlight one of the project's few challenges: California's low-wage workers, along with its people in general, are heavily concentrated in a few population centers. In fact, 57 percent of the low-wage workers are found in five Southern California counties. This doesn't make the research wrong by any stretch, but it does limit the usefulness of the data in discussing less populated areas. We have in this study a nuanced profile of low-wage workers in California, but it's a profile that might not fit reality in far northern California or other rural areas that make up less than one percent of the population covered by the report. Expanding the geography section in future editions of the report, to offer county-by-county profiles, either through summary tables or additional interactive maps, would address this nicely.

Causes and Answers
Discussing the causes of rising inequality, Bernhardt notes, "The debate about inequality often focuses on globalization and new technology, but we know that deunionization and the decline of the minimum wage have also played a role. And we're just now beginning to understand the effects of financialization, with its relentless demand for short-term profits rather than long-term investments in workers."
One of the most promising ways to address low-wage work is to raise the minimum wage. While the state's minimum wage has done better than the national standard, it still provides only a very low floor.
"Raising the minimum wage can help make a concrete dent in inequality," Bernhardt says. "The recent wave of proposals at both the city and state level in California stands to affect significant numbers of workers, far more than the incremental adjustments we've seen in the past."
Separate Labor Center studies have estimated the impact of some of the city minimum wages. For example, a new San Francisco minimum wage reaching $15 per hour by 2019 will raise wages for 23 percent of workers. A current Los Angeles proposal of $13.25 by 2017 and $15.25 by 2019 will bring a pay increase to 38 percent and 41 percent of that city's workers, respectively. It is important to note that those impacted include virtually all those cities' workers who are classified as low-wage in the report.
An Excellent Resource
The work that Bernhardt, Perry and Cattell have done should be a boon to those tackling inequality in California. While there isn't too much here to shock those of us familiar with the subject, the study will guide readers to a firm understanding of low-wage California. It also puts a wealth of facts and charts within anyone's reach, which will hopefully help enrich discussions of these issues.
Government Shutdown's Silver Lining: A Corporate Hiring Guru Speaks Out
Co-published by Fast Company
Ending the shutdown won't curtail the hiring opportunities for corporate recruiters, says one expert. It's like divorce: Once you start thinking about leaving, the odds that it will happen go up dramatically.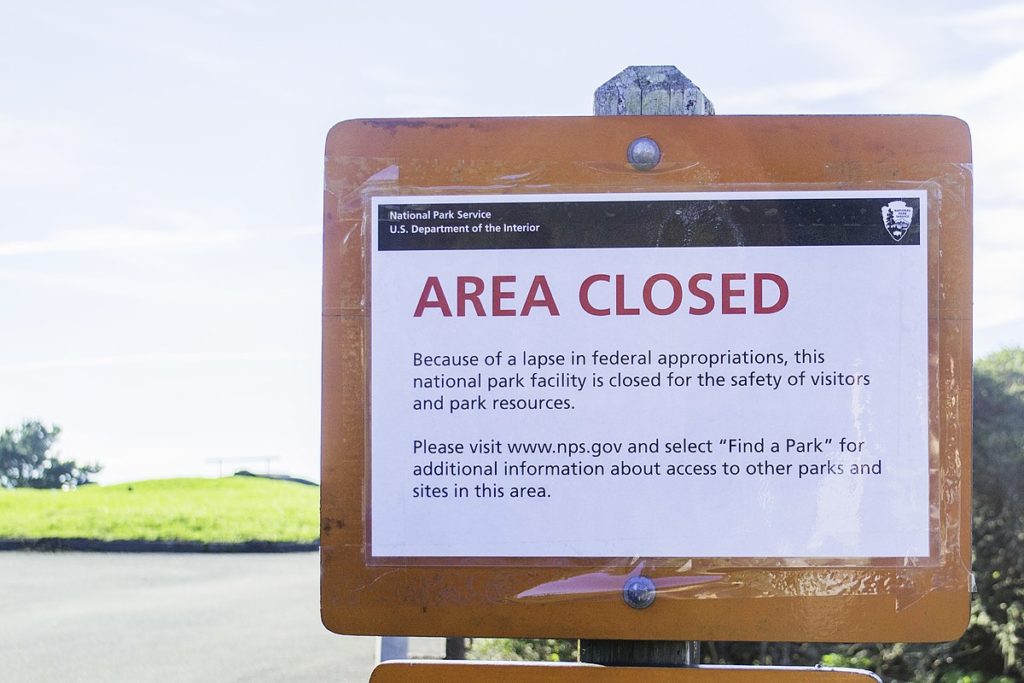 ---
In the new economic climate, even the most mission-driven of federal workers might be forgiven for abandoning the nation's parks, airways and regulatory agencies.
---
Co-published by Fast Company
When the federal government shut down for 16 days in 2013, corporate hiring guru John Sullivan advised companies on how to raid federal government workplaces for talent.
A blog post he penned at the time caused some to charge him with being unpatriotic, he said recently, while others thanked him for the reminder that federal workers were ripe for the plucking.
This time around, the climate is even better for corporations looking to cull staff from a workforce that is already well-trained and also known for its loyalty, Sullivan tells Capital & Main by phone. He describes the current moment—with hundreds of thousands of federal employees forgoing paychecks and, in many cases, sitting at home — as tantamount to "a sale on Black Friday."
---
Congresswoman:  The shutdown could have a long-term impact on the federal government's ability to attract workers with IT skills.
---
"If you've been screaming for the last two years" about the skills-and-talent shortage, "this week there isn't one," says Sullivan, who heads the human resource management program at San Francisco State University's College of Business.
The partial shutdown, that began on December 22 when President Trump failed to secure funding from Congress for his border wall, has impacted employees at a host of federal agencies, including the departments of Agriculture, Commerce, Homeland Security, Housing and Urban Development, Interior, Justice, State, Transportation and Treasury and the NASA.
What makes this particular shutdown so suitable for raiding federal workplaces? It's not just that employee morale has taken a nosedive, thanks to a president who is at war with many of the agencies he oversees. Nor is it only the fact that Trump threatened to keep the government closed for as long as a year, a notion that "really scares people," says Sullivan.
---
With Amazon's opening new offices in the District of Columbia area, three out of four IT workers in DC say they would consider leaving their current jobs for the tech behemoth.
---
It's also the economic climate. Companies are growing. Unemployment is low. Remote work is increasingly an option. Technical advances have made looking for a job easier than it was in 2013. "You can say 'boo' to your phone and apply for a job," adds Sullivan, delivering his matchmaking pitch with such force that even the most mission-driven of federal workers might be forgiven for abandoning the nation's parks, airways and regulatory agencies.
Congresswoman Robin Kelly (D-IL), the ranking member of the House Subcommittee on Information Technology, worried, in a statement last week, that the shutdown would have a long-term impact on the federal government's ability to attract workers with IT skills. The federal government has generally struggled to attract young tech workers, and Amazon's new offices in the District of Columbia area has three out of four IT workers in DC saying they would consider leaving their current jobs for the tech behemoth.
Tech workers — and upper-salaried talent — are not the only employees coveted by the private sector, says Sullivan. Forest Service employees. Coast Guard workers. Transportation and Safety Administration agents. Any unpaid workers could be lured away, especially in states like California and Texas, where economies are strong, he maintains. An employment agency for California's casinos recently put this shout out on Twitter: "Any @TSA employees looking for new opportunities, PTGaming is hiring!" along with the popular hashtag, #shutdownstories.
The shutdown could also prompt federal employees to throw scruples to the wind and step into the infamous revolving door that leads workers from government jobs to the private sector and back again. When Sullivan was advising companies in 2013, he helped firms hire from agencies that regulated them.
"And by the way," asks Sullivan, persisting with his siren song, "if I was a regulator, [with] President Trump eliminating all those regulations, why am I needed? Why not go to the private sector?"
Sullivan, who says he is an underpaid government worker in his own right, is concerned about the public cost of his and others' efforts to lure away the federal government's top talent. The best employees will leave first, and "literally billions" in training dollars will be lost, he predicts.
But he puts the blame squarely on a public sector that undervalues its workers. Corporations that pilfer federal government workforce for talent offer a kind of public service and corrective by demonstrating the price that must be paid "for degrading public service and unnecessarily frustrating federal employees," he wrote in his 2013 post.
Ending the shutdown won't curtail the hiring opportunities for corporate recruiters, says Sullivan. "It's like divorce. Once you start thinking about [leaving], the odds [that it will happen] go up dramatically."
---
Copyright Capital & Main