Remembering Stuart Timmons
Gay historian, activist and kindhearted bohemian bon vivant, Stuart Timmons passed away peacefully on a recent Saturday morning, not long after recovering from a bout with pneumonia.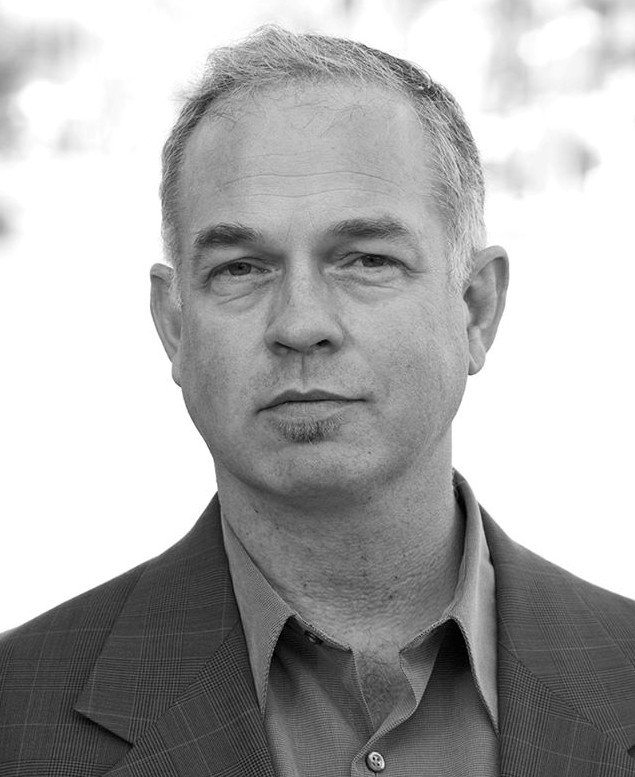 Stuart Timmons photo by Martin Cox
Gay historian, activist and kindhearted bohemian bon vivant, Stuart Timmons passed away peacefully on a recent Saturday morning, not long after recovering from a bout with pneumonia. Timmons had struggled physically for most of the last decade after a debilitating stroke left him cognizant but bodily disabled. He was 60.
As a writer and historian, Timmons authored two major works of nonfiction. The first of these was The Trouble With Harry Hay: Founder of the Modern Gay Movement (1990), the definitive biography of gay rights and gay consciousness pioneer Harry Hay. Timmons' next work, Gay L.A.: A History of Sexual Outlaws, Power Politics, and Lipstick Lesbians (2006), co-authored with Lillian Faderman, traced the history of LGBT Angelenos from the Native American era to the fight for gay marriage. It received two Lambda Literary Awards in 2007 and has played a major role in the Los Angeles' 21st-century cultural renaissance.
What made Timmons unique was that he was never an academic historian – his work was profoundly experiential and had the vitality, humor and honesty often so lacking in scholarly texts. He was one of those authors who lived the history he wrote about, and had a true passion for it. He had met Harry Hay while a student at the University of California, Los Angeles, where he'd gone to study film and journalism after growing up in the Bay Area. Like so many young men who met Hay, Timmons was intrigued and subsequently introduced to the much larger vision of being queer that Hay promulgated through his writings, activism and, perhaps most effectively, as cofounder and godfather of the Radical Faeries. This countercultural movement espoused a wide range of ideologies and interests, including pagan spirituality, anarchism, environmentalism, genderqueer sensibilities and, of course, just plain fun and theater. The Radical Faeries proved a good fit for a highly intelligent, social, curious and witty character such as Stuart Timmons.
His wide circle of close friends enriched his life and rallied to his side when he fell ill. As an AIDS activist with ACT UP, and a caretaker to numerous men stricken by the epidemic, Timmons fostered community around him in his personal life, his work and through his many interests. While a student at UCLA, he cofounded Outfest, which has since grown into one of the nation's largest and most influential LGBT film festivals.
But Timmons didn't just embrace gay activism. As a journalist he worked tirelessly to expose the corruption, coverups and backroom shenanigans surrounding the environmental toxicity at the Los Angeles Unified School District's Belmont Learning Center and Jefferson Middle School, through a series of stories written for the L.A. Weekly. He also worked with the Los Angeles Alliance for a New Economy as an activist and researcher around economic-justice issues, playing a major role in the work to reveal Walmart's abysmal treatment of its workers and its efforts to sidestep environmental impact reports and numerous other regulations – all while it was obtaining public subsidies — which ultimately led to the curtailing of Walmart's plans to build its superstores in Los Angeles.
Timmons also served as a boardmember and the first executive director of the ONE National Gay and Lesbian Archives at the University of Southern California, and wrote for the most important gay publication of our time, the Advocate.
In recent years, Timmons was busy creating walking tours highlighting historic LGBT sites in downtown Los Angeles, Silver Lake and, more recently, West Hollywood, which he was working on when a stroke felled him.
With the help of his friends and colleagues – and especially performance artist Jason Jenn – he completed the West Hollywood Walking Tour, which has become an integral part of June Pride events in that city, and is now entering its fourth year. It's an impressive accomplishment, funded by the City of West Hollywood, with well-known and established actors posted at each site to theatrically act out watershed moments and the contributions of various historical figures. Timmons was always a wit, and so the walking tour is not just well-researched and informative, but it's enormously entertaining and a wonderful example of his voice – and his delight in his work and the world around him. It is a fitting legacy.
He credited his mother with his political activism, recounting stories from childhood about her example in standing up to injustice and encouraging him to take it on whenever he encountered it. He didn't disappoint. That's one thing Timmons never did – he was always ready with a wry aside or a razor-sharp zinger that cut right to the truth of the matter. His strength and grace over the past several years impressed and touched us all. There is comfort in being able to say about Stuart Timmons, without hesitation: His was a life well lived. We are fortunate to have his work here with us to peruse and learn from — and for those of us who knew him, we have something very special living in our hearts for the rest of our lives.
---
A memorial for Stuart Timmons is planned for Sunday, April 2, 2-4 p.m., at the ONE National Gay and Lesbian Archives at the USC Libraries, 909 West Adams Blvd., Los Angeles. (213) 821-2771.

'Skeleton Crew' Is a Play With a Moral Spine
Set in a Detroit automobile outfitting plant, Dominique Morisseau's drama grabs you from the start with its focus on blue-collar men and women, and their struggle for dignity and self-respect.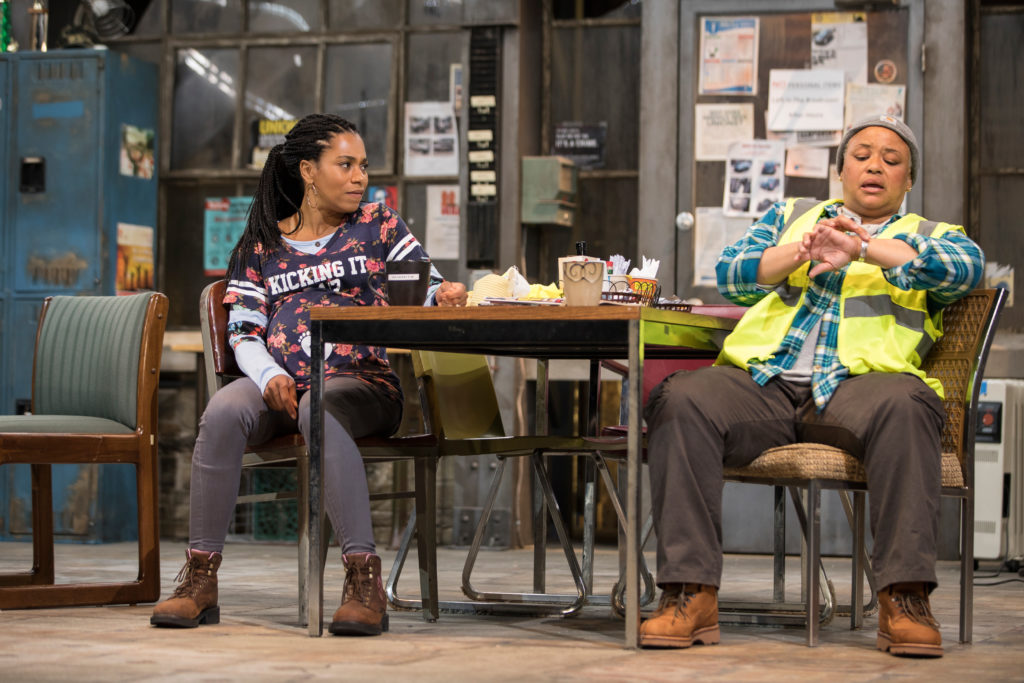 Working-class men and women of color are rarely front and center in today's media and, likewise, are presented all too occasionally on the American stage. So it's buoying to see that trend bucked in playwright Dominique Morisseau's percipient and well-crafted drama, Skeleton Crew. The play is the final installment in her Detroit  Project Trilogy; the first, Paradise Blue, is set in the 1940s amidst displacement caused by urban renewal and gentrification, while the second, Detroit '67, transpires on the eve of the 1967 Detroit riots sparked by a police action.
Directed by Patricia McGregor at Los Angeles' Geffen Playhouse, Skeleton Crew is a play with a moral spine. It takes place in 2008, when the shrinking U.S. auto industry is being further downsized. Morisseau's engaging quartet of characters — Faye (Caroline Stefanie Clay), Dez (Armari Cheatom), Shanita (Kelly McCreary) and Reggie (DB Woodside) – are employed at an automobile outfitting plant. Faye, Dez and Shanita are workers on the line while Reggie (who has a wife and kids, and has pulled himself together after a troubled youth) is their supervisor.
The first three customarily mingle in their break room (designer Rachel Myers' impressively cluttered, dingy and detailed set), trading the sort of familiar barbs and genuine concern for each other common among longtime co-workers. They also face off on philosophy: Upper-middle-aged Faye and the younger, pregnant Shanita take pride in their labor, while Dez, though a good worker, is a malcontent scornful of management and firm in the belief that everyone needs to watch out for himself. He's a thorn in Reggie's side, for while Reggie wants to be supportive of his workers, he must act at the behest of higher management. For his part, Dez resents Reggie's authority, and a palpable unease exists between them.
Besides this male matchup, we're made privy to Dez's attraction to Shanita, who mostly turns away his advances, but every now and then displays a hint of interest. Most poignant is Reggie's regard and affection for the lesbian Faye, which has roots in his boyhood when she loved, and lived, with his now-deceased mom.
These people's various predicaments intensify when rumors spread of the plant's shutdown — a disaster for all, but a particular calamity for the already near-broke Faye who, one year short of retirement, would lose her pension. The crisis forces each of these people to make a choice.
A sound piece of social realism, Skeleton Crew grabs you from the start in its focus on blue-collar men and women, and their struggle against odds for dignity and self-respect. Morisseau not only furnishes these characters a platform for their travails, she endows them with strong values, big hearts and the opportunity to choose between right and wrong.
Unfortunately, the performance I attended did not soar. Many exchanges lacked a fresh edge. The actors certainly had their characters down, but too often they appeared to be coasting on technique. (This seemed particularly true of Clay, who performed the role to great accolades in Washington, DC in 2017, also under McGregor's direction). Additionally, some of the stage movement was not entirely fluid; in confrontations, actors sometimes would just stand and face each other in an artificial way. And Cheatom's interpretation of Dez struck me as a bit overly churlish and depressive: I needed more glimpses of the intelligence and edge that would secretly attract the strong, self-directed Shanita.
The most compelling moments belong to Woodside, well-cast as a man trying his best in difficult circumstances to do the right thing.
---
Gil Cates Theater at the Geffen Playhouse, 10886 Le Conte Ave., Westwood Village; Tues.-Fri., 8 p.m.; Sat., 3 & 8 p.m. Sun., 2 & 7 p.m.; through July 8. (310) 208-5454 or www.geffenplayhouse.org