Remembering Stuart Timmons
Gay historian, activist and kindhearted bohemian bon vivant, Stuart Timmons passed away peacefully on a recent Saturday morning, not long after recovering from a bout with pneumonia.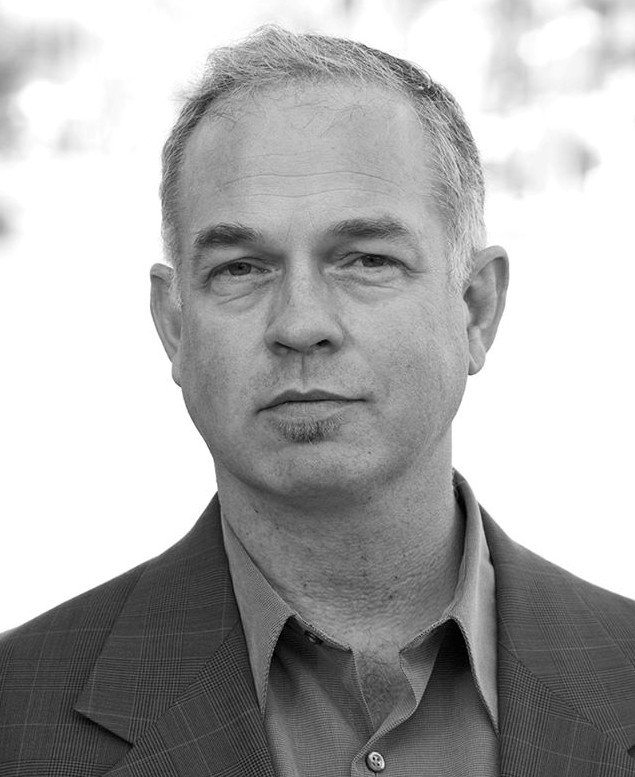 Stuart Timmons photo by Martin Cox
Gay historian, activist and kindhearted bohemian bon vivant, Stuart Timmons passed away peacefully on a recent Saturday morning, not long after recovering from a bout with pneumonia. Timmons had struggled physically for most of the last decade after a debilitating stroke left him cognizant but bodily disabled. He was 60.
As a writer and historian, Timmons authored two major works of nonfiction. The first of these was The Trouble With Harry Hay: Founder of the Modern Gay Movement (1990), the definitive biography of gay rights and gay consciousness pioneer Harry Hay. Timmons' next work, Gay L.A.: A History of Sexual Outlaws, Power Politics, and Lipstick Lesbians (2006), co-authored with Lillian Faderman, traced the history of LGBT Angelenos from the Native American era to the fight for gay marriage. It received two Lambda Literary Awards in 2007 and has played a major role in the Los Angeles' 21st-century cultural renaissance.
What made Timmons unique was that he was never an academic historian – his work was profoundly experiential and had the vitality, humor and honesty often so lacking in scholarly texts. He was one of those authors who lived the history he wrote about, and had a true passion for it. He had met Harry Hay while a student at the University of California, Los Angeles, where he'd gone to study film and journalism after growing up in the Bay Area. Like so many young men who met Hay, Timmons was intrigued and subsequently introduced to the much larger vision of being queer that Hay promulgated through his writings, activism and, perhaps most effectively, as cofounder and godfather of the Radical Faeries. This countercultural movement espoused a wide range of ideologies and interests, including pagan spirituality, anarchism, environmentalism, genderqueer sensibilities and, of course, just plain fun and theater. The Radical Faeries proved a good fit for a highly intelligent, social, curious and witty character such as Stuart Timmons.
His wide circle of close friends enriched his life and rallied to his side when he fell ill. As an AIDS activist with ACT UP, and a caretaker to numerous men stricken by the epidemic, Timmons fostered community around him in his personal life, his work and through his many interests. While a student at UCLA, he cofounded Outfest, which has since grown into one of the nation's largest and most influential LGBT film festivals.
But Timmons didn't just embrace gay activism. As a journalist he worked tirelessly to expose the corruption, coverups and backroom shenanigans surrounding the environmental toxicity at the Los Angeles Unified School District's Belmont Learning Center and Jefferson Middle School, through a series of stories written for the L.A. Weekly. He also worked with the Los Angeles Alliance for a New Economy as an activist and researcher around economic-justice issues, playing a major role in the work to reveal Walmart's abysmal treatment of its workers and its efforts to sidestep environmental impact reports and numerous other regulations – all while it was obtaining public subsidies — which ultimately led to the curtailing of Walmart's plans to build its superstores in Los Angeles.
Timmons also served as a boardmember and the first executive director of the ONE National Gay and Lesbian Archives at the University of Southern California, and wrote for the most important gay publication of our time, the Advocate.
In recent years, Timmons was busy creating walking tours highlighting historic LGBT sites in downtown Los Angeles, Silver Lake and, more recently, West Hollywood, which he was working on when a stroke felled him.
With the help of his friends and colleagues – and especially performance artist Jason Jenn – he completed the West Hollywood Walking Tour, which has become an integral part of June Pride events in that city, and is now entering its fourth year. It's an impressive accomplishment, funded by the City of West Hollywood, with well-known and established actors posted at each site to theatrically act out watershed moments and the contributions of various historical figures. Timmons was always a wit, and so the walking tour is not just well-researched and informative, but it's enormously entertaining and a wonderful example of his voice – and his delight in his work and the world around him. It is a fitting legacy.
He credited his mother with his political activism, recounting stories from childhood about her example in standing up to injustice and encouraging him to take it on whenever he encountered it. He didn't disappoint. That's one thing Timmons never did – he was always ready with a wry aside or a razor-sharp zinger that cut right to the truth of the matter. His strength and grace over the past several years impressed and touched us all. There is comfort in being able to say about Stuart Timmons, without hesitation: His was a life well lived. We are fortunate to have his work here with us to peruse and learn from — and for those of us who knew him, we have something very special living in our hearts for the rest of our lives.
---
A memorial for Stuart Timmons is planned for Sunday, April 2, 2-4 p.m., at the ONE National Gay and Lesbian Archives at the USC Libraries, 909 West Adams Blvd., Los Angeles. (213) 821-2771.

Two Cousins and a Magical Ice Cream Truck Figure in Leon Martell's New Play
Although not all of ICE's comedy clicks, Martell's story has both weight and charm. The production's overriding plus is its successful rendering, fashioned with humor and craft, of the difficulties immigrants face.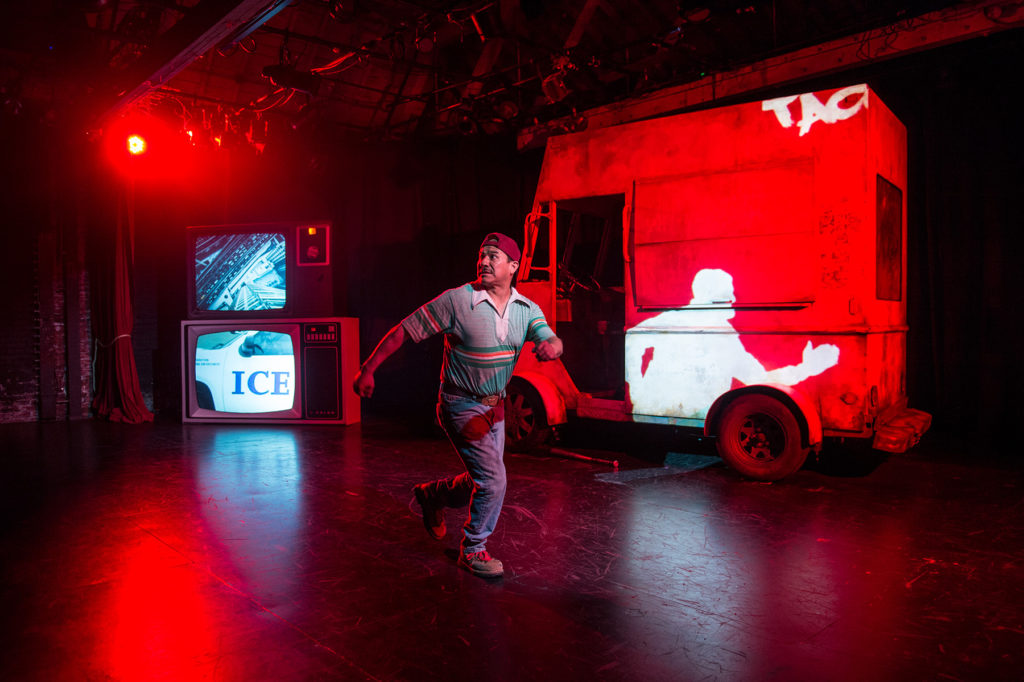 ICE, Leon Martell's family friendly play, takes place in 1988 and follows the misadventures of two undocumented immigrants: Chepe (Jesús Castaños-Chima), an avid baseball fan who dreams of making a fortune selling gourmet tacos; and his cousin Nacho (Tony Dúran), whom the beleaguered Chepe summons from Mexico to assist him in setting up his business. Directed by Debbie Devine at 24th Street Theatre, the show displays plenty of heart, not all of it realized in this premiere production. Despite this, there's enough political relevancy, moral truth and human comedy packed into the show's 65-minute time frame to overlook its shortcomings.
The core of the humor is the difference in personality between the two cousins. The ambitious Chepe is bitter and frustrated about his experience in America, where he's been cheated and lied to by bosses who exploit his labor and pay him next to nothing. Yet he's bought into the American Dream of money and fame, and to achieve that he's purchased a dilapidated old ice cream van to convert into a taco truck. It doesn't run, though, and the secret family salsa recipe is with his kin in Mexico. So, he phones home and implores his mechanic cousin to head north, bringing the salsa recipe as well as his skills.
Cousin Nacho, by contrast, is a sweet old-fashioned guy. He wants success too, but making money isn't the only thing he thinks about. He juggles tomatoes to make kids laugh and indignantly admonishes Chepe for his desperate inclination to do what it takes (steal tomatoes, for example) to score success.
Into the mix Martell tosses a blind, disgruntled priest (Davitt Felder), who plays guitar and wants to launch English classes for children in his parish (the archdiocese turns him down). Then there's Chepe's truck, which has opinions of its own. It breaks out in jingles at random intervals; later, it communicates with Nacho via blinking red letters that eerily appear on the side of the vehicle, furnishing the two men with simple directives and essential advice. When ICE (Immigration and Customs Enforcement) shows up, it alerts them to run.
Although not all of the comedy clicks, Martell's story has both weight and charm. The production's overriding plus is its successful rendering, fashioned with humor and craft, of the difficulties immigrants face. Its main weakness is Castaños-Chima's technically skilled but somewhat chilly depiction of his character, which leaves us wishing for more warmth and complexity. Felder appears awkward in his role of the blind priest, but proves versatile on video as Chepe's various nemeses. Dúran's naïve Nacho is a lovable presence from first to last.
Displayed on a monitor, Matthew G. Hill's video slides add historical and social perspective, and his backwall projections, in tandem with Dan Weingarten's lighting and Chris Moscatiello's sound, help conjure a magical aura to this parabolic piece.
24th Street Theatre, 1117 West 24th St., Los Angeles; Sat., 3 & 7:30 p.m.; Sun., 3 p.m.; through June 10, (213) 745-6516 or 24thstreet.org.
---
Copyright Capital & Main