Remembering American Historian and Civic Activist Joyce Appleby
She stood ramrod straight with curled gray hair, tasteful clothes and a dignified demeanor. Her look, combined with her sharp mind and renown as an American historian, could be intimidating. But Joyce Appleby, who died December 23 at the age of 87, was "always kind, always respectful."
She stood ramrod straight with curled gray hair, tasteful clothes and a dignified demeanor. Her look, combined with a sharp mind and renown as an American historian, could be intimidating. But Joyce Appleby, who died December 23 at the age of 87, was "always kind, always respectful" her former student and colleague Rebecca Mead told Capital & Main.
Appleby's scholarship challenged an accepted interpretation of America's founders that relied on "civic virtue, where leaders put the common good above their own interests" as the only bulwark against the potential decay of democratic governance, according to a January 6 obituary in the New York Times. But she modeled such civic engagement through her work for economic equality with the Los Angeles Alliance for a New Economy (LAANE) following her retirement from the University of California, Los Angeles in 2001. She wrote op-eds about LAANE's work, served as a founding member of the group's advisory board, brought friends and colleagues into the LAANE orbit and demonstrated for the Santa Monica Living Wage law.
Professor Appleby kick-started her career when she was married with three children, completing her Ph.D in history at Claremont Graduate School at 36, "something every young woman needs to know is possible," according to LAANE's development director, Stella Maloyan. She went on to a professorship at UCLA and to head such prestigious organizations as the American Historical Association and the Organization of American Historians, among others. In addition she wrote numerous books including a 2003 biography of Thomas Jefferson. Joyce was "a person of enormous energy," said colleague Ruth Sabean. "How did she get so much done?"
Fellow UCLA Professor Ellen Dubois told Capital & Main that Appleby identified with the women's movement and was "happy in the company of women." Her "posture and carriage were formal and restrained. But she was not like that in her thinking," said Dubois, adding, "she had a wonderful heart."
When the use of low-paid adjunct professors became more routine at UC campuses in the 1990s (and continues to this day), Appleby pressed for legislation to address the problem. In a meeting with then-state legislator Sheila Kuehl, reported Rebecca Mead, Appleby "started pounding on the table saying 'you don't understand. These people are exploited,"' to get across the depth of her concern, breaking with "her patrician image and decorum."
Joyce Appleby's hunger for justice can be summed up in a comment that is remembered to this day by fellow LAANE advisory board members. When asked in a meeting "ice-breaker" what and where on her body she would get a tattoo, Appleby responded, it would be "on my knees and read WON'T KNEEL.'"
---
For more perspectives on Joyce Appleby, see the History News Network. 
The Tests Facing California's New Governor
Gavin Newsom now leads the state with the nation's biggest economy and largest population — and one riven by economic inequality. What will be his most important challenges?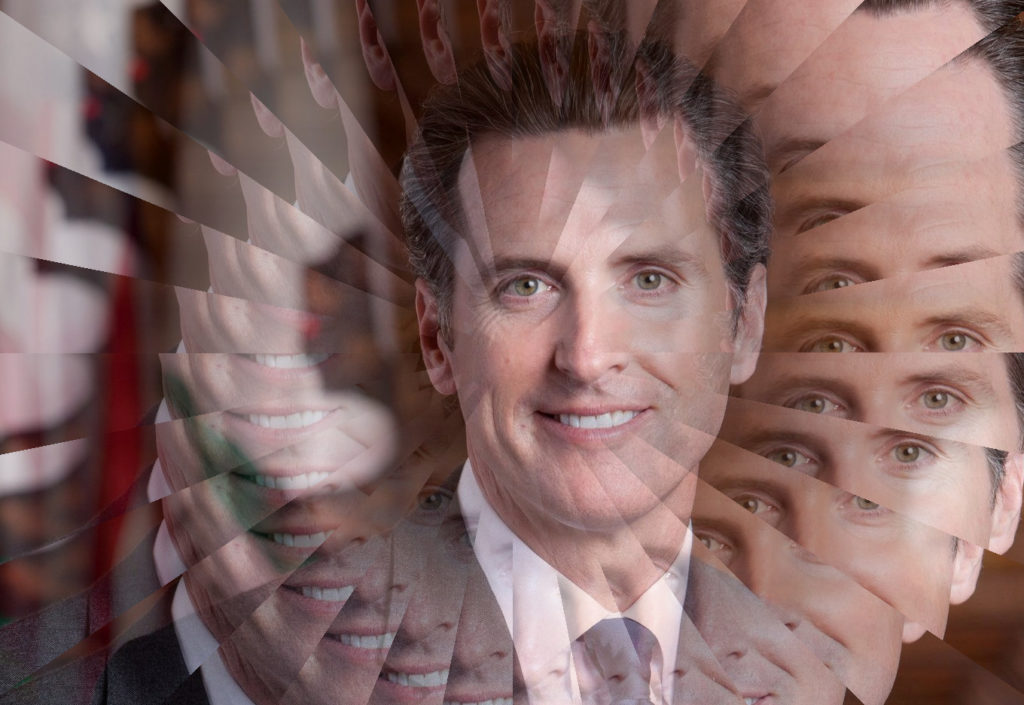 Gavin Newsom inherits a state that should be any governor's dream: A California that is the cradle of the tech revolution and brims with prosperity, a one-party state with supermajorities in both chambers for Newsom's Democrats. But there are clouds darkening the horizon: Daily prophecies tell of coming economic storms; legislative initiatives taken on behalf of immigrants, retirement security and the stemming of global warming are increasingly thwarted by a bellicose White House. And that Democratic Party monopoly in Sacramento masks a deepening ideological fault line dividing pro-business moderates and progressives – the latter of which have largely chafed for the last 16 years under the thrifty administrations of Jerry Brown and Arnold Schwarzenegger, and are eager to burst out with far-reaching (if pricey) legislation.
Then, there are memories of three high-riding liberal governors (Pat and Jerry Brown, and Gray Davis) whose programs or careers were derailed by resentful taxpayers. There are more recent memories, too: Of an impulsive, hard-partying San Francisco mayor whose blunted ambitions led him to spend eight years in the ceremonial wilderness of the lieutenant governor's office. Newsom is said to have matured into a more circumspect, pragmatic politician, although some of the old doubts were fanned back to life by an unflattering New Yorker profile that appeared shortly before his landslide victory November 6.
Perhaps overriding all these auguries is the undeniable fact that despite its enviable economy, its abundance of billionaires-in-residence and laudable array of social services, California still has the highest poverty rate in the U.S., nearly half of its children live in poverty or near-poverty, and merely finding an affordable place to live has become an existential challenge for many. These and similar factors superimpose on the state another kind of fault line, that of economic inequality. Most of the new governor's time will be spent wrangling crises that spring from this disparity. Which is why the following Capital & Main stories primarily focus on the inequality that separates so many Californians from one another.
Affordable Housing, by Jessica Goodheart.
Single-Payer Health Care, by Gabriel Thompson.
Climate Change and Big Oil, by Judith Lewis Mernit.
Inequality Interviews with Manuel Pastor, Ann Huff Stevens and David Grusky.
Early Childhood Education, by Bill Raden.
Inequality in California: Six Takeaways.
---
Copyright Capital & Main