Reinstate Fired Walmart Workers!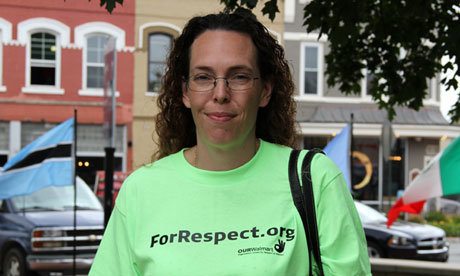 Americans believe in speaking up when something is wrong and working together to improve their lives. The freedom of speech and freedom of association are core American values and basic rights enshrined by our nation's Constitution. Yet while our basic rights as Americans are protected under the law, Walmart doesn't think these laws apply to them.
In recent weeks, Walmart has escalated its illegal campaign of punishing workers who exercise their right to come together and speak out for change. In attempting to silence those workers who speak out, the company has fired or disciplined more than 60 workers.
The recent string of firings comes on the heels of last month's protest in front of Walmart's headquarters in Bentonville, Arkansas. In late May, members of OUR Walmart held a nationwide strike and Ride for Respect caravan protesting Walmart's unfair labor practices (ULP), which took them on a bus ride from Southern California to Bentonville, leading up to Walmart's June annual shareholder meeting. While there, Walmart workers protested outside of the company's headquarters calling for an end to its attempt to silence workers.
Barbara Collins was among those hundreds of striking Walmart workers. She traveled from California to Arkansas in hopes of meeting with Walmart's management and sharing her concerns about the lack of respect and the need for improvement in working conditions at her store. But instead of listening to Barbara and the many other Walmart workers that had joined the Ride for Respect caravan, Walmart fired her when she returned to work.
After eight years as a Walmart employee, Barbara is left without a job. Many of her coworkers have also been fired for exercising their rights and for trying to make a better future for their families. That's just plain wrong.
But Barbara has not given up. She will continue to stand up and speak out for change at Walmart. Walmart workers throughout the nation, together with the Making Change at Walmart coalition, are calling on Walmart to reinstate Barbara and the many others who were illegally fired, as well as to respect their freedom of speech and their right to stand together.
To join our calls for Walmart to reinstate Barbara and other recently fired workers, please sign the petition online at: http://action.changewalmart.org/endyoursilence
(This post first appeared on Making Change at Walmart and is republished with permission.)