Reentry Stage: An Actors' Gang Workshop Helps Prisoners Return to Society
Vivian Rothstein reports on a theater program for California inmates.
Female inmate and participant of Actor's Gang Prison project workshop.
"Between 1970 and 2005, America's prison and jail population increased sevenfold, to approximately 2.2 million [people] from about 300,000….The United States [now] has about five per cent of the world's population, yet about 22 percent of its known prisoner population."
— Eric Holder, former U.S. Attorney General, August 14, 2016, New York Times
After America has spent an estimated $80 billion a year nationally on a mass incarceration program that damaged untold lives, split up families, left millions of children without parents, and did little in the form of "rehabilitation," the consensus is building for a change. Many on both the left and right have lost faith in the so-called War on Drugs and the efficacy of indeterminate to life sentences for other than the most heinous crimes.
This change of heart was accelerated with the publication of The New Jim Crow by Professor Michelle Alexander in 2010. Her book focused on the racial component of incarceration as the country's primary response to crime. Alexander suggests the criminal justice system has taken over as the new system of punishment and social control primarily for people of color.
Meanwhile, California's prison population increased eightfold between 1975 and 2006, and in 2011 faced a U.S. Supreme Court order to reduce prison occupancy to 137.5 percent of capacity. At the height of overcrowding, as many as 12,000 people a month were released back into the community as their sentences were completed.
But in what way are current prisoners being prepared to re-integrate into society? They leave prison with the same $200 "gate money" that exiting prisoners were given in the 1970s, according to Karen Shain of the Reentry Division of the San Francisco Adult Probation Department. Her agency provides tents to those with no housing options, assuming they will be joining the local homeless population.
For Chris Bisbano, a 6-foot-4-inch tatted man in his 40s, recently released on parole after nearly 20 years in California prisons, a theater workshop produced by the Actors' Gang Prison Project helped him reconnect with himself — and was the best preparation for life on the outside. In prison, Bisbano says, you "always default to anger." Racial groups stay to themselves in an intense atmosphere of hostility. But in the Actors' Gang, founded by its artistic director, Tim Robbins, prisoners of all races "go on an emotional journey together, build new relationships and get a renewed belief in life," Bisbano explains.
The experience was so important to Bisbano that he started his own theater group in prison, the Convicted Theater House, as an inmate leisure-time activity, and began writing his own plays. Now living back home in L.A., he's employed part time in the theater program that changed his life.
Sabra Williams is the energetic spirit who got the Actors' Gang into California prisons in the first place. After working in the English Shakespeare Company with prisoners in Britain, she came to the U.S. as the Actors' Gang outreach coordinator and suggested to Robbins that he take his commedia dell'arte program into California's correctional system. Provided free to the state on a small scale for several years, the program is now funded through the governor's Arts and Corrections program.
Prisoners, volunteers and program staff alike know nothing about each other as they enter the 8-to-10- week theater workshop and are directed "to leave their stuff at the door," says Williams. "They just do the work." This includes expressing in a big way the experiences of being happy, sad, angry or afraid while dressed in white face and props, and learning to look directly at each other.
"A gym for their emotions," as Williams describes it, with the goal of fostering self-esteem, empathy and nonviolent expression. Among inmates who have completed the program, there has been an 89 percent drop in prison infractions and a low recidivism rate. Prisoners develop new relationships with each other, often across racial lines, which are taken back to the prison yard, according to former inmate Bisbano.
After the initial workshop that teaches inmates the exercises and technique of the program, they continue operating it themselves with periodic visits from the Prison Project staff every six weeks. Offered now in seven prisons, the program will expand in the coming year.
Williams sees her theater project as an element of the broader reentry support approach slowly being built into the California prison system. She's interested in expanding it to "prison guards who also can't express their emotions" and in some ways, like the offenders, are "in prisons in their minds and feel like they have no choices."
Speaking of the Actors' Gang Prison Project, former U.S. Attorney General Eric Holder has said, "All the folks who put this program together, you are on the front lines of what we are trying to do in the Justice Department…We have seen the positive impact of this work duplicated again and again. Cutting the recidivism rate keeps our country safer, lets us spend less money….we need to look at creative ways to prepare people to live better lives."
Or as Karen Shain, the San Francisco Reentry policy planner, notes, after years of incarceration "it takes a village to get people on their feet."
The Power of the Poster
Carol Wells, the founder of the Center for the Study of Political Graphics in Los Angeles, talks to Capital & Main about the enduring power of political art.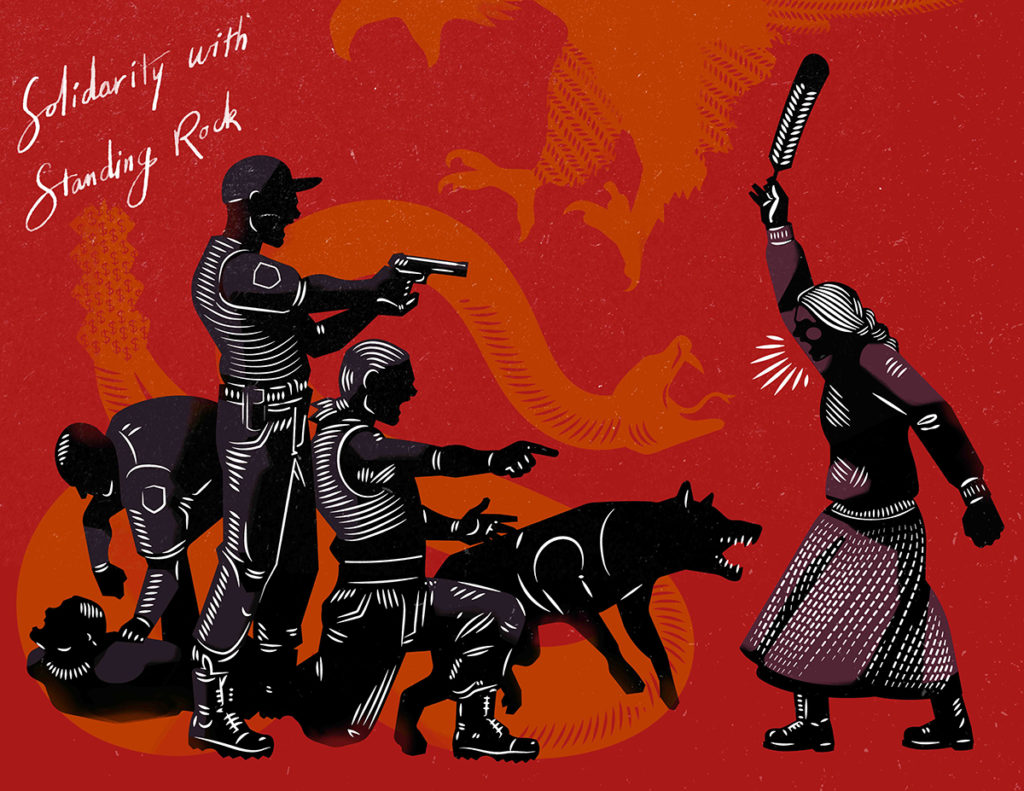 Carol Wells remembers the exact moment she discovered her calling. An art historian at the time, she was on a trip to Nicaragua with her friend David Kunzle, a UCLA art history professor, who was collecting political posters to add to his burgeoning collection. While staying with friends, Wells watched a neighbor's 8-year-old son approach a poster on the wall, stare at it intently, and then start to silently mouth the words. Wells was struck by how engaged the boy was. "In that moment I became obsessed with collecting posters."
Now over 40 years later, Wells is the founder and executive director of the Center for the Study of Political Graphics in Los Angeles. Wells has amassed approximately 90,000 posters, building one of the largest collections of its kind in the world. The Center shares its collection with the public in part through curated exhibits. This year the CSPG has produced Feminae: Typographic Voices of Women by Women and its latest is To Protect & Serve? Five Decades of Posters Protesting Police Violence, running through July 15 at the Mercado La Paloma in downtown Los Angeles.
Since that encounter in Nicaragua in 1981, Wells' obsession with collecting posters hasn't waned. In CSPG's nondescript West L.A. office space, Wells pulls out poster after poster, lecturing passionately on the backstory and cultural impact of each, including one that superimposes text from a New York Times interview with a shocking image of the My Lai massacre ("Q: And babies? A: And babies."). Recently, she managed to sit down with C&M to discuss her passion.
---
Capital & Main: So, you were an art history professor, you happen to see a kid on a trip, and suddenly your life was changed forever?
Carol Wells: Yeah, I'm in Nicaragua alone in the living room with this kid. He's looking around, and all of a sudden, he sees the poster. It was pretty big, bright green, a thick outlines of a woman holding a big basket of coffee beans. And the text in Spanish said, "In constructing the new country, we are becoming the new woman." I see him walk over to the poster and I'm watching him mouth the words. It was a pretty sophisticated concept, so I doubt he figured it out. But I literally had this epiphany: "Oh my God. That's how posters work." You're going about your daily life, and all of a sudden something breaks through the bubble, and it grabs your attention. It's the graphic, it's the color, it's the combination, and it pulls you out of your head and into that poster and it makes you ask a question. "Why is this here? What is this about? What does this mean?" And every time you ask a question, you're a different person than you were before you asked the question.
How many posters do you get a year?
We get between two to five thousand a year donated from all over the world. The bulk of our collection is [from] 1945 and later.
I assume technology has probably hurt the art form, but has it helped get the messages out?
Most people think that, and it's actually not true. Since the internet age started, there's actually a poster renaissance of works on paper. Because you can't walk with your computer monitor in a demonstration. You can't plant your monitor on your lawn.
And you can't put a laptop on the wall…
Exactly. You want to hear a really great story? Truthdig.org published a cartoon [made by] a political cartoonist named Mr. Fish. It was during the Arab spring, and he had superimposed Che Guevara with the stylized beard and King Tut's face, but it had Che's beret. And it [was titled], "Walk like an Egyptian." So, it was a reference to the music, but [it was also] a reference to what was going on the streets of Cairo. I sent it out as our poster of the week to 9,000 people. The very next day, somebody took a photograph on the street of Cairo, with somebody holding a piece of paper with that image on it. A poster can literally go around the world and people will print it out.
What struck me in viewing your exhibits is how many of these posters could still be used today, not only artistically but also, sadly, in the timeliness of their messages.
We had this fabulous poster by Yolanda Lopez, a Bay Area artist, which she first did in 1978. It depicts a young man in Aztec garb pointing a finger like Uncle Sam saying, "Who's the illegal alien, PILGRIM?" And it's a great poster, it's simple, not too many words, funny, provocative. So, we had an exhibit at UCLA in the mid '90s and there were 4 or 5 high school students standing around this poster saying, "Wow, you've got posters up to the minute." And I went over to them and I said, "Look at the date. This is before you were born."
Is that one of your goals with the exhibitions? To show the evergreen nature of this work?
Absolutely. I mean that's why we did the police abuse exhibition now. It basically goes back five decades. It's 50 years of posters protesting police abuse. Mainly in the United States, but also internationally.
What's the goal for CSPG?
Well the aim right now is really to digitize the collection and get it online. We have 10% of the collection digitized. But the mission is to collect and to document, because stories get lost. All the exhibitions, they're showing massacres, they're showing genocide, they're showing police abuse, they're showing all of these horrible things. And people often ask me, "How can you look at this stuff all day long?" I said, "Because the poster artists are optimists. They believe people can change if they have the information."
Yes, that's the reason why they're doing it, right?
That's why they're doing it, and that's why I'm doing this, because I believe that people can change if they knew the truth.
And what happens 20, 50 years from now?
Well, my goal is to stay independent, because the other option is to become part of the university. Universities, for all the fabulous things that they do, they also censor. We did an exhibition at USC in 1992 on the 500 years since Columbus, and how the legacy of racism and exploitation and genocide continues. And one of the board of trustees was Italian and took [the exhibit] as an affront to Columbus. It really wasn't about Columbus, it was about colonialism. And he ordered it down.
Do you have a favorite poster?
I'm always amazed at the creativity and vision of artists. Every week I'll say, "Oh my God, how do they think of that?" But it's always still going to be the poster I saw that kid trying to figure out. It has to be my favorite one because that one changed my life.
What makes a perfect poster?
The right balance between aesthetics and message. If you only rely on the corporate press, the New York Times and L.A. Times, for your information, you're not going to get the side from the street, from the movement, from the activists. The posters are primary historical documents that are recording the issues that were at the time, and the passions that were at the time, and the divisions that were at the time. You're not going to get it anyplace else.
---
Copyright Capital & Main