Reentry Stage: An Actors' Gang Workshop Helps Prisoners Return to Society
Vivian Rothstein reports on a theater program for California inmates.

Female inmate and participant of Actor's Gang Prison project workshop.
"Between 1970 and 2005, America's prison and jail population increased sevenfold, to approximately 2.2 million [people] from about 300,000….The United States [now] has about five per cent of the world's population, yet about 22 percent of its known prisoner population."
— Eric Holder, former U.S. Attorney General, August 14, 2016, New York Times
After America has spent an estimated $80 billion a year nationally on a mass incarceration program that damaged untold lives, split up families, left millions of children without parents, and did little in the form of "rehabilitation," the consensus is building for a change. Many on both the left and right have lost faith in the so-called War on Drugs and the efficacy of indeterminate to life sentences for other than the most heinous crimes.
This change of heart was accelerated with the publication of The New Jim Crow by Professor Michelle Alexander in 2010. Her book focused on the racial component of incarceration as the country's primary response to crime. Alexander suggests the criminal justice system has taken over as the new system of punishment and social control primarily for people of color.
Meanwhile, California's prison population increased eightfold between 1975 and 2006, and in 2011 faced a U.S. Supreme Court order to reduce prison occupancy to 137.5 percent of capacity. At the height of overcrowding, as many as 12,000 people a month were released back into the community as their sentences were completed.
But in what way are current prisoners being prepared to re-integrate into society? They leave prison with the same $200 "gate money" that exiting prisoners were given in the 1970s, according to Karen Shain of the Reentry Division of the San Francisco Adult Probation Department. Her agency provides tents to those with no housing options, assuming they will be joining the local homeless population.
For Chris Bisbano, a 6-foot-4-inch tatted man in his 40s, recently released on parole after nearly 20 years in California prisons, a theater workshop produced by the Actors' Gang Prison Project helped him reconnect with himself — and was the best preparation for life on the outside. In prison, Bisbano says, you "always default to anger." Racial groups stay to themselves in an intense atmosphere of hostility. But in the Actors' Gang, founded by its artistic director, Tim Robbins, prisoners of all races "go on an emotional journey together, build new relationships and get a renewed belief in life," Bisbano explains.
The experience was so important to Bisbano that he started his own theater group in prison, the Convicted Theater House, as an inmate leisure-time activity, and began writing his own plays. Now living back home in L.A., he's employed part time in the theater program that changed his life.
Sabra Williams is the energetic spirit who got the Actors' Gang into California prisons in the first place. After working in the English Shakespeare Company with prisoners in Britain, she came to the U.S. as the Actors' Gang outreach coordinator and suggested to Robbins that he take his commedia dell'arte program into California's correctional system. Provided free to the state on a small scale for several years, the program is now funded through the governor's Arts and Corrections program.
Prisoners, volunteers and program staff alike know nothing about each other as they enter the 8-to-10- week theater workshop and are directed "to leave their stuff at the door," says Williams. "They just do the work." This includes expressing in a big way the experiences of being happy, sad, angry or afraid while dressed in white face and props, and learning to look directly at each other.
"A gym for their emotions," as Williams describes it, with the goal of fostering self-esteem, empathy and nonviolent expression. Among inmates who have completed the program, there has been an 89 percent drop in prison infractions and a low recidivism rate. Prisoners develop new relationships with each other, often across racial lines, which are taken back to the prison yard, according to former inmate Bisbano.
After the initial workshop that teaches inmates the exercises and technique of the program, they continue operating it themselves with periodic visits from the Prison Project staff every six weeks. Offered now in seven prisons, the program will expand in the coming year.
Williams sees her theater project as an element of the broader reentry support approach slowly being built into the California prison system. She's interested in expanding it to "prison guards who also can't express their emotions" and in some ways, like the offenders, are "in prisons in their minds and feel like they have no choices."
Speaking of the Actors' Gang Prison Project, former U.S. Attorney General Eric Holder has said, "All the folks who put this program together, you are on the front lines of what we are trying to do in the Justice Department…We have seen the positive impact of this work duplicated again and again. Cutting the recidivism rate keeps our country safer, lets us spend less money….we need to look at creative ways to prepare people to live better lives."
Or as Karen Shain, the San Francisco Reentry policy planner, notes, after years of incarceration "it takes a village to get people on their feet."

Two Cousins and a Magical Ice Cream Truck Figure in Leon Martell's New Play
Although not all of ICE's comedy clicks, Martell's story has both weight and charm. The production's overriding plus is its successful rendering, fashioned with humor and craft, of the difficulties immigrants face.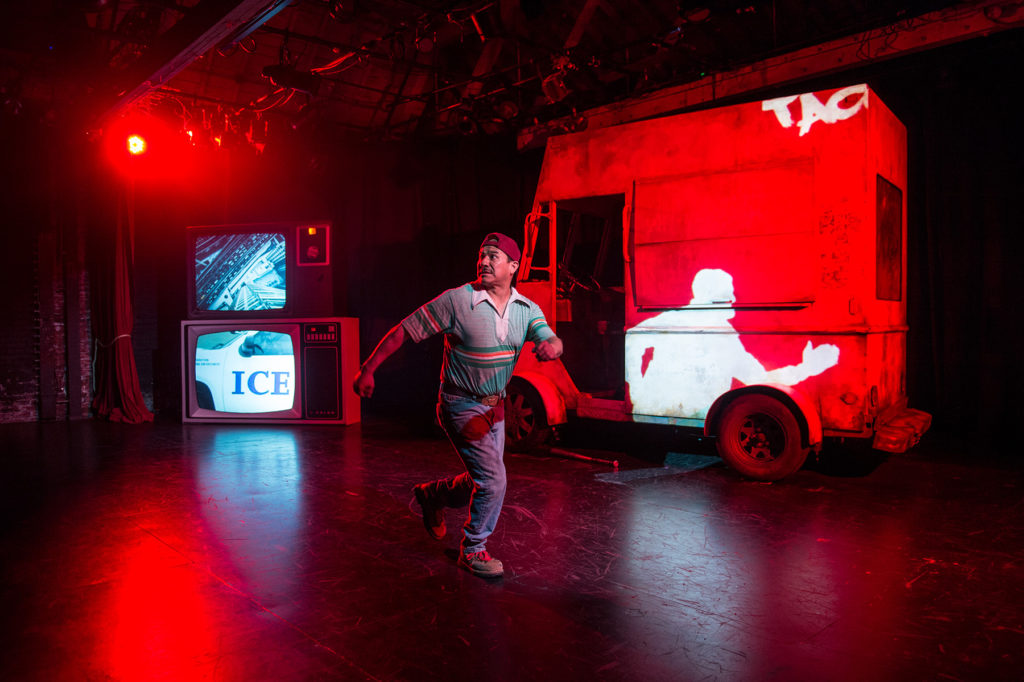 ICE, Leon Martell's family friendly play, takes place in 1988 and follows the misadventures of two undocumented immigrants: Chepe (Jesús Castaños-Chima), an avid baseball fan who dreams of making a fortune selling gourmet tacos; and his cousin Nacho (Tony Dúran), whom the beleaguered Chepe summons from Mexico to assist him in setting up his business. Directed by Debbie Devine at 24th Street Theatre, the show displays plenty of heart, not all of it realized in this premiere production. Despite this, there's enough political relevancy, moral truth and human comedy packed into the show's 65-minute time frame to overlook its shortcomings.
The core of the humor is the difference in personality between the two cousins. The ambitious Chepe is bitter and frustrated about his experience in America, where he's been cheated and lied to by bosses who exploit his labor and pay him next to nothing. Yet he's bought into the American Dream of money and fame, and to achieve that he's purchased a dilapidated old ice cream van to convert into a taco truck. It doesn't run, though, and the secret family salsa recipe is with his kin in Mexico. So, he phones home and implores his mechanic cousin to head north, bringing the salsa recipe as well as his skills.
Cousin Nacho, by contrast, is a sweet old-fashioned guy. He wants success too, but making money isn't the only thing he thinks about. He juggles tomatoes to make kids laugh and indignantly admonishes Chepe for his desperate inclination to do what it takes (steal tomatoes, for example) to score success.
Into the mix Martell tosses a blind, disgruntled priest (Davitt Felder), who plays guitar and wants to launch English classes for children in his parish (the archdiocese turns him down). Then there's Chepe's truck, which has opinions of its own. It breaks out in jingles at random intervals; later, it communicates with Nacho via blinking red letters that eerily appear on the side of the vehicle, furnishing the two men with simple directives and essential advice. When ICE (Immigration and Customs Enforcement) shows up, it alerts them to run.
Although not all of the comedy clicks, Martell's story has both weight and charm. The production's overriding plus is its successful rendering, fashioned with humor and craft, of the difficulties immigrants face. Its main weakness is Castaños-Chima's technically skilled but somewhat chilly depiction of his character, which leaves us wishing for more warmth and complexity. Felder appears awkward in his role of the blind priest, but proves versatile on video as Chepe's various nemeses. Dúran's naïve Nacho is a lovable presence from first to last.
Displayed on a monitor, Matthew G. Hill's video slides add historical and social perspective, and his backwall projections, in tandem with Dan Weingarten's lighting and Chris Moscatiello's sound, help conjure a magical aura to this parabolic piece.
24th Street Theatre, 1117 West 24th St., Los Angeles; Sat., 3 & 7:30 p.m.; Sun., 3 p.m.; through June 10, (213) 745-6516 or 24thstreet.org.
---
Copyright Capital & Main