Reentry Stage: An Actors' Gang Workshop Helps Prisoners Return to Society
Vivian Rothstein reports on a theater program for California inmates.

Female inmate and participant of Actor's Gang Prison project workshop.
"Between 1970 and 2005, America's prison and jail population increased sevenfold, to approximately 2.2 million [people] from about 300,000….The United States [now] has about five per cent of the world's population, yet about 22 percent of its known prisoner population."
— Eric Holder, former U.S. Attorney General, August 14, 2016, New York Times
After America has spent an estimated $80 billion a year nationally on a mass incarceration program that damaged untold lives, split up families, left millions of children without parents, and did little in the form of "rehabilitation," the consensus is building for a change. Many on both the left and right have lost faith in the so-called War on Drugs and the efficacy of indeterminate to life sentences for other than the most heinous crimes.
This change of heart was accelerated with the publication of The New Jim Crow by Professor Michelle Alexander in 2010. Her book focused on the racial component of incarceration as the country's primary response to crime. Alexander suggests the criminal justice system has taken over as the new system of punishment and social control primarily for people of color.
Meanwhile, California's prison population increased eightfold between 1975 and 2006, and in 2011 faced a U.S. Supreme Court order to reduce prison occupancy to 137.5 percent of capacity. At the height of overcrowding, as many as 12,000 people a month were released back into the community as their sentences were completed.
But in what way are current prisoners being prepared to re-integrate into society? They leave prison with the same $200 "gate money" that exiting prisoners were given in the 1970s, according to Karen Shain of the Reentry Division of the San Francisco Adult Probation Department. Her agency provides tents to those with no housing options, assuming they will be joining the local homeless population.
For Chris Bisbano, a 6-foot-4-inch tatted man in his 40s, recently released on parole after nearly 20 years in California prisons, a theater workshop produced by the Actors' Gang Prison Project helped him reconnect with himself — and was the best preparation for life on the outside. In prison, Bisbano says, you "always default to anger." Racial groups stay to themselves in an intense atmosphere of hostility. But in the Actors' Gang, founded by its artistic director, Tim Robbins, prisoners of all races "go on an emotional journey together, build new relationships and get a renewed belief in life," Bisbano explains.
The experience was so important to Bisbano that he started his own theater group in prison, the Convicted Theater House, as an inmate leisure-time activity, and began writing his own plays. Now living back home in L.A., he's employed part time in the theater program that changed his life.
Sabra Williams is the energetic spirit who got the Actors' Gang into California prisons in the first place. After working in the English Shakespeare Company with prisoners in Britain, she came to the U.S. as the Actors' Gang outreach coordinator and suggested to Robbins that he take his commedia dell'arte program into California's correctional system. Provided free to the state on a small scale for several years, the program is now funded through the governor's Arts and Corrections program.
Prisoners, volunteers and program staff alike know nothing about each other as they enter the 8-to-10- week theater workshop and are directed "to leave their stuff at the door," says Williams. "They just do the work." This includes expressing in a big way the experiences of being happy, sad, angry or afraid while dressed in white face and props, and learning to look directly at each other.
"A gym for their emotions," as Williams describes it, with the goal of fostering self-esteem, empathy and nonviolent expression. Among inmates who have completed the program, there has been an 89 percent drop in prison infractions and a low recidivism rate. Prisoners develop new relationships with each other, often across racial lines, which are taken back to the prison yard, according to former inmate Bisbano.
After the initial workshop that teaches inmates the exercises and technique of the program, they continue operating it themselves with periodic visits from the Prison Project staff every six weeks. Offered now in seven prisons, the program will expand in the coming year.
Williams sees her theater project as an element of the broader reentry support approach slowly being built into the California prison system. She's interested in expanding it to "prison guards who also can't express their emotions" and in some ways, like the offenders, are "in prisons in their minds and feel like they have no choices."
Speaking of the Actors' Gang Prison Project, former U.S. Attorney General Eric Holder has said, "All the folks who put this program together, you are on the front lines of what we are trying to do in the Justice Department…We have seen the positive impact of this work duplicated again and again. Cutting the recidivism rate keeps our country safer, lets us spend less money….we need to look at creative ways to prepare people to live better lives."
Or as Karen Shain, the San Francisco Reentry policy planner, notes, after years of incarceration "it takes a village to get people on their feet."

A Spiritual Mystery Play Fails to Enlighten
Yusuf Toropov's drama, set in a contaminated, cancer-ridden community, involves a publisher and his brother — a priest struggling against the local archdiocese.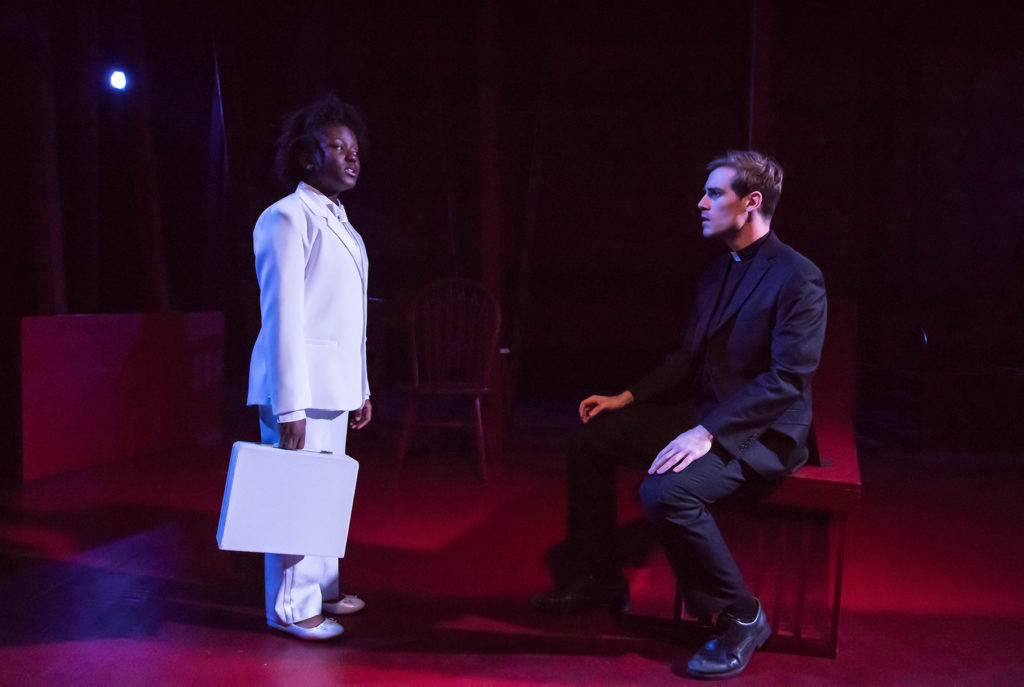 Directed by Chris Fields, Yusuf Toropov's An Undivided Heart, co-produced by the Echo Theater Company and the Circle X Theatre Co., is an aspiring work that aims to be deep but doesn't get there.
The play, running at the Atwater Village Theatre, unfolds on several levels. First, it tells the story of a young Catholic priest who must decide whether or not to publicly expose the pedophiles among his fellow clerics. Second, the work deals with our human struggle to understand why bad things happen with seeming random cruelty (a conundrum whose answers are regularly dispensed by spiritual leaders of all faiths, not very satisfactorily). On yet a third level, the play seeks to express the paradoxical wonder and mystery of life, with an assist from the supernatural.
That's a lot to cover in a little over two hours and, while the production is handsomely staged, its ambitious narrative is diminished by dangling threads, one major improbable setup near the end and too many bits of opaque dialogue.
Tim Wright, Alison Martin and Alana Dietze.
The setting is Holbrook, Massachusetts — a community whose residents have been exposed to contaminants, so cancer is rampant — in the summer of 1992. The story revolves around two brothers, both good guys: Mike (Matthew Gallenstein), a local priest who's written a revelatory book that his superiors want him not to publish, and Max (Tim Wright), an editor, who'd like to help his brother proceed.
When Max arrives at some sort of civic facility (the background particulars of this scene are unclear), he promptly tangles with an angry pregnant clerk named Lynne (Alana Dietz). A few minutes into their altercation, she goes into premature labor, and he rushes her to the hospital — the beginning of a nurturing romance.
Mike, meanwhile, is having strange dreams involving a burning typewriter and a cryptic little girl (Ann'Jewel Lee) who appears to him brandishing a dead cat. The same young person manifests in the dreams of Janice (Tracey A. Leigh, alternating with Jennifer A. Skinner), Max's Buddhism teacher, who is fond of posing riddles. Her favorite: If I am preparing to slice a cat in two, how would you prevent me from doing it?
The narrative shifts between Mike's struggle with his archdiocese, personified by its Cardinal (John Getz, alternating with William Salyers) and Lynne's problems with her dying mom Ruth (Alison Martin, alternating with Sigute Miller), a devout Catholic still in denial over her son's abuse by a priest when he was a youth.
These two storylines are interposed with the baffling dream sequences and Max's (and later Mike's) sessions with the inscrutably smiling Janice and her eschatological brain teasers. One crucial scene that leads to the dramatic climax has Mike looking to entrap an abusive priest (Jeff Alan-Lee, alternating with Jesse Bush) by attending confession with him and pretending to be a pedophile himself. The interchange, in which the priest probes for salacious details, is awkwardly plotted and escalates into over-the-top melodrama.
Cricket Myers' superlative sound design hints at the depth and scope that the playwright himself perhaps had in mind but was unable to attain. Amanda Knehans' set is an effective arrangement of wooden beams, tables and chairs that lighting designer Rose Malone smartly shades with a reddish-orange chroma, like the hues of hell. Elsewhere, she spotlights the players well.
Wright's warm and empathetic Max is highly likable, and he keeps you interested in the scenes he's involved with. Getz is appropriately unctuous as the Cardinal, and Martin draws a richly textured portrait of a not terribly educated housewife, who, buffeted by adversity, still clings to her faith. Michael Sturgis steals the limelight as a singing, simpering cleric. A couple of the other lead performances need refining.
Atwater Village Theatre, 3269 Casitas Ave., Los Angeles; Mon., 8 p.m.; Fri.- Sat., 8 p.m.; Sun., 4 p.m.; through April 22. www.EchoTheaterCompany.com
---
Copyright Capital & Main