Reentry Stage: An Actors' Gang Workshop Helps Prisoners Return to Society
Vivian Rothstein reports on a theater program for California inmates.

Female inmate and participant of Actor's Gang Prison project workshop.
"Between 1970 and 2005, America's prison and jail population increased sevenfold, to approximately 2.2 million [people] from about 300,000….The United States [now] has about five per cent of the world's population, yet about 22 percent of its known prisoner population."
— Eric Holder, former U.S. Attorney General, August 14, 2016, New York Times
After America has spent an estimated $80 billion a year nationally on a mass incarceration program that damaged untold lives, split up families, left millions of children without parents, and did little in the form of "rehabilitation," the consensus is building for a change. Many on both the left and right have lost faith in the so-called War on Drugs and the efficacy of indeterminate to life sentences for other than the most heinous crimes.
This change of heart was accelerated with the publication of The New Jim Crow by Professor Michelle Alexander in 2010. Her book focused on the racial component of incarceration as the country's primary response to crime. Alexander suggests the criminal justice system has taken over as the new system of punishment and social control primarily for people of color.
Meanwhile, California's prison population increased eightfold between 1975 and 2006, and in 2011 faced a U.S. Supreme Court order to reduce prison occupancy to 137.5 percent of capacity. At the height of overcrowding, as many as 12,000 people a month were released back into the community as their sentences were completed.
But in what way are current prisoners being prepared to re-integrate into society? They leave prison with the same $200 "gate money" that exiting prisoners were given in the 1970s, according to Karen Shain of the Reentry Division of the San Francisco Adult Probation Department. Her agency provides tents to those with no housing options, assuming they will be joining the local homeless population.
For Chris Bisbano, a 6-foot-4-inch tatted man in his 40s, recently released on parole after nearly 20 years in California prisons, a theater workshop produced by the Actors' Gang Prison Project helped him reconnect with himself — and was the best preparation for life on the outside. In prison, Bisbano says, you "always default to anger." Racial groups stay to themselves in an intense atmosphere of hostility. But in the Actors' Gang, founded by its artistic director, Tim Robbins, prisoners of all races "go on an emotional journey together, build new relationships and get a renewed belief in life," Bisbano explains.
The experience was so important to Bisbano that he started his own theater group in prison, the Convicted Theater House, as an inmate leisure-time activity, and began writing his own plays. Now living back home in L.A., he's employed part time in the theater program that changed his life.
Sabra Williams is the energetic spirit who got the Actors' Gang into California prisons in the first place. After working in the English Shakespeare Company with prisoners in Britain, she came to the U.S. as the Actors' Gang outreach coordinator and suggested to Robbins that he take his commedia dell'arte program into California's correctional system. Provided free to the state on a small scale for several years, the program is now funded through the governor's Arts and Corrections program.
Prisoners, volunteers and program staff alike know nothing about each other as they enter the 8-to-10- week theater workshop and are directed "to leave their stuff at the door," says Williams. "They just do the work." This includes expressing in a big way the experiences of being happy, sad, angry or afraid while dressed in white face and props, and learning to look directly at each other.
"A gym for their emotions," as Williams describes it, with the goal of fostering self-esteem, empathy and nonviolent expression. Among inmates who have completed the program, there has been an 89 percent drop in prison infractions and a low recidivism rate. Prisoners develop new relationships with each other, often across racial lines, which are taken back to the prison yard, according to former inmate Bisbano.
After the initial workshop that teaches inmates the exercises and technique of the program, they continue operating it themselves with periodic visits from the Prison Project staff every six weeks. Offered now in seven prisons, the program will expand in the coming year.
Williams sees her theater project as an element of the broader reentry support approach slowly being built into the California prison system. She's interested in expanding it to "prison guards who also can't express their emotions" and in some ways, like the offenders, are "in prisons in their minds and feel like they have no choices."
Speaking of the Actors' Gang Prison Project, former U.S. Attorney General Eric Holder has said, "All the folks who put this program together, you are on the front lines of what we are trying to do in the Justice Department…We have seen the positive impact of this work duplicated again and again. Cutting the recidivism rate keeps our country safer, lets us spend less money….we need to look at creative ways to prepare people to live better lives."
Or as Karen Shain, the San Francisco Reentry policy planner, notes, after years of incarceration "it takes a village to get people on their feet."

'Skeleton Crew' Is a Play With a Moral Spine
Set in a Detroit automobile outfitting plant, Dominique Morisseau's drama grabs you from the start with its focus on blue-collar men and women, and their struggle for dignity and self-respect.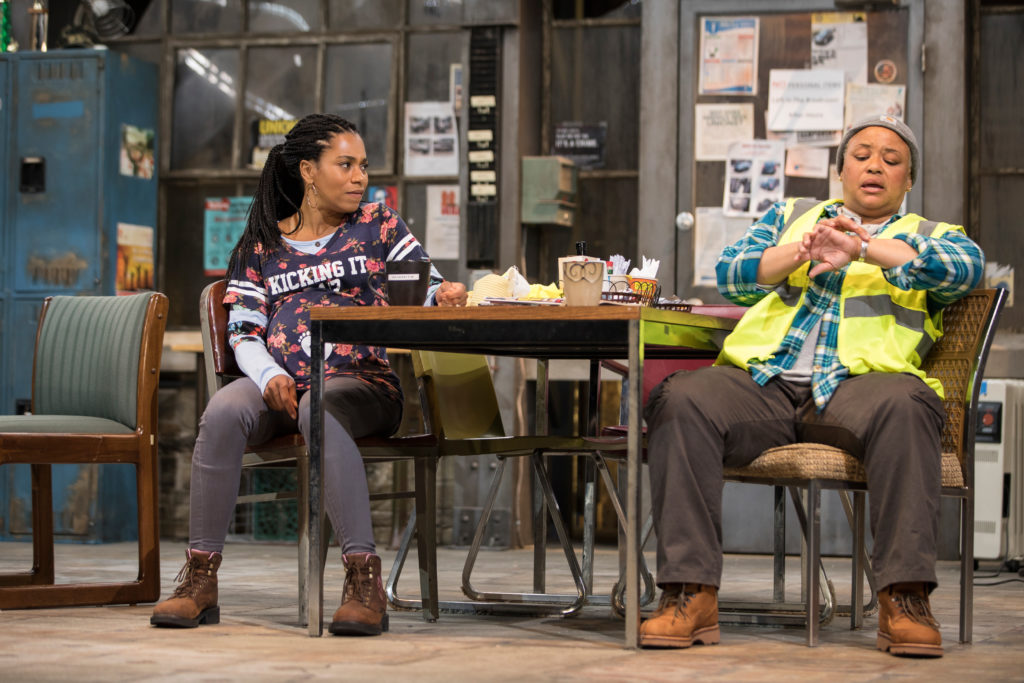 Working-class men and women of color are rarely front and center in today's media and, likewise, are presented all too occasionally on the American stage. So it's buoying to see that trend bucked in playwright Dominique Morisseau's percipient and well-crafted drama, Skeleton Crew. The play is the final installment in her Detroit  Project Trilogy; the first, Paradise Blue, is set in the 1940s amidst displacement caused by urban renewal and gentrification, while the second, Detroit '67, transpires on the eve of the 1967 Detroit riots sparked by a police action.
Directed by Patricia McGregor at Los Angeles' Geffen Playhouse, Skeleton Crew is a play with a moral spine. It takes place in 2008, when the shrinking U.S. auto industry is being further downsized. Morisseau's engaging quartet of characters — Faye (Caroline Stefanie Clay), Dez (Armari Cheatom), Shanita (Kelly McCreary) and Reggie (DB Woodside) – are employed at an automobile outfitting plant. Faye, Dez and Shanita are workers on the line while Reggie (who has a wife and kids, and has pulled himself together after a troubled youth) is their supervisor.
The first three customarily mingle in their break room (designer Rachel Myers' impressively cluttered, dingy and detailed set), trading the sort of familiar barbs and genuine concern for each other common among longtime co-workers. They also face off on philosophy: Upper-middle-aged Faye and the younger, pregnant Shanita take pride in their labor, while Dez, though a good worker, is a malcontent scornful of management and firm in the belief that everyone needs to watch out for himself. He's a thorn in Reggie's side, for while Reggie wants to be supportive of his workers, he must act at the behest of higher management. For his part, Dez resents Reggie's authority, and a palpable unease exists between them.
Besides this male matchup, we're made privy to Dez's attraction to Shanita, who mostly turns away his advances, but every now and then displays a hint of interest. Most poignant is Reggie's regard and affection for the lesbian Faye, which has roots in his boyhood when she loved, and lived, with his now-deceased mom.
These people's various predicaments intensify when rumors spread of the plant's shutdown — a disaster for all, but a particular calamity for the already near-broke Faye who, one year short of retirement, would lose her pension. The crisis forces each of these people to make a choice.
A sound piece of social realism, Skeleton Crew grabs you from the start in its focus on blue-collar men and women, and their struggle against odds for dignity and self-respect. Morisseau not only furnishes these characters a platform for their travails, she endows them with strong values, big hearts and the opportunity to choose between right and wrong.
Unfortunately, the performance I attended did not soar. Many exchanges lacked a fresh edge. The actors certainly had their characters down, but too often they appeared to be coasting on technique. (This seemed particularly true of Clay, who performed the role to great accolades in Washington, DC in 2017, also under McGregor's direction). Additionally, some of the stage movement was not entirely fluid; in confrontations, actors sometimes would just stand and face each other in an artificial way. And Cheatom's interpretation of Dez struck me as a bit overly churlish and depressive: I needed more glimpses of the intelligence and edge that would secretly attract the strong, self-directed Shanita.
The most compelling moments belong to Woodside, well-cast as a man trying his best in difficult circumstances to do the right thing.
---
Gil Cates Theater at the Geffen Playhouse, 10886 Le Conte Ave., Westwood Village; Tues.-Fri., 8 p.m.; Sat., 3 & 8 p.m. Sun., 2 & 7 p.m.; through July 8. (310) 208-5454 or www.geffenplayhouse.org