Redemption In a Bleak Universe: 'Bars and Measures' Reviewed
Bars and Measures, Idris Goodwin's moving drama, directed with a sure hand by Weyni Mengesha, can be appreciated on several levels. To begin with, it's a political work, a disturbing tale involving the questionable prosecution of an American Muslim for abetting a terrorist organization.

Matt Orduña, left, and Donathan Walters. (Photo: Ed Krieger)
Bars and Measures, Idris Goodwin's moving drama, directed with a sure hand by Weyni Mengesha, can be appreciated on several levels. To begin with, it's a political work, a disturbing tale involving the questionable prosecution of an American Muslim for abetting a terrorist organization. Second, this is a story about family, and centers on the relationship between two brothers, whose bonds of affection hold strong despite their differences in personality and outlook — that is, until the harsh judgment of the outside world compels otherwise. Last, Goodwin presents us with a portrait of musicians and their art, and offers a paean to both as a redemptive gift in a bleak and desolate universe.
The brothers in question are Bilal (Matt Orduña), a brooding jazz musician, and Eric (Donathan Walters), his younger brother and a much sunnier individual who's been to Julliard and is now building a career as a classical pianist. The play opens in the visiting chamber of a prison, where Bilal is being held prior to his trial for aiding a terrorist group with a large sum of cash donated through his mosque. The brothers are passing their time together practicing a riff which Bilal has been teaching to Eric, to be performed at a fundraiser for Bilal's defense.
During their interchange, and supplemented by narration from Eric, who is Christian, we learn something of their background, including details about their deceased father, a steady and dutiful provider, along with Bilal's religious conversion and transformation from a pugnacious brawler into a devout individual, struggling to submit, as enjoined by his religion, to God's will.
As a prisoner, Bilal gets a lot of practice in the latter, continually having to withstand the taunts of a spiteful guard (Brian Abraham), and to endure the pain of an isolation cell, to which he's been consigned. To weaken him, he's served non-Halal foods that he will not eat, so that's he's forced into a fast not of his choosing.
But for a while the harshness of his environment is mediated by music, and by Bilal's opportunity to share with his brother — and the audience — the fruits of his talent.
Much of this work's power reflects off the intensity of Orduña's performance. It draws you in from the start, and transports you with him to the end. Walters, whom I favorably reviewed twice last year in cheerier roles and sillier plays, here displays real depth as a dramatic performer. Like jazzmen attuned to each other's rhythm, these two performers interact with kinetic grace as the piece builds to its powerful catharsis.
Perhaps what's most notable about the play itself is how well the writer has intermingled the disparate threads of his story. In this production, the musical elements of Goodwin's tale are subtly but splendidly underscored in the bar-shaped video projections on the back wall that seem to pulse like chords, or call to mind the sharp keys on a piano. No videographer is mentioned, so I'll credit scenic designer Francois–Pierre Couture for this, as well as lighting designer Tom Ontiveros. Throughout, John Nobori's sound is aerial and haunting.
---
The Theatre@Boston Court, 70 N. Mentor Ave., Pasadena; Thurs.-Sat., 8 p.m.; Sun., 2 p.m.; through Oct. 23. (626) 683-6883 or www.bostoncourt.com 

A Spiritual Mystery Play Fails to Enlighten
Yusuf Toropov's drama, set in a contaminated, cancer-ridden community, involves a publisher and his brother — a priest struggling against the local archdiocese.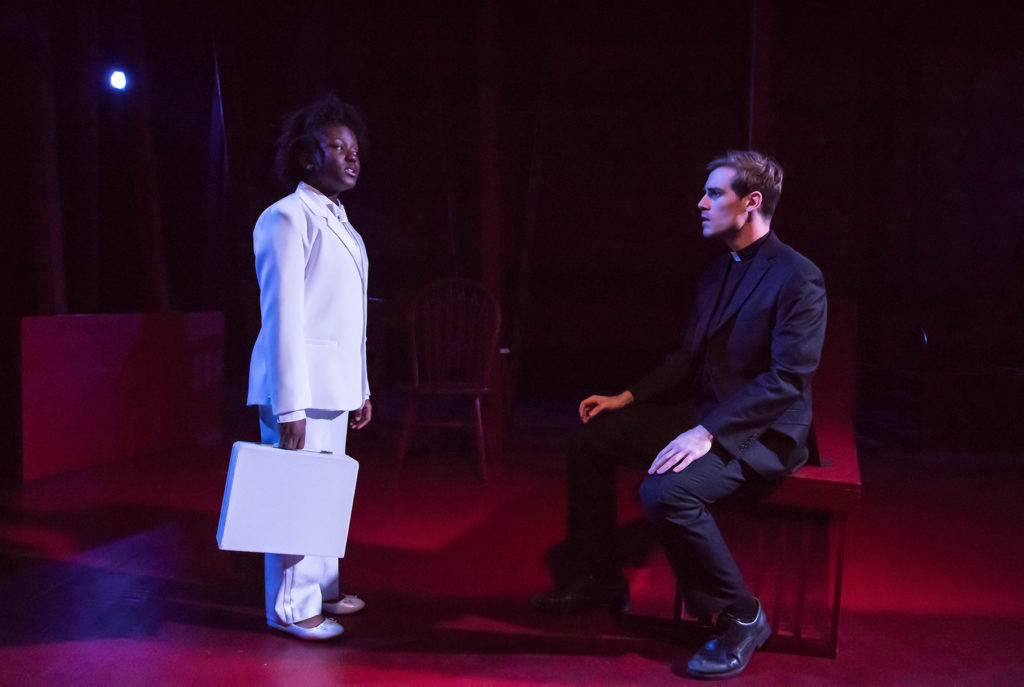 Directed by Chris Fields, Yusuf Toropov's An Undivided Heart, co-produced by the Echo Theater Company and the Circle X Theatre Co., is an aspiring work that aims to be deep but doesn't get there.
The play, running at the Atwater Village Theatre, unfolds on several levels. First, it tells the story of a young Catholic priest who must decide whether or not to publicly expose the pedophiles among his fellow clerics. Second, the work deals with our human struggle to understand why bad things happen with seeming random cruelty (a conundrum whose answers are regularly dispensed by spiritual leaders of all faiths, not very satisfactorily). On yet a third level, the play seeks to express the paradoxical wonder and mystery of life, with an assist from the supernatural.
That's a lot to cover in a little over two hours and, while the production is handsomely staged, its ambitious narrative is diminished by dangling threads, one major improbable setup near the end and too many bits of opaque dialogue.
Tim Wright, Alison Martin and Alana Dietze.
The setting is Holbrook, Massachusetts — a community whose residents have been exposed to contaminants, so cancer is rampant — in the summer of 1992. The story revolves around two brothers, both good guys: Mike (Matthew Gallenstein), a local priest who's written a revelatory book that his superiors want him not to publish, and Max (Tim Wright), an editor, who'd like to help his brother proceed.
When Max arrives at some sort of civic facility (the background particulars of this scene are unclear), he promptly tangles with an angry pregnant clerk named Lynne (Alana Dietz). A few minutes into their altercation, she goes into premature labor, and he rushes her to the hospital — the beginning of a nurturing romance.
Mike, meanwhile, is having strange dreams involving a burning typewriter and a cryptic little girl (Ann'Jewel Lee) who appears to him brandishing a dead cat. The same young person manifests in the dreams of Janice (Tracey A. Leigh, alternating with Jennifer A. Skinner), Max's Buddhism teacher, who is fond of posing riddles. Her favorite: If I am preparing to slice a cat in two, how would you prevent me from doing it?
The narrative shifts between Mike's struggle with his archdiocese, personified by its Cardinal (John Getz, alternating with William Salyers) and Lynne's problems with her dying mom Ruth (Alison Martin, alternating with Sigute Miller), a devout Catholic still in denial over her son's abuse by a priest when he was a youth.
These two storylines are interposed with the baffling dream sequences and Max's (and later Mike's) sessions with the inscrutably smiling Janice and her eschatological brain teasers. One crucial scene that leads to the dramatic climax has Mike looking to entrap an abusive priest (Jeff Alan-Lee, alternating with Jesse Bush) by attending confession with him and pretending to be a pedophile himself. The interchange, in which the priest probes for salacious details, is awkwardly plotted and escalates into over-the-top melodrama.
Cricket Myers' superlative sound design hints at the depth and scope that the playwright himself perhaps had in mind but was unable to attain. Amanda Knehans' set is an effective arrangement of wooden beams, tables and chairs that lighting designer Rose Malone smartly shades with a reddish-orange chroma, like the hues of hell. Elsewhere, she spotlights the players well.
Wright's warm and empathetic Max is highly likable, and he keeps you interested in the scenes he's involved with. Getz is appropriately unctuous as the Cardinal, and Martin draws a richly textured portrait of a not terribly educated housewife, who, buffeted by adversity, still clings to her faith. Michael Sturgis steals the limelight as a singing, simpering cleric. A couple of the other lead performances need refining.
Atwater Village Theatre, 3269 Casitas Ave., Los Angeles; Mon., 8 p.m.; Fri.- Sat., 8 p.m.; Sun., 4 p.m.; through April 22. www.EchoTheaterCompany.com
---
Copyright Capital & Main