Redemption In a Bleak Universe: 'Bars and Measures' Reviewed
Bars and Measures, Idris Goodwin's moving drama, directed with a sure hand by Weyni Mengesha, can be appreciated on several levels. To begin with, it's a political work, a disturbing tale involving the questionable prosecution of an American Muslim for abetting a terrorist organization.

Matt Orduña, left, and Donathan Walters. (Photo: Ed Krieger)
Bars and Measures, Idris Goodwin's moving drama, directed with a sure hand by Weyni Mengesha, can be appreciated on several levels. To begin with, it's a political work, a disturbing tale involving the questionable prosecution of an American Muslim for abetting a terrorist organization. Second, this is a story about family, and centers on the relationship between two brothers, whose bonds of affection hold strong despite their differences in personality and outlook — that is, until the harsh judgment of the outside world compels otherwise. Last, Goodwin presents us with a portrait of musicians and their art, and offers a paean to both as a redemptive gift in a bleak and desolate universe.
The brothers in question are Bilal (Matt Orduña), a brooding jazz musician, and Eric (Donathan Walters), his younger brother and a much sunnier individual who's been to Julliard and is now building a career as a classical pianist. The play opens in the visiting chamber of a prison, where Bilal is being held prior to his trial for aiding a terrorist group with a large sum of cash donated through his mosque. The brothers are passing their time together practicing a riff which Bilal has been teaching to Eric, to be performed at a fundraiser for Bilal's defense.
During their interchange, and supplemented by narration from Eric, who is Christian, we learn something of their background, including details about their deceased father, a steady and dutiful provider, along with Bilal's religious conversion and transformation from a pugnacious brawler into a devout individual, struggling to submit, as enjoined by his religion, to God's will.
As a prisoner, Bilal gets a lot of practice in the latter, continually having to withstand the taunts of a spiteful guard (Brian Abraham), and to endure the pain of an isolation cell, to which he's been consigned. To weaken him, he's served non-Halal foods that he will not eat, so that's he's forced into a fast not of his choosing.
But for a while the harshness of his environment is mediated by music, and by Bilal's opportunity to share with his brother — and the audience — the fruits of his talent.
Much of this work's power reflects off the intensity of Orduña's performance. It draws you in from the start, and transports you with him to the end. Walters, whom I favorably reviewed twice last year in cheerier roles and sillier plays, here displays real depth as a dramatic performer. Like jazzmen attuned to each other's rhythm, these two performers interact with kinetic grace as the piece builds to its powerful catharsis.
Perhaps what's most notable about the play itself is how well the writer has intermingled the disparate threads of his story. In this production, the musical elements of Goodwin's tale are subtly but splendidly underscored in the bar-shaped video projections on the back wall that seem to pulse like chords, or call to mind the sharp keys on a piano. No videographer is mentioned, so I'll credit scenic designer Francois–Pierre Couture for this, as well as lighting designer Tom Ontiveros. Throughout, John Nobori's sound is aerial and haunting.
---
The Theatre@Boston Court, 70 N. Mentor Ave., Pasadena; Thurs.-Sat., 8 p.m.; Sun., 2 p.m.; through Oct. 23. (626) 683-6883 or www.bostoncourt.com 

'Skeleton Crew' Is a Play With a Moral Spine
Set in a Detroit automobile outfitting plant, Dominique Morisseau's drama grabs you from the start with its focus on blue-collar men and women, and their struggle for dignity and self-respect.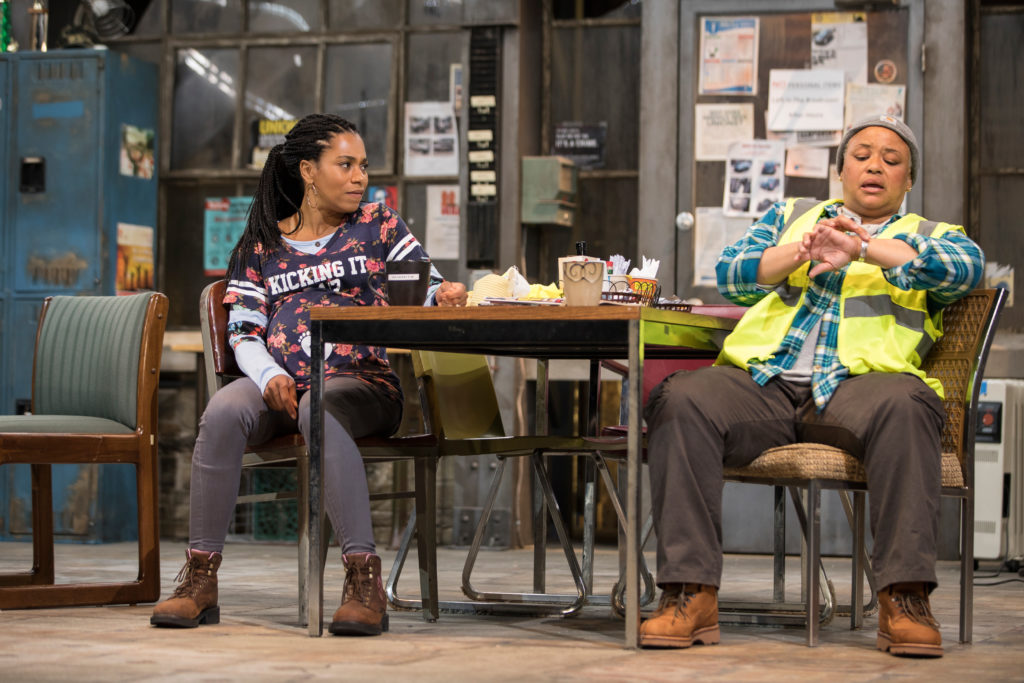 Working-class men and women of color are rarely front and center in today's media and, likewise, are presented all too occasionally on the American stage. So it's buoying to see that trend bucked in playwright Dominique Morisseau's percipient and well-crafted drama, Skeleton Crew. The play is the final installment in her Detroit  Project Trilogy; the first, Paradise Blue, is set in the 1940s amidst displacement caused by urban renewal and gentrification, while the second, Detroit '67, transpires on the eve of the 1967 Detroit riots sparked by a police action.
Directed by Patricia McGregor at Los Angeles' Geffen Playhouse, Skeleton Crew is a play with a moral spine. It takes place in 2008, when the shrinking U.S. auto industry is being further downsized. Morisseau's engaging quartet of characters — Faye (Caroline Stefanie Clay), Dez (Armari Cheatom), Shanita (Kelly McCreary) and Reggie (DB Woodside) – are employed at an automobile outfitting plant. Faye, Dez and Shanita are workers on the line while Reggie (who has a wife and kids, and has pulled himself together after a troubled youth) is their supervisor.
The first three customarily mingle in their break room (designer Rachel Myers' impressively cluttered, dingy and detailed set), trading the sort of familiar barbs and genuine concern for each other common among longtime co-workers. They also face off on philosophy: Upper-middle-aged Faye and the younger, pregnant Shanita take pride in their labor, while Dez, though a good worker, is a malcontent scornful of management and firm in the belief that everyone needs to watch out for himself. He's a thorn in Reggie's side, for while Reggie wants to be supportive of his workers, he must act at the behest of higher management. For his part, Dez resents Reggie's authority, and a palpable unease exists between them.
Besides this male matchup, we're made privy to Dez's attraction to Shanita, who mostly turns away his advances, but every now and then displays a hint of interest. Most poignant is Reggie's regard and affection for the lesbian Faye, which has roots in his boyhood when she loved, and lived, with his now-deceased mom.
These people's various predicaments intensify when rumors spread of the plant's shutdown — a disaster for all, but a particular calamity for the already near-broke Faye who, one year short of retirement, would lose her pension. The crisis forces each of these people to make a choice.
A sound piece of social realism, Skeleton Crew grabs you from the start in its focus on blue-collar men and women, and their struggle against odds for dignity and self-respect. Morisseau not only furnishes these characters a platform for their travails, she endows them with strong values, big hearts and the opportunity to choose between right and wrong.
Unfortunately, the performance I attended did not soar. Many exchanges lacked a fresh edge. The actors certainly had their characters down, but too often they appeared to be coasting on technique. (This seemed particularly true of Clay, who performed the role to great accolades in Washington, DC in 2017, also under McGregor's direction). Additionally, some of the stage movement was not entirely fluid; in confrontations, actors sometimes would just stand and face each other in an artificial way. And Cheatom's interpretation of Dez struck me as a bit overly churlish and depressive: I needed more glimpses of the intelligence and edge that would secretly attract the strong, self-directed Shanita.
The most compelling moments belong to Woodside, well-cast as a man trying his best in difficult circumstances to do the right thing.
---
Gil Cates Theater at the Geffen Playhouse, 10886 Le Conte Ave., Westwood Village; Tues.-Fri., 8 p.m.; Sat., 3 & 8 p.m. Sun., 2 & 7 p.m.; through July 8. (310) 208-5454 or www.geffenplayhouse.org