Rebel With a Cause: Joe Hill's Legacy
If legendary labor activist Joe Hill were alive today — and some contend that he is — he would have plenty to say about the state of the American worker. And the country, if it listened, would have plenty to learn.
Hill, who was executed in Utah 100 years ago this month, was an unapologetically radical union organizer whose rough-hewn songs and poems matched the brutal working conditions endured by tens of millions of Americans in the early 20th century. While his lyrics might at first sound anachronistic to contemporary audiences, their underlying spirit speaks directly to the experiences of far too many in our often unforgiving 21st century economy.
"Would you have freedom from wage slavery… Would you from mis'ry and hunger be free," from Hill's 1913 anthem "There Is Power in a Union," could easily have been inspired by the thousands of truck drivers who haul goods to and from the nation's largest port in Los Angeles. Misclassified as independent contractors, these port truck drivers are organizing and going on strike to protest their misclassification and rampant wage theft projected at $850 million annually. After 40-to-50-hour work weeks, it is not uncommon for these drivers to receive "negative paychecks" – they actually owe money to the trucking companies that employ them due to unlawful deductions.
Hill, who first came to prominence as an organizer in San Pedro, California — the same place where today's port truck drivers toil in sweatshops on wheels — might well be taken aback by how little things have changed in the last century. In his day, he helped instigate a strike among San Pedro's badly exploited immigrant dock workers in his role as a leader of the Industrial Workers of the World union.
The Wobblies, as they were known, were founded in 1905, when only five percent of American workers belonged to a union. Hill would be dismayed to find that, in 2015, a mere 6.6 percent of private sector workers and 11.1 percent of the total U.S. workforce have union representation, down from 35 percent of all American workers in the 1950s.
His response would no doubt be as unequivocal as his advice to friends just before his execution: "Don't waste time mourning, organize." If that seems overly simplistic, consider this analysis from Nobel Prize-winning economist Joseph Stiglitz: "You must get others to join you, to work with you, to organize with you, to fight with you. It is only you who can raise the voice of ordinary Americans, and demand what you have worked so hard for."
Stiglitz understands — just as Hill knew in his time — that without a powerful labor movement able to organize large numbers of workers, there simply is no way to reverse the country's high levels of economic inequality.
This is true even at a moment when much of the American labor movement has needed to expand its organizing strategies to combat gilded-age income inequality, including with audacious efforts to raise the minimum wage to $15 an hour, sit-ins by cafeteria workers in the United States Senate and the embrace of worker and day-laborer centers. As former U.S. Labor Secretary Robert Reich recently declared, "If we want average Americans to get a fair share of the gains from economic growth, they need to be able to unionize."
Any other conclusion is naïve at best, and delusional at worst. Or as Hill wrote in his 1910 song "The Preacher and the Slave," warning workers not to be fooled by false promises in this world or the next:
You will eat, bye and bye
In that glorious land above the sky
Work and pray, live on hay
You'll get pie in the sky when you die (that's a lie)
Hill's clear-eyed view of power still resonates today — so much, in fact, that the centenary of his death is being celebrated across the country. In addition to shows and theater performances, a new volume of The Letters of Joe Hill has just been released, with a foreword by musician Tom Morello. (Morello's sold-out tribute to Hill took place at the legendary L.A. Troubadour club on November 17.)
As Morello has said, "Joe Hill's influence is everywhere. Without Joe Hill, there's no Woody Guthrie, no Dylan, no Springsteen, no Clash, no Public Enemy, no Minor Threat, no System of a Down, no Rage Against the Machine."
If Hill's legacy is alive and well, so are the dire circumstances that animated his life and work. And to that, Joe Hill would surely say, as he did in his classic 1910 anthem:"Workers of the world awaken. Break your chains, demand your rights."
America, are you listening?
---
Julie Gutman Dickinson is a partner with the union-side law firm Bush, Gottlieb. She has served as Vice President of the Los Angeles Board of Public Works Commissioners and Senior Labor Advisor to Los Angeles Mayor Antonio Villaraigosa. This article was cross-posted with the Huffington Post with permission.

'Skeleton Crew' Is a Play With a Moral Spine
Set in a Detroit automobile outfitting plant, Dominique Morisseau's drama grabs you from the start with its focus on blue-collar men and women, and their struggle for dignity and self-respect.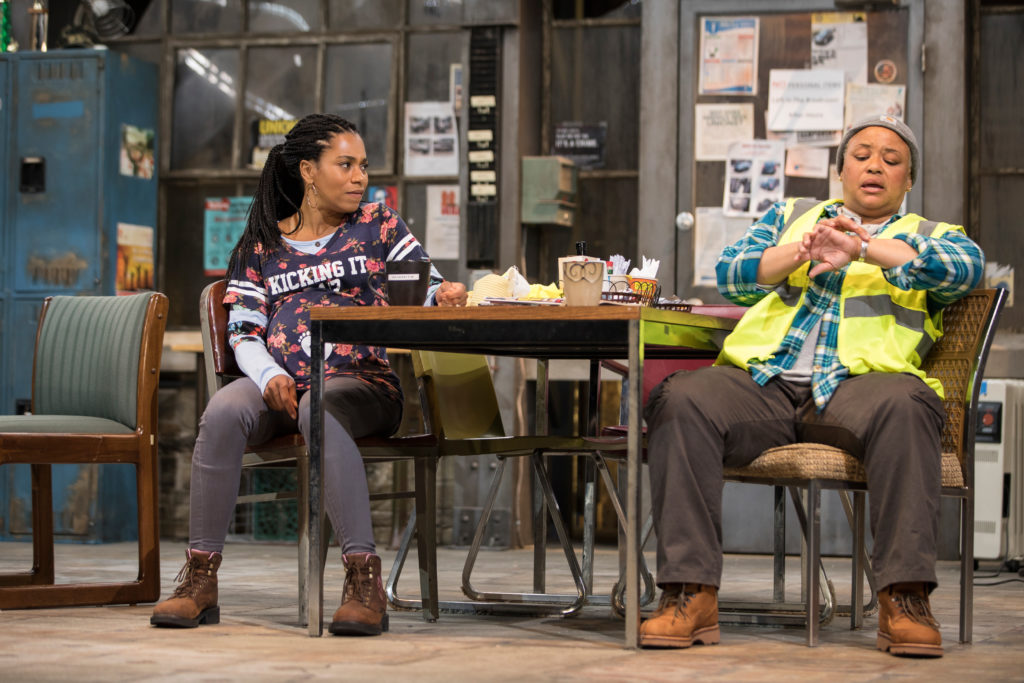 Working-class men and women of color are rarely front and center in today's media and, likewise, are presented all too occasionally on the American stage. So it's buoying to see that trend bucked in playwright Dominique Morisseau's percipient and well-crafted drama, Skeleton Crew. The play is the final installment in her Detroit  Project Trilogy; the first, Paradise Blue, is set in the 1940s amidst displacement caused by urban renewal and gentrification, while the second, Detroit '67, transpires on the eve of the 1967 Detroit riots sparked by a police action.
Directed by Patricia McGregor at Los Angeles' Geffen Playhouse, Skeleton Crew is a play with a moral spine. It takes place in 2008, when the shrinking U.S. auto industry is being further downsized. Morisseau's engaging quartet of characters — Faye (Caroline Stefanie Clay), Dez (Armari Cheatom), Shanita (Kelly McCreary) and Reggie (DB Woodside) – are employed at an automobile outfitting plant. Faye, Dez and Shanita are workers on the line while Reggie (who has a wife and kids, and has pulled himself together after a troubled youth) is their supervisor.
The first three customarily mingle in their break room (designer Rachel Myers' impressively cluttered, dingy and detailed set), trading the sort of familiar barbs and genuine concern for each other common among longtime co-workers. They also face off on philosophy: Upper-middle-aged Faye and the younger, pregnant Shanita take pride in their labor, while Dez, though a good worker, is a malcontent scornful of management and firm in the belief that everyone needs to watch out for himself. He's a thorn in Reggie's side, for while Reggie wants to be supportive of his workers, he must act at the behest of higher management. For his part, Dez resents Reggie's authority, and a palpable unease exists between them.
Besides this male matchup, we're made privy to Dez's attraction to Shanita, who mostly turns away his advances, but every now and then displays a hint of interest. Most poignant is Reggie's regard and affection for the lesbian Faye, which has roots in his boyhood when she loved, and lived, with his now-deceased mom.
These people's various predicaments intensify when rumors spread of the plant's shutdown — a disaster for all, but a particular calamity for the already near-broke Faye who, one year short of retirement, would lose her pension. The crisis forces each of these people to make a choice.
A sound piece of social realism, Skeleton Crew grabs you from the start in its focus on blue-collar men and women, and their struggle against odds for dignity and self-respect. Morisseau not only furnishes these characters a platform for their travails, she endows them with strong values, big hearts and the opportunity to choose between right and wrong.
Unfortunately, the performance I attended did not soar. Many exchanges lacked a fresh edge. The actors certainly had their characters down, but too often they appeared to be coasting on technique. (This seemed particularly true of Clay, who performed the role to great accolades in Washington, DC in 2017, also under McGregor's direction). Additionally, some of the stage movement was not entirely fluid; in confrontations, actors sometimes would just stand and face each other in an artificial way. And Cheatom's interpretation of Dez struck me as a bit overly churlish and depressive: I needed more glimpses of the intelligence and edge that would secretly attract the strong, self-directed Shanita.
The most compelling moments belong to Woodside, well-cast as a man trying his best in difficult circumstances to do the right thing.
---
Gil Cates Theater at the Geffen Playhouse, 10886 Le Conte Ave., Westwood Village; Tues.-Fri., 8 p.m.; Sat., 3 & 8 p.m. Sun., 2 & 7 p.m.; through July 8. (310) 208-5454 or www.geffenplayhouse.org