Rebel With a Cause: Joe Hill's Legacy
If legendary labor activist Joe Hill were alive today — and some contend that he is — he would have plenty to say about the state of the American worker. And the country, if it listened, would have plenty to learn.
Hill, who was executed in Utah 100 years ago this month, was an unapologetically radical union organizer whose rough-hewn songs and poems matched the brutal working conditions endured by tens of millions of Americans in the early 20th century. While his lyrics might at first sound anachronistic to contemporary audiences, their underlying spirit speaks directly to the experiences of far too many in our often unforgiving 21st century economy.
"Would you have freedom from wage slavery… Would you from mis'ry and hunger be free," from Hill's 1913 anthem "There Is Power in a Union," could easily have been inspired by the thousands of truck drivers who haul goods to and from the nation's largest port in Los Angeles. Misclassified as independent contractors, these port truck drivers are organizing and going on strike to protest their misclassification and rampant wage theft projected at $850 million annually. After 40-to-50-hour work weeks, it is not uncommon for these drivers to receive "negative paychecks" – they actually owe money to the trucking companies that employ them due to unlawful deductions.
Hill, who first came to prominence as an organizer in San Pedro, California — the same place where today's port truck drivers toil in sweatshops on wheels — might well be taken aback by how little things have changed in the last century. In his day, he helped instigate a strike among San Pedro's badly exploited immigrant dock workers in his role as a leader of the Industrial Workers of the World union.
The Wobblies, as they were known, were founded in 1905, when only five percent of American workers belonged to a union. Hill would be dismayed to find that, in 2015, a mere 6.6 percent of private sector workers and 11.1 percent of the total U.S. workforce have union representation, down from 35 percent of all American workers in the 1950s.
His response would no doubt be as unequivocal as his advice to friends just before his execution: "Don't waste time mourning, organize." If that seems overly simplistic, consider this analysis from Nobel Prize-winning economist Joseph Stiglitz: "You must get others to join you, to work with you, to organize with you, to fight with you. It is only you who can raise the voice of ordinary Americans, and demand what you have worked so hard for."
Stiglitz understands — just as Hill knew in his time — that without a powerful labor movement able to organize large numbers of workers, there simply is no way to reverse the country's high levels of economic inequality.
This is true even at a moment when much of the American labor movement has needed to expand its organizing strategies to combat gilded-age income inequality, including with audacious efforts to raise the minimum wage to $15 an hour, sit-ins by cafeteria workers in the United States Senate and the embrace of worker and day-laborer centers. As former U.S. Labor Secretary Robert Reich recently declared, "If we want average Americans to get a fair share of the gains from economic growth, they need to be able to unionize."
Any other conclusion is naïve at best, and delusional at worst. Or as Hill wrote in his 1910 song "The Preacher and the Slave," warning workers not to be fooled by false promises in this world or the next:
You will eat, bye and bye
In that glorious land above the sky
Work and pray, live on hay
You'll get pie in the sky when you die (that's a lie)
Hill's clear-eyed view of power still resonates today — so much, in fact, that the centenary of his death is being celebrated across the country. In addition to shows and theater performances, a new volume of The Letters of Joe Hill has just been released, with a foreword by musician Tom Morello. (Morello's sold-out tribute to Hill took place at the legendary L.A. Troubadour club on November 17.)
As Morello has said, "Joe Hill's influence is everywhere. Without Joe Hill, there's no Woody Guthrie, no Dylan, no Springsteen, no Clash, no Public Enemy, no Minor Threat, no System of a Down, no Rage Against the Machine."
If Hill's legacy is alive and well, so are the dire circumstances that animated his life and work. And to that, Joe Hill would surely say, as he did in his classic 1910 anthem:"Workers of the world awaken. Break your chains, demand your rights."
America, are you listening?
---
Julie Gutman Dickinson is a partner with the union-side law firm Bush, Gottlieb. She has served as Vice President of the Los Angeles Board of Public Works Commissioners and Senior Labor Advisor to Los Angeles Mayor Antonio Villaraigosa. This article was cross-posted with the Huffington Post with permission.

A Woman's Art Is Never Done: The Feminae Exhibition
A striking juxtaposition between the past and present courses throughout the small gallery. Celia Blomberg's "International Women's Day March 8" can't help but make one think of 2017's Women's March, which occurred 37 years after the print's first appearance.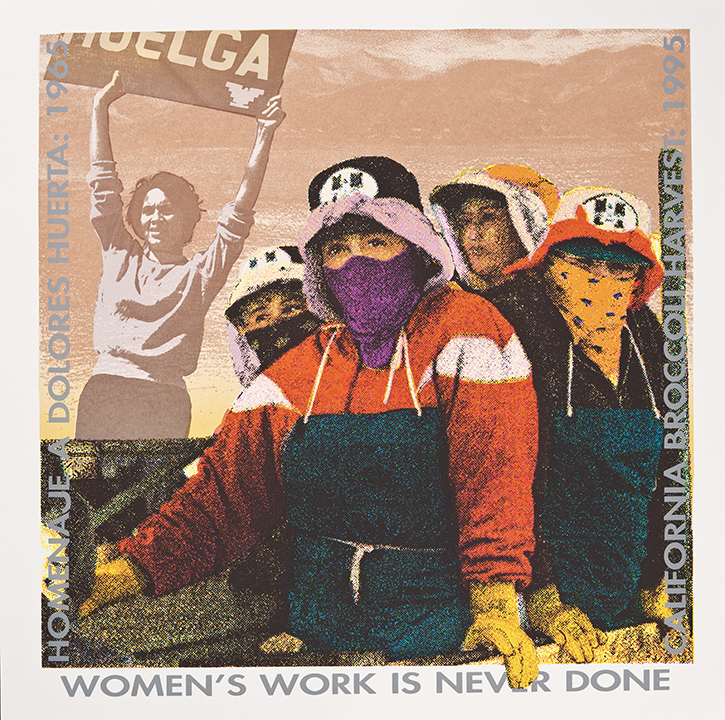 Among the 50-plus works in the Feminae: Typographic Voices of Women By Women exhibit is Yolanda Lopez's "Women's Work is Never Done." Lopez's title is particularly ironic, given the exhibit's gender-based subject matter. The show spans work from the past 50 years, making it easy to understand how much society is still grappling with its themes of gender inequality. Culled from the archives of the Center for the Study of Political Graphics, the graphic images of protest, persuasion and empowerment are truly works of art in their own right.
However, political posters aren't made to merely spruce up walls, but to help figuratively bring barriers down as well.
Two silkscreens from the 1970s, Liliana Porter and John Schneider's "This Woman is Vietnamese" and See Red Woman's Workshop's "So Long As Women Are Not Free People Are Not Free," are particularly powerful, underscoring, as they do, the fact that the subjugation and persecution of women crosses borders and cultures as an unfortunate shared global experience. These two pieces' stark simplicity exemplifies most of the work in the exhibit. In the former, a New York Times photo of a distraught Vietnamese woman with a gun held to her head is centered above these basic words typed out in a typewriter font: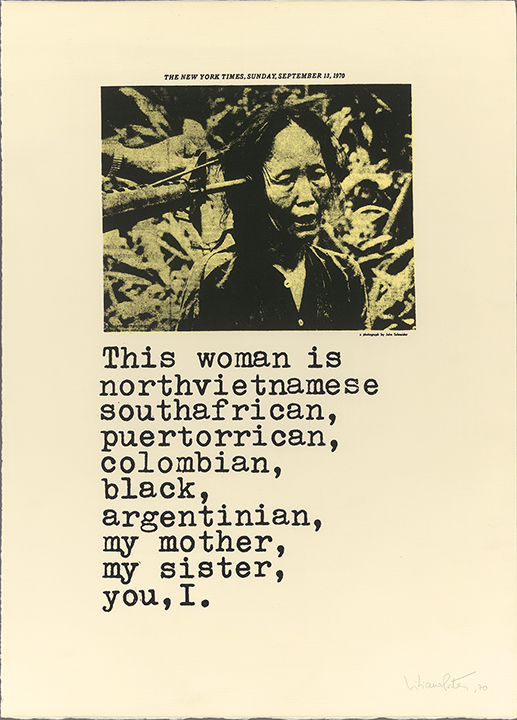 This woman is
northvietnamese
southafrican
puertorrican,
colombian,
black,
argentinian,
my mother,
my sister,
you, I.
By juxtaposing the photo with these words, the creators take the plight of this woman and immediately globalize her pain. In the latter, three female demonstrators are silkscreened in red onto a yellow background. They are marginalized by being stuck in the lower left third of the poster, but two of them are raising their fists skyward and their mouths are open, screaming in defiance. Its non-serif, eponymous type reads: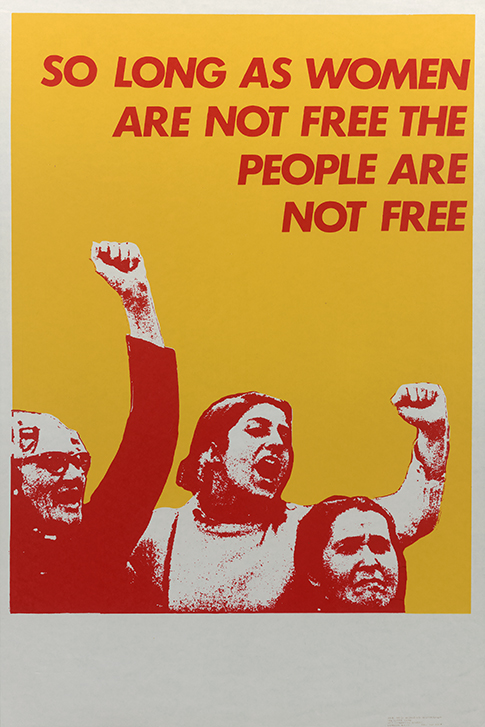 SO LONG AS WOMEN
ARE NOT FREE THE
PEOPLE ARE
NOT FREE
This piece's message takes the global message even farther, making the plight of women a human one — a common theme in the exhibition.
There is also a striking juxtaposition between the past and present that seethes throughout the small gallery. Celia Blomberg's "International Women's Day March 8" can't help but make one think of 2017's Women's March that would take place 37 years later. See Red Woman's Workshop's 1977 "Black Women Will Not Be Intimidated" could easily be repurposed to address the recent spate of blue-on-black brutality. Notable works by Barbara Kruger, Sister Corita Kent and the Guerilla Girls are also included.
Ironically , while it can be surmised that most of these works were made as populist posters to be distributed at the time as banners of protest, their beautiful simplicity and nostalgic elegance probably have resulted in the originals (mostly now found in art museums) sporting hefty vintage-resale prices.
But it is not just the art that has stood the test of time. The fact that the issues addressed in the show — feminism, choice, gender equality, war, immigration, police brutality or violence against women — are all issues at the forefront of debate in 2018 ultimately engenders conflicting feelings.
On one the hand, it is inspiring to see a vibrant exhibit that showcases such diversity in artistic styles, no doubt spawned by the diversity of the artists' own backgrounds. On the other hand, there is a realization that while there has been some progress over the past half century, there is so much work to be done.
Art Center's Hoffmitz Milken Center for Typography, 950 South Raymond Ave., Pasadena; through May 15.
---
Copyright Capital & Main