Rail Car Pact to Bring Jobs to L.A. County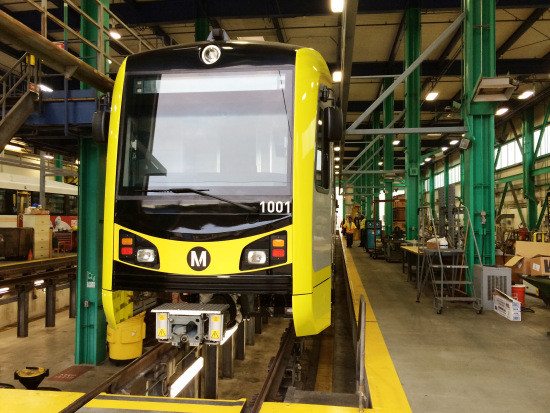 In a dramatic turnaround to what only last month was described as a hopeless impasse, Los Angeles Mayor and L.A. County Metropolitan Transportation Authority (Metro) Chair Eric Garcetti announced Tuesday that an agreement has been reached between Kinkisharyo International, LLC and labor and community groups to expand its L.A. County manufacturing operations for its next delivery of Metro light rail cars.
The mayor's office said the agreement will net the county a total of 250 new jobs as Kinkisharyo expands the light rail car assembly and testing operations at its existing plant in Palmdale. The accord also includes a "neutrality agreement" (stating Kinkisharyo won't contest attempts to unionize its workforce), as well as a commitment to explore additional skills training and assistance for disadvantaged L.A. County workers.
The agreement covers a total of 175 cars slated for assembly at the facility, including the 78 that Kinkisharyo is currently assembling under a 2012 Metro contract, as well as an order for 97 additional cars. All the rail cars will be put into service on the Crenshaw, Exposition and extended Gold lines as part of L.A. Metro's current $36 billion transportation build-out.
"It shows what the mayor can do — what a good, strong mayor can do — which is bring resolution to what seems like intractable conflicts," Madeline Janis, director of the Jobs to Move America Coalition, told Capital & Main. "He really pushed us and kept us at the table for three weeks until we came up with a win-win agreement." (Janis also serves as National Policy Director for the Los Angeles Alliance for a New Economy [LAANE] a sponsor of Capital & Main.)
Indeed, all parties agreed that Garcetti's leadership in getting people back to the bargaining table was key to the breakthrough. Tuesday's announcement represented an abrupt about-face from October news reports in which company and county officials claimed union demands were driving the rail car jobs out of California.
"Last month, the lines were drawn in the sand and we were going to see jobs that could be in L.A. County go somewhere else," Garcetti said in yesterday's prepared statement. "But because we brought both sides back to the table to grind out night and day negotiations with my office, L.A. County is going to see new middle class jobs and an expansion of our manufacturing base."
Jobs to Move America is a national coalition uniting more than 40 community, labor, faith, civil rights, philanthropic, academic and environmental groups whose mission is to use the billions spent annually on public transit dollars to rebuild the country's manufacturing base. Locally the coalition includes LAANE, the International Brotherhood of Electrical Workers Local 11 and the Los Angeles County Federation of Labor.
Janis said that the Kinkisharyo agreement represents the first use of a policy called the U.S. Employment Plan, which the coalition developed with L.A. Metro as part of a bid process that allows the agency for the first time to specify in a contract how many jobs a project will offer, where they're going to be, what kind of wages and benefits they'll provide, and what kind of training and opportunities for disadvantaged communities they'll include.
"It really shows," said Janis, "that the U.S. Employment Plan, which is now being used by many agencies across the country, is a way forward to create more American jobs, greater opportunities for disadvantaged communities — it's a successful strategy."
She added that some of the other transit agencies using the U.S. Employment Plan include the Chicago Transit Authority on a $2 billion buy that's now on the street, and the Maryland Department of Transportation in a Request for Proposals (RFP) for its Purple Line. She noted that Amtrak is evaluating it for an upcoming contract to replace the Acela high-speed trains on the East Coast, and that the California High-Speed Rail Authority is also looking at the plan for an upcoming RFP.
For Los Angeles, Janis emphasized, the deal with Kinkisharyo will maximize the expenditure of a billion dollars on light rail vehicles, ensuring that they're going to be mostly American-made by workers who will have a real shot at long-term manufacturing careers, and in a way that's transparent and good for the city and the county.
"Almost all aspects of our vision are going to be implemented by this agreement," Janis added. "It's something that is spreading across the country, and we really say with a lot a pride that Los Angeles, led by our mayor, is figuring out how to turn a $35- or $40-billion investment into a massive economic development project for the city and the county."
---
(Photo of Kinkisharyo's Palmdale plant: LA Metro)