Prince's Social Revolution
In some ways, Prince was the most successful pop recording artist who wrote frankly and pointedly about sexuality in nearly every one of his songs.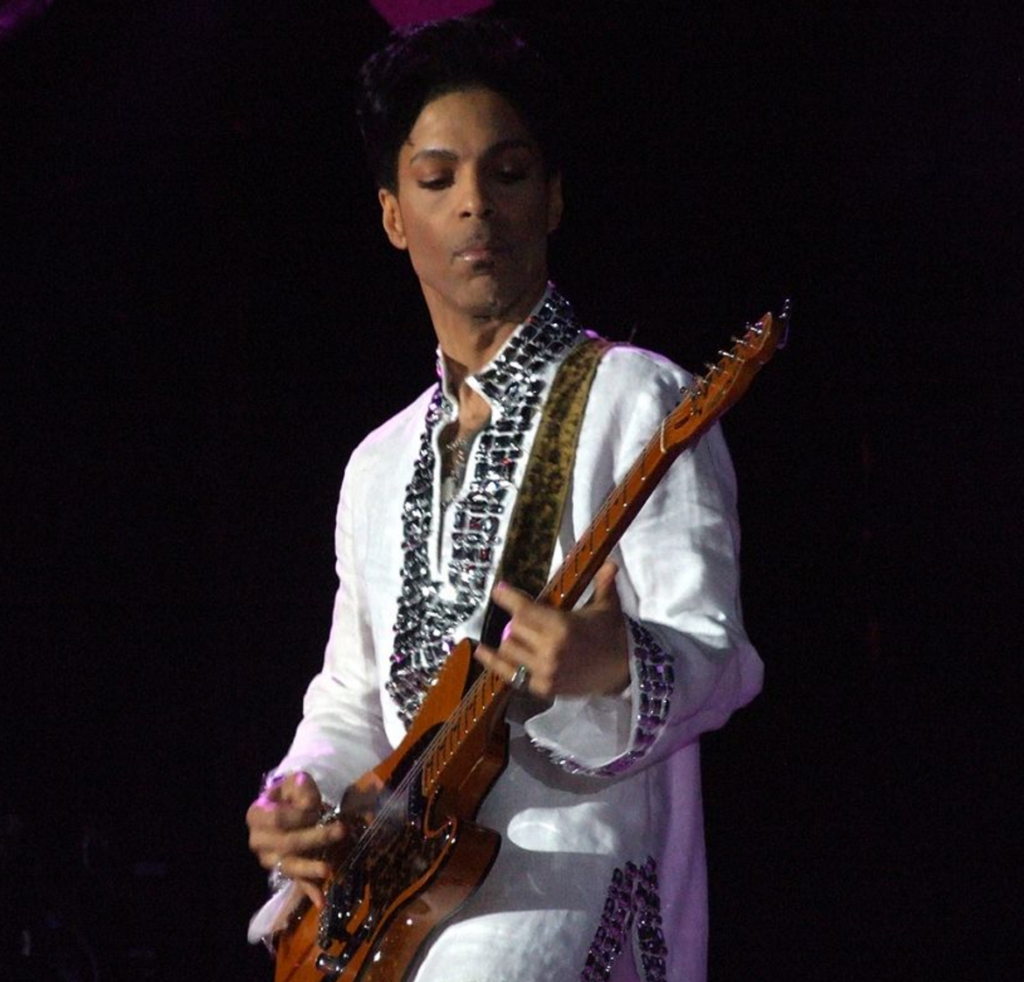 (Photo by Penner)
What a blessing and a curse it is to be talented – not just talented in a standard, my-new-song's-so-catchy or listen-how-fast-I-can-play-the-guitar fashion, but completely, utterly, extraordinarily, ridiculously gifted.
Contemporary music is full of great talents, but the world contains only a few who transcend styles, eras and musical capabilities. Prince Rogers Nelson was one of those — a rare bird in any time period, but in retrospect, viewed from the moment of his shocking and untimely death, back across nearly four decades of saucy, sexy, moving and inevitably arresting music, he pretty much stands alone.
Prince was iconic, to be sure, but he was not just musically iconic. He was visually, sartorially and even socio-politically iconic. In the video for his very first pop hit, 1979's "I Wanna Be Your Lover," he combined a slightly androgynous outfit with lyrics ("I wanna be your brother/I wanna be your mother and your sister too") that more or less forced listeners to confront how the bending of gender roles might affect their own sense of sexuality.
In some ways, Prince was the most successful pop recording artist who wrote frankly and pointedly about sexuality in nearly every one of his songs. In 1984's "When Doves Cry," arguably his single most popular and well-crafted track, he sings, "Animals strike curious poses/They feel the heat/the heat between me and you." This was not your parents' love ballad.
Not surprisingly, these sorts of button-pushing lyrics ultimately brought the censors out of hiding, as a reference to masturbation in Purple Rain's "Darling Nikki" ultimately led to Tipper Gore's outrage, which in turn brought about the Parents Music Resource Center and the 1985 Congressional hearings that ultimately produced the "Parental Advisory" stickers seen on many CDs ever since.
But however much Prince was driven by sexual desire to create his music and lyrics, it's worth noting that the relentlessly prolific, almost machine-like nature of his musical output ultimately led him closer to the least emotional end of sexuality. As time went on, the relatively organic sound and teasing nature of his songs shifted towards a more mechanized approach, complete with cartoonish effects on his voice and a thinner, more bloodless production style.
For a person who might visit a strip club only on the occasion of a friend's bachelor party, for instance, the young woman baring all is a novelty, a turn-on largely because she represents something exotic. Go there every day for a few weeks, though, and one quickly sees that it's a job, and both she — and you — have to work harder and harder to find emotion in her motion.
Prince found himself in the same predicament after a while. Though his sheer talent prevented him from turning out subpar material, his need to work constantly in the studio became more obsessive, and his songwriting started to narrow its focus. The young man who had worried about world destruction, and who dealt with it by partying on, dude, in "1999" wound up a dozen years later churning out the lukewarm, would-be hip-hop of "My Name Is Prince/And I am funky /My name is Prince/The one and only."
He was better than that; we knew it, and he knew it. He had demonstrated his remarkable abilities from an early age, not only putting out his first major-label album while still 19, but doing so by playing all 27 instruments on it, composing and arranging every song, and producing the whole project, at a time when that sort of thing was nearly unheard of, especially by someone that young.
And throughout the 1980s, he dazzled us by putting out one definitive genre-bending album after another. His band during that era, Prince and The Revolution, included men and women, white and black, musicians whose various home bases were in funk, or jazz, or rock, or salsa. Who else did that, and did it so naturally? Perhaps his most fundamental achievement, both on a social and musical level, was to demonstrate that we really could all get together and create. We could make beautiful, funky, exciting, mind-bending, edgy and hell, sometimes, fussy music. Because that's us, in a nutshell.
Prince just happened to be the one, the only one, with the combination of talent and nerve to put it all together. And for that, we owe him a huge debt of gratitude. Thank goodness, the music is still there to say, You're welcome.
Bob Remstein is a musician and composer based in Los Angeles. He was music editor of the LA View, and has written extensively on music and the arts for Rolling Stone, Us, and BAM, as well as for E! Online, Wall of Sound, the MusicHound Record Guide and other publications.

A Woman's Art Is Never Done: The Feminae Exhibition
A striking juxtaposition between the past and present courses throughout the small gallery. Celia Blomberg's "International Women's Day March 8" can't help but make one think of 2017's Women's March, which occurred 37 years after the print's first appearance.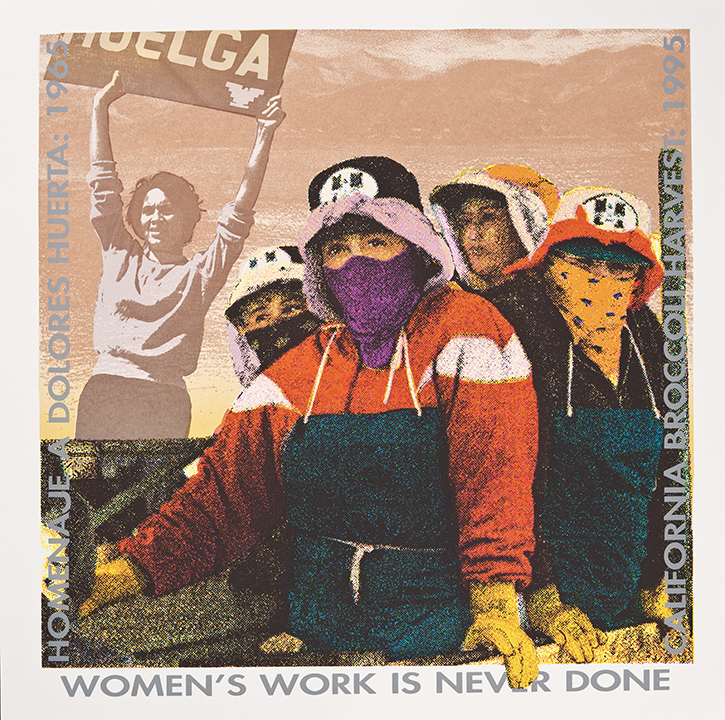 Among the 50-plus works in the Feminae: Typographic Voices of Women By Women exhibit is Yolanda Lopez's "Women's Work is Never Done." Lopez's title is particularly ironic, given the exhibit's gender-based subject matter. The show spans work from the past 50 years, making it easy to understand how much society is still grappling with its themes of gender inequality. Culled from the archives of the Center for the Study of Political Graphics, the graphic images of protest, persuasion and empowerment are truly works of art in their own right.
However, political posters aren't made to merely spruce up walls, but to help figuratively bring barriers down as well.
Two silkscreens from the 1970s, Liliana Porter and John Schneider's "This Woman is Vietnamese" and See Red Woman's Workshop's "So Long As Women Are Not Free People Are Not Free," are particularly powerful, underscoring, as they do, the fact that the subjugation and persecution of women crosses borders and cultures as an unfortunate shared global experience. These two pieces' stark simplicity exemplifies most of the work in the exhibit. In the former, a New York Times photo of a distraught Vietnamese woman with a gun held to her head is centered above these basic words typed out in a typewriter font: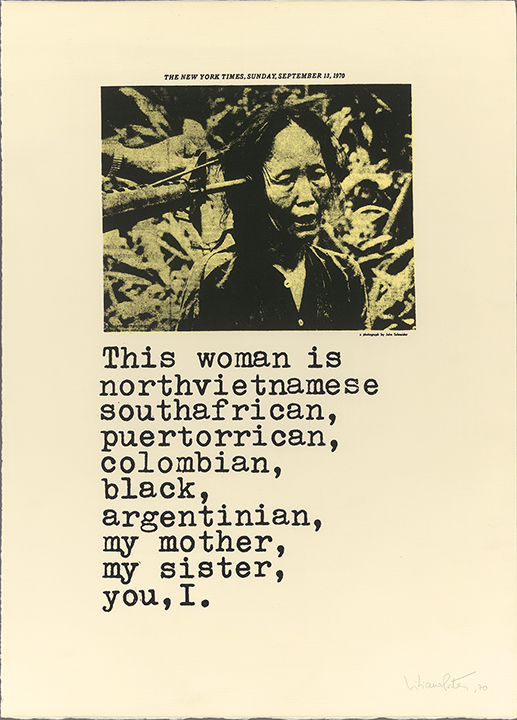 This woman is
northvietnamese
southafrican
puertorrican,
colombian,
black,
argentinian,
my mother,
my sister,
you, I.
By juxtaposing the photo with these words, the creators take the plight of this woman and immediately globalize her pain. In the latter, three female demonstrators are silkscreened in red onto a yellow background. They are marginalized by being stuck in the lower left third of the poster, but two of them are raising their fists skyward and their mouths are open, screaming in defiance. Its non-serif, eponymous type reads: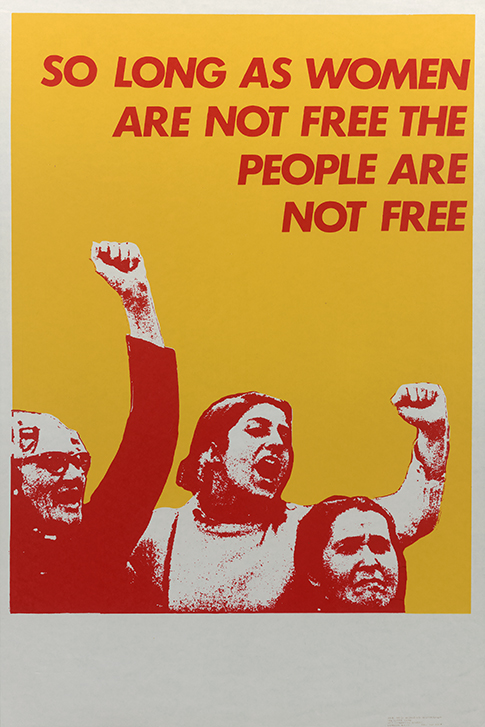 SO LONG AS WOMEN
ARE NOT FREE THE
PEOPLE ARE
NOT FREE
This piece's message takes the global message even farther, making the plight of women a human one — a common theme in the exhibition.
There is also a striking juxtaposition between the past and present that seethes throughout the small gallery. Celia Blomberg's "International Women's Day March 8" can't help but make one think of 2017's Women's March that would take place 37 years later. See Red Woman's Workshop's 1977 "Black Women Will Not Be Intimidated" could easily be repurposed to address the recent spate of blue-on-black brutality. Notable works by Barbara Kruger, Sister Corita Kent and the Guerilla Girls are also included.
Ironically , while it can be surmised that most of these works were made as populist posters to be distributed at the time as banners of protest, their beautiful simplicity and nostalgic elegance probably have resulted in the originals (mostly now found in art museums) sporting hefty vintage-resale prices.
But it is not just the art that has stood the test of time. The fact that the issues addressed in the show — feminism, choice, gender equality, war, immigration, police brutality or violence against women — are all issues at the forefront of debate in 2018 ultimately engenders conflicting feelings.
On one the hand, it is inspiring to see a vibrant exhibit that showcases such diversity in artistic styles, no doubt spawned by the diversity of the artists' own backgrounds. On the other hand, there is a realization that while there has been some progress over the past half century, there is so much work to be done.
Art Center's Hoffmitz Milken Center for Typography, 950 South Raymond Ave., Pasadena; through May 15.
---
Copyright Capital & Main