Port Truck Drivers Strike Over Company Retaliations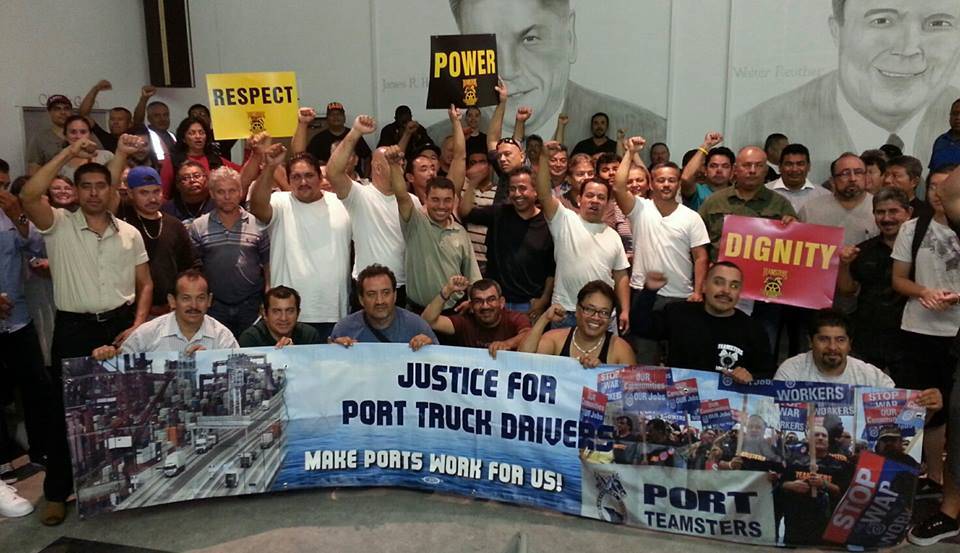 For the fourth time within a year, truck drivers at the ports of Los Angeles and Long Beach have gone on strike. The drivers allege that two hauling companies, Total Transportation Services Inc. and Pacific 9 Transportation, have been retaliating against workers challenging their company-defined status as independent contractors, or who have expressed pro-union sympathies. At the heart of the drivers' complaint is the charge that the two companies have broken the letter and spirit of a cooling-off agreement brokered by Los Angeles Mayor Eric Garcetti last July.
That agreement, which called on trucking companies to take back strikers without retaliating against them, had ended a weeklong walkout by the drivers over the issues of job classifications and working conditions.
At a waterfront  press conference held today in Wilmington, Teamster union activist Alex Paz told listeners, "We are fed up with the injustices committed by companies that haven't gotten the message yet" about the need to honor the cooling-off agreement.
Maria Elena Durazo, who heads the Los Angeles County Federation of Labor, praised the strikers in a brief but passionate address.
"Port truckers, you are our heroes!" Durazo proclaimed. "These workers who live paycheck to paycheck are not on strike just for themselves, but for millions of men and women who are misclassified in their jobs. No one who breaks the law should be able to do business at this port!"
City News Service (CNS) reports that half a dozen terminals in the Los Angeles-Long Beach port complex have been targeted by the drivers for picketing for an indefinite period of time. CNS and other media outlets have noted that this latest strike, occurring against the backdrop of increasingly heated contract negotiations between the International Longshore and Warehouse Union (ILWU) and the Pacific Maritime Association, has the potential of creating a massive port slowdown – or even closure. So far the ILWU hasn't said if its members will honor the truck drivers' picket lines.