Port Truck Drivers Continue Strike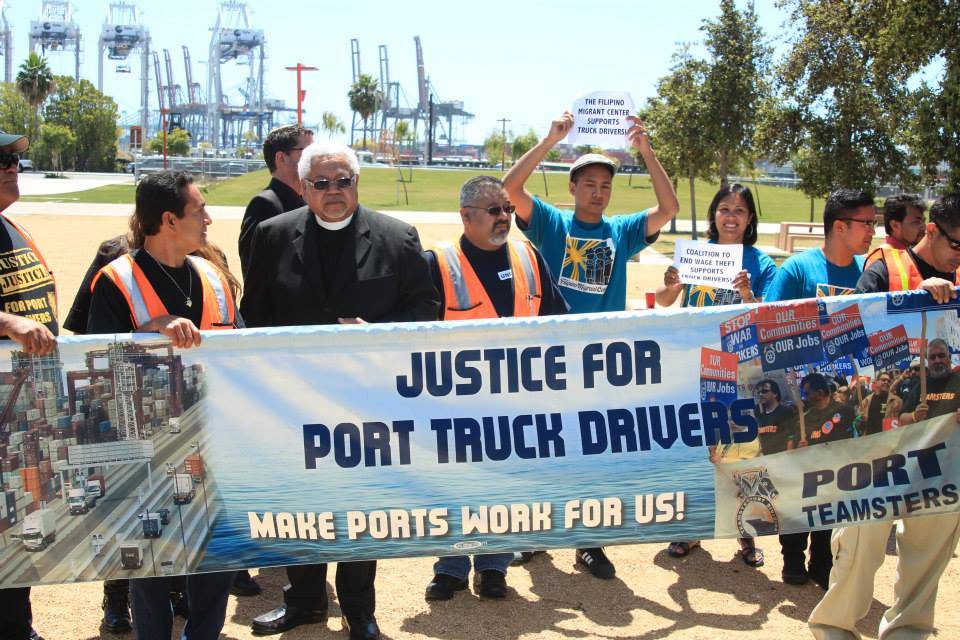 Port truck drivers today continued a 48-hour strike to press their demand to be treated as employees of trucking companies rather than as independent contractors. The distinction is crucial to thousands of drivers who service the nation's largest port complex, including the more than 100 strikers who drive short hauls for Pacific 9 Transportation, Total Transportation Services, Inc. and Green Fleet Systems. Currently misclassified by the companies as private contractors, these drivers, like the majority of U.S. port truck drivers, are denied overtime wages, workers compensation, disability and a host of other benefits, and must pay for the fuel and maintenance of their vehicles. Furthermore, after paycheck deductions many drivers earn poverty wages despite working long hours during six-day weeks.
At a noontime media event held in Wilmington Waterfront Park, TTSI driver Dennis Martinez told a crowd that "We had to strike because they didn't want to listen. They didn't want to deal with us."
The strike is organized by Justice for Port Truck Drivers and supported by members of International Brotherhood of Teamsters Local 848 as well as community and faith-based groups. Spokeswoman Barbara Maynard said the strike is not aimed at the port terminals in the harbors of Los Angeles and Long Beach, but at the three hauling companies. Maynard said that the strikers only throw up picket lines when trucks from one of the three targeted companies approach the ports.
Phillip Sanfield, the Port of Los Angeles' media director, agreed that the strikers' aim has not been to disrupt harbor activity.
"They were more concerned with making a statement and not shutting down operations," Sanfield said.
Nevertheless, Pier F in Long Beach was temporarily shut down when members of the International Longshore and Warehouse Union refused to cross a driver picket line, claiming the ILWU contract compels them to honor strike protests. Only after a mediator arrived on the scene were the longshore workers persuaded to return to work.
Today's leg of the strike will continue until 6 a.m. Wednesday.
"The drivers," Maynard told Capital & Main, "have sent a very strong message to the companies that their voices need to be heard and respected."