Pope Francis: Is God Actually in the House?
(Tomaz Silva/ABr)
While growing up an American Catholic, I learned to tune out the Vatican, which had the air of Old World irrelevancy. The pope, I thought, was just the Catholic Church's version of Queen Elizabeth, some doddering old monarch with no real power. The uncharismatic Pope Paul VI was a case in point, a kind of Millard Fillmore of the papacy. But instead of some dude with a bad 19th century haircut embroiled in states' rights debates, this was an old Italian guy in a white dress. Same difference. But what did it have to do with my world?
Well, plenty as it turned out, for my boyhood coincided with the implementation of Pope John XXIII's Vatican II reforms, which did in fact alter my world—in important ways. For a 9-year-old those important changes included permission to wear sneakers and T-shirts into church, the folk mass, no Latin classes — and an interesting lesson in architecture as the new circular churches that began to appear were more like theater in the round vs. the old style classroom setup, with the altar inaccessible, way up near the blackboard (I mean, the crucifix).
To my optimistic little childhood mind the world was getting better and the church right along with it. People were speaking out against war and racism, our babysitters were colorful hippies, one of our parish priests grew a beard and another had ditched his vows and could be seen driving around with his new girlfriend in a Mustang convertible. You could now get Mass out of the way on Saturday afternoon, which was not only an abbreviated ritual, but featured this tasty chunky brown bread Eucharist instead of the usual wafer. All of it seemed a little more honest and listening to the gospels as the priests read them from the pulpit, I began to fantasize that the church might finally walk its talk. Because it seemed to me that most of what Jesus was calling us to do—feed the hungry, visit the sick, work toward peace—was being addressed outside the church more than inside it.
An activist was born. My mother was game and so we gathered canned goods for the food bank, visited the sick and elderly, and discussed ways we could be helpful and do the right thing. It was fun and the church wasn't. The church remained a rote litany of things we had to say as we sat, stood up, kneeled, blessed ourselves and vowed everlasting faith. I only appreciated the rituals later, but by then it was too late.
I came out as gay while a young man during the 1980s, just in time for Ronald Reagan and his despicable negligence regarding AIDS and the rise of John Paul II – who I watched more or less murder millions as he spoke out against condom distribution in Africa. It was then I learned the church was not at all irrelevant, but in fact quite powerful and often sinister. The vitriol coming out of the Vatican from the mouths of John Paul II and Ratzinger (later to become Pope Benedict) was particularly insulting for gay people and, though I was raised in a religion that values forgiveness above all things, I remember a moment that struck me as truly unforgiveable.
I was standing on a street corner with ACT UP activists in San Francisco when the pope came to town. He'd decided to visit the bedside of a hemophiliac boy with AIDS, but had refused to drop in at the dozens of nearby gay hospices and as his motorcade passed the gaunt faces of the many men who would soon die, a well of anger rose up in me: What kind of man is this? Is this really God's representative on earth?
Of course, as any grassroots organizer knows, God is not only in the details, but in the rank and file, and almost never among the high and mighty. (The Sisters of Perpetual Indulgence, activist-performers who dress in over-the-top nun's drag, actually did more to save lives in those days than any nun or priest ever did). Still, there was certainly compassion among local Catholics, which I learned that same year while volunteering in an AIDS hospice and later in an AIDS Buddy program. Not only had Most Holy Redeemer, the Castro District parish, donated its rectory as a hospice, but when my Buddy, Ben, got entangled in bureaucratic red tape, it was Mother Teresa's Sisters of Charity who freed us from it. I was having trouble finding housing for him since he suffered from both AIDS and schizophrenia, and as such didn't "qualify" at most facilities.
The other hospices were equipped for one or the other, but not both and those were the rules. I can see how it made sense in bureaucratic terms, but Ben was dying. He asked if he could move in with me, but I lived in a small studio and he needed round the clock nursing care by then. That's when I discovered Gift of Love, a hospice run by the Sisters of Charity. I explained his case and its complications. The diminutive East Indian sister told me, "it doesn't matter; we take anyone." It was the only place that did.
One could argue that the church has always been better with last rites than healing or ministering to the poor and sick, not to mention empowering them by fighting for justice; but this was a start or at least offered hope that somewhere beneath the dome of St. Peter's, smothered under vestments and jewels, there was a stilled human heart that might one day beat again.
Enter Pope Francis 20-plus years later, with his alleged connections to liberation theology, just as I returned from a year living in Argentina. Everyone began asking me what I thought of him, as if I were some kind of authority on all things Argentine. My usual answer was along the lines of, "Never heard of him and I could care less. I haven't been a Catholic in 25 years and if you ask me, it looks like the church thought it was being tres radical picking a non-European. But why do they always find someone from a country with fascist tendencies: Italy, Germany, Argentina? More of the same, that's my answer!"
I wasn't encouraged. Because I became a student of the Dirty War after a year in Buenos Aires (How can one not? The city is full of memorials and the photos of the mostly young faces of the 30,000 who were disappeared between 1976 and 1983), I'd been to ESMA, the largest and most brutal torture facility in Buenos Aires. There I'd learned about the morally compromised Catholic Church hierarchy, so blinded by its anti-Marxism that it colluded with barbarism and murder. There were heroic liberation theology priests who paid with their lives while the bishop of Buenos Aires at the time, Juan Carlos Arambaru, consistently denied anyone was being disappeared, and is rumored to have been on the government's payroll. Another unforgiveable gesture from the top.
I was also aware of the controversy surrounding two Jesuit priests who'd been disappeared by the Argentine dictatorship and the question of whether Jorge Mario Bergoglio, later to become Pope Francis, aided in that or had done nothing to stop it. But there is no evidence that he worked with the dictatorship. In fact, the only evidence that has come to light suggests he tried, through back channels in the government, to get the Jesuits released. Neither the Permanent Assembly for Human Rights (La Asamblea Permanente por los Derechos Humanos, APDH), nor the National Commission on the Disappearance of Persons (Comisión Nacional sobre la Desaparición de Personas, CONADEP) found any evidence to suggest otherwise. Adolfo Pérez Esquivel, who won the 1980 Nobel Peace Prize for his human rights activism against the dictatorship, says it best: "Perhaps he didn't have the courage of other priests, but he never collaborated with the dictatorship."
Still, it's only natural that people would expect a little more from God's representative on earth. I mean, if a man is to be pope, shouldn't he be somewhat extraordinary? Well, the last pope was in the Hitler Youth. Never forget we're dealing with politics here, not godliness. But then one day Francis said in reference to gay people like me: "Who am I to judge?" Suddenly I saw a spark of hope. It's a small thing and hardly more than an expression of tolerance, but for the Catholic Church it was huge. (John Paul II and Benedict judged homosexuality to be an intrinsic evil.)
Pope Francis' other pronouncements thus far have been surprisingly encouraging and humanistic. In October, he said that "the most serious of the evils that afflict the world these days are youth unemployment and the loneliness of the old. The old need care and companionship; the young need work and hope but have neither one nor the other."
It was the first time I'd ever felt something uttered by a pope physically in my body. It was that visceral. It's like he was in the same world I was in.
Just last week, he released his Evangelii Gaudium or apostolic exhortation on "the church's primary mission of evangelization in the modern world." In it, Francis says that the world "can no longer trust in the unseen forces and the invisible hand of the market" (are you listening, O ghosts of Ms. Thatcher, Mr. Reagan and John Paul II?) and calls for action "beyond a simple welfare mentality" that "attack[s] the structural causes of inequality." He calls the new world order's unbridled capitalism "a new tyranny," condemns the "idolatry of money" and "worship of the golden calf," and urges leaders to provide work, health care and education for all citizens, challenging "ideologies which uphold the absolute autonomy of markets and financial speculation and thus deny the right of control to States, which are themselves charged with providing for the common good." (Republican government-bashers take note.)
Then he addresses the One Percent: "Just as the commandment 'Thou shalt not kill' sets a clear limit in order to safeguard the value of human life, today we also have to say 'thou shalt not' to an economy of exclusion and inequality. Such an economy kills." And he doesn't stop there. He gives examples, asking how "it is not a news item when an elderly homeless person dies of exposure, but it is news when the stock market loses two points?"
These are not the usual papal "do unto others" bromides we've grown accustomed to. Francis is asking people to think a little more deeply about things as any good Jesuit would and he's clearly pushing for reform, envisioning "a Church which is bruised, hurting and dirty because it has been out on the streets, rather than a Church which is unhealthy from being confined and from clinging to its own security."
Bingo, I've been waiting to hear that for 50 years.
But is it just talk? Hope and Change, right? Remember those? We know, as does Francis, that the power structure of the Vatican is probably as entrenched, rotten and fascist as most of us suspect. Can he really change it? Or is he just Pope Obama rolling out the rhetorical flourishes while Bishops Boehner and Cruz put up roadblocks at every turn? How much can one person change a culture? The College of Cardinals is packed with John Paul II appointees, just as our own Congress is brimming over with Reagan sycophants. Are things really starting to shift or is Francis just yet another lone voice calling out before the juggernaut of unrestrained capitalism flattens America and the world under its big Caterpillar tires?
I have no illusions. Francis is no liberation theologist, even though the church seems to think it can co-opt that movement by calling him an example of it. Francis himself has stated as much, disagreeing with liberation theology's ideology but supporting its spirit. He's clearly committed to serving the poor. He's just not a revolutionary. He doesn't support gay marriage and his opposition to it in Argentina was vociferous and strident and, many say, actually helped get it passed. Maybe he learned a lesson in that. In Argentina, he also fought against legalizing abortion, which is to be expected, but did he need to focus on the case of a mentally disabled woman who'd been raped? He's still against women priests, though he seems open to offering them more "decision-making" positions in the Church.
Perhaps the most we can ever hope for from such a brittle and archaic institution are incremental changes. And maybe Francis will make them. Or, maybe we're all being charmed by an Argentine as I was countless times when I lived there. Be that as it may, I'm still encouraged when I hear him call social debt "immoral, unjust and illegitimate," and learn he has chosen to live in the Vatican guesthouse instead of its papal apartments, and prefers simple vestments– unlike the gaudy Pope Benedict.
I have this crazy, desperate hope that, unlike John Paul II, Francis is a man who wouldn't have just driven past those gaunt-faced activists in the San Francisco fog so many years ago. But honestly, I think he probably would have. Still, even crazy desperate hope suggests something. Because just as I submitted the essay, the story broke that Pope Francis has been sneaking out of the Vatican at night dressed as a common priest, to tend to the homeless. Yes, he's a man in a white dress, but his smile and his actions are increasingly looking more Sisters of Perpetual of Indulgence than Hitler Youth.
No Walk in the Garden for the Urban Homeless
Throughout Los Angeles, landscaping is put to aggressive use, functioning as a weapon of anti-homelessness under the guise of beautification.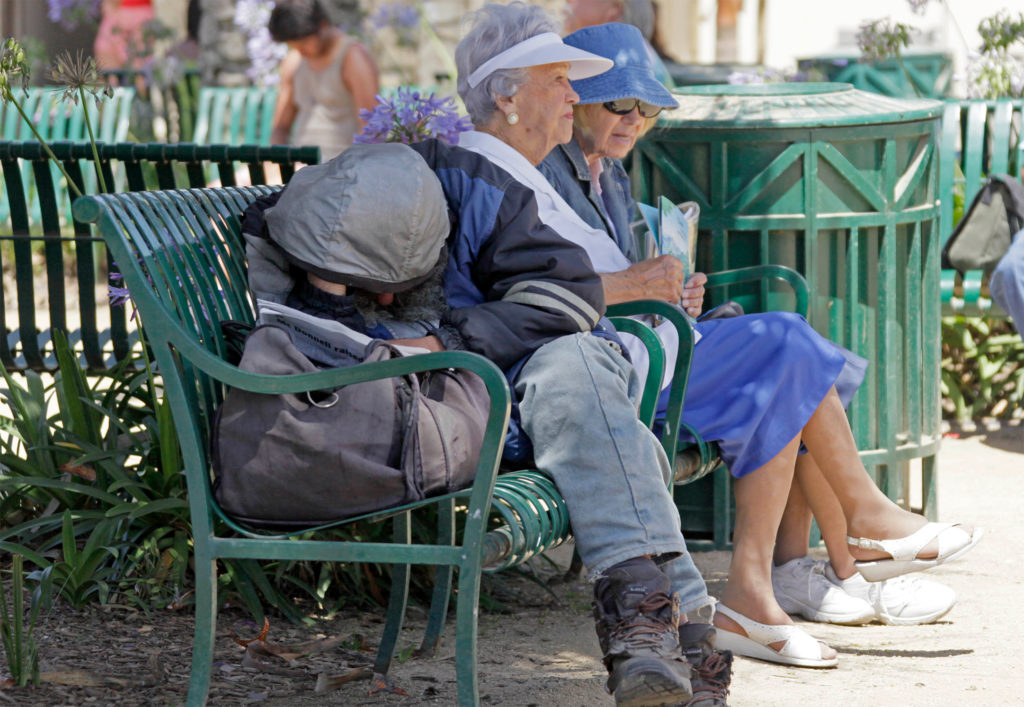 ---
The phenomenon of hostile landscaping in Los Angeles has further marginalized a swelling unhoused population.
---
Last May, in Los Angeles' coastal Venice neighborhood, Adam Smith noticed a series of planter boxes in the middle of a familiar sidewalk. Affixed near the intersection of Third and Sunset avenues, mere blocks from a Google campus and a suite of oceanside cafes, the standalone planters ran roughly the length of a wall delineating a parking lot behind a luxury condo complex.
Previously, Smith told Capital & Main, a group of six to 10 homeless people had regularly slept in tents on that block, favoring it for its relatively plentiful street light. A volunteer for the Culver-Palms Burrito Project, which prepares and serves the titular food to the unhoused of West Los Angeles, he'd become acquainted with individuals living there over the course of several years.
Once the planters were installed, however, the sidewalk was clear. "That next day, after I saw [the planter boxes] for the first time, I went there to look around because I figured they were sleeping somewhere else," Smith said. "I found people up around the corner, just, like, a block away."
---
Companies are privatizing public space to create more "landscape" for their businesses.
---
Throughout Los Angeles, landscaping is put to aggressive use, functioning as a weapon of anti-homelessness under the guise of beautification. Just as both public and private architectural design throttle space available to the unhoused internationally — via, among other examples, spikes on ledges and bars on benches to discourage sitting and lying down — and cities such as San Francisco arrange boulders to deter homeless encampments, the phenomenon of hostile landscaping in Los Angeles has further marginalized a swelling unhoused population.
Nearly 20 miles from Venice, a Los Feliz traffic median at the intersection of Vermont and Prospect avenues, and Hollywood Blvd., has regularly seen encampments arranged on its concrete ground, abutting a raised patch of desert landscaping and sycamore trees.
Christened "Vermont Triangle," the median's first redesign occurred in 2008, when the now-defunct Community Redevelopment Agency spearheaded a project to "improv[e] the pedestrian amenities" and "enhanc[e] the physical appearance of the existing median park." According to the Los Angeles Times, this yielded seating areas, lampposts to echo those at nearby Barnsdall Art Park, and the sycamores. Eventually, unhoused people began to pitch tents, availing themselves of the median's modest stretches of open public space.
Now, due to pressure from local business owners, Vermont Triangle is in flux. City Councilmember David Ryu's office, the Times noted, plans to invest $18,000 in another redesign, following a 2013 re-landscape. The 2013 update was financed in part by the Hollywood Hotel and Kaiser Permanente, according to Jeff Zarrinnam, who serves on the board of governors of the East Hollywood Business Improvement District. (Ryu's office couldn't be reached for comment.) Current proposals range from adding art installations and neighborhood signs, which Zarrinnam said the Los Feliz Neighborhood Council and East Hollywood Neighborhood Council have floated, to putting in planters.
Zarrinnam said he supports "bridge housing," a term the municipal government, neighborhood councils and local businesses use to favorably denote temporary homeless shelters and transitional housing. Yet reports indicate that the current state of temporary housing for many homeless people in Los Angeles County — who, as of May, numbered approximately 53,000 — is nothing short of abysmal. A recent investigation by radio station KPCC found infestations, harassment and medical negligence, among other scourges at various facilities throughout Los Angeles County, including those funded by the Los Angeles Homeless Services Authority (LAHSA), which conducts the county's annual homeless census.
Steve Diaz, an organizer for Los Angeles Community Action Network (LA CAN) who works with unhoused populations in downtown and South L.A., calls hostile landscaping of public space "the next level of criminalization" of homelessness. He alluded to an industrial neighborhood overlapping Skid Row, whose business owners call "The North Sea": a cluster of converted seafood warehouses and factories painted the same hues of oceanic blue — complete with landscaped sidewalks.
"They started breaking the concrete and taking away from the sidewalk to place different types of flowers, whatever garden they were putting in," Diaz said. "You have a major street [on] Skid Row that, at one point, was home to a lot of homeless folks now being gated off, and then the concrete being broken to start using these gardening pockets within the space to eliminate sidewalk access." (Miguel Nelson, a North Sea business owner involved in the area's marketing efforts, declined to respond publicly.)
As private property owners adopt guerrilla tactics to thwart homeless encampments, legal issues arise. Skid Row activist General Jeff Page has observed that, while property owners are permitted to control up to three feet of sidewalk extending from their buildings, "The North Sea is taking upwards of five to 10 feet of sidewalk, allowing only for ADA (Americans with Disabilities Act) compliance and zero space for homeless tents and/or encampments." (The Los Angeles Department of Public Works stated that the North Sea sidewalk landscaping is currently under investigation and thus couldn't comment further on the matter.)
What's more, business owners in South L.A. have illegally installed fences around their property, which, according to Diaz, will eventually give way to sidewalk landscaping. Relatedly, Adam Smith has been corresponding with city officials to ascertain the permit status of the Venice planters. The West L.A. office of the Bureau of Engineering, which issues revocable permits, told Capital & Main that it did not have a permit on file for the planters. Without one, according to the bureau, "no portion of the public right-of-way, including sidewalk, is allowed for private use."
Nevertheless, the planters remain and, according to Smith, have multiplied. Additional boxes, he said, are now ensconced in the sidewalk around the corner, to where the previously ousted people had first moved.
"For some people, [landscaping] sounds like a great idea," Diaz said. "But you're literally privatizing public space to create more 'landscape' for your business."
---
Copyright Capital & Main