Policymakers Seek Healthier, More Prosperous California
A summary of legislative proposals discussed at Policy Insights 2018, from gender equality to expanding health-care coverage.

Over 300 state policymakers, researchers, advocates and service providers explored driving a progressive political agenda to expand economic opportunity and financial security at the Policy Insights 2018 conference held last week in Sacramento. Facts and ideas presented at the event "could help form the basis of a new, future-oriented economic agenda for California in areas like tax policy, health coverage and family supports," California Budget & Policy Center executive director Chris Hoene told participants as he reviewed the state landscape within Trump World. "It's about bringing more prosperity to more people and to deepening their well-being." The nonprofit, nonpartisan Budget Center, which says it engages in independent fiscal and policy analysis to improve "the well-being of low- and middle-income Californians," hosts the gathering every year. A summary of some of the panels' discussions follows below.
---
Despite growth and low unemployment, labor's share of the economic pie is paltry, Jared Bernstein, senior fellow at the Center on Budget and Policy Priorities in Washington, DC, said in the morning's keynote address. He detailed many connections between economics and politics, linking workers' pay and productivity, unions' difficulties, fiscal and monetary policies, and state and federal budgets. The best progressive policies are the most direct, Bernstein said during a Q&A. "We need to think about direct job creation for folks left behind in rural and urban communities," he told a panel moderated by Los Angeles Times staff writer John Myers. Such a jobs policy should find a home in the upcoming election season, Bernstein added.
State Senator Holly Mitchell (Photo: Joanne Kim)
Advancing Gender Justice: Boosting Women's Well-Being Through Economic Security, Employment and Earnings
In a gender equity and justice workshop, Mary Ignatius, statewide organizer of Parent Voices, a grassroots group advocating better childcare policies, stressed the importance of a public platform for the voices of struggling, low-income women. Such a platform can and does help to dispel myths that blame working females for their plight, she said. These women often have no option other than to seek costly and scarce childcare while working outside the home, she said.
Heather McCulloch, founder and director of Closing the Women's Wealth Gap, said research shows women experience this shortfall as a group. Therefore, organizing with a "strength in numbers" focus to build coalitions is a useful tool to improve women's investment and savings, McCulloch said.
In blue-collar occupations such as those in the building trades, women's sexual harassment is rampant, said Jessica Stender, an attorney at Equal Rights Advocates, which describes itself as a national civil rights organization dedicated to protecting and expanding economic and educational access, and opportunities for women and girls. This harassment makes the goal of females "getting in and staying in" such high-paying blue-collar jobs critical, Stender said. She also discussed exploitation of low-wage women workers, saying remedies for occupations such as janitors and restaurant servers range from individual to class-action litigation.
California Budget Prospects for 2018-19 and Beyond
KQED-FM reporter Marisa Lagos moderated a panel on current state budget and policy proposals for the 2018 legislative session, and which featured state Senator Holly J. Mitchell (D-Los Angeles) and Assemblyman Phil Ting (D-San Francisco).
The two legislators focused on new priorities for the criminal justice system. Mitchell urged reforming policies that criminalize poverty and addiction. This change is underway, she said, with more work required. The recent legalization of marijuana for recreational use is a case in point — people are behind bars for crimes that no longer exist. Ting noted that the state prison population is down, but spending for it is up. Both urged fellow lawmakers to support bills that shift spending from prisons to meet the social needs of low-income Californians — such as child nutrition and early childhood education. A related means of improving low-income Californians' lives is to increase the CalWORKs cash grant, Mitchell said.
She also stressed that closing the education equity gap requires sufficient funding to ensure that all kids who enter kindergarten are prepared to learn. Ting noted that at the local K-12 school district level, better budgetary transparency is necessary to track spending and student results.
Mitchell and Ting said it is vital to continue state laws and policies that deal with the impacts of climate change. They also urged lawmakers on both sides of the aisle to continue to work to improve immigrants' lives — which they said the Trump White House opposes.
Building on Health Care Reform: Next Steps in State Health Policy
The University of California, Berkeley's Laurel Lucia noted that despite the Affordable Care Act cutting the number of Californians without health care insurance (from 17 percent in 2012 to seven percent in mid-2017), three million remain uninsured. Undocumented adults (10 percent of the labor force and 58 percent of the uninsured), do not have access to the ACA and Medi-Cal, said Lucia, director of the health care program at the university's Labor Center. She backed policy options such as Senate Bill 974, introduced by Sen. Ricardo Lara (D-Bell Gardens), to address that.
Anthony Wright, head of Health Access California, a nonprofit advocacy group, focused on policy steps the state could take without federal help, given what he called the national GOP's and President Trump's antipathy. Wright announced the launch of Care4All, a new campaign to achieve universal health care coverage in California. A step toward that goal is to expand the affordability of the ACA in the individual market and Covered California marketplace. In this way, he said, consumers would spend less of their income on premiums, copays and deductibles. Wright mentioned SB 910, authored by Senate Health Committee Chair Sen. Ed Hernandez (D-West Covina), that would ban the sale of short-term health and substandard insurance policies that Trumpcare's ACA overhaul favors, beginning in 2019.
Michelle Cabrera, health care director of the Service Employees International Union, State Council, detailed the causes and effects of high medical prices, including the upward spiral of those costs created by health-plan mergers. As an antidote, she cited Assembly Bill 595, introduced by Assemblymember Jim Wood (D-Healdsburg), to boost the Department of Managed Health Care's oversight of such mergers. These mergers hike consumers' prices, she said, and are partly why the U.S. spends more per person on health care than all other nations, yet delivers high-priced and low-quality coverage. Measures such as AB 595 could shed light on the hidden negotiated prices between health plans and providers — the kind of transparency that is now unavailable. Price transparency could expand an overdue discussion of the proprietary forces driving high health care prices, according to Cabrera.
Crafting a New Economic Agenda for California
The conference ended with a plenary discussion of building a new state economic agenda, moderated by the Budget & Policy Center's Hoene. University of Southern California sociologist Manuel Pastor looked at what worked in California's postwar economy before its boom ended and social inequality grew to its present extremes. Pastor, director of the USC Program for Environmental and Regional Equity and the USC Center for the Study of Immigrant Integration, urged state politicians to approve a new Master Plan for Higher Education to ensure low-cost access for students, and to increase investment in affordable housing. Such policies, given the state's changing demographics to a nonwhite majority, can cut the impacts of structural racism, he said.
Hoene described California's corporate-friendly economy as one that puts employers first and workers last. Alma Hernández, executive director, SEIU California, urged politicians to back better labor standards, which she said would empower working people in their fight to weaken current corporate power over politics and policies. Employers who fracture work into precarious, non-union jobs, for example, harms workers' lives on and off the job, she said. Natalie Foster, co-chair of the Economic Security Project, pondered the role of political narratives. Who tells whose stories matters in overcoming current social divisions, symptoms of rising income and wealth gaps. "Big ideas matter," she said, adding that one example is a wealth tax that could generate more revenues for progressive policies.
---
Copyright Capital & Main

Rick Scott Super PAC Donations Challenge Federal Anti-Corruption Rule
Co-published by Fast Company
The Florida governor led a group that raked in cash from Wall Street firms after Scott's administration gave them pension deals.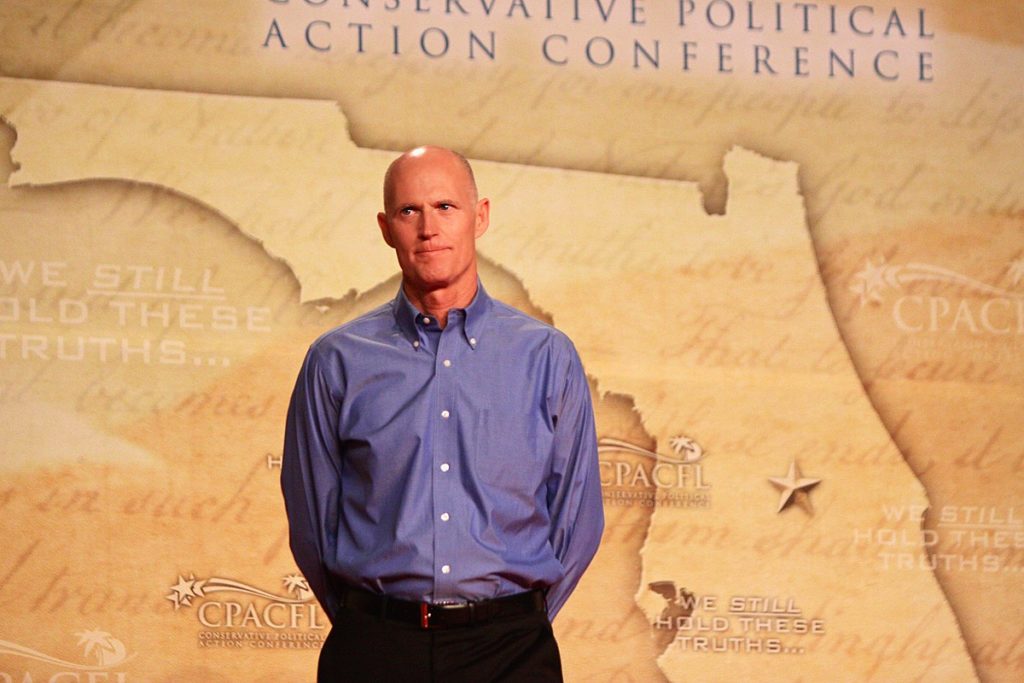 Co-published by Fast Company
A super PAC led by Florida Gov. Rick Scott raked in donations from two private equity executives after Scott's administration directed lucrative state pension investments to their firms, according to government records reviewed by MapLight and Capital & Main.
The donations were made to a committee that's now supporting Scott's U.S. Senate bid, despite a federal rule designed to prevent financial firms from bankrolling the election campaigns of public officials who oversee state pension investments.
Scott, a Republican, began chairing the New Republican PAC in May 2017 and announced his former campaign manager would serve as its executive director. Soon after, the group received $5,000 from New Mountain Capital Chief Executive Officer Steve Klinsky and $50,000 from Energy Capital Partners founder Douglas Kimmelman.
The contributions flowed to the super PAC after New Mountain Capital and Energy Capital Partners received a combined $250 million worth of new investment commitments from Florida's state pension system in 2014 and 2015. Scott is one of three state officials who oversee the $160 billion pension system. During the most recent fiscal year, the Florida investments generated more than $3 million in fees for the firms.
A 2010 Securities and Exchange Commission (SEC) rule prohibits firms from receiving investment fees from public pension systems if their executives donate campaign cash to pension overseers like Scott. SEC officials aimed to prevent investment decisions from being shaped by political influence.
But the commission didn't explicitly bar donations to "independent" political groups, unless the donations were deliberately designed to circumvent the restrictions. And it hasn't addressed whether a state official can lead a super PAC that received donations from firms with pension business and later be supported by the super PAC.
John Kuczwanski, a spokesperson for the Florida State Board of Administration, told MapLight/Capital & Main that Florida's first investments in the two private equity firms happened in 2005 and 2009, and he said Scott had nothing to do with new investments during his governorship, which started in 2011.
"The [state's] initial relationships with both managers predate Governor Scott's time in office," said Kuczwanski, whose agency manages the day-to-day operations of the pension system. "Neither the trustees, nor their appointed investment advisory council members are involved in the investment manager/fund selection process."
Scott's campaign and the super PAC did not respond to questions from MapLight/Capital & Main. New Mountain Capital and Energy Capital Partners did not return requests for comment.
Energy Capital recently completed the purchase of Calpine, whose natural gas power plant near Tampa is regulated by Scott's appointees at the Florida Public Service Commission. Kimmelman, who is now a director of Calpine, also donated $35,000 in 2017 to the National Republican Senatorial Committee, which is backing Scott's Senate campaign.
"A Very Clear Case"
Under the SEC rule — which GOP state parties have tried to overturn — investment executives are not prohibited from donating to independent political groups. But the rule allows regulators to apply restrictions to donations that are deliberately routed through third parties in order to support public officials — a situation that critics argue is happening with Scott and his super PAC.
After the governor announced his Senate bid last week, New Republican PAC's website began promoting his candidacy. End Citizens United, a Democratic-leaning political action committee based in Washington, DC, filed a complaint alleging that Scott has violated Federal Election Commission rules and is using the super PAC, which can accept unlimited donations, to evade contribution limits. Scott's campaign says he stepped down as New Republican PAC's chair in February.
In writing the original rule, SEC officials noted that while they could not restrict all donations to political action committees, contributions to third parties "may effectively operate as a funnel to the campaigns of the government officials." They said the final rule "prohibits acts done indirectly, which, if done directly, would violate the rule."
One ethics expert said that those anti-circumvention provisions should apply to the donations to Scott's super PAC.
"This appears to be a very clear case of close coordination and circumvention of the pay-to-play rule," said Craig Holman, an ethics lobbyist at the government watchdog group Public Citizen. "This is something that I'd like the SEC to pay attention to."
"No Loopholes"
The SEC has only occasionally enforced the pay-to-play rule, and the agency hasn't applied the provisions dealing with third parties to donations to super PACs. Because Scott is a sitting governor who can influence pension investments, he is covered by the rule, which has hampered the fundraising of past governors who tried to run for federal office.
A spokesman for former Texas Gov. Rick Perry's presidential campaign said the rule prevented him from raising enough money to be competitive in the 2012 race. Bloomberg reported that during the same election cycle, then-New Jersey Gov. Chris Christie was rejected as the vice presidential nominee, partly because Republicans feared the rule would prevent them from raising money from Wall Street firms that do business with his state's pension system.
"There is no way around it, and there are no loopholes," said Bill Palatucci, Christie's longtime advisor.
Even so, in recent years the rule has not deterred financial executives from donating to groups that help lawmakers who can influence pension investments. Financial executives whose firms received New Jersey and New Mexico investments continued to donate to the Republican Governors Association (RGA) when Christie and New Mexico Gov. Susana Martinez led the group. During the 2016 election cycle, executives at firms managing state pension money donated nearly $1.3 million to the GOP association, even as the group boosted the campaigns of Republican governors with power over state pension investments.
Last year, U.S. Sen. Tom Udall, D-N.M., called for the SEC to apply the pay-to-play rule to outside groups "to ensure that no one is able to circumvent these laws by using super PACs, dark money groups or other campaign spending vehicles." The RGA has argued that because it funds multiple candidates and does not allow donors to earmark contributions for particular races, it can accept donations from firms with investment business that can be influenced by individual governors. The SEC said in 2016 that donations to outside political groups "are independent expenditures that do not trigger" the rule.
"So long as the PAC faithfully observes the requirement to operate independently of candidates, a contribution to a super PAC will not trigger the [rule], even if the super PAC supports a covered official," Sam Brown, a former advisor to Federal Election Commissioner Ellen Weintraub, wrote in 2016. "Super PACs are increasingly being used in novel ways, and it remains to be seen whether these changes will result in increased circumvention risks."
---
This story is a collaboration between MapLight and Capital & Main.