Plastic Bags: Blowing in the Wind No More?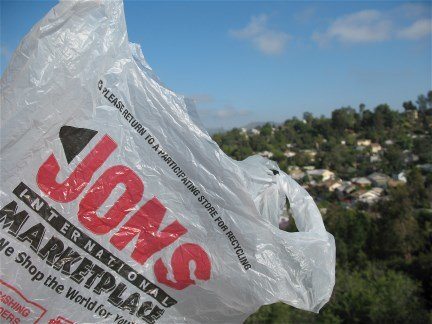 Whether California consumers will continue to enjoy the convenience — and suffer the environmental guilt — of toting their groceries in free, disposable plastic shopping bags may be decided on Thursday.
That's when Senate Bill 270, the latest version of a statewide measure that would phase out single-use plastic bags in California's grocery and convenience stores, pharmacies and liquor stores, comes up for a full floor vote in the state Assembly. The bill, which also mandates a 10-cent charge for paper bags, was introduced in February by state Senators Alex Padilla (D-Pacoima), Kevin de León (D-Los Angeles) and Ricardo Lara (D-Long Beach).
If it survives Thursday's Assembly vote and is signed by the governor, it will make California the first state in the nation to adopt a ban even as it replaces 86 local bag ban ordinances covering more than 115 cities and counties — including San Francisco, San Jose and Los Angeles — and 35 percent of California's population.
"The reality," Padilla tells Capital & Main, "is [that] for communities like mine plastic bags floating in the streets, in our parks, in the storm drain channels, is problematic. I come from local government, so I know what the cost is to cities and counties to try to collect plastic bags, to try to recycle plastic bags — it's a very inefficient process. It's problematic on a number of fronts."
The Senator's previous attempt at a plastic bag ban — last year's SB 405 — died after failing to win support from fellow Latino Caucus members like de León and Lara, who had balked at the potential hits to bag manufacturing jobs in their districts. This year, Padilla thinks he's come up with a winner, primarily by bringing his fellow Democrats on board during the drafting stage.
"I tried to address the concerns that they articulated," Padilla says. "Not just the potential economic impact if this measure should become law, but the jobs impact specifically."
Those concerns, Padilla says, are summed up in an amendment that establishes state financing for single-use plastic bag manufacturers to retool and transition to cleaner and greener products with an emphasis on the retraining and retention of workers at companies taking the state money.
Such changes have made all the difference, says Mark Murray, executive director of the environmental nonprofit Californians Against Waste, a bill sponsor and a leader in the six-year fight to pass a statewide bag law.
"The political shift that's taken place is that this is just not some save-the-critters environmental issue," Murray says. "This is [a bill] where we are paying attention to the impact on the manufacturing jobs in California, and we've come up with resources and standards to promote a California-made reusable bag, which will have recycled content, which will be a 125-use bag."
Murray estimates that, if enacted, SB 270 will eliminate 14 billion plastic bags from the state's waste stream while cutting the greenhouse gas emissions associated with their manufacture. It will also, he maintains, translate into savings at the supermarket checkout as some of the $250 million currently spent by the state's grocers on "free" bags are passed along to consumers.
To support those kinds of rosy forecasts, Murray points to the numbers already generated by cities with local bag ban ordinances. In Los Angeles County and the cities of San Francisco and San Jose, he says, 50 to 60 percent of consumers have switched to reusable bags and 40 percent are shopping without using any bags at all.
"In the old days," Murray says, "the grocery stores would just bag everything in plastic. And what we're finding is that there are many times when folks go to the grocery store [and] don't need any bag at all. The bottom line is that with these policies at the local level, we're seeing a 90 percent reduction in folks that [get] a bag."
However, neither Murray nor Padilla are prepared to call Thursday's Assembly vote a slam-dunk.
The plastics industry, led by South Carolina-based plastic bag manufacturer Hilex Poly, has proved unusually effective in staving off bag ban efforts across the country, including both last year's SB 405 and a similar statewide measure in Oregon.
"This is a billion-dollar market for Hilex Poly," Murray notes. "They've spent a tremendous amount of resources to kill this legislation. So I'm prepared for anything this week as they try desperately to kill this bill."
That effort includes Hilex Poly's own "Bag the Ban" campaign as well as TV ad blitzes attacking Padilla produced by the plastic bag industry's political arm, the American Progressive Bag Alliance (APBA). These have included a six-figure salvo timed to influence last week's Assembly Appropriations Committee vote. (SB 270 passed easily.)
APBA's strategy has been to make a devil out of the details by aggressively challenging the facts laid out by bill proponents in their claims of plastic's degradation of the environment.
"When we speak with Assembly members and folks in the Senate, we bring them cited studies," says APBA chairman Mark Daniels, who is also a senior vice president of sustainability and environmental policy at Hilex Poly. "And we challenge their intellect to say, 'Please ask Surfrider Foundation. Ask Californians Against Waste, and all of these proponents that don't particularly like plastic bags, for their cited statistics that show what happens in the marine environment.' And they come up with nothing. They really have no third-party cited studies that prove any of their allegations. We, on the other hand, go in with facts."
It's a tactic that Daniels says gives Hilex Poly "a fighting chance" to have the bill defeated.
Nevertheless, recent acquisitions of Duro Bag Manufacturing Co., the largest paper bag manufacturer in the world, and of Fortune Plastics, a maker of trashcan liners, suggest that company higher-ups may be hedging their bets by diversifying beyond plastic grocery bags. ("That's very far from the truth," counters Daniels. "This is us entering additional market spaces that the plastic bag would traditionally not be the right choice for.")
However, Angela Howe, the legal director of the environmental nonprofit Surfrider Foundation, thinks that Hilex's directors are merely being prudent. She says that with the public's exposure to grisly footage of marine plastic-waste pollution, the plastic shopping bag is increasingly running against history.
"I think we're seeing a dozen more bag bans every year," she says, "and definitely a statewide if not a nationwide trend towards reusable bags. The smart investor would not [want to] put their money in single-use plastic bag manufacturing."