Path to Citizenship Passes Through Town Hall Meetings
(Photo: Sage Ross)
The future of immigration reform could well to be decided in the next three weeks. And this will occur not in the halls of Congress  but in Congressional Town Hall meetings across the nation. Anti-immigrant activists are hoping for a replay of the Tea Party's successful August 2009 attacks on health care reform; by triggering loud public confrontations with Congressmembers in normally placid Town Hall meetings, conservative activists led the media to wrongly conclude that reform lacked public support. But in 2013, progressives are prepared. Immigrant rights activists believe they can use the Town Halls to expose the strength of their support and propel immigration reform to passage. Considering that both sides are prepared and the key element of surprise is lacking, whose activist strategies will prevail?
As even President Obama acknowledges, the passage of immigration reform comes down to whether Speaker John Boehner will allow a House vote. A majority of House members would support the Senate bill if given the chance, but anti-immigrant activists along with the right-wing talk radio echo chamber do not want to give them this opportunity.
Immigrant rights activists have always known this battle would have to be won in small towns and suburbs rather than in Washington DC, and this is exactly what has occurred.
The Anti-Immigrant Strategy
Anti-immigrant reformers hope to use grassroots mobilizing and protests to pressure GOP House members to avoid a vote. But unlike health care opponents, they face a major problem: a lack of people passionate about the anti-immigrant cause. The lack of grassroots interest in immigration reform—in contrast with "Obamacare," opposition to which still galvanizes the base—makes any oppositional Town Hall strategy difficult.
It's even more challenging when, as The Atlantic reported on August 1, opponents of reform are identified with white supremacist and Anti-Semitic views. When FOX News, Bill O'Reilly and Karl Rove are all promoting immigration reform, we are talking about a very different political dynamic than that that surrounding health care reform.
According to Think Progress, a "Stop Amnesty" rally in Richmond, Virginia last night that featured the anti-immigrant zealot Congressmember Steve King (R-Iowa) brought out only fifty to sixty people. Such undermines claims that the conservative base is "on fire" over "amnesty" and sees opposition to immigration reform as a litmus test issue.
Anti-immigrant activists have also done something very different from the Tea Party's 2009 Town Hall strategy: they have advertised it. The element of surprise that led media to widely publicize the August 2009 protests— the brilliance of this strategy was that Town Hall's had never previously been stormed so this occurrence was "news"—does not exist.
Ultimately, anti-immigrant activists see primary challenges to GOP backers of reform as their strongest strategy. But with the Senate already passing reform and most GOP House members in extremely conservative districts already against reform, the threat of primary challenges seems hollow.
Immigrant Rights Activists Are Prepared
Immigrant rights activists were focused on the August Town Hall's even before the Senate bill's passage. They dominated a Houston Town Hall held by Democrat Shirley Jackson Lee, leading conservative bloggers to decry this "stinging blow"—" the realization that the anti-amnesty cavalry didn't arrive; while hundreds of pro-reform voices filled Houston's City Hall, only three adults showed up to make the case against the deeply flawed, nation-altering comprehensive immigration reform proposal.
The conservative Breitbart.com raised further alarms on August 9 that "The DREAM Action Coalition (DRM Action) is urging activists to attend town halls throughout August in at least 30 states, even in heavily Republican districts, to ensure their concerns get aired." It noted that "the town hall schedule on DRM Action's website has been taken down since the publication of this article, but a cached version of the town hall schedule can be found here.
Anti-immigrant fears of large Town Hall turnouts to support reform do not sound like a movement primed for victory. Rather, it sounds like a besieged political minority desperate for reinforcements in a losing struggle.
GOP Wants to Move Forward
With immigrant rights activists likely to win the battle over Town Hall's, Republicans eager to avoid a House vote will return to DC in September with no wind at their back. Instead, pro-reform Republican strategists like Karl Rove will point to this lack of grassroots opposition as further evidence that the GOP needs to get beyond this issue.
John Boehner is in a much tougher fix than GOP Senators who did not want an up and down vote on gun regulations. In that case, the April 2013 vote to end the filibuster gave the appearance of a full Senate vote, with the media describing the Senate as "defeating" the bill despite it getting majority support.
The House cannot filibuster immigration reform, which puts all of the blame on not holding a vote on Boehner. And it will sound profoundly undemocratic to the American people for a vote not to be held, potentially creating a high risk re-election scenario for many Republicans who would otherwise face easy re-election.
So it appears that in 2013 activists have again used Town Halls' to change the political debate — but this time in a progressive direction.
(Randy Shaw is Editor of BeyondChron, where this post first appeared. His post is republished with permission.)

Rick Scott Invested in the Same Financial Firms As Florida's Pension System
Co-published by MapLight
For most of his time in office, Florida's governor has shielded his investments from public view. A new disclosure shows Rick Scott and his wife have invested at least $18 million in financial firms managing money for the state's pension system that he oversees.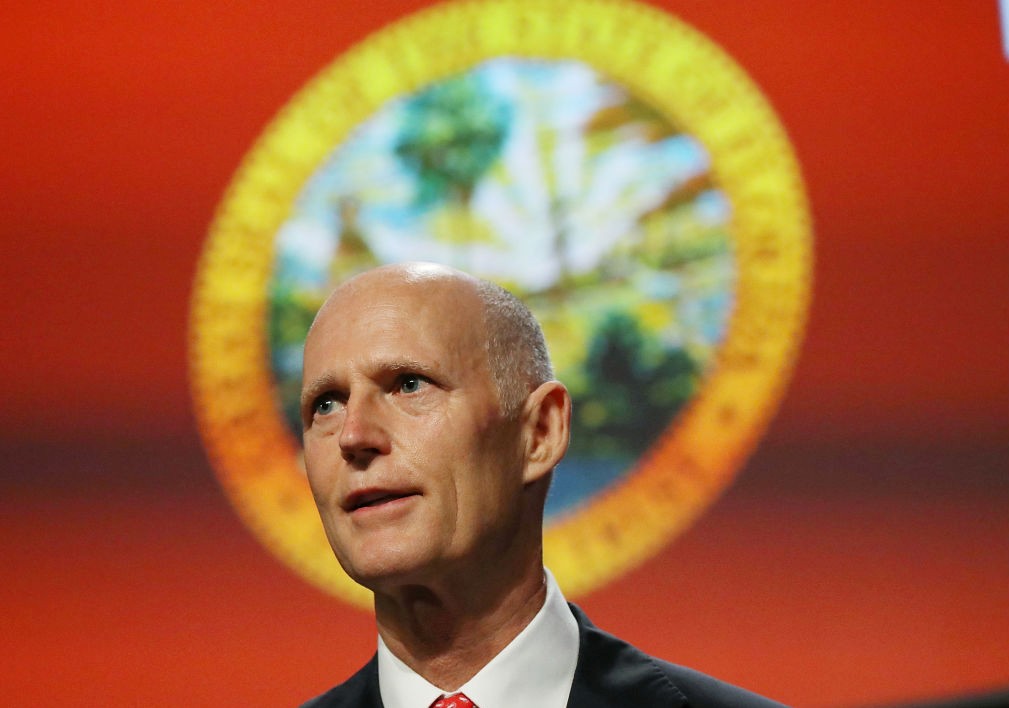 ---
Former SEC Lawyer: "There needs to be an investigation into whether the state is subsidizing Rick Scott's personal returns."
---
Co-published by MapLight
Florida Gov. Rick Scott and his wife have invested at least $18 million in three financial firms managing money for the state's pension system that Scott oversees — a situation that intertwines the governor's personal finances with his responsibility for supervising state employees' retirement savings.
The investments were first divulged in a federal financial disclosure form that Scott filed as part of his U.S. Senate campaign in July. For most of his time in office, Scott has shielded his investments from public view, and only reported their overall value in his blind trust.
The terms of Scott's investments remain undisclosed. The firms' own corporate documents say they can give certain investors special preferences not afforded to other investors — and experts have in recent years argued that hedge funds, private equity firms, and other "alternative investments" are giving such preferences to elite investors. One former Securities and Exchange Commission attorney told MapLight and Capital & Main that Scott must disclose whether he is being given such preferences.
---
Critics have raised questions about how blind the Scott family trusts really are.
---
Florida ethics laws are supposed to prohibit state officials from entering into contractual relationships with companies that do business with their agencies. However, after Scott became governor in 2011, state ethics officials said he and his family members could put their assets into a blind trust to avoid conflicts of interest and still maintain their investments in companies operating in Florida.
Critics have raised questions about how blind the Scott family trusts really are. Scott placed one of his longtime business associates in charge of managing his blind trust. The Tampa Bay Times reported that Scott's blind trust has invested with a private equity firm tied to a high-speed rail project in Florida. The trust also had an indirect interest in a cancer treatment company that received tax breaks from Scott's administration.
---
"The question is whether Rick Scott is being allowed to invest on better terms than the state pension fund."
---
"When Governor Scott was elected, he put all of his assets in a blind trust, which is managed by an independent financial professional who decides what assets are bought, sold or changed," said Scott campaign spokesperson Lauren Schenone. "The rules of the blind trust prevent any specific assets or the value of those assets within the trust from being disclosed to the governor, and those requirements have always been followed."
Scott is one of three state officials who serve as trustees for the Florida State Board of Administration, which manages a $160 billion fund for roughly 400,000 retirees. Scott, Attorney General Pam Bondi, and Chief Financial Officer Jimmy Patronis oversee lucrative state investment deals granted to cash-hungry Wall Street firms.
The three firms that have received $325 million worth of Florida pension investments have allowed the Scott family's blind trusts to simultaneously invest their personal fortunes in these funds. Scott's investments in the funds did not appear in a 2014 disclosure itemizing his holdings. His campaign did not say when the investments were made.
"There are no ethics rules that prohibit or limit a trustee from investing in funds also invested in by the SBA," said SBA spokesperson John Kuczwanski, though he added that trustees are subject to Florida's general code of ethics. Kuczwanski said that the governor has no involvement in specific pension investment decisions.
Don Hinkle, a Democratic lawyer, filed a lawsuit last year alleging that the governor has failed to comply with the state's blind trust and financial disclosure laws. He said he was surprised by the news that Scott had invested in the same firms as the Florida pension system.
"I would think that he would have avoided investments where the state of Florida's money is propping his up," Hinkle told MapLight and Capital & Main.
In 2011, a few months after Scott became governor, the SBA committed $150 million to Highline Capital Partners, a New York-based hedge fund. Scott's financial disclosure shows that his family's trusts have invested at least $4 million in the same Highline fund as the state.
The SBA also committed $100 million in 2015 to a hedge fund managed by Canyon Capital Advisors, a Los Angeles-based firm created by veterans of the notorious investment bank Drexel Burnham Lambert, which was driven into bankruptcy as a result of illegal and unethical trading practices. Scott and his family have invested at least $12 million in Canyon funds, according to his financial disclosure.
Before Scott became governor, the SBA invested $75 million with VSS, a New York-based private equity firm that was launched by a co-founder of Psychology Today. Scott and his wife, Ann, have invested more than $2.2 million in another VSS fund. A spokesperson for VSS said the firm doesn't comment on its investors.
All three firms' SEC filings say they can offer certain investors special fee terms or other benefits not offered to other investors.
"Alternative investment funds have the ability to offer every investor different fees at a different rate of return, so the question is whether Rick Scott is being allowed to invest on better terms than the state pension fund," said former SEC attorney Edward Siedle, whose Florida-based firm conducts forensic investigations of state pension systems.
"If you give one investor an advantage, another investor has to be disadvantaged," Siedle said. "That means there needs to be an investigation into whether the state is actually subsidizing Rick Scott's personal returns and whether the governor enjoys advantages that are harming the retirees."
Schenone, Scott's spokesperson, said that his blind trust has "been upheld multiple times by the State Commission on Ethics and the court system. Governor Scott has also followed the requirements of all state and federal financial filings."
She noted that former Florida Republican Gov. Jeb Bush and Scott's 2010 Democratic opponent Alex Sink had also used blind trusts, although Scott's campaign attacked Sink for hers at the time.
"Blind trusts sound good but can run afoul of state laws requiring public officials to disclose their personal finances," a Scott campaign ad said in 2010. "[But] simply moving large amounts of money into a blind trust does not magically erase the knowledge of what you own."
---
This piece was reported by Andrew Perez of MapLight and David Sirota of Capital & Main, and published in partnership with the Florida Center for Investigative Reporting.