Partisan Ballot Endorsements: A Short Sampling
The California Secretary of State's website carries a complete list of candidates and descriptions of state ballot measures, including their pro and con arguments. Below is a sampling of six partisan organizations with summaries of their positions: California Labor Federation, Lincoln Club of Orange County, League of Conservation Voters, Tea Party, Courage Campaign's Progressive Scorecard and the California Rifle and Pistol Association.
We've left the groups' descriptions of ballot measures to give readers a flavor of their perspectives.
(Note: This piece is strictly informational. Frying Pan News is not offering endorsements.)
1. California Labor Federation

Unique Feature: Provides links to county labor federations and their local endorsements.
For President: Barack Obama
Ballot Measures
Proposition 30 Prevents school cuts.
Recommend: Vote YES
Proposition 31 Puts worker safety and environmental protections at risk.
Recommend: Vote NO
Proposition 32 Special Exemptions Act
Recommend: Vote NO
Proposition 33 Favors auto insurance companies over consumers.
Recommend: Vote NO
Proposition 34 Death penalty sentencing reform.
Recommend: Vote YES
Proposition 35 Human trafficking penalties.
Recommend: Vote YES
Proposition 36 Three Strikes revision.
Recommend: Vote YES
Proposition 37 Genetically engineered food labeling.
Recommend: Vote YES
Proposition 38 State income tax increase.
Recommend: Vote NO
Proposition 39  Funds clean energy jobs, closes corporate tax loophole.
Recommend: Vote YES
Proposition 40 Upholds redistricting of State Senate districts.
Recommend: Vote YES
2. Lincoln Club of Orange County
Unique feature: The Lincoln Club tailors its endorsements to answer five questions about ballot measures, leading with, "Will the proposal increase or decrease individual liberty?"
For President: Mitt Romney
STATEWIDE BALLOT MEASURES
Prop. 30 – Gov. Brown Tax Increase: NO
Prop. 31 – Budget Reform: YES
Prop. 32 – Stop Special Interest Money: YES
Prop. 33 – Auto Insurance: YES
Prop. 34 – Death Penalty Repeal: NO
Prop. 35 – Human Trafficking: YES
Prop. 36 – Three Strikes "Reform": NO
Prop. 37- Genetically engineered foods: NO
Prop. 38 – Munger Tax Increase: NO
Prop. 39 – Tax Increase for Multi-State Businesses: NO
Prop. 40 – Senate Redistricting: YES
3. League of Conservation Voters
Unique feature: Local league endorsements are made independently of the national body.
For President: Barack Obama
Ballot Measures
Yes on Prop 30
A YES vote protects public schools and public safety throughout California, and prevents further cuts in state environmental funding.
No on Prop 31
A NO vote prevents local governments from overriding state laws and regulations that protect the environment and public health.
No on Prop 32
A NO vote stops multi-national corporations from buying political influence while silencing other voices.
Yes on Prop 37
A YES vote requires manufacturers to label genetically engineered foods.
Yes on Prop 39
A YES vote makes corporations pay their fair share while supporting investments to make our economy stronger and greener, and our air cleaner.
4. Tea Party
Unique feature: Ends its voting appeal with "Huzzah!"
For President: Mitt Romney
STATE PROPOSITIONS
VOTE NO – PROPOSITION 30: TAXES
Jerry Brown's tax increase. This money will go to union pensions, not our children.
VOTE NO – PROPOSITION 31: STATE BUDGET
Loss of control endangers our city. Pools resources among cities.
VOTE YES – PROPOSITION 32: LABOR
Bans Corporate & Union contributions to local and state candidates.
VOTE NO – PROPOSITION 33: CAR INSURANCE
Allows insurance companies to raise rates while purporting to lower rates for good drivers. Don't be fooled!
VOTE NO – PROPOSITION 34: DEATH PENALTY
Ends the death penalty. This is truly a moral judgment. Suggest a NO vote.
VOTE YES – PROPOSITION 35: HUMAN TRAFFICKING
Increases prison terms for human trafficking and sex slavery. Requires registration as sex offender, and disclosure of internet accts.
VOTE NO – PROPOSITION 36: THREE STRIKES
The 3 strikes law is a serious deterrent. Prosecutors already have discretion over charges.
VOTE NO – PROPOSITION 37: FOOD LABLES
Increases bureaucracy in food production and adds costly litigation.
VOTE NO – PROPOSITION 38: TAXES
Increases State taxes on anyone making $7,316.00 and above annually.
VOTE NO – PROPOSITION 39: TAXES
Makes bad law worse. Adds to cost of inter- net purchases.
VOTE NO – PROPOSITION 40: REDISTRICTING
5. Courage Campaign's Progressive Scorecar
Although this handy anthology displaying the recommendations of several progressive groups only includes state ballot initiatives, it doesn't take a wild guess to figure out how their constituent members will vote in the presidential race.
Sample Group (Courage Campaign): Yes on Props 30, 34-37 and 39. No on Props 31-33; no decision on Props 38 and 40.
6. California Rifle and Pistol Association
This obscure but influential group offers a somewhat eccentric list of endorsements. While CRPA weighs in on some statewide and Congressional races, it's mum on the presidential campaign. (The National Rifle Association, which doesn't comment on statewide election issues, does have something to say about that, however.) And, while CRPA is ready with endorsements for supervisorial seats in, say, El Dorado County, it similarly remains silent on state ballot proposals.
Unique Feature: Vets candidates through a rather involved grading system based on their position on gun ownership and hunting. Good for a chuckle.

Rick Scott Super PAC Donations Challenge Federal Anti-Corruption Rule
Co-published by Fast Company
The Florida governor led a group that raked in cash from Wall Street firms after Scott's administration gave them pension deals.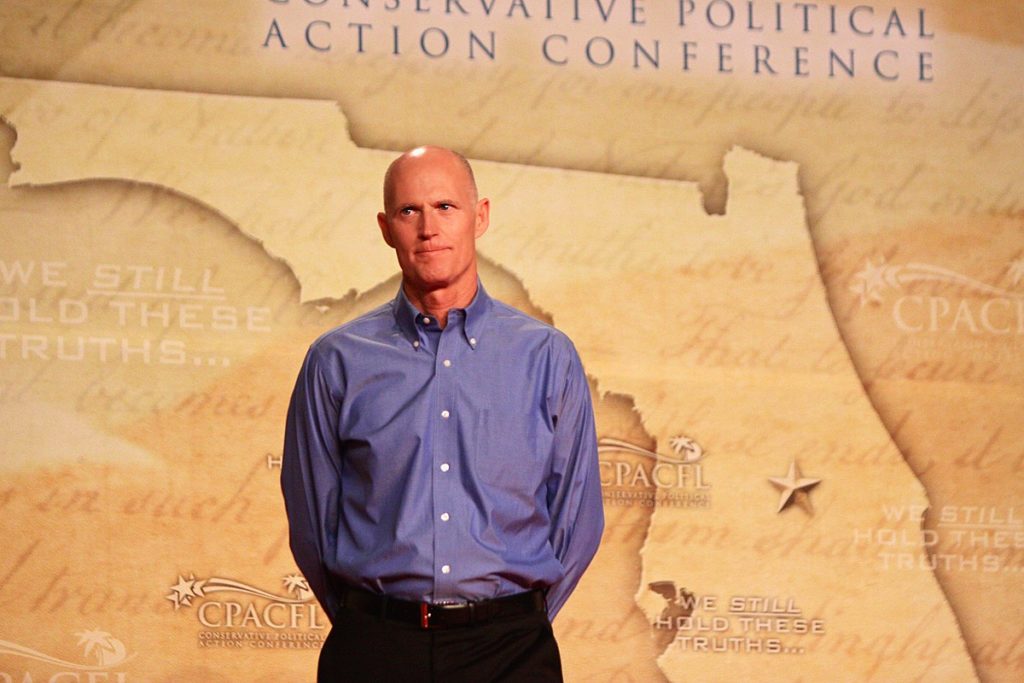 Co-published by Fast Company
A super PAC led by Florida Gov. Rick Scott raked in donations from two private equity executives after Scott's administration directed lucrative state pension investments to their firms, according to government records reviewed by MapLight and Capital & Main.
The donations were made to a committee that's now supporting Scott's U.S. Senate bid, despite a federal rule designed to prevent financial firms from bankrolling the election campaigns of public officials who oversee state pension investments.
Scott, a Republican, began chairing the New Republican PAC in May 2017 and announced his former campaign manager would serve as its executive director. Soon after, the group received $5,000 from New Mountain Capital Chief Executive Officer Steve Klinsky and $50,000 from Energy Capital Partners founder Douglas Kimmelman.
The contributions flowed to the super PAC after New Mountain Capital and Energy Capital Partners received a combined $250 million worth of new investment commitments from Florida's state pension system in 2014 and 2015. Scott is one of three state officials who oversee the $160 billion pension system. During the most recent fiscal year, the Florida investments generated more than $3 million in fees for the firms.
A 2010 Securities and Exchange Commission (SEC) rule prohibits firms from receiving investment fees from public pension systems if their executives donate campaign cash to pension overseers like Scott. SEC officials aimed to prevent investment decisions from being shaped by political influence.
But the commission didn't explicitly bar donations to "independent" political groups, unless the donations were deliberately designed to circumvent the restrictions. And it hasn't addressed whether a state official can lead a super PAC that received donations from firms with pension business and later be supported by the super PAC.
John Kuczwanski, a spokesperson for the Florida State Board of Administration, told MapLight/Capital & Main that Florida's first investments in the two private equity firms happened in 2005 and 2009, and he said Scott had nothing to do with new investments during his governorship, which started in 2011.
"The [state's] initial relationships with both managers predate Governor Scott's time in office," said Kuczwanski, whose agency manages the day-to-day operations of the pension system. "Neither the trustees, nor their appointed investment advisory council members are involved in the investment manager/fund selection process."
Scott's campaign and the super PAC did not respond to questions from MapLight/Capital & Main. New Mountain Capital and Energy Capital Partners did not return requests for comment.
Energy Capital recently completed the purchase of Calpine, whose natural gas power plant near Tampa is regulated by Scott's appointees at the Florida Public Service Commission. Kimmelman, who is now a director of Calpine, also donated $35,000 in 2017 to the National Republican Senatorial Committee, which is backing Scott's Senate campaign.
"A Very Clear Case"
Under the SEC rule — which GOP state parties have tried to overturn — investment executives are not prohibited from donating to independent political groups. But the rule allows regulators to apply restrictions to donations that are deliberately routed through third parties in order to support public officials — a situation that critics argue is happening with Scott and his super PAC.
After the governor announced his Senate bid last week, New Republican PAC's website began promoting his candidacy. End Citizens United, a Democratic-leaning political action committee based in Washington, DC, filed a complaint alleging that Scott has violated Federal Election Commission rules and is using the super PAC, which can accept unlimited donations, to evade contribution limits. Scott's campaign says he stepped down as New Republican PAC's chair in February.
In writing the original rule, SEC officials noted that while they could not restrict all donations to political action committees, contributions to third parties "may effectively operate as a funnel to the campaigns of the government officials." They said the final rule "prohibits acts done indirectly, which, if done directly, would violate the rule."
One ethics expert said that those anti-circumvention provisions should apply to the donations to Scott's super PAC.
"This appears to be a very clear case of close coordination and circumvention of the pay-to-play rule," said Craig Holman, an ethics lobbyist at the government watchdog group Public Citizen. "This is something that I'd like the SEC to pay attention to."
"No Loopholes"
The SEC has only occasionally enforced the pay-to-play rule, and the agency hasn't applied the provisions dealing with third parties to donations to super PACs. Because Scott is a sitting governor who can influence pension investments, he is covered by the rule, which has hampered the fundraising of past governors who tried to run for federal office.
A spokesman for former Texas Gov. Rick Perry's presidential campaign said the rule prevented him from raising enough money to be competitive in the 2012 race. Bloomberg reported that during the same election cycle, then-New Jersey Gov. Chris Christie was rejected as the vice presidential nominee, partly because Republicans feared the rule would prevent them from raising money from Wall Street firms that do business with his state's pension system.
"There is no way around it, and there are no loopholes," said Bill Palatucci, Christie's longtime advisor.
Even so, in recent years the rule has not deterred financial executives from donating to groups that help lawmakers who can influence pension investments. Financial executives whose firms received New Jersey and New Mexico investments continued to donate to the Republican Governors Association (RGA) when Christie and New Mexico Gov. Susana Martinez led the group. During the 2016 election cycle, executives at firms managing state pension money donated nearly $1.3 million to the GOP association, even as the group boosted the campaigns of Republican governors with power over state pension investments.
Last year, U.S. Sen. Tom Udall, D-N.M., called for the SEC to apply the pay-to-play rule to outside groups "to ensure that no one is able to circumvent these laws by using super PACs, dark money groups or other campaign spending vehicles." The RGA has argued that because it funds multiple candidates and does not allow donors to earmark contributions for particular races, it can accept donations from firms with investment business that can be influenced by individual governors. The SEC said in 2016 that donations to outside political groups "are independent expenditures that do not trigger" the rule.
"So long as the PAC faithfully observes the requirement to operate independently of candidates, a contribution to a super PAC will not trigger the [rule], even if the super PAC supports a covered official," Sam Brown, a former advisor to Federal Election Commissioner Ellen Weintraub, wrote in 2016. "Super PACs are increasingly being used in novel ways, and it remains to be seen whether these changes will result in increased circumvention risks."
---
This story is a collaboration between MapLight and Capital & Main.