Parade's End: Stage Drama Looks at a Soldier's Return
Playwright Rebecca Stahl's Everything in Between may be a message play, but as such it's a fundamentally sound one. One of its virtues is the clear picture it furnishes of the kinds of behavior exhibited by sufferers of post-traumatic stress disorder when their illness goes untreated,

Tania Verafield and Jaimyon Parker in "Everything in Between." (Photo by Ed Krieger)
Some stories bear retelling no matter how many times we've heard them before, and Rebecca Stahl's melodrama about an emotionally disturbed veteran of our recent wars in the Middle East falls into that niche. While the play could lose a couple of its contrivances, and the performances, under John DiFusco's direction, need more dimension, the drama's nuts-and-bolts remain worthy of attention.
Lance Porter (Jaimyon Parker) is a young veteran tormented by flashbacks and hallucinations that challenge his sanity and interfere with his relationship with his supportive girlfriend, Brooke (Tania Verafield). He's also frustrated by his experience with the Department of Veterans Affairs, where bureaucracy has stalled his efforts to secure a loan to start his own business. To calm his fraying nerves, Lance makes frequent visits to the American Legion bar where he often runs into Ed (J. Kenneth Campbell), an alcoholic doctor at the VA, and Gertie (Caron Strong), a former VA counsellor, whose regular beers are a way to salve her grief from the loss of her husband, who died in combat five years earlier. Ed in particular often engages in discussions with the elderly bartender, Curly (Campbell De Silva), who lost his left arm in Korea. Curly's given to philosophizing and dispensing advice, and despite some outmoded ideas, he's a boulder of sanity among hurting folks who desperately need it.
Lance's unhappiness grows more intense after Martin (Fred Hirz), a friend of his deceased father, refuses to hire him for a construction job, and his waking nightmares begin to imperil Brooke when he mistakes her more than once for the bushwhacking "enemy." Moreover, he refuses to rejoin the band he once belonged to, and his instability makes him jealous and unreasonably watchful, even as he shies away from physical intimacy. The other characters try to run interference, to put the increasingly unraveling Lance back on track, while at the same time exposing their own anxieties and conflicts. Tensions build to a life-or-death crisis a couple of times.
Everything in Between may be a message play, but as such it's a fundamentally sound one. One of its virtues is the clear picture it furnishes of the kinds of behavior exhibited by sufferers of post-traumatic stress disorder when their illness goes untreated. Though the script could use trimming, Stahl's dialogue is effortlessly natural, and her scenes offer actors the opportunity for emotional exploration. The problem here is that not much exploration takes place.
Parker's haunted Lance is earnest but skin-deep. When he and Brooke fight, voices are raised and the pace quickens, but their chemistry is scant and little complexity is on view. Both Campbell and De Silva play interesting characters, but Campbell resorts too often to merely depicting a smart and colorful drunk. De Silva's bio tells us he hasn't performed on stage for a long time, and his lack of range confirms it.
The production's other limitations have to do with the staging, which takes place in a large meeting hall (in the Hollywood American Legion Post), with the seating on floor level. There's nothing wrong with that per se, but the large room and the audience's distance from the performers in the frequent bar scenes detracts from their impact and intimacy. The lighting equipment (as opposed to the design, by Ray Pierce) also has limitations, and some scenes are played in shadow. The set (by Richard Desiasto) for Lance and Brooke's apartment, though detailed, resembles a dorm room rather than the living quarters of a partnered couple.
The production debuted on Veterans Day, which I suppose is apt — but really it might have benefited from more rehearsal.
---
American Legion Post 43, 2035 Highland Ave., Hollywood; Fri.-Sat.; 8 p.m.; Sun., 3 p.m.; through December 4. brownpapertickets.com

'Skeleton Crew' Is a Play With a Moral Spine
Set in a Detroit automobile outfitting plant, Dominique Morisseau's drama grabs you from the start with its focus on blue-collar men and women, and their struggle for dignity and self-respect.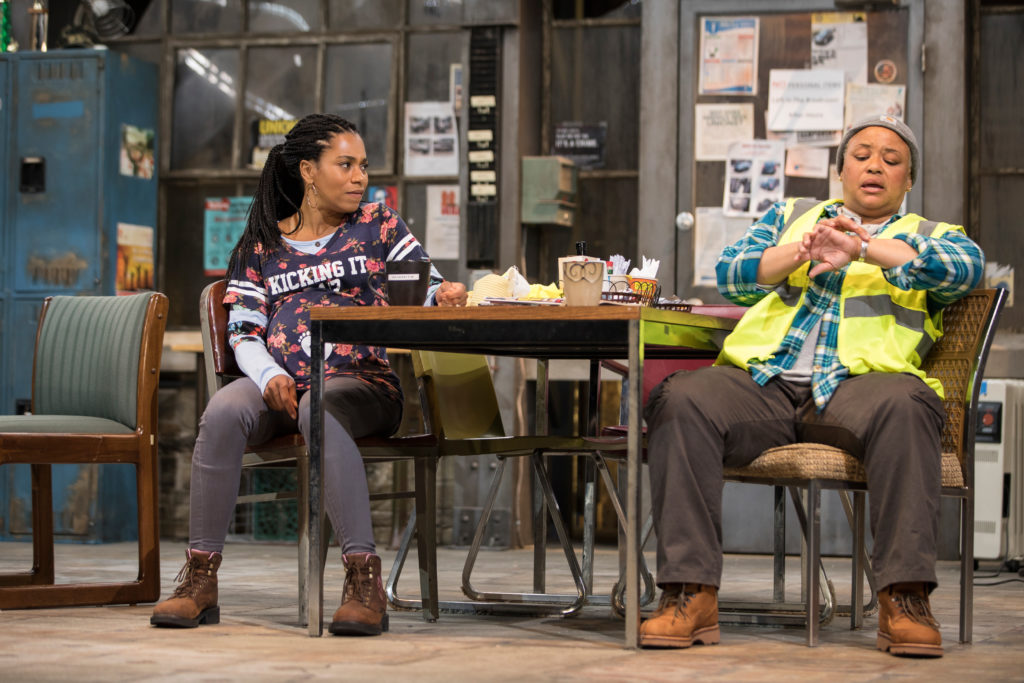 Working-class men and women of color are rarely front and center in today's media and, likewise, are presented all too occasionally on the American stage. So it's buoying to see that trend bucked in playwright Dominique Morisseau's percipient and well-crafted drama, Skeleton Crew. The play is the final installment in her Detroit  Project Trilogy; the first, Paradise Blue, is set in the 1940s amidst displacement caused by urban renewal and gentrification, while the second, Detroit '67, transpires on the eve of the 1967 Detroit riots sparked by a police action.
Directed by Patricia McGregor at Los Angeles' Geffen Playhouse, Skeleton Crew is a play with a moral spine. It takes place in 2008, when the shrinking U.S. auto industry is being further downsized. Morisseau's engaging quartet of characters — Faye (Caroline Stefanie Clay), Dez (Armari Cheatom), Shanita (Kelly McCreary) and Reggie (DB Woodside) – are employed at an automobile outfitting plant. Faye, Dez and Shanita are workers on the line while Reggie (who has a wife and kids, and has pulled himself together after a troubled youth) is their supervisor.
The first three customarily mingle in their break room (designer Rachel Myers' impressively cluttered, dingy and detailed set), trading the sort of familiar barbs and genuine concern for each other common among longtime co-workers. They also face off on philosophy: Upper-middle-aged Faye and the younger, pregnant Shanita take pride in their labor, while Dez, though a good worker, is a malcontent scornful of management and firm in the belief that everyone needs to watch out for himself. He's a thorn in Reggie's side, for while Reggie wants to be supportive of his workers, he must act at the behest of higher management. For his part, Dez resents Reggie's authority, and a palpable unease exists between them.
Besides this male matchup, we're made privy to Dez's attraction to Shanita, who mostly turns away his advances, but every now and then displays a hint of interest. Most poignant is Reggie's regard and affection for the lesbian Faye, which has roots in his boyhood when she loved, and lived, with his now-deceased mom.
These people's various predicaments intensify when rumors spread of the plant's shutdown — a disaster for all, but a particular calamity for the already near-broke Faye who, one year short of retirement, would lose her pension. The crisis forces each of these people to make a choice.
A sound piece of social realism, Skeleton Crew grabs you from the start in its focus on blue-collar men and women, and their struggle against odds for dignity and self-respect. Morisseau not only furnishes these characters a platform for their travails, she endows them with strong values, big hearts and the opportunity to choose between right and wrong.
Unfortunately, the performance I attended did not soar. Many exchanges lacked a fresh edge. The actors certainly had their characters down, but too often they appeared to be coasting on technique. (This seemed particularly true of Clay, who performed the role to great accolades in Washington, DC in 2017, also under McGregor's direction). Additionally, some of the stage movement was not entirely fluid; in confrontations, actors sometimes would just stand and face each other in an artificial way. And Cheatom's interpretation of Dez struck me as a bit overly churlish and depressive: I needed more glimpses of the intelligence and edge that would secretly attract the strong, self-directed Shanita.
The most compelling moments belong to Woodside, well-cast as a man trying his best in difficult circumstances to do the right thing.
---
Gil Cates Theater at the Geffen Playhouse, 10886 Le Conte Ave., Westwood Village; Tues.-Fri., 8 p.m.; Sat., 3 & 8 p.m. Sun., 2 & 7 p.m.; through July 8. (310) 208-5454 or www.geffenplayhouse.org