Parade's End: Stage Drama Looks at a Soldier's Return
Playwright Rebecca Stahl's Everything in Between may be a message play, but as such it's a fundamentally sound one. One of its virtues is the clear picture it furnishes of the kinds of behavior exhibited by sufferers of post-traumatic stress disorder when their illness goes untreated,

Tania Verafield and Jaimyon Parker in "Everything in Between." (Photo by Ed Krieger)
Some stories bear retelling no matter how many times we've heard them before, and Rebecca Stahl's melodrama about an emotionally disturbed veteran of our recent wars in the Middle East falls into that niche. While the play could lose a couple of its contrivances, and the performances, under John DiFusco's direction, need more dimension, the drama's nuts-and-bolts remain worthy of attention.
Lance Porter (Jaimyon Parker) is a young veteran tormented by flashbacks and hallucinations that challenge his sanity and interfere with his relationship with his supportive girlfriend, Brooke (Tania Verafield). He's also frustrated by his experience with the Department of Veterans Affairs, where bureaucracy has stalled his efforts to secure a loan to start his own business. To calm his fraying nerves, Lance makes frequent visits to the American Legion bar where he often runs into Ed (J. Kenneth Campbell), an alcoholic doctor at the VA, and Gertie (Caron Strong), a former VA counsellor, whose regular beers are a way to salve her grief from the loss of her husband, who died in combat five years earlier. Ed in particular often engages in discussions with the elderly bartender, Curly (Campbell De Silva), who lost his left arm in Korea. Curly's given to philosophizing and dispensing advice, and despite some outmoded ideas, he's a boulder of sanity among hurting folks who desperately need it.
Lance's unhappiness grows more intense after Martin (Fred Hirz), a friend of his deceased father, refuses to hire him for a construction job, and his waking nightmares begin to imperil Brooke when he mistakes her more than once for the bushwhacking "enemy." Moreover, he refuses to rejoin the band he once belonged to, and his instability makes him jealous and unreasonably watchful, even as he shies away from physical intimacy. The other characters try to run interference, to put the increasingly unraveling Lance back on track, while at the same time exposing their own anxieties and conflicts. Tensions build to a life-or-death crisis a couple of times.
Everything in Between may be a message play, but as such it's a fundamentally sound one. One of its virtues is the clear picture it furnishes of the kinds of behavior exhibited by sufferers of post-traumatic stress disorder when their illness goes untreated. Though the script could use trimming, Stahl's dialogue is effortlessly natural, and her scenes offer actors the opportunity for emotional exploration. The problem here is that not much exploration takes place.
Parker's haunted Lance is earnest but skin-deep. When he and Brooke fight, voices are raised and the pace quickens, but their chemistry is scant and little complexity is on view. Both Campbell and De Silva play interesting characters, but Campbell resorts too often to merely depicting a smart and colorful drunk. De Silva's bio tells us he hasn't performed on stage for a long time, and his lack of range confirms it.
The production's other limitations have to do with the staging, which takes place in a large meeting hall (in the Hollywood American Legion Post), with the seating on floor level. There's nothing wrong with that per se, but the large room and the audience's distance from the performers in the frequent bar scenes detracts from their impact and intimacy. The lighting equipment (as opposed to the design, by Ray Pierce) also has limitations, and some scenes are played in shadow. The set (by Richard Desiasto) for Lance and Brooke's apartment, though detailed, resembles a dorm room rather than the living quarters of a partnered couple.
The production debuted on Veterans Day, which I suppose is apt — but really it might have benefited from more rehearsal.
---
American Legion Post 43, 2035 Highland Ave., Hollywood; Fri.-Sat.; 8 p.m.; Sun., 3 p.m.; through December 4. brownpapertickets.com

A Spiritual Mystery Play Fails to Enlighten
Yusuf Toropov's drama, set in a contaminated, cancer-ridden community, involves a publisher and his brother — a priest struggling against the local archdiocese.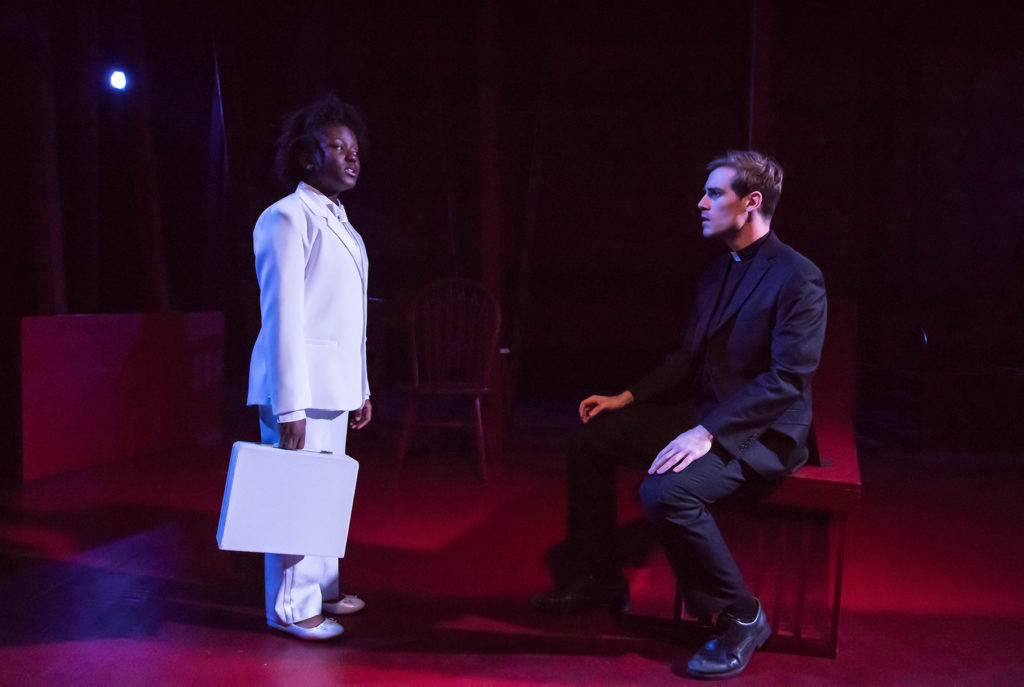 Directed by Chris Fields, Yusuf Toropov's An Undivided Heart, co-produced by the Echo Theater Company and the Circle X Theatre Co., is an aspiring work that aims to be deep but doesn't get there.
The play, running at the Atwater Village Theatre, unfolds on several levels. First, it tells the story of a young Catholic priest who must decide whether or not to publicly expose the pedophiles among his fellow clerics. Second, the work deals with our human struggle to understand why bad things happen with seeming random cruelty (a conundrum whose answers are regularly dispensed by spiritual leaders of all faiths, not very satisfactorily). On yet a third level, the play seeks to express the paradoxical wonder and mystery of life, with an assist from the supernatural.
That's a lot to cover in a little over two hours and, while the production is handsomely staged, its ambitious narrative is diminished by dangling threads, one major improbable setup near the end and too many bits of opaque dialogue.
Tim Wright, Alison Martin and Alana Dietze.
The setting is Holbrook, Massachusetts — a community whose residents have been exposed to contaminants, so cancer is rampant — in the summer of 1992. The story revolves around two brothers, both good guys: Mike (Matthew Gallenstein), a local priest who's written a revelatory book that his superiors want him not to publish, and Max (Tim Wright), an editor, who'd like to help his brother proceed.
When Max arrives at some sort of civic facility (the background particulars of this scene are unclear), he promptly tangles with an angry pregnant clerk named Lynne (Alana Dietz). A few minutes into their altercation, she goes into premature labor, and he rushes her to the hospital — the beginning of a nurturing romance.
Mike, meanwhile, is having strange dreams involving a burning typewriter and a cryptic little girl (Ann'Jewel Lee) who appears to him brandishing a dead cat. The same young person manifests in the dreams of Janice (Tracey A. Leigh, alternating with Jennifer A. Skinner), Max's Buddhism teacher, who is fond of posing riddles. Her favorite: If I am preparing to slice a cat in two, how would you prevent me from doing it?
The narrative shifts between Mike's struggle with his archdiocese, personified by its Cardinal (John Getz, alternating with William Salyers) and Lynne's problems with her dying mom Ruth (Alison Martin, alternating with Sigute Miller), a devout Catholic still in denial over her son's abuse by a priest when he was a youth.
These two storylines are interposed with the baffling dream sequences and Max's (and later Mike's) sessions with the inscrutably smiling Janice and her eschatological brain teasers. One crucial scene that leads to the dramatic climax has Mike looking to entrap an abusive priest (Jeff Alan-Lee, alternating with Jesse Bush) by attending confession with him and pretending to be a pedophile himself. The interchange, in which the priest probes for salacious details, is awkwardly plotted and escalates into over-the-top melodrama.
Cricket Myers' superlative sound design hints at the depth and scope that the playwright himself perhaps had in mind but was unable to attain. Amanda Knehans' set is an effective arrangement of wooden beams, tables and chairs that lighting designer Rose Malone smartly shades with a reddish-orange chroma, like the hues of hell. Elsewhere, she spotlights the players well.
Wright's warm and empathetic Max is highly likable, and he keeps you interested in the scenes he's involved with. Getz is appropriately unctuous as the Cardinal, and Martin draws a richly textured portrait of a not terribly educated housewife, who, buffeted by adversity, still clings to her faith. Michael Sturgis steals the limelight as a singing, simpering cleric. A couple of the other lead performances need refining.
Atwater Village Theatre, 3269 Casitas Ave., Los Angeles; Mon., 8 p.m.; Fri.- Sat., 8 p.m.; Sun., 4 p.m.; through April 22. www.EchoTheaterCompany.com
---
Copyright Capital & Main