"Occupy" Occupies California's Democratic Party
Moderator Aimee Allison
(This feature first appeared on L.A. Progressive. Reposted with author's permission.)
Having captured the public's rapt attention in just two short months but now facing increasingly well-coordinated and sometimes brutal police crackdowns, the Occupy Movement faces hard questions about its lasting impact. What will Occupy 2.0 look like, many want to know, and how will it get there?
If a meeting this past weekend between representatives from a half dozen Occupy encampments in California and perhaps 200 members of the California Progressive Caucus is any guide, the Occupy Movement has already enlisted several generations of progressive activists who are eager to support, leverage, and amplify the Occupiers' ground-breaking work.
The meeting was, indeed, a kumbaya moment, one that suggests that the movement has embedded itself deeply into the progressive political psyche.
Recertification Battle
Gathering at the California Democratic Party's Executive Board meeting this past weekend in Burlingame, the Progressive Caucus was facing the culmination of a months-long battle to retain its place within the state's Democratic Party.
At issue was the resolution the Caucus had nearly unanimously passed at a similar meeting in July, which called for a primary challenge to President Obama, designed at least in part to provide the liberal pressure he said he wanted and citing a long list of centrist and even conservative positions his Administration has taken as well as its failures to make good on progressive campaign promises.
Not surprisingly, opposition from the CDP was fierce and emotional in some quarters, especially within the Party's African-American Caucus. At what would normally be a routine annual caucus recertification vote at the July meeting, the Progressive Caucus was removed from the list of other caucuses and its recertification tabled until this weekend's meeting, four months later. Designed to give tempers a chance to cool and back-channel communications to seek resolution, the tabling nonetheless stripped Progressive Caucus Chair Karen Bernal of her executive committee seat, forced the Caucus officers (of which my wife is one) to find funding for the annual Solidarity Summit themselves, and put what ordinarily is a lively and potentially potent political force largely in limbo.
Occupiers Old and New
Wisely, the Caucus's executive team declined to devote their two-hour meeting Saturday night to rehashing the recertification issue, which had been vivisected rigorously in online forums, radio interviews, and private meetings since July and would nevertheless be decided the following morning.
Instead, they invited eight representatives from Occupy encampments in Los Angeles, San Francisco, Fresno, San Diego, Sacramento, Wall Street, and Oakland, who ranged in age from their early twenties to their sixties, including a lifelong teacher, Camille Russell, and at least two recent military veterans, Danny Garza and Shake Anderson.
Moderating what turned out to be an uplifting panel session was activist and SFGate columnist Aimee Allison, who focused the discussion on how the movement will evolve and what role progressive Democrats might play. Allison made sure each Occupy representative had several chances to lay out the reasons they have devoted their lives to this movement.
"I plan to be there to the end. I've been waiting for this for a long time," said Mark Denny, a graduate student and full-time worker who camps with Occupy San Francisco. "A lot of people in Occupy have given up on the Democratic Party. But when I read the Progressive Caucus resolution, I had hope."
Progressive Caucus members — many middle-aged and older and veterans of progressive battles going back to Vietnam anti-war protests and the Civil Rights, Women's Rights, and Gay Rights movements — responded in kind, some applauding after each short Occupier comment and others waving their fingers as Occupiers do at their general assembly meetings in countless cities across the country.
Julie Levine, an Occupy Los Angeles organizer, echoed Denny's remarks: "I know the Democratic Party is split, but what the Progressive Caucus has done is very brave. We need to stand up to President Obama, standing with Main Street and not Wall Street."
Hurdles Ahead
In recent weeks, the Occupy Movement has come under what seems to be a coordinated attack in the media and among right-wing talking heads for the kind of people the encampments across the country have attracted.
"Yes, we've got homeless people at Occupy LA," acknowledged Levine, adding that Los Angeles has the largest encampment in the country  especially now that Occupy Wall Street has been shuttered. "We've got marijuana smokers. We've even got Bloods and Crips."
"But Occupy didn't create the 80,000 homeless people in Los Angeles. The 99% didn't create the mentally ill and drug addicts," she continued. "No, society — and the one percent — created them. We just take care of them."
Shake Anderson, a seven-year military veteran who camps at Occupy Oakland with Oya Sherrills — daughter of Watts-based death penalty activist Aqeela Sherrills — told of a young man fresh from prison who he's taken under his wing at the Oakland camp.
"People don't commit crime just because they want to, not most of them," he said. "No, they steal because they don't have food or they need a place to stay."
The young man Shake has befriended has food, shelter, and people to socialize with, he said. "And at Occupy Oakland, he has a home."
What's Next
In a bittersweet morning the next day, news reports told of early-morning raids that closed Occupy Oakland and Occupy San Francisco, at least for the moment, while ghastly video of two UC Davis police officers pepper-spraying the faces of students sitting peacefully in a row washed over the Internet.
But then later, the Party recertified its Progressive Caucus.
"African-American Caucus Chair Darren Parker removed the tabling motion, Alice Huffman from his Caucus spoke in favor of the move, and Karen Bernal reciprocated — all graciously," reported Progressive Caucus member David Sonnenborn, acknowledging the wisdom of the cooling-off period Party and caucus leaders had fostered. "And the body approved, I think unanimously."
Asked what the progressive Democrats present could do for the Occupy Movement now that the Caucus was back fully in the Party's tent, Julie Levine said, "What the Democratic Party can do, especially on the progressive side, is not disown us."
Added Mark Denny: "This movement has already got legs. It is not going to end. But we need you guys to stand with us."
From the applause, finger-waving, hugs, back-slaps, and smiles as the panel session concluded, you knew most everyone present would do just that.
Then, after thanking Aimee Allison and the panelists, Karen Bernal asked that everyone go out and get arrested, as she had done at Occupy Sacramento.
"Here's my phone number. Call me if you need me to walk you through it. If I'm close enough, I'll come join you," she said. "Yes, it's dirty and smelly in jail, but it's also the most liberating experience I've ever felt."
At least a few in the room looked like they might actually take her up on the offer.
The Power of the Poster
Carol Wells, the founder of the Center for the Study of Political Graphics in Los Angeles, talks to Capital & Main about the enduring power of political art.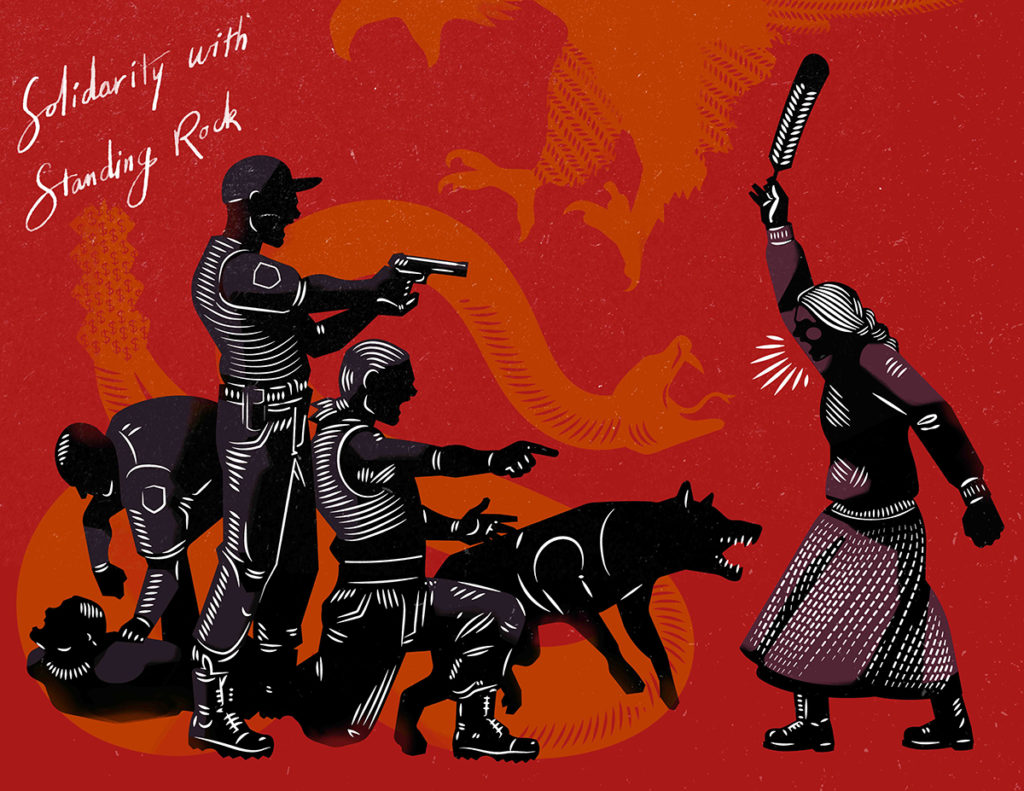 Carol Wells remembers the exact moment she discovered her calling. An art historian at the time, she was on a trip to Nicaragua with her friend David Kunzle, a UCLA art history professor, who was collecting political posters to add to his burgeoning collection. While staying with friends, Wells watched a neighbor's 8-year-old son approach a poster on the wall, stare at it intently, and then start to silently mouth the words. Wells was struck by how engaged the boy was. "In that moment I became obsessed with collecting posters."
Now over 40 years later, Wells is the founder and executive director of the Center for the Study of Political Graphics in Los Angeles. Wells has amassed approximately 90,000 posters, building one of the largest collections of its kind in the world. The Center shares its collection with the public in part through curated exhibits. This year the CSPG has produced Feminae: Typographic Voices of Women by Women and its latest is To Protect & Serve? Five Decades of Posters Protesting Police Violence, running through July 15 at the Mercado La Paloma in downtown Los Angeles.
Since that encounter in Nicaragua in 1981, Wells' obsession with collecting posters hasn't waned. In CSPG's nondescript West L.A. office space, Wells pulls out poster after poster, lecturing passionately on the backstory and cultural impact of each, including one that superimposes text from a New York Times interview with a shocking image of the My Lai massacre ("Q: And babies? A: And babies."). Recently, she managed to sit down with C&M to discuss her passion.
---
Capital & Main: So, you were an art history professor, you happen to see a kid on a trip, and suddenly your life was changed forever?
Carol Wells: Yeah, I'm in Nicaragua alone in the living room with this kid. He's looking around, and all of a sudden, he sees the poster. It was pretty big, bright green, a thick outlines of a woman holding a big basket of coffee beans. And the text in Spanish said, "In constructing the new country, we are becoming the new woman." I see him walk over to the poster and I'm watching him mouth the words. It was a pretty sophisticated concept, so I doubt he figured it out. But I literally had this epiphany: "Oh my God. That's how posters work." You're going about your daily life, and all of a sudden something breaks through the bubble, and it grabs your attention. It's the graphic, it's the color, it's the combination, and it pulls you out of your head and into that poster and it makes you ask a question. "Why is this here? What is this about? What does this mean?" And every time you ask a question, you're a different person than you were before you asked the question.
How many posters do you get a year?
We get between two to five thousand a year donated from all over the world. The bulk of our collection is [from] 1945 and later.
I assume technology has probably hurt the art form, but has it helped get the messages out?
Most people think that, and it's actually not true. Since the internet age started, there's actually a poster renaissance of works on paper. Because you can't walk with your computer monitor in a demonstration. You can't plant your monitor on your lawn.
And you can't put a laptop on the wall…
Exactly. You want to hear a really great story? Truthdig.org published a cartoon [made by] a political cartoonist named Mr. Fish. It was during the Arab spring, and he had superimposed Che Guevara with the stylized beard and King Tut's face, but it had Che's beret. And it [was titled], "Walk like an Egyptian." So, it was a reference to the music, but [it was also] a reference to what was going on the streets of Cairo. I sent it out as our poster of the week to 9,000 people. The very next day, somebody took a photograph on the street of Cairo, with somebody holding a piece of paper with that image on it. A poster can literally go around the world and people will print it out.
What struck me in viewing your exhibits is how many of these posters could still be used today, not only artistically but also, sadly, in the timeliness of their messages.
We had this fabulous poster by Yolanda Lopez, a Bay Area artist, which she first did in 1978. It depicts a young man in Aztec garb pointing a finger like Uncle Sam saying, "Who's the illegal alien, PILGRIM?" And it's a great poster, it's simple, not too many words, funny, provocative. So, we had an exhibit at UCLA in the mid '90s and there were 4 or 5 high school students standing around this poster saying, "Wow, you've got posters up to the minute." And I went over to them and I said, "Look at the date. This is before you were born."
Is that one of your goals with the exhibitions? To show the evergreen nature of this work?
Absolutely. I mean that's why we did the police abuse exhibition now. It basically goes back five decades. It's 50 years of posters protesting police abuse. Mainly in the United States, but also internationally.
What's the goal for CSPG?
Well the aim right now is really to digitize the collection and get it online. We have 10% of the collection digitized. But the mission is to collect and to document, because stories get lost. All the exhibitions, they're showing massacres, they're showing genocide, they're showing police abuse, they're showing all of these horrible things. And people often ask me, "How can you look at this stuff all day long?" I said, "Because the poster artists are optimists. They believe people can change if they have the information."
Yes, that's the reason why they're doing it, right?
That's why they're doing it, and that's why I'm doing this, because I believe that people can change if they knew the truth.
And what happens 20, 50 years from now?
Well, my goal is to stay independent, because the other option is to become part of the university. Universities, for all the fabulous things that they do, they also censor. We did an exhibition at USC in 1992 on the 500 years since Columbus, and how the legacy of racism and exploitation and genocide continues. And one of the board of trustees was Italian and took [the exhibit] as an affront to Columbus. It really wasn't about Columbus, it was about colonialism. And he ordered it down.
Do you have a favorite poster?
I'm always amazed at the creativity and vision of artists. Every week I'll say, "Oh my God, how do they think of that?" But it's always still going to be the poster I saw that kid trying to figure out. It has to be my favorite one because that one changed my life.
What makes a perfect poster?
The right balance between aesthetics and message. If you only rely on the corporate press, the New York Times and L.A. Times, for your information, you're not going to get the side from the street, from the movement, from the activists. The posters are primary historical documents that are recording the issues that were at the time, and the passions that were at the time, and the divisions that were at the time. You're not going to get it anyplace else.
---
Copyright Capital & Main