Nurses Still Waiting for Masks After 100 COVID RN Deaths
A survey of 23,000 nurses found that 87 percent of respondents must still reuse disposable masks while attending to COVID-19 patients.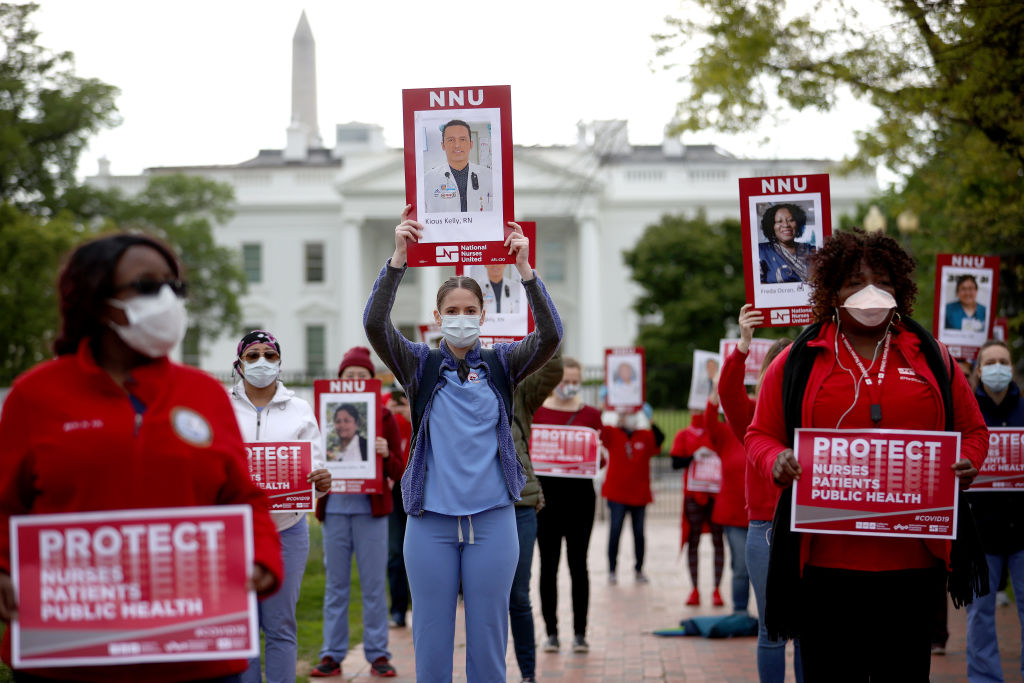 Months ago, the arrival of the coronavirus in the U.S. was accompanied by a contemporaneous complaint: Frontline health workers, and nurses in particular, were facing shortages of safety equipment and putting themselves at abnormal risk in the everyday act of doing their jobs.

---
Each week Pandemic Nation offers a roundup and analysis of news about the coronavirus. Please send feedback and related tips and announcements to mark@markkreidler.com
---

Public protests at hospitals across the country, and in front of the White House, reinforced that point, and lawsuits soon followed. A spate of news coverage criticized the lack of a national plan to supply nurses with personal protective equipment, or PPE.
And then: Virtually nothing happened.
That's the takeaway of a new poll of 23,000 nurses conducted by National Nurses United. The poll found that 87 percent of the nurses who responded still have to reuse disposable, single-use respirators or masks when interacting with COVID-19 patients – "a dangerous practice that can increase exposures to nurses, other staff, and to patients," the union said in a news release.
In addition, nearly 30 percent of those polled said they'd had to reuse a so-called decontaminated respirator, whose effectiveness and safety have been loudly questioned by medical experts. And nearly three-quarters of the nurses said that unsafe working conditions had led to them having exposed skin or clothing while caring for suspected or confirmed COVID-19 patients.
"We're in this pandemic since January. It's now May, almost five months later, and we still don't have the supplies of safety equipment that we need," NNU co-president Deborah Burger told Capital & Main. A registered nurse, Burger also is president of the California Nurses Association. (Disclosure: The CNA is a financial supporter of this website.)
"We are sounding the alarm because we are putting our nation's patients and health care workers at risk," Burger said. "And we're putting our communities at risk, because then nurses become vectors of this disease."

---
"We're in this pandemic since January.It's now May, almost five months later, and we still don't have
the safety equipment we need."
---

Not only is the story of inadequate PPE not new, but it really never faded from view. News organizations around the country have consistently reported on the problem, in part because neither individual hospital systems nor the federal government have coordinated an effective response.
The CNA/NNU renewed its call for President Donald Trump to invoke the National Defense Production Act to increase the supply of N-95 respirator masks, which Burger described as "the floor, not the ceiling" when it comes to protective gear for health workers. Trump's reluctance to do so has led to a chaotic and often fraudulent system of buyers and sellers of basic PPE.
In California, more than 3,800 nurses polled for the survey indicated another problem. Just 17 percent of them said they'd been tested for COVID-19, despite their constant interaction with suspected or confirmed cases of the disease. Nationally, the union said, more than 100 RNs have died from COVID-19 during the pandemic.
* * *
Despite Amazon's well-publicized refusal to disclose the number of warehouse workers who have tested positive for the coronavirus, a picture of the scale of the problem within its domestic facilities is beginning to emerge.
According to an employee-maintained tally of cases, at least 1,374 Amazon workers had become infected in the U.S. and Canada by May 26. The list, updated every couple of days, comes largely from individual reports and warehouse-to-worker announcements, and thus is presumed to understate the true total.
Severe outbreaks are noted at several hotspot buildings, where the virus bloomed amid crowded working conditions and lax safety measures. The spreadsheet reports 90 cases at Amazon's Staten Island, N.Y., facility, 70 in Carteret, N.J., and 74 in Hazelton, Penn. At least 10 cases of infection have been recorded at 35 of the company's warehouses.
Not all workers are being made aware of what's happening within their own buildings, though. Mark Shernick, an employee at one of Amazon's Colorado facilities, told Capital & Main he had received a single voicemail informing him of one positive test at his warehouse. But the multisourced spreadsheet had recorded five positive cases in that building.
* * *
Among workplaces that have functioned as vectors of infection, few have proven as consistently dangerous as meatpacking plants, where low-wage workers labor side by side for hours at a time. A spate of new cases in the Los Angeles area confirms that truth.
Los Angeles County health officials reported COVID-19 outbreaks at five different meatpacking plants in the industrial city of Vernon, five miles south of downtown L.A., as well as at four non-meatpacking buildings in the same area.
The most severe situation appeared to be within the Farmer John plant, where 153 of 1,837 employees tested positive for the disease between March and May. Farmer John, owned by Smithfield Foods, is widely known in Southern California as the producer of Dodger Dogs, a longtime staple of concession stands and grocery stores.
The other Vernon meatpacking plants with clusters of positive cases are CLW Foods, California Farms Meat, Golden West Trading and Rose & Shore. Facilities producing coffee, tea, baked goods and frozen foods also experienced outbreaks.
Meat facilities by design place workers in close proximity to one another, under taxing conditions that can leave them breathing hard and with their protective masks slipping down their faces. More than 10,000 cases of COVID-19 have been linked to the meatpacking industry nationally, according to a survey of data by ProPublica.
* * *
Professional sports franchise owners are eager to get their leagues rolling and making money again, even if they can't agree with their own employees on what that rollout would look like. But for longtime stadium and arena workers, a resumption of normal job schedules is nowhere near being offered.
Both the National Basketball Association and Major League Baseball are exploring plans to resume or begin abbreviated seasons, but paying crowds won't be part of the picture. Instead, the leagues hope to capitalize on consumer demand by delivering huge TV ratings, broadcasting games played in mostly empty buildings to limit the possibility of mass infection.
That plan will keep some revenue flowing to owners and top-level players, but for stadium workers in both leagues, the future is murkier. While some franchises have announced plans to continue paying full-time staff, thousands of seasonal employees work not for the teams but for those who operate the buildings.
So far, those employees – concession and cleanup workers, ticket-takers, ushers and the like – are largely on their own.
---
Copyright 2020 Capital & Main