NY Pension Chief Cashes in on Natural Gas
Co-published by WNYC and Sludge
Revolving Doors: New York state's chief investment officer invested millions of retirement dollars in a fossil fuel company – and then joined the company's board the same week she retired.
Co-published by WNYC and Sludge
New York State's former top pension investment officer was appointed to the board of a natural gas conglomerate after the pension system bought up the company's bonds, rejected demands to divest from fossil fuels and supported multimillion-dollar pay packages for the company's executives after the firm's stock price had dropped.
Vicki Fuller was appointed as a director of The Williams Companies on July 31st — the same week she left her position as the chief investment officer of the New York State Common Retirement Fund.
The CIO job — appointed by State Comptroller Thomas DiNapoli — is considered one of the world's most powerful financial positions, directing $207 billion of investments for a system responsible for safeguarding the retirement savings of more than a million current and former state employees and their beneficiaries. Fuller will be granted $275,000 worth of salary and company stock every year for the part-time position serving on Williams' board.
The move comes during an increasingly bitter policy debate between the comptroller's office and environmental groups over whether the pension fund should divest itself from fossil fuel companies that contribute to climate change. In correspondence with DiNapoli over the last two months, major environmental groups have asked whether Fuller's new position is a reward for her and DiNapoli's ongoing opposition to selling off the fund's fossil fuel holdings.
As September's Climate Week commences in New York, those same pro-divestment groups on Monday sent a letter to the state ethics commission requesting a formal investigation of a comptroller's office that has already seen one leader sent to prison in an influence-peddling scandal, and another bond investment official recently convicted on bribery charges.
"Ms. Fuller's appointment calls into question the integrity of the management of the New York State Common Retirement Funds by New York State Comptroller Tom DiNapoli," wrote 30 groups to state ethics officials. "It is outrageous to us that a person can one day be CIO of the New York state pension funds and the next day take a well-compensated appointment as a board member of the corporation into which she oversaw – or even directed – large investments while helping to shield the company from an adverse divestment decision by the funds."
DiNapoli's office says they've already reviewed the matter and found nothing wrong. In an August letter to environmental groups, his counsel, Nancy Groenwegen, wrote: "We are not aware of any facts to support a conclusion that Ms. Fuller's post-[Common Retirement Fund] appointment as an independent director on the Williams board creates a conflict of interest, nor are we aware of any decision under the State's ethics laws by the Joint Commission on Public Ethics or its predecessor agencies that would prohibit her from accepting such an appointment."
The controversy combines ongoing concerns about Albany corruption with the simmering debate over whether Democrats like DiNapoli are following through on their promises to do all they can to combat climate change. While DiNapoli escaped a primary challenge in his current reelection bid, environmental groups furious with his opposition to divestment are now pressuring him as he heads into a general election campaign against Republican investment banker Jonathan Trichter.
"This creates red flags because the CIO job is the most powerful appointed financial position in the state of New York," said former Deputy New York Comptroller Thomas Sanzillo, who served under DiNapoli. "There needs to be an independent review because there is a perception of a conflict of interest."
The decision to launch an investigation will be up to the Joint Commission on Public Ethics, which is largely comprised of commissioners appointed by a governor who himself has ties to Williams. Capital & Main previously reported that a Cuomo-led political group raked in $100,000 from Williams earlier this year, and Cuomo's own re-election campaign this year is run by a registered lobbyist for Williams who is on leave from her firm. At the same time, Williams is asking the Cuomo administration to approve a controversial pipeline that environmentalists say threatens the state's waterways.
Comptroller's Office Cites Internal Review
As comptroller, DiNapoli serves as the sole trustee of the state's pension system. He appointed Fuller CIO in 2012. During Fuller's six-year tenure in that $365,000-a-year job, the pension fund more than doubled its total stock and bond holdings in Williams. New York's state pension fund is now one of Williams' 100 largest institutional shareholders, according to Nasdaq records.
Last year, as a major shareholder, the pension system voted to support an executive compensation program that paid the company's top officials $62 million between 2014 and 2016 — a period that saw the firm's stock price plummet nearly 20 percent. This year, nine days after Fuller left her state job, the comptroller's office voted against the company's executive compensation program.
Under Fuller, the pension system in early 2015 added $110 million worth of Williams bonds to the state's portfolio. That same year, Moody's changed Williams' financial outlook to "negative" in a report warning that its bonds could be particularly risky investments.
The company and its affiliates, wrote Moody's, were "weakly positioned for their respective [bond] ratings owing to their high financial leverage and the execution risk on growth projects."
The specific bonds New York purchased were downgraded in 2016, but have since returned to investment grade, according to the comptroller's office.
DiNapoli, a former assemblyman from Long Island, took over the office in 2007 following the resignation of then-Comptroller Alan Hevesi in a fraud scandal. Later, Hevesi also pleaded guilty in a pay-to-play scandal in which he steered $250 million of pension fund investments to a private equity fund after receiving nearly $1 million in gifts from the founder of the fund.
In 2009, DiNapoli issued an executive order that created a new code of conduct for the comptroller's office. It established wide-reaching policies governing conflicts of interest and financial transparency. In 2016, those policies were lauded by an outside contractor that was hired by the comptroller's office to review its ethics rules. However, DiNapoli's updated code of conduct still did not place any limitations on the type of employment investment officers can seek after leaving the comptroller's office or any other post-employment ethics guidelines.
While environmental groups are calling for an independent investigation of Fuller's move, the comptroller's office says it has already conducted its own internal review, according to the letter from DiNapoli's counsel.
In the lead-up to Fuller announcing her plan to retire from her government job, Fuller was told of an ethics advisory that requires state officials to recuse themselves from matters involving companies offering them post-government employment, and to wait 30 days from the recusal before discussing that employment.
Fuller told the comptroller's office "that the company had no matters pending" before the pension fund, and DiNapoli's office said it "confirmed that there were no investment matters involving the Williams Companies pending during the relevant time frame of May-July 2018."
During that time, however, state officials had the ongoing power to buy or sell the pension fund's holdings in Williams — and the pension fund considered resolutions for Williams' May 10th shareholder meeting. Additionally, Williams was also at that time asking for input from the pension fund and other stockholders on a proposed merger and financial reorganization of the company.
For its part, Williams said Fuller's appointment to the company's board had nothing to do with decisions at the pension fund.
"Ms. Fuller came to the company's attention through a third-party recruitment firm that was engaged to assist the company in replacing a retiring director," said Williams spokesperson Keith Isbell. "She did not meet with any members of the company's board or management until after the May 2018 announcement of her retirement from the NYS Common Retirement Fund."
Isbell said Fuller will not be expected to interact with the New York state pension fund in her role on Williams' board. Both Fuller and DiNapoli declined interview requests for this story.
A Larger Debate Over Divestment
The battle over Fuller's move underscores not only ongoing concerns about the revolving door between business and government in Albany, but also environmentalists' demands for investors across the globe to sell off their holdings in fossil fuel companies. Already, institutions representing more than $6 trillion of capital have committed to divest, and in New York City, Mayor Bill de Blasio and city Comptroller Scott Stringer have supported divestment and announced new investments in renewable energy.
More than six percent — or roughly $13 billion — of New York's state pension fund is in fossil fuel-related investments, according to a report by the activist group Fossil Free. While DiNapoli was running for reelection the year before the state bought Williams' bonds, he said he would consider following environmental groups' demands to divest the fund from fossil fuel companies.
However, DiNapoli has since refused to divest, even as New York City pension funds divest and state legislators and the governor have demanded the state follow suit. In 2016 — less than two years before being appointed to Williams' board — Fuller led the fight against legislation that would require divestment. She argued that shareholders should instead engage with companies to show them that climate change is a significant risk to their business model.
"We do actively engage our portfolio companies, but we're patient," Fuller said at an October 2016 roundtable hosted by state senators Liz Krueger and Brad Hoylman at Baruch College. "So if we think a particular issue requires our attention we will engage the company, write a letter, propose resolutions, vote against board members. And if we are not successful the first time we keep coming back. That approach has borne fruit for us. Some people don't believe in engagement, but I can tell you the proof is what we've been able to accomplish."
To support this assertion, the comptroller's office has touted DiNapoli-led shareholder resolutions prompting fossil fuel companies to more thoroughly disclose environmental information. Those include a resolution that led to an agreement with Cabot Oil and Gas requiring the company to disclose its policies on using toxic chemicals for fracking; a resolution compelling ExxonMobil to conduct a study of its impact on climate change; and resolutions prompting DTE Energy, Dominion Energy and Southwestern Energy to detail how they would comply with the 2015 Paris Agreement that committed nations across the globe to carbon emission reductions.
Groups like 350.org counter that the most powerful way to reduce fossil fuel development and reduce carbon emissions is for large institutions to divest from oil and gas companies, thereby denying them investment capital.
"Engagement with the fossil fuel producers isn't working – they're determined to stick to their business model," 350.org founder Bill McKibben said in 2015, when New York lawmakers first introduced legislation that would require the pension fund to divest its fossil fuel holdings.
With DiNapoli still opposing divestment three years later, McKibben in May 2018 authored a Rolling Stone magazine essay that said: "Because of (DiNapoli's) high-profile insistence on 'engagement' with the industry, he's become a stand-in for a thousand other political 'leaders' who can't quite summon the nerve necessary to break with the fossil-fuel industry, even when science and economics are making it clear where the future must lie. It's so much easier to keep doing what you've always done – but at this point inertia is the planet's most powerful enemy, and DiNapoli is threatening to become inertia's avatar."
DiNapoli Touts Work on Climate Change, But Critic Says He's Being "Used."
DiNapoli has continued to stake out a public profile as a crusader against climate change. He has said he views climate change as a "material risk for our portfolio" and his office has shifted some of the pension fund's investments into companies that reduce their carbon footprint. Earlier this month, the pension fund was praised by the Asset Owners Disclosure Project for its work addressing climate risk.
"I continue to speak out when the Fund's portfolio companies fail to take the steps necessary to adapt to the changing world," DiNapoli said at the time. "Those of us who are working to make the Paris Agreement a reality may take separate avenues, but we share a common goal — to help build the growing low carbon economy. I am proud that the Fund is part of that worldwide effort."
The office does not appear to have used that kind of leverage against Williams during Fuller's tenure. And more generally, some of the fund's highest profile moves against the industry have not always generated significant results. For example, after DiNapoli made headlines forging the deal with ExxonMobil to publish a study on how climate change could affect its future business, the company used the study to simply reiterate its commitment to a business based on fossil fuel profits.
Meanwhile, the fossil fuel industry has aggressively used DiNapoli to deflect increasing pressure from the divestment movement. In just the last year, the Independent Petroleum Association of America published five separate blog posts and two newspaper essays citing DiNapoli's opposition to divestment — and embrace of shareholder engagement — as a reason other public officials across the country should reject environmentalists' demands.
"With the retirement money of New York's working families on the line, let's hope that the State Legislature supports Comptroller DiNapoli and pushes back against fossil fuel divestment," said one of the association's essays.
"DiNapoli as the sole person in charge of the pension fund's investment strategy has made it clear that he has no plans to divest," said another. "Let's hope the fiduciaries of other pensions across the country follow suit."
Sanzillo, the former deputy comptroller, said it all adds up to "a rather sophisticated game" in which DiNapoli has become a shield for the industry.
"Why has DiNapoli allowed himself to be used by the industry as their poster child for responsible shareholder engagement?" he asked. "The industry has basically said [DiNapoli] is the greatest thing in the world, and the reason they said that is because he pulled punches on the shareholder work and he is not being forceful….It looks cynical. It looks like he was saying he was pressuring the companies, and then he backed off, and that's a game that cynical shareholders do play, and there's something wrong here."
DiNapoli has rejected suggestions that his anti-divestment strategy is a deliberate defense of the oil and gas industry. Instead, he has asserted that ownership stakes in fossil fuel companies give him necessary leverage over those firms, and he has also insisted that he is fulfilling his fiduciary obligations to generate the largest possible investment returns for pensioners.
"The New York State Common Retirement Fund and the State Comptroller are not being used by anyone," said DiNapoli's spokesperson, Jennifer Freeman. "The State Comptroller, as the trustee of the (pension fund), is acting as a prudent investor, committed to ensuring the New York State and Local Retirement System is able to pay retirement income to state and local workers. The Fund's interest is in protecting its long-term value so public workers have peace of mind that their retirement funds are growing and the cost to taxpayers is minimized."
In 2017, a study from the Suffolk County Association of Municipal Employees found that the state could forfeit up to $2.8 billion of investment returns if it divests from fossil fuels.
But those projections — and DiNapoli's underlying argument — have been questioned.
A May report by Corporate Knights found that New York's pension fund would have generated an additional $15 billion of returns had it sold off its fossil fuel holdings and reinvested them in renewable energy. A July report from the Institute for Energy Economics and Financial Analysis found that in the past three to five years, "Global stock indexes without fossil fuel holdings have outperformed otherwise identical indexes that include fossil fuel companies."
"Investors with long-term horizons should avoid oil and chemical stocks on investment grounds. They face a sustained headwind," wrote Jeremy Grantham, the legendary asset manager who co-founded the investment firm GMO. "Ethical arguments for divestments are simply not necessary. They are a pure bonus."
Critics of the oil and gas industry have asserted that corporations are not properly accounting for their exposure to climate-related losses. Last week, U.S. Senator Elizabeth Warren introduced legislation that would require more climate-related disclosures. At the same time, a new book by journalist Bethany McLean finds that natural gas investments are on shakier financial footing than their quarterly financial reports suggest.
Sanzillo said that if New York state's pension fund embraces divestment, it can play a pivotal role in the climate change fight because of its sheer size.
"This is the third-largest fund in the United States," he said. "If the comptroller tells his money managers that we need a portfolio that is fossil-free, every large money manager in the world will have to adapt.
"It tells JP Morgan, Morgan Stanley and all the other major financial advisers that this is the product institutional investors want, and you better come up with it, or you aren't going to have customers any more," Sanzillo said.
---
This story was produced in partnership with WNYC public radio and Sludge, which covers money in politics.
California Workers and Retirees Are Unwittingly Financing an Anti-Rent-Control Campaign
Co-Published by The Guardian and MapLight
Blackstone is quietly funneling investors' money into its campaign against Proposition 10.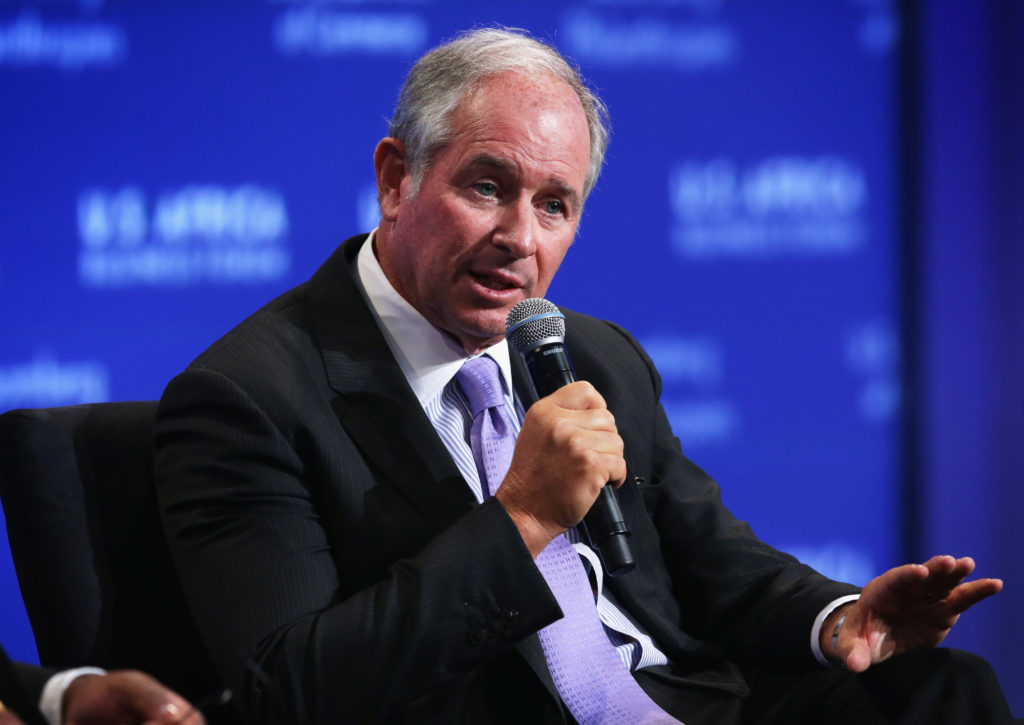 ---
Blackstone contributions did not come from the firm's corporate treasury, but from investors: Dozens of state and local pension systems, and public university endowments.
---
Co-Published by The Guardian and MapLight
When San Francisco's local government endorsed a state ballot initiative to permit rent control measures earlier this month, it appeared to be a victory for housing rights advocates in a city where stratospheric prices have sown social unrest and class animosity. The measure has found similar support from other California cities and unions representing public employees who can't afford to live in cities where they work.
Those advocates, however, may be unwittingly financing the opposition to the rent control measure. Documents reviewed by Capital & Main and MapLight reveal that a private equity giant with ties to President Donald Trump has boosted the campaign to defeat Proposition 10 with money taken from real estate investments funded by California public employees and the state university system.
Campaign finance records show entities controlled by private equity giant Blackstone have been among the biggest sources of cash for opponents of the ballot measure. More than $5.6 million has come from a Blackstone holding company and four of its  investment funds.
But unlike typical corporate political donations, the Blackstone contributions didn't come from the firm's executives or its corporate treasury. Instead, they came from pools of capital from investors, which include dozens of state and local pension systems, as well as public university endowments. The move has been described as the equivalent of mutual fund executives taking money out of customers' accounts to make political contributions.
In effect, Blackstone's maneuver means the opposition to the rent control initiative is being bankrolled by everyone from San Francisco municipal workers to university employees to public school teachers — all of whose retirement savings are in the Blackstone funds that have been tapped for the Proposition 10 fight.
"What we have is the largest Wall Street landlords in the country who are the very people profiting off of the housing crisis leading the opposition to Proposition 10," said Amy Schur, the campaign director for the Alliance of Californians for Community Empowerment, which supports the ballot measure. "It's adding insult to injury that they're using the pension funds' dollars of hard-working families to beat back an essential policy to provide relief to working families."
Michael Bustamante, a spokesman for a committee opposing Proposition 10, didn't answer questions about Blackstone's contributions. He said the measure is a "bad public policy that will make it harder for those looking for a safe, affordable place to live and is a perfect example of a well-intentioned law with disastrous consequences."
Blackstone didn't respond to a request for comment.
"Can't Afford a Place to Live"
The rent control initiative was prompted by anger over California's housing costs. The median home price in the state  has topped $600,000, double the national median. Californians pay some of the highest rents in the nation, and retirees have been hit hard.
A coalition of community organizations, tenants rights groups and unions have lined up behind Proposition 10, which would repeal a 1995 state law that blocks municipalities from imposing rent controls on new apartment units or single-family homes.
"In my district, teachers, firefighters and nurses often can't afford a place to live," said U.S. Rep. Ro Khanna (D-CA). "Cities should have the right to provide apartments at affordable rents. Any effort to kill Proposition 10 hurts not just the working class but also undermines the ability of local communities to determine their own destiny."
Opponents of Proposition 10 have cited an analysis from state legislative auditors that said the measure would likely reduce state and local revenues in the long term. The auditors estimated that revenue losses could be "in the hundreds of millions of dollars per year." Critics have also argued that reduced profitability would deter developers from building more housing.
"There is no doubt we need to make housing more affordable for Californians, but Proposition 10 will make our current situation worse, not better, by constricting future development of affordable units," former Los Angeles Mayor Antonio Villaraigosa said last month.
"The Investors Would Have No Idea"
More than $60 million has been donated for the Proposition 10 fight, with most of the money coming from landlords opposed to the measure. Blackstone and its affiliates have donated more than $6.8 million to two organizations opposing the initiative.
Almost $1.3 million has come from Invitation Homes, a Blackstone subsidiary that bought foreclosed single-family homes in the wake of the 2008 financial crisis and converted them to rental properties. Invitation now owns about 13,000 rental homes in California. Invitation tenants have complained of toxic mold, leaks and black widow spider infestations, and some have alleged they're victims of excessive and illegal late payment fees.
Another $5.6 million has come from Blackstone Property Partners, LP; Blackstone Real Estate Partners (VI-VIII); and BREIT MF Holdings LLC. Government records show that the four Blackstone investment funds are controlled by company CEO Stephen Schwarzman, a billionaire Trump ally. The funds have received investments from dozens of state pension systems, local pension funds and public university endowments.
---
---
Real estate funds typically pool institutional investors' cash, use it to buy properties, and return profits from rents and asset sales to the investors. The agreements governing public pension investments — which are usually exempted from open records laws — typically give Wall Street managers wide discretion over investor money. Blackstone appears to be using that latitude to direct investors cash into an election battle.
"Private equity fund investors — pension funds, endowments and others — are limited partners, and these private equity funds are in effect 'blind pools' which afford investors with very proscribed legal rights and with surprisingly little insight into and information about the funds' investments," said Leo Hindery, a New York-based private equity executive. "The investors would have no idea, if some of their money is going into partisan or activist political campaigns."
Blackstone has warned investors they could face losses from "fluctuations in occupancy, rental rates, operating income and expenses" as well as from "changes in legal, fiscal and regulatory regimes," corporate documents show.
Eileen Appelbaum, co-director of the Washington, DC-based Center for Economic and Policy Research, said the donations are likely legal, but she argued that pension managers should steer clear of private equity firms that use retirees' money for political causes.
"It would be bad enough if Stephen Schwarzman and [executive vice chairman] Tony James of Blackstone were spending some of their own billions to oppose legislation that will put a brake on their ability to drive sky-high rents even higher in the Bay Area," Appelbaum said. "But it is unconscionable for them to use millions of dollars taken from properties in which they have invested the retirement savings of police, firefighters, teachers and other public employees to deprive these workers of affordable rents in the communities in which they work."
"There Can Be Some Tension"
Alex Caputo-Pearl, president of United Teachers Los Angeles, said last month that teachers spend as much as half of their salaries on rent. "We need to say enough is enough and implement measures that better protect students, teachers and families. Implementing rent control is a strong first step," he said.
Even so, some of the retirement money those teachers contribute monthly to the California State Teachers' Retirement System (CalSTRS) is invested in the Blackstone funds that are financing the campaign against Proposition 10. Those investments were valued at more than $715 million last year, according to the CalSTRS website.
"As a public entity, CalSTRS does not participate directly in electoral politics," said a CalSTRS spokesperson.
Similarly, San Francisco's board of supervisors last month voted to endorse Proposition 10. But in 2015, the city employees' pension system committed $150 million to a Blackstone fund that has donated to the measure's opponents.
Then there is the University of California system. Proposition 10 was endorsed by the University of California Student Association, which represents student governments at schools throughout the UC system, and by the city government of Berkeley, which is home to one of the largest branches of the UC system.
At the same time, though, the UC Retirement Plan, which provides benefits for university employees, has invested $35 million in the Blackstone funds used to finance the Proposition 10 opposition.
"The University of California does not make donations to political campaigns," said UC spokesperson Dianne Klein. She added that the UC system's Blackstone investments only include a small amount of California real estate.
---
---
In recent years, pension overseers have faced increasing pressure to generate solid returns for retirees while ensuring their investments reflect environmental, human rights and other social values. For example, pension fund managers in New York and Chicago have announced plans to pull investments from private prison companies, citing their impact on poor and minority neighborhoods. New York City pension officials are also attempting to divest from fossil fuels.
Lou Barberini, a former San Francisco police officer whose retirement system has invested in the Blackstone funds, said his fellow retirees should be concerned that Blackstone's move will set a precedent that allows Wall Street firms to use pension money for pet political causes.
"It is morally wrong that they are using our retirement money to fund a political campaign," Barberini said. "It is also a slippery slope. Where does this stop? What if a money manager wants to take our retirement savings and give it to a candidate?
"Once you start taking money out of pensions to fund political campaigns, where do you draw the line?"
---
This story was reported by David Sirota of Capital & Main and Andrew Perez of MapLight. Amari Cowan contributed reporting.
MapLight and Capital & Main's funders include some non-profit groups that have declared their support for Proposition 10. Neither organization has received any funding from any for-profit entities that have a commercial interest in the outcome of the ballot measure.