A New Rosie the Riveter for a New America
Thoroughly Modern Rosie: Welder Chancy Davis, New Flyer Industries
Some 70 years ago, the song "Rosie the Riveter" crackled over the wireless while a Norman Rockwell illustration of Rosie flexing her bicep popped from the cover of The Saturday Evening Post. By depicting the rivet gun-toting icon on her lunch break, Rockwell hopped aboard the government-fueled propaganda bandwagon that had only one aim: to recruit and train a female workforce capable of churning out munitions, aircraft, tanks and destroyers for a costly, brutal war that spanned two oceans and three continents. Rosie the Riveter did the job, and an estimated 18 million women left the house for the factory (or shipyard) — giving many the freedom to work outside the home for the very first time.
Today, women are still at war, only now, it's economic. Never mind that it's undeclared and unrelenting, and has been ongoing since Rosie's day, when women seldom earned more than half the wages men commanded, while laboring at the same machine. Over time the gap in pay has narrowed, but in manufacturing, more than in any other economic sector, the disparity is glaring — on average a woman earns 74 cents for every dollar a man makes. Gender wage gaps are most commonly found in industries where women are the least represented (as in the manufacturing of railway rolling stock), and yet as revealed by a newly-released study from the University Southern California Program for Environmental and Regional Equity (USC PERE), "the larger the share of female employment, the lower the wage across all industries."
In an effort to ease working women out of the economic trenches, the Jobs to Move America coalition and the Los Angeles Alliance for a New Economy have organized the photo exhibit Women Can Build: Re-Envisioning Rosie, now through June 19 in the waiting room of downtown L.A.'s Union Station,800 N. Alameda St. Like another ubiquitous World War II icon — the determined-looking Rosie sporting a bandanna — Women Can Build seeks to reinforce the notion that nothing is beyond a woman's touch. The exhibit features the portraits of 15 women involved in some aspect of America's mass-transportation production boom  — "Modern-Day Rosies" — as seen through the eyes of Pulitzer Prize-winning photojournalist Deanne Fitzmaurice. Included in the show are historic images of actual "Rosie the Riveters" found in the Library of Congress and selected by curator Fiona Gardner, who's a photographer herself and the co-author of Meet Miss Subways: New York's Beauty Queens 1941-1976.
While Rosie the Riveter has been enlisted once more to lead the charge in breaking gender barriers in a world still dominated by men, the portraits — some shot amid the visual cacophony of heavy machinery as trains, trams and buses are being built — compile an updated Rosie with a new face and name to match the changing face of America. She's multicultural and often bilingual — as in the case of Maria Nunes-Rothstein, a riveter on the assembly line at the New Flyer bus factory in St. Cloud, Minnesota. Rosie the Riveter is now Maria the Riveter.
Fitzmaurice, who began her career in the predominately male world of sports photography, nimbly shows the new Rosie to be just as strong and capable as the old, a mix of confidence and grit. Yet the women depicted here are unflinching in their gaze, unafraid to look directly at the camera and challenge the viewer. The new Rosie stares back, sometimes unsmiling, sometimes knowingly, almost as if to say she's worth a lot more than she's paid. 
(Note: Although it's best to see these portraits in person and in daylight, a portion of the exhibit can be viewed online at womencanbuild.org.)
---
Photo credits:
Chancy Davis: Copyright Deanne Fitzmaurice
World War II Rosie: Alfred Palmer, Library of Congress collection 

'Skeleton Crew' Is a Play With a Moral Spine
Set in a Detroit automobile outfitting plant, Dominique Morisseau's drama grabs you from the start with its focus on blue-collar men and women, and their struggle for dignity and self-respect.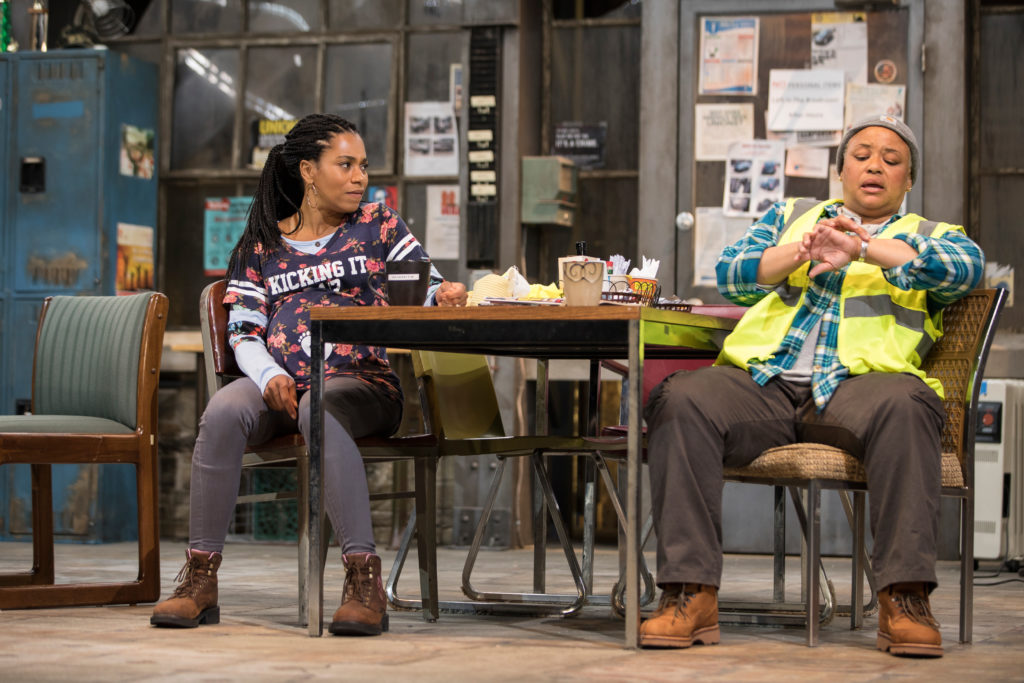 Working-class men and women of color are rarely front and center in today's media and, likewise, are presented all too occasionally on the American stage. So it's buoying to see that trend bucked in playwright Dominique Morisseau's percipient and well-crafted drama, Skeleton Crew. The play is the final installment in her Detroit  Project Trilogy; the first, Paradise Blue, is set in the 1940s amidst displacement caused by urban renewal and gentrification, while the second, Detroit '67, transpires on the eve of the 1967 Detroit riots sparked by a police action.
Directed by Patricia McGregor at Los Angeles' Geffen Playhouse, Skeleton Crew is a play with a moral spine. It takes place in 2008, when the shrinking U.S. auto industry is being further downsized. Morisseau's engaging quartet of characters — Faye (Caroline Stefanie Clay), Dez (Armari Cheatom), Shanita (Kelly McCreary) and Reggie (DB Woodside) – are employed at an automobile outfitting plant. Faye, Dez and Shanita are workers on the line while Reggie (who has a wife and kids, and has pulled himself together after a troubled youth) is their supervisor.
The first three customarily mingle in their break room (designer Rachel Myers' impressively cluttered, dingy and detailed set), trading the sort of familiar barbs and genuine concern for each other common among longtime co-workers. They also face off on philosophy: Upper-middle-aged Faye and the younger, pregnant Shanita take pride in their labor, while Dez, though a good worker, is a malcontent scornful of management and firm in the belief that everyone needs to watch out for himself. He's a thorn in Reggie's side, for while Reggie wants to be supportive of his workers, he must act at the behest of higher management. For his part, Dez resents Reggie's authority, and a palpable unease exists between them.
Besides this male matchup, we're made privy to Dez's attraction to Shanita, who mostly turns away his advances, but every now and then displays a hint of interest. Most poignant is Reggie's regard and affection for the lesbian Faye, which has roots in his boyhood when she loved, and lived, with his now-deceased mom.
These people's various predicaments intensify when rumors spread of the plant's shutdown — a disaster for all, but a particular calamity for the already near-broke Faye who, one year short of retirement, would lose her pension. The crisis forces each of these people to make a choice.
A sound piece of social realism, Skeleton Crew grabs you from the start in its focus on blue-collar men and women, and their struggle against odds for dignity and self-respect. Morisseau not only furnishes these characters a platform for their travails, she endows them with strong values, big hearts and the opportunity to choose between right and wrong.
Unfortunately, the performance I attended did not soar. Many exchanges lacked a fresh edge. The actors certainly had their characters down, but too often they appeared to be coasting on technique. (This seemed particularly true of Clay, who performed the role to great accolades in Washington, DC in 2017, also under McGregor's direction). Additionally, some of the stage movement was not entirely fluid; in confrontations, actors sometimes would just stand and face each other in an artificial way. And Cheatom's interpretation of Dez struck me as a bit overly churlish and depressive: I needed more glimpses of the intelligence and edge that would secretly attract the strong, self-directed Shanita.
The most compelling moments belong to Woodside, well-cast as a man trying his best in difficult circumstances to do the right thing.
---
Gil Cates Theater at the Geffen Playhouse, 10886 Le Conte Ave., Westwood Village; Tues.-Fri., 8 p.m.; Sat., 3 & 8 p.m. Sun., 2 & 7 p.m.; through July 8. (310) 208-5454 or www.geffenplayhouse.org