A New Rosie the Riveter for a New America
Thoroughly Modern Rosie: Welder Chancy Davis, New Flyer Industries
Some 70 years ago, the song "Rosie the Riveter" crackled over the wireless while a Norman Rockwell illustration of Rosie flexing her bicep popped from the cover of The Saturday Evening Post. By depicting the rivet gun-toting icon on her lunch break, Rockwell hopped aboard the government-fueled propaganda bandwagon that had only one aim: to recruit and train a female workforce capable of churning out munitions, aircraft, tanks and destroyers for a costly, brutal war that spanned two oceans and three continents. Rosie the Riveter did the job, and an estimated 18 million women left the house for the factory (or shipyard) — giving many the freedom to work outside the home for the very first time.
Today, women are still at war, only now, it's economic. Never mind that it's undeclared and unrelenting, and has been ongoing since Rosie's day, when women seldom earned more than half the wages men commanded, while laboring at the same machine. Over time the gap in pay has narrowed, but in manufacturing, more than in any other economic sector, the disparity is glaring — on average a woman earns 74 cents for every dollar a man makes. Gender wage gaps are most commonly found in industries where women are the least represented (as in the manufacturing of railway rolling stock), and yet as revealed by a newly-released study from the University Southern California Program for Environmental and Regional Equity (USC PERE), "the larger the share of female employment, the lower the wage across all industries."
In an effort to ease working women out of the economic trenches, the Jobs to Move America coalition and the Los Angeles Alliance for a New Economy have organized the photo exhibit Women Can Build: Re-Envisioning Rosie, now through June 19 in the waiting room of downtown L.A.'s Union Station,800 N. Alameda St. Like another ubiquitous World War II icon — the determined-looking Rosie sporting a bandanna — Women Can Build seeks to reinforce the notion that nothing is beyond a woman's touch. The exhibit features the portraits of 15 women involved in some aspect of America's mass-transportation production boom  — "Modern-Day Rosies" — as seen through the eyes of Pulitzer Prize-winning photojournalist Deanne Fitzmaurice. Included in the show are historic images of actual "Rosie the Riveters" found in the Library of Congress and selected by curator Fiona Gardner, who's a photographer herself and the co-author of Meet Miss Subways: New York's Beauty Queens 1941-1976.
While Rosie the Riveter has been enlisted once more to lead the charge in breaking gender barriers in a world still dominated by men, the portraits — some shot amid the visual cacophony of heavy machinery as trains, trams and buses are being built — compile an updated Rosie with a new face and name to match the changing face of America. She's multicultural and often bilingual — as in the case of Maria Nunes-Rothstein, a riveter on the assembly line at the New Flyer bus factory in St. Cloud, Minnesota. Rosie the Riveter is now Maria the Riveter.
Fitzmaurice, who began her career in the predominately male world of sports photography, nimbly shows the new Rosie to be just as strong and capable as the old, a mix of confidence and grit. Yet the women depicted here are unflinching in their gaze, unafraid to look directly at the camera and challenge the viewer. The new Rosie stares back, sometimes unsmiling, sometimes knowingly, almost as if to say she's worth a lot more than she's paid. 
(Note: Although it's best to see these portraits in person and in daylight, a portion of the exhibit can be viewed online at womencanbuild.org.)
---
Photo credits:
Chancy Davis: Copyright Deanne Fitzmaurice
World War II Rosie: Alfred Palmer, Library of Congress collection 

A Spiritual Mystery Play Fails to Enlighten
Yusuf Toropov's drama, set in a contaminated, cancer-ridden community, involves a publisher and his brother — a priest struggling against the local archdiocese.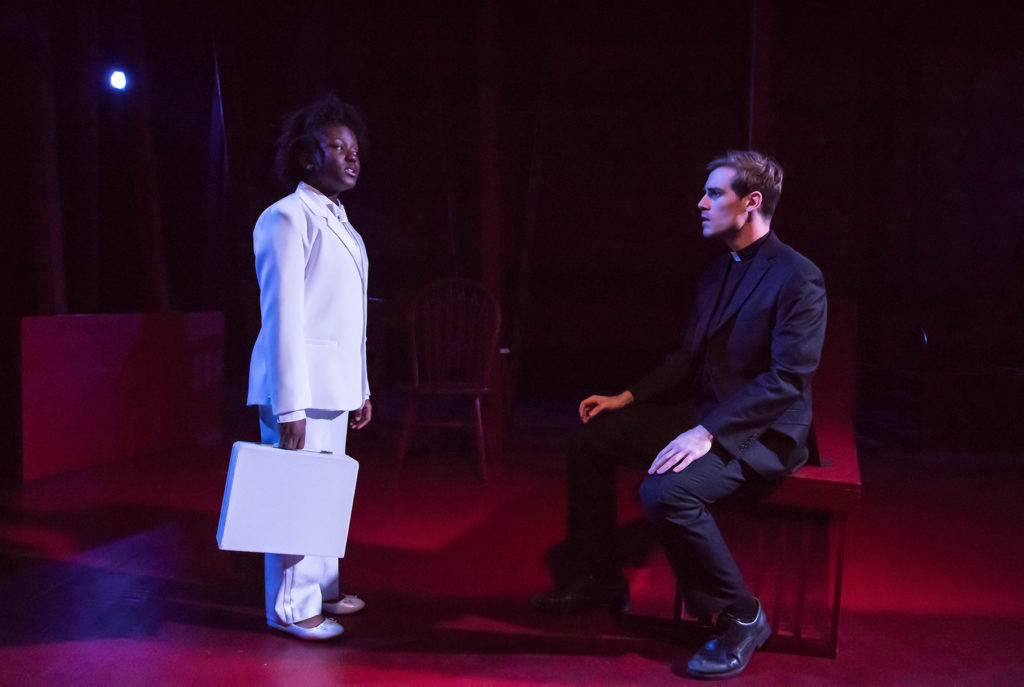 Directed by Chris Fields, Yusuf Toropov's An Undivided Heart, co-produced by the Echo Theater Company and the Circle X Theatre Co., is an aspiring work that aims to be deep but doesn't get there.
The play, running at the Atwater Village Theatre, unfolds on several levels. First, it tells the story of a young Catholic priest who must decide whether or not to publicly expose the pedophiles among his fellow clerics. Second, the work deals with our human struggle to understand why bad things happen with seeming random cruelty (a conundrum whose answers are regularly dispensed by spiritual leaders of all faiths, not very satisfactorily). On yet a third level, the play seeks to express the paradoxical wonder and mystery of life, with an assist from the supernatural.
That's a lot to cover in a little over two hours and, while the production is handsomely staged, its ambitious narrative is diminished by dangling threads, one major improbable setup near the end and too many bits of opaque dialogue.
Tim Wright, Alison Martin and Alana Dietze.
The setting is Holbrook, Massachusetts — a community whose residents have been exposed to contaminants, so cancer is rampant — in the summer of 1992. The story revolves around two brothers, both good guys: Mike (Matthew Gallenstein), a local priest who's written a revelatory book that his superiors want him not to publish, and Max (Tim Wright), an editor, who'd like to help his brother proceed.
When Max arrives at some sort of civic facility (the background particulars of this scene are unclear), he promptly tangles with an angry pregnant clerk named Lynne (Alana Dietz). A few minutes into their altercation, she goes into premature labor, and he rushes her to the hospital — the beginning of a nurturing romance.
Mike, meanwhile, is having strange dreams involving a burning typewriter and a cryptic little girl (Ann'Jewel Lee) who appears to him brandishing a dead cat. The same young person manifests in the dreams of Janice (Tracey A. Leigh, alternating with Jennifer A. Skinner), Max's Buddhism teacher, who is fond of posing riddles. Her favorite: If I am preparing to slice a cat in two, how would you prevent me from doing it?
The narrative shifts between Mike's struggle with his archdiocese, personified by its Cardinal (John Getz, alternating with William Salyers) and Lynne's problems with her dying mom Ruth (Alison Martin, alternating with Sigute Miller), a devout Catholic still in denial over her son's abuse by a priest when he was a youth.
These two storylines are interposed with the baffling dream sequences and Max's (and later Mike's) sessions with the inscrutably smiling Janice and her eschatological brain teasers. One crucial scene that leads to the dramatic climax has Mike looking to entrap an abusive priest (Jeff Alan-Lee, alternating with Jesse Bush) by attending confession with him and pretending to be a pedophile himself. The interchange, in which the priest probes for salacious details, is awkwardly plotted and escalates into over-the-top melodrama.
Cricket Myers' superlative sound design hints at the depth and scope that the playwright himself perhaps had in mind but was unable to attain. Amanda Knehans' set is an effective arrangement of wooden beams, tables and chairs that lighting designer Rose Malone smartly shades with a reddish-orange chroma, like the hues of hell. Elsewhere, she spotlights the players well.
Wright's warm and empathetic Max is highly likable, and he keeps you interested in the scenes he's involved with. Getz is appropriately unctuous as the Cardinal, and Martin draws a richly textured portrait of a not terribly educated housewife, who, buffeted by adversity, still clings to her faith. Michael Sturgis steals the limelight as a singing, simpering cleric. A couple of the other lead performances need refining.
Atwater Village Theatre, 3269 Casitas Ave., Los Angeles; Mon., 8 p.m.; Fri.- Sat., 8 p.m.; Sun., 4 p.m.; through April 22. www.EchoTheaterCompany.com
---
Copyright Capital & Main