A New Documentary Unspools the Life of Malcolm X
Most people know that Malcolm X began his public career by calling for black separatism. Lost Tapes: Malcolm X reveals surprising details that have not been seared into our collective view of the martyred activist.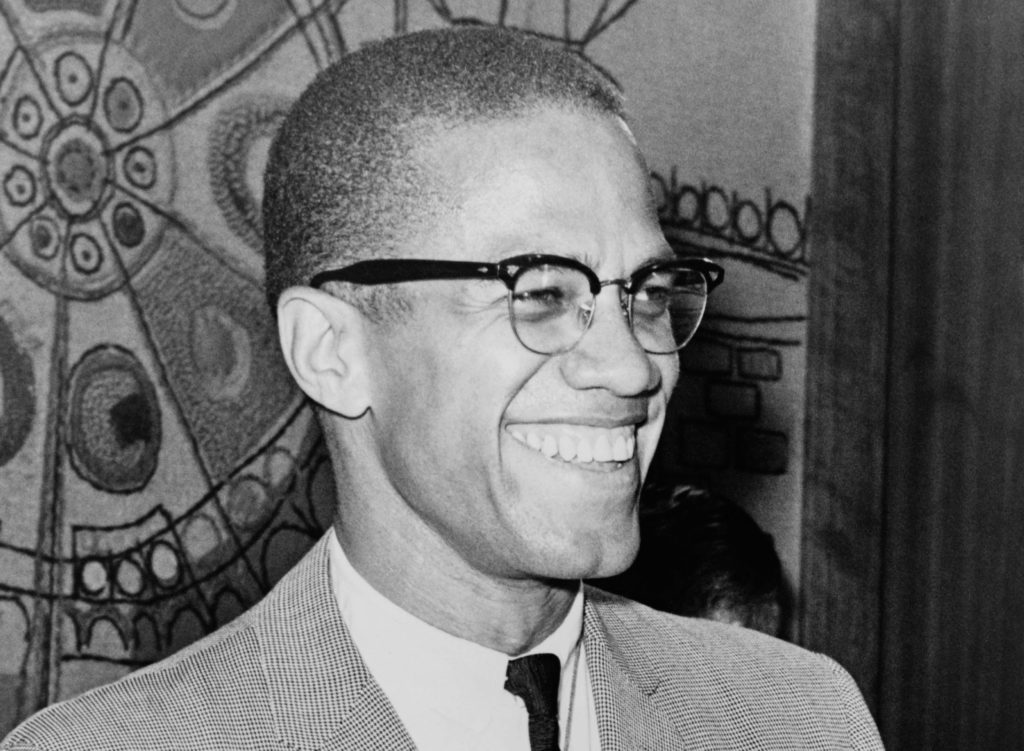 At the end of the Smithsonian Channel's Lost Tapes: Malcolm X, Ossie Davis delivers a stirring eulogy for Malcolm X, the fallen Muslim minister and human rights activist. "And we will know him then for what he was and is," Davis intones, "a Prince – our own black shining Prince!"
The haze of history has obscured some of the finer details of this remarkable leader's life, one cut short by assassination at the age of 39 in 1965. Schools go into far greater detail about the life and times of another spiritual leader, Martin Luther King Jr., but in the shadows behind King's narrative lurk remarkable stories of a prince that have been largely ignored. That's why this episode from The Lost Tapes documentary series rises above almost anything available in mainstream media.

Above: Malcolm X in Los Angeles, 1962
Most know that Malcolm, as the dominant star in the Nation of Islam, differentiated himself from King and other African-American leaders by calling for blacks to break off from, rather than assimilate into white society. At the outset, Lost Tapes: Malcolm X, which debuts tonight at 5 p.m. PST/8 p.m. EST, and repeats Tuesday, underscores how his incendiary speeches and philosophy sparked both outrage and fear by showing footage from The Hate That Hate Produced , a 1959 Mike Wallace-narrated documentary shown on New York's educational WNTA-TV that introduced the Harlem minister and the Nation of Islam to a wider (and whiter) audience.
Much of this doc treads on familiar turf: His meteoric rise and popularity, which caused NOI membership to swell exponentially; how Malcolm's philosophy deviated from other civil rights leaders', the rift with NOI leader Elijah Muhammad that led to Malcolm leaving the organization. Filmmakers Tom Jennings and David Tillman weave a fine story, thankfully bereft of any narration, using never-before or rarely seen footage to tell Malcolm's story, only resorting to simple white text on a black background to deliver essential information. The result seems more urgent and intimate, powerful and profound.
But where Lost Tapes really triumphs is in revealing details that have not been seared into our collective view of the martyred activist. First there is the matter of Cassius Clay. Few know that the boxer's conversion to Islam was mired deep in the divisions between Malcolm and the "prophet" Elijah Muhammad. Malcolm had grown to overshadow his mentor, and became a close friend to the charismatic contender. But soon after Sonny Liston failed to answer the bell in Miami on February 25, 1964, and Clay was crowned heavyweight champion of the world, Elijah Muhammad bestowed upon the boxer a Muslim name (an honor Malcolm had not been given) under one condition. The new champion had to end his friendship with Malcolm (something that Ali later publicly admitted was a mistake).
Later, there is an interview in which Malcolm publicly exposes Elijah Muhammad's fathering of eight children by six underage women who were his personal secretaries. This footage makes it seem more understandable why the NOI allegedly waged such a persistent campaign to kill Malcolm, first unsuccessfully by firebombs and then, purportedly taking down their target in a hail of bullets.
The documentary also chronicles Malcolm X's personal transformation shortly before his tragic death, which resulted in a revolutionary change in his outlook. After leaving the NOI, Malcolm went on a global spiritual journey that included a pilgrimage to Mecca in April of 1964, where he had a profound epiphany. Malcolm speaks of seeing Muslims of all colors interacting as equals and how the whites he had met there were not like those found in America, that their dedication to God allowed them to believe in the oneness of all people.
Inspired by this trip he started the Organization of Afro-American Unity (OAAU), a secular group that advocated Pan-Africanism, and promoted internationalizing the plight of African-Americans. This broadening of his views also made him make amends to those he criticized in the past. We see footage of an interview in which he not only forgives black leaders for having attacked him, but also apologizes to all he had ever attacked, culminating in him preaching solidarity and cooperation between leaders.
It's a huge moment that seems to have been lost as the years have passed, and it makes this venture all the more invaluable.
---
Copyright Capital & Main
The Power of the Poster
Carol Wells, the founder of the Center for the Study of Political Graphics in Los Angeles, talks to Capital & Main about the enduring power of political art.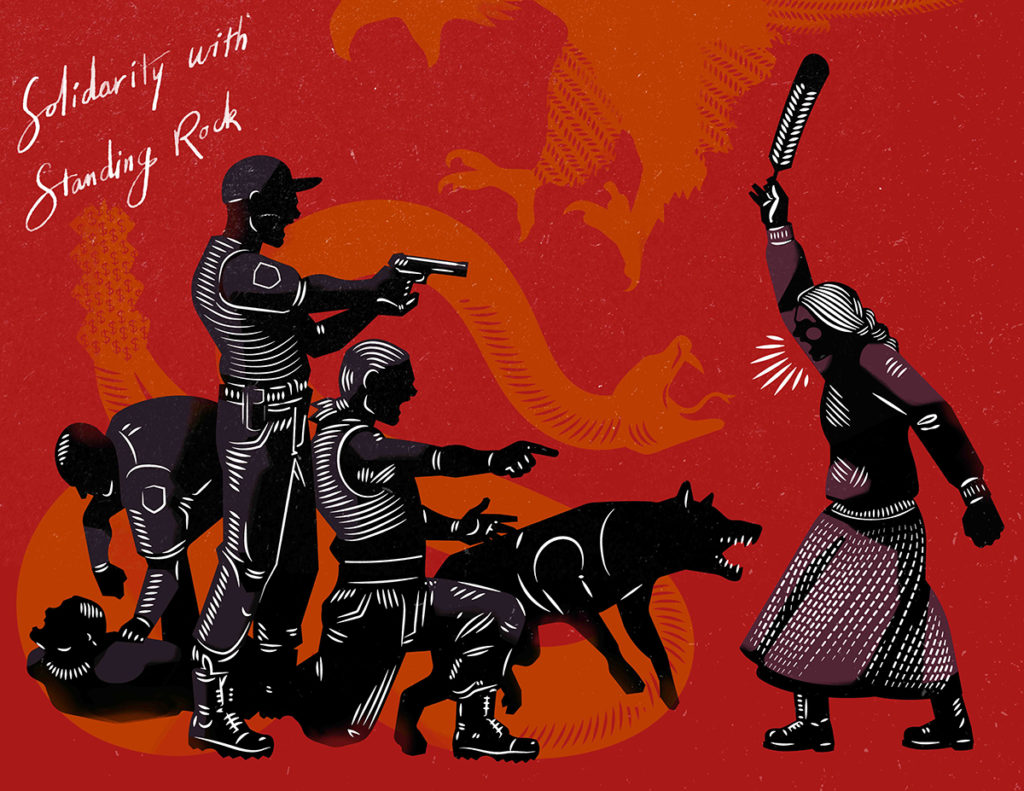 Carol Wells remembers the exact moment she discovered her calling. An art historian at the time, she was on a trip to Nicaragua with her friend David Kunzle, a UCLA art history professor, who was collecting political posters to add to his burgeoning collection. While staying with friends, Wells watched a neighbor's 8-year-old son approach a poster on the wall, stare at it intently, and then start to silently mouth the words. Wells was struck by how engaged the boy was. "In that moment I became obsessed with collecting posters."
Now over 40 years later, Wells is the founder and executive director of the Center for the Study of Political Graphics in Los Angeles. Wells has amassed approximately 90,000 posters, building one of the largest collections of its kind in the world. The Center shares its collection with the public in part through curated exhibits. This year the CSPG has produced Feminae: Typographic Voices of Women by Women and its latest is To Protect & Serve? Five Decades of Posters Protesting Police Violence, running through July 15 at the Mercado La Paloma in downtown Los Angeles.
Since that encounter in Nicaragua in 1981, Wells' obsession with collecting posters hasn't waned. In CSPG's nondescript West L.A. office space, Wells pulls out poster after poster, lecturing passionately on the backstory and cultural impact of each, including one that superimposes text from a New York Times interview with a shocking image of the My Lai massacre ("Q: And babies? A: And babies."). Recently, she managed to sit down with C&M to discuss her passion.
---
Capital & Main: So, you were an art history professor, you happen to see a kid on a trip, and suddenly your life was changed forever?
Carol Wells: Yeah, I'm in Nicaragua alone in the living room with this kid. He's looking around, and all of a sudden, he sees the poster. It was pretty big, bright green, a thick outlines of a woman holding a big basket of coffee beans. And the text in Spanish said, "In constructing the new country, we are becoming the new woman." I see him walk over to the poster and I'm watching him mouth the words. It was a pretty sophisticated concept, so I doubt he figured it out. But I literally had this epiphany: "Oh my God. That's how posters work." You're going about your daily life, and all of a sudden something breaks through the bubble, and it grabs your attention. It's the graphic, it's the color, it's the combination, and it pulls you out of your head and into that poster and it makes you ask a question. "Why is this here? What is this about? What does this mean?" And every time you ask a question, you're a different person than you were before you asked the question.
How many posters do you get a year?
We get between two to five thousand a year donated from all over the world. The bulk of our collection is [from] 1945 and later.
I assume technology has probably hurt the art form, but has it helped get the messages out?
Most people think that, and it's actually not true. Since the internet age started, there's actually a poster renaissance of works on paper. Because you can't walk with your computer monitor in a demonstration. You can't plant your monitor on your lawn.
And you can't put a laptop on the wall…
Exactly. You want to hear a really great story? Truthdig.org published a cartoon [made by] a political cartoonist named Mr. Fish. It was during the Arab spring, and he had superimposed Che Guevara with the stylized beard and King Tut's face, but it had Che's beret. And it [was titled], "Walk like an Egyptian." So, it was a reference to the music, but [it was also] a reference to what was going on the streets of Cairo. I sent it out as our poster of the week to 9,000 people. The very next day, somebody took a photograph on the street of Cairo, with somebody holding a piece of paper with that image on it. A poster can literally go around the world and people will print it out.
What struck me in viewing your exhibits is how many of these posters could still be used today, not only artistically but also, sadly, in the timeliness of their messages.
We had this fabulous poster by Yolanda Lopez, a Bay Area artist, which she first did in 1978. It depicts a young man in Aztec garb pointing a finger like Uncle Sam saying, "Who's the illegal alien, PILGRIM?" And it's a great poster, it's simple, not too many words, funny, provocative. So, we had an exhibit at UCLA in the mid '90s and there were 4 or 5 high school students standing around this poster saying, "Wow, you've got posters up to the minute." And I went over to them and I said, "Look at the date. This is before you were born."
Is that one of your goals with the exhibitions? To show the evergreen nature of this work?
Absolutely. I mean that's why we did the police abuse exhibition now. It basically goes back five decades. It's 50 years of posters protesting police abuse. Mainly in the United States, but also internationally.
What's the goal for CSPG?
Well the aim right now is really to digitize the collection and get it online. We have 10% of the collection digitized. But the mission is to collect and to document, because stories get lost. All the exhibitions, they're showing massacres, they're showing genocide, they're showing police abuse, they're showing all of these horrible things. And people often ask me, "How can you look at this stuff all day long?" I said, "Because the poster artists are optimists. They believe people can change if they have the information."
Yes, that's the reason why they're doing it, right?
That's why they're doing it, and that's why I'm doing this, because I believe that people can change if they knew the truth.
And what happens 20, 50 years from now?
Well, my goal is to stay independent, because the other option is to become part of the university. Universities, for all the fabulous things that they do, they also censor. We did an exhibition at USC in 1992 on the 500 years since Columbus, and how the legacy of racism and exploitation and genocide continues. And one of the board of trustees was Italian and took [the exhibit] as an affront to Columbus. It really wasn't about Columbus, it was about colonialism. And he ordered it down.
Do you have a favorite poster?
I'm always amazed at the creativity and vision of artists. Every week I'll say, "Oh my God, how do they think of that?" But it's always still going to be the poster I saw that kid trying to figure out. It has to be my favorite one because that one changed my life.
What makes a perfect poster?
The right balance between aesthetics and message. If you only rely on the corporate press, the New York Times and L.A. Times, for your information, you're not going to get the side from the street, from the movement, from the activists. The posters are primary historical documents that are recording the issues that were at the time, and the passions that were at the time, and the divisions that were at the time. You're not going to get it anyplace else.
---
Copyright Capital & Main