A New Documentary Unspools the Life of Malcolm X
Most people know that Malcolm X began his public career by calling for black separatism. Lost Tapes: Malcolm X reveals surprising details that have not been seared into our collective view of the martyred activist.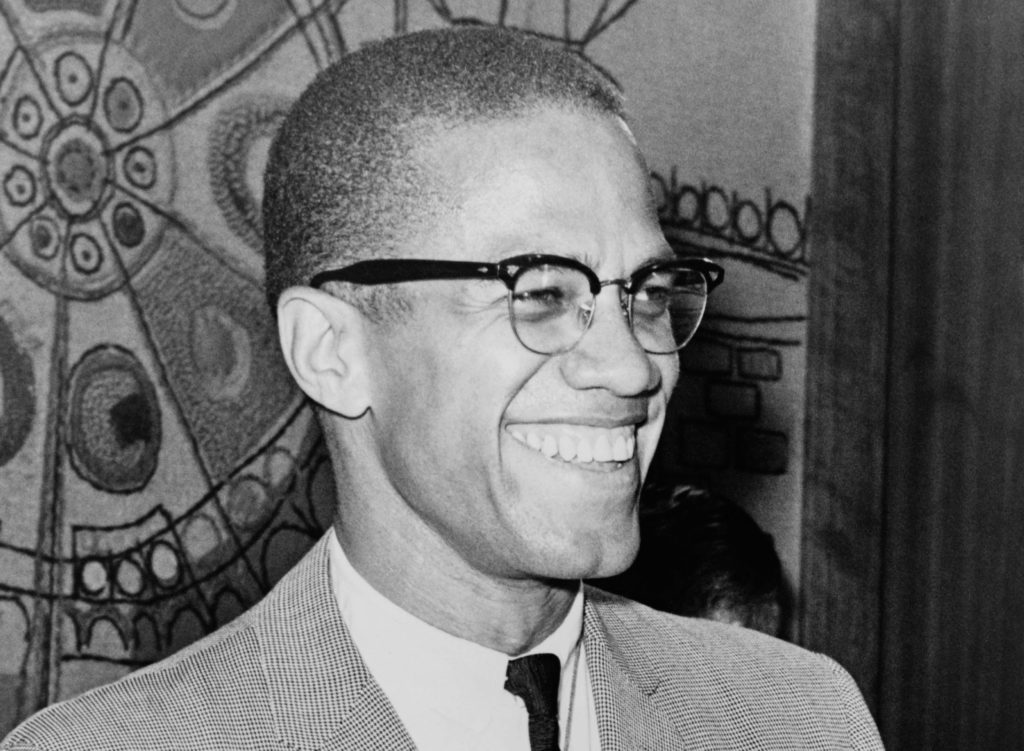 At the end of the Smithsonian Channel's Lost Tapes: Malcolm X, Ossie Davis delivers a stirring eulogy for Malcolm X, the fallen Muslim minister and human rights activist. "And we will know him then for what he was and is," Davis intones, "a Prince – our own black shining Prince!"
The haze of history has obscured some of the finer details of this remarkable leader's life, one cut short by assassination at the age of 39 in 1965. Schools go into far greater detail about the life and times of another spiritual leader, Martin Luther King Jr., but in the shadows behind King's narrative lurk remarkable stories of a prince that have been largely ignored. That's why this episode from The Lost Tapes documentary series rises above almost anything available in mainstream media.

Above: Malcolm X in Los Angeles, 1962
Most know that Malcolm, as the dominant star in the Nation of Islam, differentiated himself from King and other African-American leaders by calling for blacks to break off from, rather than assimilate into white society. At the outset, Lost Tapes: Malcolm X, which debuts tonight at 5 p.m. PST/8 p.m. EST, and repeats Tuesday, underscores how his incendiary speeches and philosophy sparked both outrage and fear by showing footage from The Hate That Hate Produced , a 1959 Mike Wallace-narrated documentary shown on New York's educational WNTA-TV that introduced the Harlem minister and the Nation of Islam to a wider (and whiter) audience.
Much of this doc treads on familiar turf: His meteoric rise and popularity, which caused NOI membership to swell exponentially; how Malcolm's philosophy deviated from other civil rights leaders', the rift with NOI leader Elijah Muhammad that led to Malcolm leaving the organization. Filmmakers Tom Jennings and David Tillman weave a fine story, thankfully bereft of any narration, using never-before or rarely seen footage to tell Malcolm's story, only resorting to simple white text on a black background to deliver essential information. The result seems more urgent and intimate, powerful and profound.
But where Lost Tapes really triumphs is in revealing details that have not been seared into our collective view of the martyred activist. First there is the matter of Cassius Clay. Few know that the boxer's conversion to Islam was mired deep in the divisions between Malcolm and the "prophet" Elijah Muhammad. Malcolm had grown to overshadow his mentor, and became a close friend to the charismatic contender. But soon after Sonny Liston failed to answer the bell in Miami on February 25, 1964, and Clay was crowned heavyweight champion of the world, Elijah Muhammad bestowed upon the boxer a Muslim name (an honor Malcolm had not been given) under one condition. The new champion had to end his friendship with Malcolm (something that Ali later publicly admitted was a mistake).
Later, there is an interview in which Malcolm publicly exposes Elijah Muhammad's fathering of eight children by six underage women who were his personal secretaries. This footage makes it seem more understandable why the NOI allegedly waged such a persistent campaign to kill Malcolm, first unsuccessfully by firebombs and then, purportedly taking down their target in a hail of bullets.
The documentary also chronicles Malcolm X's personal transformation shortly before his tragic death, which resulted in a revolutionary change in his outlook. After leaving the NOI, Malcolm went on a global spiritual journey that included a pilgrimage to Mecca in April of 1964, where he had a profound epiphany. Malcolm speaks of seeing Muslims of all colors interacting as equals and how the whites he had met there were not like those found in America, that their dedication to God allowed them to believe in the oneness of all people.
Inspired by this trip he started the Organization of Afro-American Unity (OAAU), a secular group that advocated Pan-Africanism, and promoted internationalizing the plight of African-Americans. This broadening of his views also made him make amends to those he criticized in the past. We see footage of an interview in which he not only forgives black leaders for having attacked him, but also apologizes to all he had ever attacked, culminating in him preaching solidarity and cooperation between leaders.
It's a huge moment that seems to have been lost as the years have passed, and it makes this venture all the more invaluable.
---
Copyright Capital & Main
A Spiritual Mystery Play Fails to Enlighten
Yusuf Toropov's drama, set in a contaminated, cancer-ridden community, involves a publisher and his brother — a priest struggling against the local archdiocese.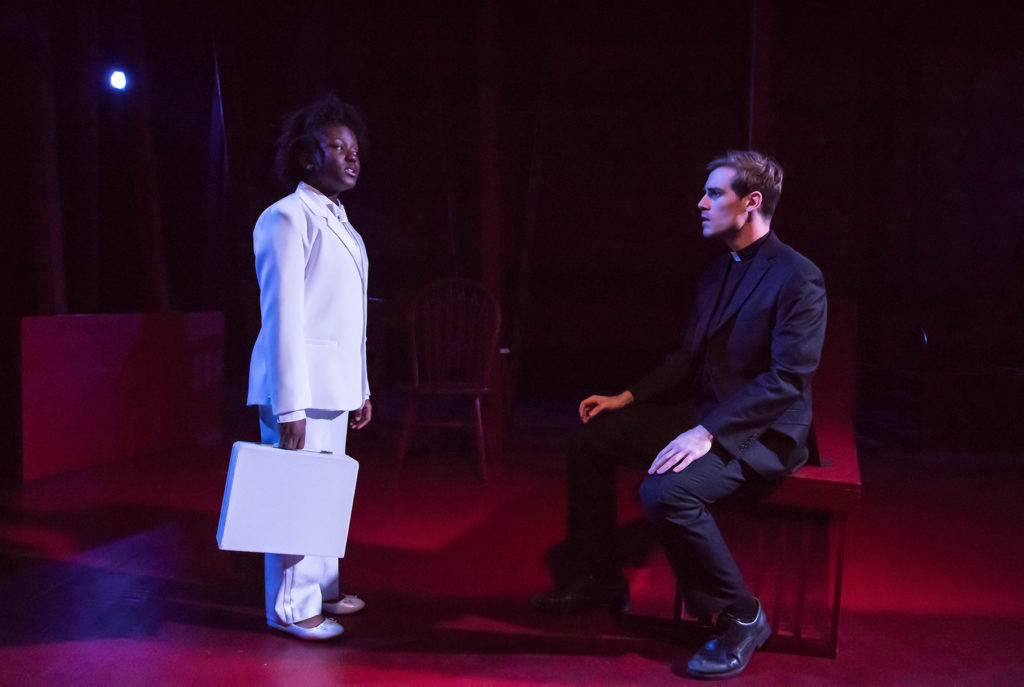 Directed by Chris Fields, Yusuf Toropov's An Undivided Heart, co-produced by the Echo Theater Company and the Circle X Theatre Co., is an aspiring work that aims to be deep but doesn't get there.
The play, running at the Atwater Village Theatre, unfolds on several levels. First, it tells the story of a young Catholic priest who must decide whether or not to publicly expose the pedophiles among his fellow clerics. Second, the work deals with our human struggle to understand why bad things happen with seeming random cruelty (a conundrum whose answers are regularly dispensed by spiritual leaders of all faiths, not very satisfactorily). On yet a third level, the play seeks to express the paradoxical wonder and mystery of life, with an assist from the supernatural.
That's a lot to cover in a little over two hours and, while the production is handsomely staged, its ambitious narrative is diminished by dangling threads, one major improbable setup near the end and too many bits of opaque dialogue.
Tim Wright, Alison Martin and Alana Dietze.
The setting is Holbrook, Massachusetts — a community whose residents have been exposed to contaminants, so cancer is rampant — in the summer of 1992. The story revolves around two brothers, both good guys: Mike (Matthew Gallenstein), a local priest who's written a revelatory book that his superiors want him not to publish, and Max (Tim Wright), an editor, who'd like to help his brother proceed.
When Max arrives at some sort of civic facility (the background particulars of this scene are unclear), he promptly tangles with an angry pregnant clerk named Lynne (Alana Dietz). A few minutes into their altercation, she goes into premature labor, and he rushes her to the hospital — the beginning of a nurturing romance.
Mike, meanwhile, is having strange dreams involving a burning typewriter and a cryptic little girl (Ann'Jewel Lee) who appears to him brandishing a dead cat. The same young person manifests in the dreams of Janice (Tracey A. Leigh, alternating with Jennifer A. Skinner), Max's Buddhism teacher, who is fond of posing riddles. Her favorite: If I am preparing to slice a cat in two, how would you prevent me from doing it?
The narrative shifts between Mike's struggle with his archdiocese, personified by its Cardinal (John Getz, alternating with William Salyers) and Lynne's problems with her dying mom Ruth (Alison Martin, alternating with Sigute Miller), a devout Catholic still in denial over her son's abuse by a priest when he was a youth.
These two storylines are interposed with the baffling dream sequences and Max's (and later Mike's) sessions with the inscrutably smiling Janice and her eschatological brain teasers. One crucial scene that leads to the dramatic climax has Mike looking to entrap an abusive priest (Jeff Alan-Lee, alternating with Jesse Bush) by attending confession with him and pretending to be a pedophile himself. The interchange, in which the priest probes for salacious details, is awkwardly plotted and escalates into over-the-top melodrama.
Cricket Myers' superlative sound design hints at the depth and scope that the playwright himself perhaps had in mind but was unable to attain. Amanda Knehans' set is an effective arrangement of wooden beams, tables and chairs that lighting designer Rose Malone smartly shades with a reddish-orange chroma, like the hues of hell. Elsewhere, she spotlights the players well.
Wright's warm and empathetic Max is highly likable, and he keeps you interested in the scenes he's involved with. Getz is appropriately unctuous as the Cardinal, and Martin draws a richly textured portrait of a not terribly educated housewife, who, buffeted by adversity, still clings to her faith. Michael Sturgis steals the limelight as a singing, simpering cleric. A couple of the other lead performances need refining.
Atwater Village Theatre, 3269 Casitas Ave., Los Angeles; Mon., 8 p.m.; Fri.- Sat., 8 p.m.; Sun., 4 p.m.; through April 22. www.EchoTheaterCompany.com
---
Copyright Capital & Main