New Bill Would End Corporate Tax Write-Offs for Punitive Damages
Most people don't realize that when corporations are hit with massive punitive-damage awards, they actually pay far less than the amounts reported in news accounts. The financial sting of those awards can be eased because companies can deduct the amount paid from their taxes.

Update: SB 66 passed the Senate May 31 by a 27-13 vote and is headed for an Assembly vote in the coming weeks.
---
Punitive damages don't always punish. The financial sting of those awards can be eased because companies can deduct the amount paid from their taxes.
"People will say to me, 'No way,'" says California State Senator Bob Wieckowski (D-Fremont). "Even attorneys will say that's not true. The taxpayers shouldn't be subsidizing this type of behavior."
But they do, and Wieckowski wants to do something about it.
He has introduced Senate Bill 66 to close a loophole in federal tax law, at least in California, by barring tax write-offs for punitive damage payments on state tax returns.
The whole idea behind punitive damages is to deter the most outrageous corporate behavior by hitting companies on the balance sheet. It is illegal to deduct compensatory damages, payments for a loss resulting from the negligence or unlawful conduct of another party. But the law is silent on punitive damages.
Most people don't realize that when corporations are hit with massive punitive damage awards, they actually pay far less than the amounts reported in news accounts, Wieckowski says.
"My sense of justice is aggravated by it," he tells Capital & Main.
A case in point is that of Erik and Renee Sundquist, a Sacramento-area couple who was forced into bankruptcy after their home was illegally foreclosed during a six-year struggle with their lender, Bank of America, Wieckowski says.
U.S. Bankruptcy Court Judge Christopher Klein awarded $45 million in punitive damages–$5 million to the couple and $40 million to law schools consumer advocacy groups. The judge wrote, "Franz Kafka lives." The Sundquists' case, Klein wrote, "reveals he works at Bank of America."
The bank forced the couple through bureaucratic hoops on the false promise of a mortgage modification. The ordeal left the Sundquists physically and emotionally broken in a "battle-fatigued state of demoralization," the judge wrote. Erik Sundquist had attempted suicide while his wife, Renee, was diagnosed with post-traumatic stress disorder and suffered migraine headaches.
Bank of America has appealed the judge's ruling. However, if it stands, B of A will be able to write off the payment on its federal and California state taxes, essentially passing the cost of its misconduct on to taxpayers,
Wieckowksi stresses that punitive damages are rare. The federal Bureau of Justice Statistics found that in civil lawsuits where plaintiffs prevailed, punitive damages were awarded in only five percent of cases nationwide in 2005, the last year for which statistics are available.
SB 66 would save California only about $1.2 million annually, the state Franchise Tax Board estimates. But it would build awareness of the issue, and it could lead other states and the federal government to follow California's lead, says Michelle Surka, a tax and budget advocate at the U.S. Public Interest Research Group.
"California is a big state," she says. "That it's drawing a line and taking a stand would help move the ball federally as well."
Congressional action would save taxpayers much more money, but federal lawmakers have not agreed on legislation, despite some attempts and some bipartisan support, notably from Sen. Charles Grassley (R-Iowa), Surka notes.
In Sacramento, the California Labor Federation, along with some of the state's largest unions and a handful of consumer groups, supports SB 66. Opponents include a number of business associations, among them the California Chamber of Commerce, the California Retailers Assn. and the California chapter of the National Federation of Independent Business (NFIB).
Ken DeVore, the legislative director of NFIB's California chapter, argues that California is one of the most litigious states.
"Small businesses are the biggest targets of lawsuits because they're the low hanging fruit," DeVore says. He contends that the bill would force some small businesses to forgo their day in court to avoid big payouts.
"It's going to result in them having to make a decision quickly," Devore says. "Do I go to a jury and risk huge penalties or just settle? That's just going to stir the shark tank when [attorneys] see people starting to settle."
Four California counties – Santa Clara, Alameda, Contra Costa and Los Angeles ranked in the top 10 among 46 of the nation's 75 largest counties in the percentage of punitive damage awards in 2005, according to the Bureau of Justice Statistics. But even in number two-ranked Santa Clara County, such damages were only awarded in 17 percent of civil lawsuits.
The legislature has defeated previous versions of SB 66, including a 2011 attempt by now-Los Angeles City Attorney Mike Feuer and a 2013 effort by Wieckowski.
The legislature, however, did approve a similar measure three years ago with bipartisan support, Wieckowski says. He and his colleagues barred former Los Angeles Clippers owner Donald Sterling from deducting a $2.5 million fine levied by the NBA on his state taxes after he was caught on tape making racially offensive comments. The law applies to all sports team owners who receive such league fines.
The NBA fine is not the same as punitive damages awarded by a court, but "the parallel is it's a disgusting activity, and we can control what's deductible and what not deductible," Wieckowski says.
SB 66 passed the senate Governance and Finance Committee earlier this year on a 5-2 vote, with the committee's two Republican members voting no. If the bill doesn't attract enough Republican votes, it could still win approval if Wieckowski can line up all senate Democrats and nearly all on the assembly side.
"This year, it's a different world, and I can't predict anything this year," Ken DeVore says of the bill's chances. "Things that have died multiple times are passing."
A floor vote is scheduled for tomorrow, Wednesday; a spokeswoman for Gov. Jerry Brown declined to say if he would sign SB 66, writing in an email that the office doesn't usually comment on pending legislation.

Rick Scott Super PAC Donations Challenge Federal Anti-Corruption Rule
Co-published by Fast Company
The Florida governor led a group that raked in cash from Wall Street firms after Scott's administration gave them pension deals.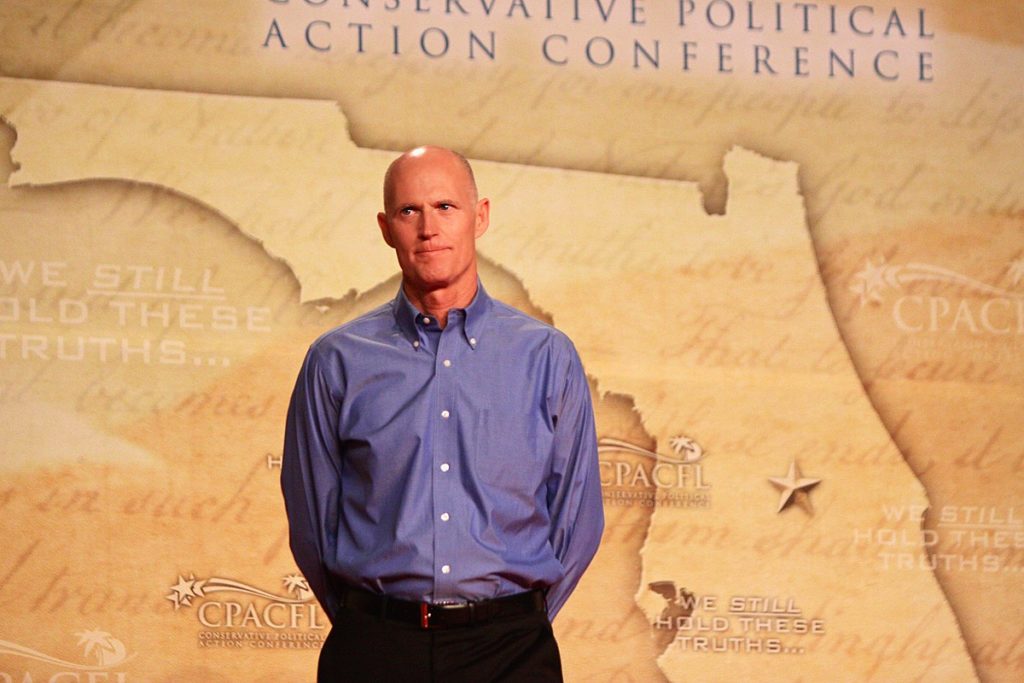 Co-published by Fast Company
A super PAC led by Florida Gov. Rick Scott raked in donations from two private equity executives after Scott's administration directed lucrative state pension investments to their firms, according to government records reviewed by MapLight and Capital & Main.
The donations were made to a committee that's now supporting Scott's U.S. Senate bid, despite a federal rule designed to prevent financial firms from bankrolling the election campaigns of public officials who oversee state pension investments.
Scott, a Republican, began chairing the New Republican PAC in May 2017 and announced his former campaign manager would serve as its executive director. Soon after, the group received $5,000 from New Mountain Capital Chief Executive Officer Steve Klinsky and $50,000 from Energy Capital Partners founder Douglas Kimmelman.
The contributions flowed to the super PAC after New Mountain Capital and Energy Capital Partners received a combined $250 million worth of new investment commitments from Florida's state pension system in 2014 and 2015. Scott is one of three state officials who oversee the $160 billion pension system. During the most recent fiscal year, the Florida investments generated more than $3 million in fees for the firms.
A 2010 Securities and Exchange Commission (SEC) rule prohibits firms from receiving investment fees from public pension systems if their executives donate campaign cash to pension overseers like Scott. SEC officials aimed to prevent investment decisions from being shaped by political influence.
But the commission didn't explicitly bar donations to "independent" political groups, unless the donations were deliberately designed to circumvent the restrictions. And it hasn't addressed whether a state official can lead a super PAC that received donations from firms with pension business and later be supported by the super PAC.
John Kuczwanski, a spokesperson for the Florida State Board of Administration, told MapLight/Capital & Main that Florida's first investments in the two private equity firms happened in 2005 and 2009, and he said Scott had nothing to do with new investments during his governorship, which started in 2011.
"The [state's] initial relationships with both managers predate Governor Scott's time in office," said Kuczwanski, whose agency manages the day-to-day operations of the pension system. "Neither the trustees, nor their appointed investment advisory council members are involved in the investment manager/fund selection process."
Scott's campaign and the super PAC did not respond to questions from MapLight/Capital & Main. New Mountain Capital and Energy Capital Partners did not return requests for comment.
Energy Capital recently completed the purchase of Calpine, whose natural gas power plant near Tampa is regulated by Scott's appointees at the Florida Public Service Commission. Kimmelman, who is now a director of Calpine, also donated $35,000 in 2017 to the National Republican Senatorial Committee, which is backing Scott's Senate campaign.
"A Very Clear Case"
Under the SEC rule — which GOP state parties have tried to overturn — investment executives are not prohibited from donating to independent political groups. But the rule allows regulators to apply restrictions to donations that are deliberately routed through third parties in order to support public officials — a situation that critics argue is happening with Scott and his super PAC.
After the governor announced his Senate bid last week, New Republican PAC's website began promoting his candidacy. End Citizens United, a Democratic-leaning political action committee based in Washington, DC, filed a complaint alleging that Scott has violated Federal Election Commission rules and is using the super PAC, which can accept unlimited donations, to evade contribution limits. Scott's campaign says he stepped down as New Republican PAC's chair in February.
In writing the original rule, SEC officials noted that while they could not restrict all donations to political action committees, contributions to third parties "may effectively operate as a funnel to the campaigns of the government officials." They said the final rule "prohibits acts done indirectly, which, if done directly, would violate the rule."
One ethics expert said that those anti-circumvention provisions should apply to the donations to Scott's super PAC.
"This appears to be a very clear case of close coordination and circumvention of the pay-to-play rule," said Craig Holman, an ethics lobbyist at the government watchdog group Public Citizen. "This is something that I'd like the SEC to pay attention to."
"No Loopholes"
The SEC has only occasionally enforced the pay-to-play rule, and the agency hasn't applied the provisions dealing with third parties to donations to super PACs. Because Scott is a sitting governor who can influence pension investments, he is covered by the rule, which has hampered the fundraising of past governors who tried to run for federal office.
A spokesman for former Texas Gov. Rick Perry's presidential campaign said the rule prevented him from raising enough money to be competitive in the 2012 race. Bloomberg reported that during the same election cycle, then-New Jersey Gov. Chris Christie was rejected as the vice presidential nominee, partly because Republicans feared the rule would prevent them from raising money from Wall Street firms that do business with his state's pension system.
"There is no way around it, and there are no loopholes," said Bill Palatucci, Christie's longtime advisor.
Even so, in recent years the rule has not deterred financial executives from donating to groups that help lawmakers who can influence pension investments. Financial executives whose firms received New Jersey and New Mexico investments continued to donate to the Republican Governors Association (RGA) when Christie and New Mexico Gov. Susana Martinez led the group. During the 2016 election cycle, executives at firms managing state pension money donated nearly $1.3 million to the GOP association, even as the group boosted the campaigns of Republican governors with power over state pension investments.
Last year, U.S. Sen. Tom Udall, D-N.M., called for the SEC to apply the pay-to-play rule to outside groups "to ensure that no one is able to circumvent these laws by using super PACs, dark money groups or other campaign spending vehicles." The RGA has argued that because it funds multiple candidates and does not allow donors to earmark contributions for particular races, it can accept donations from firms with investment business that can be influenced by individual governors. The SEC said in 2016 that donations to outside political groups "are independent expenditures that do not trigger" the rule.
"So long as the PAC faithfully observes the requirement to operate independently of candidates, a contribution to a super PAC will not trigger the [rule], even if the super PAC supports a covered official," Sam Brown, a former advisor to Federal Election Commissioner Ellen Weintraub, wrote in 2016. "Super PACs are increasingly being used in novel ways, and it remains to be seen whether these changes will result in increased circumvention risks."
---
This story is a collaboration between MapLight and Capital & Main.